Speedscene - The Magazine for Hillclimbing and Sprinting
SPEEDSCENE MAGAZINE


Speedscene is a highly regarded magazine published by the HSA five times a year and is the only full size UK publication dedicated to the sports of speed hillclimbing and sprinting. Speedscene is free to HSA members and and available on subscription. It contains reports, articles, photographs and features covering all aspects of the sport. The high standard of production of the magazine and its A4 full colour format sets it apart from the normal club publication.


A typical edition of Speedscene includes:
Photos and reports from events nationwide
News from championships around the country
Features on personalities from the sport
Technical articles & reviews
Features on suppliers to the sport
Regular columns by officials, competitors, marshals, spectators and scrutineers
Reviews of motorsport books and videos

CURRENT ISSUE - Speedscene 189 June/July 2016
With Scott Moran back at the top of the British Hillclimb Championship leaderboard Speedscene 189 features the former Champion aboard his Gould GR61X at Craigantlet.
With the season fully underway this issue contains BHC reports from Craigantlet, Harewood, Shelsley, Loton and Doune, BSC rounds from Snetterton and Anglesey along with SBD HSA events at Werrington, Snetterton, Pembrey, Barbon, Curborough, Anglesey and Prescott.
Between the beams includes reports from the Midland rounds at Loton and Prescott together with Crystal Palace, Cultra and a round up from the NSCC Championship.
The subject for this issue's 'Introducing...........' feature is regular BHC competitor, Paul Haimes while Graham Blackwell reports on both his move to single seaters and his slightly unusual choice of car - the Mygale M13. Chris Bennett begins a series of articles documenting the development of a new hillclimb car - the Force TA with a look at how the tub was conceived and built by S.P.A. Design.
There is a moving account of the life and times of the late Simon McKinley while Charlie Martin, Andrew Dinner and Clive Wooster all share their varied and interesting experiences so far this season.
The proposals for a new 'Standard Class' get covered in a number of articles as well as a dedicated review of how it might work out in practice.
The issue concludes with the usual pieces from the Paddock Prowler, Paul Parker and, finally, Jerry Sturman who suggests that Hillclimbing provides one of the finest spectacles in Motorsport.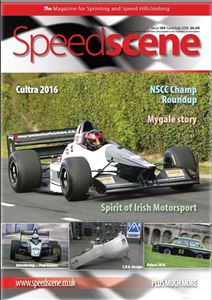 Current issue of Speedscene
£8.20 UK including P&P
Current issue of Speedscene
£10.20 outside UK (airmail)