Speedscene - The Magazine for Hillclimbing and Sprinting
SPEEDSCENE MAGAZINE


Speedscene is a highly regarded magazine published by the HSA five times a year and is the only full size UK publication dedicated to the sports of speed hillclimbing and sprinting. Speedscene is free to HSA members and and available on subscription. It contains reports, articles, photographs and features covering all aspects of the sport. The high standard of production of the magazine and its A4 full colour format sets it apart from the normal club publication.


A typical edition of Speedscene includes:
Photos and reports from events nationwide
News from championships around the country
Features on personalities from the sport
Technical articles & reviews
Features on suppliers to the sport
Regular columns by officials, competitors, marshals, spectators and scrutineers
Reviews of motorsport books and videos

CURRENT ISSUE - Speedscene 188 Apr/May 2016
The front cover of Speedscene 188 features Richard Arrowsmith's 1100cc Racing Car Class Force PC in the wet at Croft, nicely captured by Tony Todd.
Reports from the early season Championship rounds include: the British Hillclimb Championship at Prescott, the British Sprint Championship at Castle Combe and Croft and the SBD HSA Championship at Combe, Rockingham, Croft, Harewood, Gurston Down, Loton Park and Goodwood.
Other event reports from Croft NI, Doune, Gurston, and Aintree are also featured along with a report on Race Retro 2016.
Clive Wooster visits the Higgins Forest Experience Rally School and predictably has a great time, we introduce well known hillclimber, Simon Andrews, Keith Waters looks back on the short lived but interesting Champion spark plug club, Peter Herbert reminisces over the Baitings dam hillclimb and Steve Wilkinson takes his camera along to Southport's Ainsdale Sands for an LSR anniversary.

Racers, Charlie Martin, Andrew Dinner and Clive Wooster all look forward to their 2016 seasons while Damon Milnes considers the option of a Formula Ford as a possible classic investment.
For the first time Speedscene includes a page of HSA members benefits from a selection of high profile suppliers to the sport.

The issue is rounded off with all the regular columns including book reviews, the Paddock Prowler, Paul Parker's technical & otherwise column and Jerry Sturman arguing that Hillclimbing provides one of the finest spectacles in motor sport.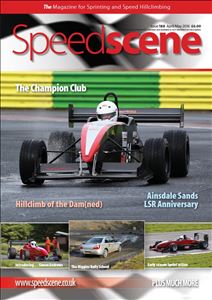 Current issue of Speedscene
£8.20 UK including P&P
Current issue of Speedscene
£10.20 outside UK (airmail)