Speedscene - The Magazine for Hillclimbing and Sprinting
SPEEDSCENE MAGAZINE


Speedscene is a highly regarded magazine published by the HSA five times a year and is the only full size UK publication dedicated to the sports of speed hillclimbing and sprinting. Speedscene is free to HSA members and and available on subscription. It contains reports, articles, photographs and features covering all aspects of the sport. The high standard of production of the magazine and its A4 full colour format sets it apart from the normal club publication.


A typical edition of Speedscene includes:
Photos and reports from events nationwide
News from championships around the country
Features on personalities from the sport
Technical articles & reviews
Features on suppliers to the sport
Regular columns by officials, competitors, marshals, spectators and scrutineers
Reviews of motorsport books and videos

CURRENT ISSUE - Speedscene 190 Aug/Sept 2016
The Robbs (Father & Son) made a re-appearance with their Pilbeam MP88 at Knockhill this year with Stewart jnr taking a win at Round 10. Knockhill's chicane always provides great action shots and John Stewart's cover photo is no exception.
Issue 190 contains British Hillclimb Championship reports from Barbon, Harewood, Bouley Bay, Le Val des Terres, Wiscombe, Shelsley and Gurston while the British Sprint Championship visits Knockhill and Kirkistown.
The SBD HSA Speed Championship events from Shelsley, Blyton, Llandow, Llys y Fran, Wiscombe, Loton, Hethel and Gurston all receive a mention and, in most cases, photos.
Three notable summer events all get a photo spread feature - Chateau Impney, Cooper's 70th celebration at Prescott and Classic Nostalgia at Shelsley. Between the Beams section also features the Midland round at Gurston, including the newly inaugurated Formula Ford Fest, and a round up of the Nottingham SCC Championship.
The subject of the 'Introducing..............' feature is Peter Hubbard who recounts many of the interesting (and self imposed) challenges he has (and continues to) take on. Charlie Martin continues the story of her exploits in Europe including a major step up to the front running Norma M20 at St Ursanne.
Pilbeam man, Andrew Dinner, returns to his beloved South West for his early season speed eventing while Daom Milnes considers the benefits of tin tops in Britain's often inclement weather.
The issue concludes with the regular columns from Clive Wooster, Jerry Sturman and Paul Parker along with plenty of book reviews.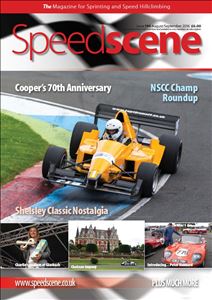 Current issue of Speedscene
£8.20 UK including P&P
Current issue of Speedscene
£10.20 outside UK (airmail)