THE SBD HSA SPEED CHAMPIONSHIP REGULATIONS & AWARDS

INTRODUCTION
The HSA Speed Championship, 21 years old in 2018, provides the perfect starting point for new competitors to the sport of Speed Hill Climbing and Sprinting and also appeals to the more experienced competitor. Widely recognised as the premier clubman's speed championship you may enter with just an MSA 'B' Speed licence, which does not require a test or medical.
Comprising more than 30 rounds throughout the British Isles including iconic venues like Shelsley Walsh, Prescott, Gurston Down, Rockingham, Aintree and Goodwood. There are 21 different classes, which cover cars of every type from your daily road car, with minimum safety additions, through modified and specialist cars to single seat racing cars and classic cars from the past. All cars must comply with MSA rules in the 'Blue Book', which you receive with your competition licence.
The championship is scored on the best 9 results so you can choose where to compete and as much or a little according to your personal preference. The unique scoring system gives all competitors the opportunity to score consistently by gaining points from both their place in class and their best time achieved. All rounds of the Championship are reported on the HSA's web site and in Speedscene magazine together with plenty of action photos.The annual awards lunch is usually held in November at the Prescott club house.
2018 SBD HSA CHAMPIONSHIP REGULATIONS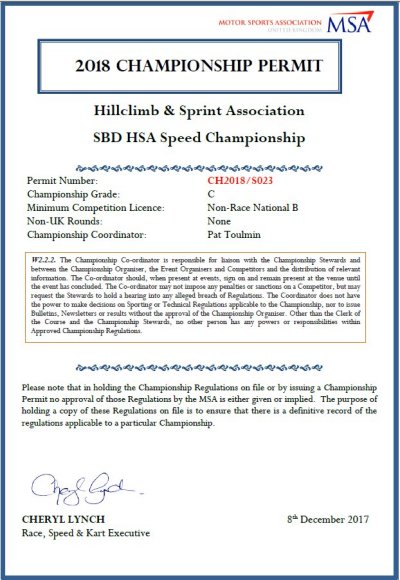 The 2018 SBD HSA Championship Regulations can be downloaded here:
For 2018 the Championship has 33 rounds and returns to Lydden Hill after a gap of a few years and also includes a new season finale double header at Curborough. There are a couple of changes to the Class structure and HSA Chairman, Les Buck, reports: "The Committee has decided to make some minor changes to the detailed regulations for next year. They relate to rationalising some of the classes with a view to increasing the level of direct competition at events. As a result, we plan the following changes:-
Merge classes U1 and V1 for Classic Road-Going Saloon and Sports Cars built up to 31.12.1975. We will use the records for the former class V1, where set, or new records to be set where none existed.
Merge classes U2 and V2 for Classic Modified Saloon and Sports Cars built up to 31.12.1975. We will use the lower of the records for the former classes U2 and V2
Drop class Y for Road-Going Series Production Cars with electric or electric-hybrid propulsion. Following the recent guidelines issued by the MSA for electric and hybrid vehicles we have been advised by many event organisers that they will not be running classes for these cars in 2018.
The SBD HSA Speed Championship will operate under MSA Permit. No. CH2018/S023
You may register for the 2018 SBD HSA Championship by filling out the registration form and sending with a cheque for £32, payable to the Hillclimb and Sprint Association Ltd, to the championship co-ordinator (details on the entry form). Please ensure that your HSA membership is up to date or that your membership application has been submitted before registering for the Championship.
Alternatively you can register on-line here and pay through PayPal using either your PayPal account or with your credit card.
If you are paying by Paypal please remember to wait after you have clicked on 'Pay Now' until Paypal retuns you to the HSA web site and your registration number and details are displayed on screen. You will then be sent a confirmation email and your details will appear in the list of competitors.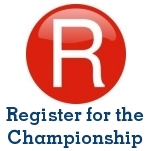 The 2018 SBD HSA Championship entry form can be downloaded here:
If you have difficulty in reading or printing these documents please contact the Championship co-ordinator. Details on the contacts page.