SPEEDSCENE MAGAZINE
Speedscene is a highly regarded magazine published by the HSA five times a year and is the only full size UK publication dedicated to the sports of speed hillclimbing and sprinting. Speedscene is free to HSA members and and available on subscription. It contains reports, articles, photographs and features covering all aspects of the sport. The high standard of production of the magazine and its A4 full colour format sets it apart from the normal club publication.
A typical edition of Speedscene includes:

Photos and reports from events nationwide
News from championships around the country
Features on personalities from the sport
Technical articles & reviews
Features on suppliers to the sport
Regular columns by officials, competitors, marshals, spectators and scrutineers
Reviews of motorsport books and videos
Current Issue - Speedscene 218 May/June 2022
Speedscene issue 218's cover features Chris Jones's 998cc Force TA which achieved a memorable podium place in a British Sprint run-off at the season-opener at Anglesey.
The edition starts with in-depth analysis of the first events in the British Hillclimb Championship from Prescott and Craigantlet, and the first two rounds of the British Sprint Championship from and Anglesey. The edition also provides a summary of the opening rounds of the British Hillclimb Cup, Sprint Leaders Championship and HSA Speed Championship.
The latest personality to feature in our "Introducing" series is Martin Ford, a regular sight on the Midlands speed scene and the HSA's eligibility scrutineer for over ten years. Chris Bennett considers "How and when will electric vehicles regularly take part in speed events" and describes the myriad regulatory and technical issues that currently need to be considered. Clive Wooster reports from the inaugural "Isle of Wight Speed Trials" that definitely left him wanting to go back for more. Steve Wilkinson looks back at the Colerne Sprint in our "Gone but not forgotten" section, whilst in "A day at the museum" David Oldridge visits Beaulieu.
The issue continues with input from an extensive range of regular columnists including book review, Retro Reads, Pilbeam Ponderings, Technical & Otherwise, Around & About with Chris Bennett, Wooster Sauce and Jerry Sturman's "Senior Moments".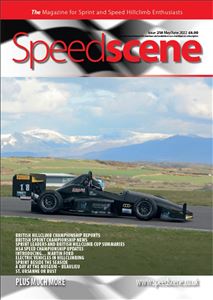 Current issue of Speedscene
£8.20 UK including P&P
Current issue of Speedscene
£10.20 outside UK (airmail)