SPEEDSCENE MAGAZINE
Speedscene is a highly regarded magazine published by the HSA five times a year and is the only full size UK publication dedicated to the sports of speed hillclimbing and sprinting. Speedscene is free to HSA members and and available on subscription. It contains reports, articles, photographs and features covering all aspects of the sport. The high standard of production of the magazine and its A4 full colour format sets it apart from the normal club publication.
A typical edition of Speedscene includes:

Photos and reports from events nationwide
News from championships around the country
Features on personalities from the sport
Technical articles & reviews
Features on suppliers to the sport
Regular columns by officials, competitors, marshals, spectators and scrutineers
Reviews of motorsport books and videos
Current Issue - Speedscene 208 May/June 2020
Normally Issue 208 would be full of reports from hillclimb and sprint events that have taken place during the start of the 2020 season. But this is not normal any more so Issue 208 takes on a quite different look with articles covering the sport past, present and future.

The Issue begins with experienced hillclimber, Peter Herbert, reflecting on the changes taking place and those that may lie ahead. This is followed by a look at the future of the British Hillclimb Championship for 2021 and beyond. Peter Herbert is back again and continues his historical review of the BHC's venues with Harewood in Yorkshire being the subject of this feature. John Aston complements Peter's piece by considering the part Harewood played in developing his love for the sport.

Chris Bennett describes his preparations for the 2020 virtual European Hillclimb Championship which appears to have suffered from the same problems as the real world and failed to start on schedule. To releive the tedium of lockdown there are five pages of revies of books, magazines, podcasts and web sites.

Cars are not forgotten, beginning with a highly detailed account of the development of Andy Webber's mighty V8 powered Lotus Europa 47/62, followed by Les Buck's story of the 2019 season with his Mistrale Formula Ford, Chris Bennett describes how 18 months went by while a new gen Suzuki engine was made ready for his Force, Andrew Dinner pauses his Pilbeam stories by looking back at his early days with a Twin Cam powered Royale, Graham Blackwell recounts the redevelopment path that his Mygale has taken following an engine blow up and, finally, there is a car's eye view from the SBD garage.

The issue is rounded off with columns from all the regulars including Paul Parker, Jerry Sturman and Clive Wooster.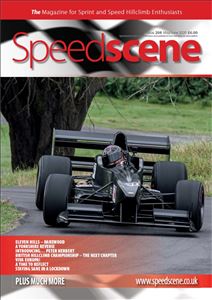 Current issue of Speedscene
£8.20 UK including P&P
Current issue of Speedscene
£10.20 outside UK (airmail)