SPEEDSCENE MAGAZINE
Speedscene is a highly regarded magazine published by the HSA five times a year and is the only full size UK publication dedicated to the sports of speed hillclimbing and sprinting. Speedscene is free to HSA members and and available on subscription. It contains reports, articles, photographs and features covering all aspects of the sport. The high standard of production of the magazine and its A4 full colour format sets it apart from the normal club publication.
A typical edition of Speedscene includes:

Photos and reports from events nationwide
News from championships around the country
Features on personalities from the sport
Technical articles & reviews
Features on suppliers to the sport
Regular columns by officials, competitors, marshals, spectators and scrutineers
Reviews of motorsport books and videos
Current Issue - Sppedscene 219 July/August 2022
Issue 219 kicks off with a more unusual cover photo - a Steve Lister shot of Peter Baker's 1954 Daimler Conquest.

With the season in full swing there are full BHC reports from Harewood, Gurston, Shelsley and Doune, BSC reports from Blyton and Pembrey along with a round up of more than a dozen Sprint Leaders and HSA Speed events. Special reports are included of the Prescott Historique and the Kenny Allen memorial hillclimb at Doune.

Steve Wilkinson continues his series of now discontinued venues with his memories of Finlake and there is a photo feature of the Norman Foster automobile exhibition at the Guggenheim. Graham Blackwell reveals the latest developments, turning his Formula Ford Mygale Ecoboost into a British Sprint front runner and Steve Chaloner continues on his journey to eventually compete at St Ursanne.

Regular features from Andrew Dinner, Clive Wooster, Chris Bennett, Jerry Sturman and Paul Parker complete the issue along with book reviews and cars for sale.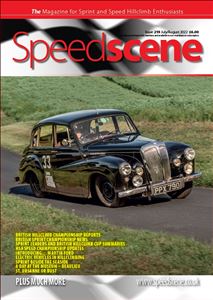 Current issue of Speedscene
£8.20 UK including P&P
Current issue of Speedscene
£10.20 outside UK (airmail)