SPEEDSCENE MAGAZINE
Speedscene is a highly regarded magazine published by the HSA five times a year and is the only full size UK publication dedicated to the sports of speed hillclimbing and sprinting. Speedscene is free to HSA members and and available on subscription. It contains reports, articles, photographs and features covering all aspects of the sport. The high standard of production of the magazine and its A4 full colour format sets it apart from the normal club publication.
A typical edition of Speedscene includes:

Photos and reports from events nationwide
News from championships around the country
Features on personalities from the sport
Technical articles & reviews
Features on suppliers to the sport
Regular columns by officials, competitors, marshals, spectators and scrutineers
Reviews of motorsport books and videos
Current Issue - Speedscene 198 May/June 2018
Issue 198 features a dramatic, Steve Kilvington, shot of Graham Blackwell's Mygale heading through Folly, Castle Combe - one of the fastest corners on any UK track.
Being the start of the season there is only one British round to report - the opening BSC event at Combe. However, there are four SBD HSA Speed Championship rounds covered - those at Combe, Rockingham, Aglesey and Loton and Between the Beams visits Gurston.
This is followed by an article looking at the FIA's Performance Factor initiative as a new way of defining classes and an update on Peter Hubbard's challenging V8 2 stroke project.
There is an interesting look back on 21 years of the Westfield speed series and John Brown delves into the archive of books about hillclimbing. The subject of this issue's 'Introducing......' featuer is Robin Webb, the Comp Sec at Shelsley Walsh, who reveals a rich and varied motor sports career.
The issue is completed by the regular columns from Clive Wooster, Jerry Sturman, Andrew Dinner, Chris Bennett, Paul Parker and a new feature - what was said in Speedscene this time thirty years ago.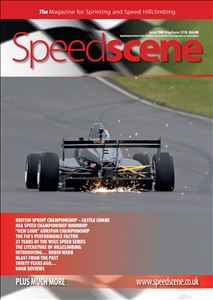 Current issue of Speedscene
£8.20 UK including P&P
Current issue of Speedscene
£10.20 outside UK (airmail)