SPEEDSCENE MAGAZINE
Speedscene is a highly regarded magazine published by the HSA five times a year and is the only full size UK publication dedicated to the sports of speed hillclimbing and sprinting. Speedscene is free to HSA members and and available on subscription. It contains reports, articles, photographs and features covering all aspects of the sport. The high standard of production of the magazine and its A4 full colour format sets it apart from the normal club publication.
A typical edition of Speedscene includes:

Photos and reports from events nationwide
News from championships around the country
Features on personalities from the sport
Technical articles & reviews
Features on suppliers to the sport
Regular columns by officials, competitors, marshals, spectators and scrutineers
Reviews of motorsport books and videos
Current Issue - Speedscene 225 Sept/Oct 2023
The cover of Issue 225 is an interesting start line photo of former British Sprint champion, Steve Miles, provided by BARC Midlands who organised the Snetterton event.

Reports begin with British Hillclimb championship events at Harewood, Bouley Bay, Le Val de Terres, Wiscombe and Shelsley with a couple of events featuring the new and exciting Tin Top challenge for closed cars. The British Sprint championship visits Lydden Hill, Kirkistown and Snetterton followed by updates and photos from all the Sprint Leaders and HSA Speed championship rounds.

Richard Besant provides a pictorial and descriptive summary of the Prescott Club meeting in July while Steve Chaloner continues the story of his project to ultimately compete at St Ursanne, Switzerland. Well known Caterham competitor and proprietor or Meteor Motosrport, Simon Rogers is the subject of the 'Introducing...' feature and, in this issue's museum visit, Peter Herbert reports on the Louwman museum in the Netherlands.

In his leader column and his 'Technical & otherwise' feature, HSA Chairman Paul Parker discusses the subject of declining numbers in championship across the board and in top level sprinting in particular. Peter Herbert continues this theme and makes a number of suggestions to turn the situation around.

The issue concludes with the regular columns from Clive Wooster, Andrew Dinner, Chris Bennett and Jerry Sturman with the latter taking a long look back at the Great Auclum hill which last held an event nearly 50 years ago. Finally, among the book reviews, John Aston provides an extended review of James Page's story of Hesketh Racing - 'Superbears'.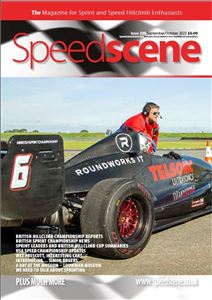 Current issue of Speedscene
£8.20 UK including P&P
Current issue of Speedscene
£10.20 outside UK (airmail)