SPEEDSCENE MAGAZINE
Speedscene is a highly regarded magazine published by the HSA five times a year and is the only full size UK publication dedicated to the sports of speed hillclimbing and sprinting. Speedscene is free to HSA members and and available on subscription. It contains reports, articles, photographs and features covering all aspects of the sport. The high standard of production of the magazine and its A4 full colour format sets it apart from the normal club publication.
A typical edition of Speedscene includes:

Photos and reports from events nationwide
News from championships around the country
Features on personalities from the sport
Technical articles & reviews
Features on suppliers to the sport
Regular columns by officials, competitors, marshals, spectators and scrutineers
Reviews of motorsport books and videos
Current Issue - Speedscene 210 September/Oct 2020
Despite competitive events still being thin on the ground, Speedscene 210 is a bumper 50 page edition. Its cover features John Hallett's photo of Stephen Moore's Mitsubishi Evo 6 being prepared to leave the line at Shelsley by PPE-equipped marshals. Definitely a sign of the times…
Speedscene 210 kicks off with reports from a few of the events that have taken place, including Sean Gould's win at Shelsley, and FTD for Trevor Willis at Harewood. We also round up progress in the HSA championship and provide a summary of other events that have taken part since the resumption of competition.
Speedscene's cohort of contributors fill the rest of the magazine with a fascinating array of material. John Brown concludes his two piece article considering the important role of the commentator in making our sport accessible to its public. Peter Herbert continues his round up of British Hillclimbs by taking a look at Gurston Down, while Chris Mason reflects on how his formative visits to Barbon Manor cemented his love of hillclimbing.
In his article "Racing on the Roads", Michael Beattie reports on the Ulster hillclimb scene which makes extensive use of the public highway, often causing some "interesting" challenges for event organisers and competitors alike.
Dave Oldridge interviews double British Sprint champion Nick Algar and in a separate story, winds the clock back to a Prescott meeting in September 1953 to reveal some surprisingly high profile competitors, including Stirling Moss. The catalyst for this article was the opportunity Dave had to delve into the Pick family archive, and Dave summarises elements of David Pick's racing career in the '50s, including the story of his unfortunate and rather destructive encounter with Prescott's timing hut.
Chris Bennett provides an update on the FIA's "Performance factor" system to classify racing cars, while a number of reviews of books, both retro and current will provides ample reading suggestions for any automotive enthusiast.
Peter Herbert's piece "Mr and Mrs" asks whether couples competing together is a recipe for marital bliss or disaster, and considers many of the most high-profile competition couples of recent times. Ted Slade recalls happy days of competition in Formula 1172 and 1200. The issue is rounded off with features from Paul Parker, Clive Wooster, Jerry Sturman, Andrew Dinner and a raft of other regular contributors.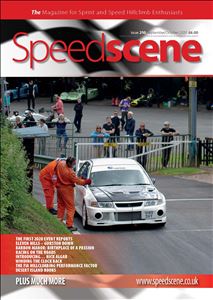 Current issue of Speedscene
£8.20 UK including P&P
Current issue of Speedscene
£10.20 outside UK (airmail)