SPEEDSCENE MAGAZINE
Speedscene is a highly regarded magazine published by the HSA five times a year and is the only full size UK publication dedicated to the sports of speed hillclimbing and sprinting. Speedscene is free to HSA members and and available on subscription. It contains reports, articles, photographs and features covering all aspects of the sport. The high standard of production of the magazine and its A4 full colour format sets it apart from the normal club publication.
A typical edition of Speedscene includes:

Photos and reports from events nationwide
News from championships around the country
Features on personalities from the sport
Technical articles & reviews
Features on suppliers to the sport
Regular columns by officials, competitors, marshals, spectators and scrutineers
Reviews of motorsport books and videos
Current Issue for non subscribers - Speedscene 200 Sept/Oct 2018
Speedscene 200 marks a significant milestone for the only UK publication dedicated to the Speed events of hillclimbing and sprinting and, in addition to all the usual features, the issue also looks back over the years.
The issue commences with a fine, Andrew Le Poidevin, shot of Wallace Menzies' Gould GR50 at Le Val des Terres. The British Hillclimb theme continues with reports from Doune, Barbon, Harewood, Bouley Bay, Le Val des Terres, Wiscombe and Shelsley. British Sprint rounds Lydden, Knockhill, Kirkistown and Rockingham are covered along with SBD HSA Championship rounds from Aintree, Barbon, Lydden, Blyton, Wiscombe, Loton and Hethel. Between the Beams looks at an event at Scammonden Dam where James Baxter broke Roy Lane's outright record set in 1975 (!) and Prescott's 80th Anniversary meeting.
Jerry Sturman looks back over 200 issues of Speedscene including the (just) five editors in all that time. Les Buck travels to Pennsylvania and the Giant's Despair hillclimb and carries out an interesting Q&A with the organisers. Peter Hubbard's unique V8 two stroke project gets an update (at the time of writing this the initial fire up has just been achieved), we look back on the life and times of Mike Fitzsimons who recently passed away and there is a preview of the return of Motorsport at the Palace in 2019.
The issue concludes with all the usual columns from Paul Parker, Andrew Dinner, Chris Bennett and Jerry Sturman. Wooster Sauce takes a short break but will return for Speedscene 201.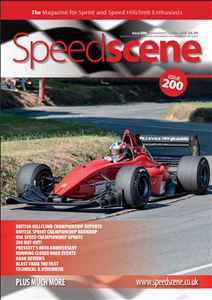 Current issue of Speedscene
£8.20 UK including P&P
Current issue of Speedscene
£10.20 outside UK (airmail)