SPEEDSCENE MAGAZINE
Speedscene is a highly regarded magazine published by the HSA five times a year and is the only full size UK publication dedicated to the sports of speed hillclimbing and sprinting. Speedscene is free to HSA members and and available on subscription. It contains reports, articles, photographs and features covering all aspects of the sport. The high standard of production of the magazine and its A4 full colour format sets it apart from the normal club publication.
A typical edition of Speedscene includes:

Photos and reports from events nationwide
News from championships around the country
Features on personalities from the sport
Technical articles & reviews
Features on suppliers to the sport
Regular columns by officials, competitors, marshals, spectators and scrutineers
Reviews of motorsport books and videos
Current Issue for non subscribers - Speedscene 199 July/August 2018
The cover of Speedscene 199 features a fine Steve Lister photo of Dave Uren's Gould GR55 at Gurston Down. Inside Jerry Sturman reports on 2018's exciting battle for top honours in the British Hillclimb Championship with rounds at Prescott, Craigantlet, Harewood, Gurston, Shelsley and Loton. The Speedscene team were at Pembrey and Snetterton for the British Sprint Championship and at Goodwood, Werington, Pembrey, Shelsley, Prescott and Snetterton for the HSA Speed Championship.
Andrew Dinner continues to share his expeirences with a Pilbeam in the South West, Michael Culver relates the history of the Curborough Sprint course and John Brown reviews the published literature on the subject of Hillclimbing.
The debate about event organisation continues with letters from a couple of competitors while the issue concludes with the regular pieces from Jerry Sturman, Clive Wooster, Chris Bennett and Paul Parker along with book reviews, cars for sale, a new photography competition and a stunning dusk photo over the Snetterton paddock by Steve Miles.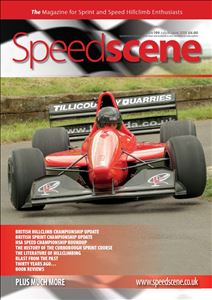 Current issue of Speedscene
£8.20 UK including P&P
Current issue of Speedscene
£10.20 outside UK (airmail)