SPEEDSCENE MAGAZINE
Speedscene is a highly regarded magazine published by the HSA five times a year and is the only full size UK publication dedicated to the sports of speed hillclimbing and sprinting. Speedscene is free to HSA members and and available on subscription. It contains reports, articles, photographs and features covering all aspects of the sport. The high standard of production of the magazine and its A4 full colour format sets it apart from the normal club publication.
A typical edition of Speedscene includes:

Photos and reports from events nationwide
News from championships around the country
Features on personalities from the sport
Technical articles & reviews
Features on suppliers to the sport
Regular columns by officials, competitors, marshals, spectators and scrutineers
Reviews of motorsport books and videos
Current Issue - Speedscene 209 July/August 2020
For the second 'lockdown' issue Speedscene 209 is surprisingly large at 48 pages, including the cover, which features a Steve Lister photo of Rodney Eyles' impressive Alfa 4C.

Once again, there are no events to report on so it is left to the cohort of contributors to fill the pages, beginning with Hillclimb and Sprint super spectator, John Brown considering the important role of the commentator. Peter Herbert continues his round up of British Hillclimbs by taking a look at Barbon while, inspired by a previous piece about Harewood, Mike Smith re-lives some of his (often amusing) memories at the venue.

British Hillclimb championship co-ordinator, Tim Wilson, provides an update on the 'next chapter' in 2021 and a combined effort by many Speedscene contributors produced a revealing history of the one-off Davrian Stiletto which still campaigns on the hills, almost 40 years on. Dave Oldridge interviews well known hillclimb photographer and film maker, Rich Danby and this is followed by a pair of interesting car histories. In the first, Ian Purkis describes the search for a long lost circuit racing 750MC 'Blue' sister car to the Boult family's Corley Conversions 'Silver' car and in the second Ted Slade describes an interesting 'barn find' Alfa.

For this issue andfor obvious reasons there are three pages of book reviews followed by the second part of Les Buck's story of his Classic Championship winning season in his Pringett Mistrale. Clive Wooster turns back the clock by contemplating every race car he has driven and Dave Oldridge takes a look at the spaceframe single seaters produced by OMS. Finally, Lynn Gilbert describes her visit to the Porsche Ice Driving School in Finland and the issue is rounded off with regular features from Paul Parker, Jerry Sturman and Chris Bennett.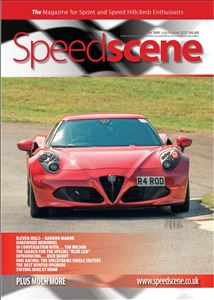 Current issue of Speedscene
£8.20 UK including P&P
Current issue of Speedscene
£10.20 outside UK (airmail)