AN INTRODUCTION TO HILLCLIMBING & SPRINTING
Speed Events is the name given to the motor sports of Speed Hillclimbing and Sprinting. Speed Hillclimbing (usually referred to simply as Hillclimbing) is the sport of racing a car from a standing start along ribbon of tarmac to a finish point which is higher than the start - hence 'hillclimb'. It is often and wrongly mistaken for the sports of Sporting Trials Car Trials which take place up hills without tarmac. Sprinting is similar to Hillclimbing, with many competitors doing both, but takes place of flat(ter) and generally longer tarmac courses.
Speed Events
The Speed Event courses in use today in the UK range from well known race tracks such as Cadwell Park, Brands Hatch and Mallory Park, historic permanent hillclimbs (where unlike circuits, the start and finish don't join up!) such as Shelsley Walsh and Prescott to temporary venues at airfields, country estates and test tracks such as MIRA and the Lotus track at Hethel. In fact there are more venues for Hillclimbs and Sprints in the country than for any other form of motor sport.
Each weekend during the season (usually the end of March to early October) you can find any number of events being held around the country, from the major British Sprint and Hillclimb Championships to scores of club events. A wide range of competing vehicles can be found, ranging from 650bhp plus V8 monsters using the latest Formula One technology to the humblest road cars, all separated into classes that are designed to provide close competition.
Hillclimbing is not just a UK sport as most European countries (from France to Greece) have flourishing Hillclimb Championships and there is even an FIA European Championship and Hilclimb Masters event. One notable difference from the UK is that many European Hillclimbs are held on public roads and are much greater in length than their UK counterparts. Hillclimbing is also popular in North America (Pikes Peak and Mt Washington being examples) and Australia. Sprinting as a sport is not generally recognised outside the UK.
To find out more about where to see the action, where to get started and take part or just to learn something new, have a look around this site or get hold of a copy of Speedscene Magazine, the only UK journal dedicated to the sport.
The top flight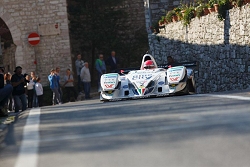 Christian Merli (Osella FA-30) winning the 2018 FIA Hillclimb Masters event at Gubbio, Italy
The top echelon of Speed Events in the UK is represented by the British Hillclimb Championship and the British Sprint Championship where you can see some of the fastest cars, newest technolgy and quickest drivers taking part in events in all corners of the United Kingdom.
The calendars for rounds of these championships can be found on their own web sites or our calendar page.
Spectating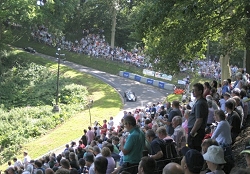 A large crowd at Shelsley Walsh
With the exception of the Motor Industry Research Association (MIRA) and a couple of airfield Sprint venues, spectators are welcome to attend Speed events wherever they are held. Crowds can easily reach the thousands at popular events including Shelsley Walsh, Prescott and Crystal Palace while entry can cost nothing at smaller events rising to £20 or so at the largest ones.
Our National Calendar, while not being 100% exhaustive gives a very good ideaof what events are taking place on any particular week-end while our Venues page provides access to more information about the track itself.
Taking part
Not only are Speed events accessible to spectators they are also very easy to take part in. The wide range of classes catered for allows just about any vehicle, road going or competition oriented, to take part having first taken a few simple steps - essentially obtaining a Speed licence (no test required), purchasing a helmet, fire proof overalls and gloves, fitting a timing strut to the front of the car and finally putting some yellow tape around the lead to the negative battery terminal. You can find out more by downloading our Getting Started Guide and going to our Getting Started page.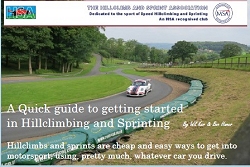 See our 'how to get started guide'
Events & Championships
As you can see from the National Calendar there are a huge number of events (and Championships) on offer. Each event is run by an 'organising club' like the HSA itself, who must be recognised as such by the MSA. Within certain guidelines, each club will decide on the format of the event, the classes to be used and which other clubs and Championships they are going to invite competitors from.
Championships are organised in a similar way, each with their own classes (which usually, but not always, follow quite closely the classes offered by event organisers), scoring systems and variety of venues to be visited.

Governance
In the UK, Speed events are governed by the Motorsport UK (MUK) under whose auspices all Speed event are run. MUK publishes each year the MUK Year Book, usually referred to as the 'Blue Book', which contains all the rules and regulations covering motor sport in the UK. Anyone wishing to compete or become a marshal, official or knowledgeable spectatior should have a good look at this publication.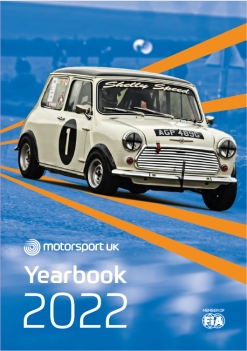 The MUK 'Blue Book' on-line
Finally, Richard Danby's time lapse video of the paddock at Loton Park (see below) provides a wonderful view of a day's speed hillclimbing.
Loton Park Paddock from Rich Danby on Vimeo.