NEWS ARCHIVE
2019 News
2018 News
2017 News
2016 News
2015 News
2014 News
2013 News
2012 News
2011 News
2010 News
2009 News
2008 News
2007 News
---
Triple M / Pirelli HSA Speed Championship calendar change
21/12/2019
The draft calendar for the 2020 Triple M / Pirelli HSA speed championship has a revised date for its round at Aintree. It has been moved to September 5th making it a convenient double header with the Three Sisters round the following day on September 6th.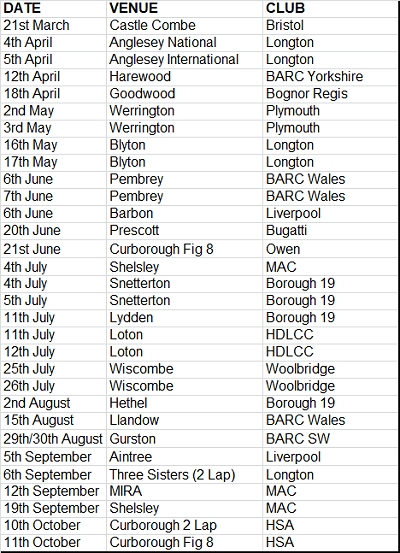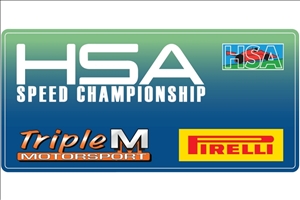 ---
2020 Sprint Leaders championship - calendar & changes
17/12/2019
Following its re-introduction in 2019 after a long absence, the 2020 Sprint Leaders sees a number of important changes to widen its appeal to all those who compete in Sprints. The Championship continues to enjoy support from
SBD Motorsport
.
As the 'junior' relation to the British Sprint Championship, the Sprint Leaders will take in all of the British Sprint rounds with the exception of Kirkistown in Northern Ireland. In addition, competitors will also have the opportunity of competing at Goodwood, Hethel, Llandow, MIRA and Curborough making it a truly national Sprint championship with 22 events.
The Championship will also be open to competitors with an Inter Club licence and, with classes for Road and Modified Production cars (both Series and Specialist), this national Sprint championship provides the opportunity for a competitor in virtually any class of car to win a prestigious title or award.
Scoring is simple and based upon the two fastest times set by each competitor across all of the timed runs available and measured against the class winner for the class they are competing in on the day. With two scoring opportunities at each event there will be 44 championship rounds with each competitor's best 20 scores counting towards their total.
Finally, the category trophies will now be those formerly awarded to the British Sprint categories with many of them having a long and illustrious history:
Road Cars Series Production – The Da Silva Trophy
Road Cars Specialist Production – The Plays Kool Trophy
Modified Cars Series Production – The Seaman Trophy
Modified Cars Specialist Production – The Kent Trophy
Sports Libre Cars – The Yorke Trophy
Racing Cars – The Bill Gouldthorpe Memorial Trophy
Draft calendar: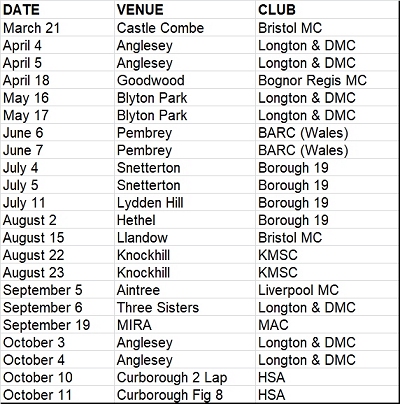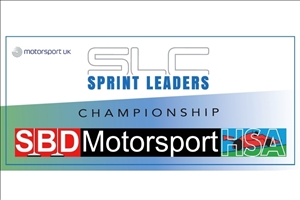 ---
2020 British Sprint Championship - calendar & changes
13/12/2019
In 2020, the British Sprint championship will be celebrating its 50th Anniversary and a number of changes have been made, designed to increase its appeal to a wider range of competitors and which will again be sponsored by
SBD Motorsport Ltd
. As the premier championship for Sprinting in the UK the emphasis is on outright performance with awards for the fastest car/driver combinations. The Class (or Category) part of the Championship will be included in an improved Sprint Leaders championship which will be revealed in the near future. The following summary of changes and calendar will remain provisional (and subject to change) until an MSUK Permit has been issued.
For 2020 each 'Run Off' (two per event) will be a separate scoring round of the championship and points will be awarded to qualifiers down to 25
th
place.
With a number of events, particularly Sprints, now offering three, four or more timed runs (T1, T2, T3, T4 etc.) it has been necessary to modify the British Sprint format depending on the number of runs planned by the organisers:
2 timed runs. When two timed runs are offered then T1 and T2 will be qualifications for the two Run Offs which will be held after all timed runs have finished.
3 timed runs. When three timed runs are offered then T1 will be the qualification for the first Run Off which will take place within T2. The 12 qualifiers will score based on their times set in T2. T3 will be the qualification for the second Run Off which will take place after all timed runs have finished.
4 or more timed runs. When four or more timed runs are offered then T1 will be the qualification for the first Run Off which will take place within T2. The 12 qualifiers will score based on their times set in T2. Similarly qualification for the second Run Off will take place in T3 and the 12 qualifiers will score based on their times set in T4.
Competitors who do not qualify for either Run Off will take their timed runs as usual.
Points will be awarded, in order of qualification, from 25 to the fastest qualifier down to 1 for the 25
th
qualifier. Then before each Run Off the 12 fastest contestants' points will be adjusted to 13. Upon the conclusion of the Run Off, points will be added on the basis of 12 to the fastest performer down to 1 to the 12
th
fastest to the 13 already acquired above. Should the Run Off fail to take place then the Top 12 competitors points will be reinstated.
With more rounds in the championship scoring will be the best 20 of 32 – reduced on a sliding scale if the total number of rounds goes down in the event of cancellations.
Bonus points. A single bonus point is available to a competitor who breaks a class record during qualification and Run Off runs and is the new Class record holder at the conclusion of these runs.
Classes will remain the same as in 2019.
The Foundation Cup (for competitors who haven't finished in the Top 12 overall and excluding competitors in Racing and Libre cars over 2000cc) will continue. Points will be awarded to the fastest twelve competitors based on their best and second best times in the timed runs.
The Britannia, Saxon and Celtic trophies will continue and be scored from each competitor's best two timed runs as a percentage of the appropriate class record.
The 2020 calendar comprises 32 rounds across 16 events and sees Snetterton make a very welcome return and the addition of a round at Three Sisters.
Draft calendar: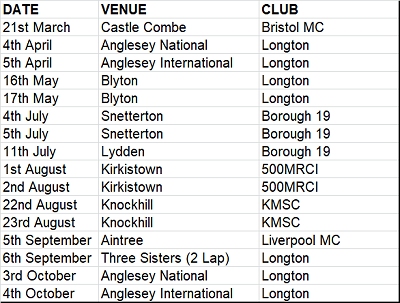 Updated 13/12/19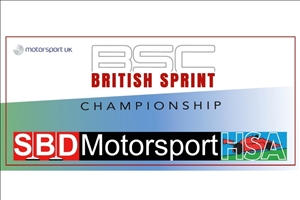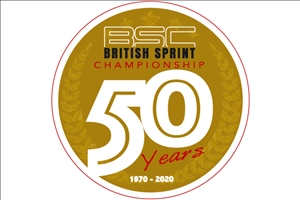 ---
The Pre-94 Formula Ford Register 2020 Challenge
03/12/2019
The Pre-94 Formula Ford Register 2020 Challenge
The organisers of the 2020 Pre-94 Formula Ford Challenge have announced the dates of this Challenge
July 18th Gurston Down Gurston FF Fest BARC (SW)
July 19th Gurston Down Gurston FF Fest BARC (SW)
+ + + +
Aug 1st Loton Park Pre-94 FF Hill Climb HDLCC
Aug 2nd Loton Park Pre-94 FF Hill Climb HDLCC
If you would like to learn more about the planned double header weekends, or wish to be added to the Register, please contact Charlie Reilly via charlie.reilly@sky.com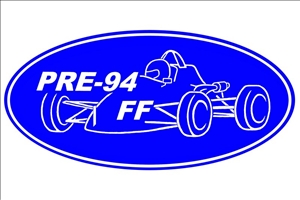 ---
Triple M / Pirelli to sponsor HSA Speed Championship
25/11/2019
The Hillclimb and Sprint Association are pleased to announce that for 2020 the title sponsor for the HSA Speed Championship will be Triple M / Pirelli and it will be known as the Triple M / Pirelli HSA Speed championship.
Triple M Motorsport
, located near Blyton Park, are a team of highly experienced motor sport engineers and drivers who are the UK distributor for Pirelli hillclimb and sprint racing tyres and provide race engineering, set up and driver training services.
The 2020 calendar is taking shape and the provisional list of rounds is: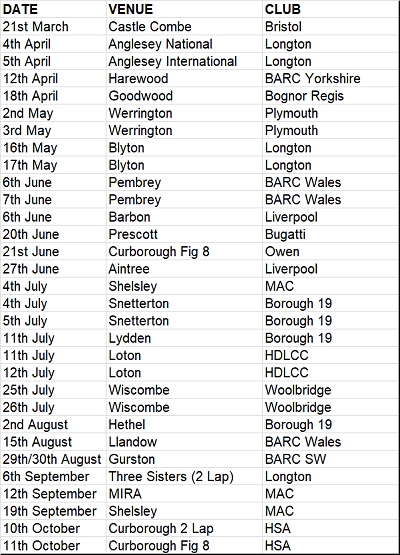 Updated 12/12/19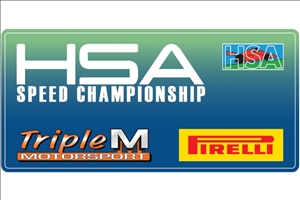 ---
BARC TO CONTINUE RUNNING BRITISH HILLCLIMB CHAMPIONSHIP
29/10/2019

Motorsport UK has reappointed the BARC to run the British Hillclimb Championship in 2020. The series will be run by a steering committee chaired by BARC GM Ian Watson alongside Tim Wilson (Championship Co-ordinator) and Jackie Wilson (Championship Administrator). Taking charge of promotional and marketing activities will be former MAC Operations Manager Robin Webb, while former BOC General Manager Stuart Webster will take responsibility for sponsorship and commercial activities.
The 2020 British Hillclimb Championship calendar has now been confirmed as follows:

Apr 25/26 PRESCOTT Bugatti OC

May 2 CRAIGANTLET* Ulster AC

May 9/10 HAREWOOD BARC (Yorks)

May 23/24 GURSTON DOWN BARC(SW)

Jun 6/7 SHELSLEY WALSH Midland AC

Jun 13/14 LOTON PARK Hagley & DLCC

Jun 20/21 DOUNE Lothian CC

Jul 4 BARBON MANOR Liverpool MC

Jul 5 HAREWOOD BARC (Yorks)

Jul 15 BOULEY BAY* Jersey MC & LCC

Jul 18 LE VAL DES TERRES* Guernsey MC & CC

Jul 25/26 WISCOMBE PARK Woolbridge MC

Aug 15/16 SHELSLEY WALSH Midland AC

Aug 29/30 GURSTON DOWN BARC (SW)

Sep 5/6 PRESCOTT Bugatti OC

Sep 19/20 DOUNE Lothian CC

Sep 26/27 LOTON PARK Hagley & DLCC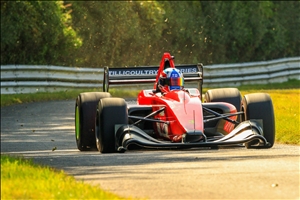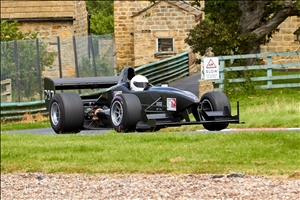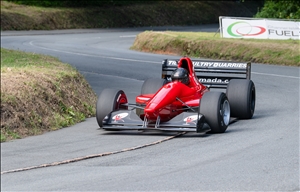 Wallace Menzies, Alex Summers and Dave Uren - the top three in the 2019 Championship
---
Sylva Phoenix returns 'home'
25/09/2019
Following the recent news that Honda S2000 competitor, Michael Thomson, had won the competition for a Sylva Phoenix we can report that Michael has already collected the car from Rodger John in Brézé, near Saumur in France.

Michael's story so far:

"My history in motorsport is short and has only just begun. 2019 marks my 3rd year competing and only my 2nd year on the hills. I grew up not far from Harewood, and saw my first events there when I was about 14 years old. I knew from those early days it was a sport I wanted to be involved in and this year I had the most memorable result to date. A dream that was nearly 20 years in the making, I won the 1B class at Harewood.
Whilst at Loton Park for the HSA double header weekend this year, I heard about the opportunity for the Sylva Phoenix. Just the thought of the opportunity really impressed me, showing the remarkable spirit of the sprinting/hill climbing community. I thought I would give it a try and emailed Rodger about myself. I described my beginnings in the sport, my other passions and aspirations. My intentions are to use the car with my friend and fellow competitor Raymond Worrall as a double drive. Having met Ray through the S2000 club about 7 years ago, he has given me an education of all aspects of cars and motors. Nearly everything I know about servicing, preparation and building cars is from Ray. Being slightly older than me, by just a tad, he grew up through the era of all the best cars. I knew the opportunity of the Phoenix would appeal, as he has commented before how much he loves the shape of them. I never expected to be selected, I always thought there would be much more deserving candidates. Having made the 1,200 mile round trip to Rodger's home in France to pick the car up it's made the opportunity ever more real. I'm looking forward to sharing the car with Ray and excited to start pushing the car to its limits and learning more about the sport.
It's exceedingly rare to be gifted such an opportunity. It's heart warming and inspiring to find someone who wants to give back to the sport they love and this really came through when I met Rodger, who was full of questions and intrigue about me and my plans for the Sylva. He took the time to show me around the car and all the little details. This kindness really underpins why I love the community we are a part of.
A massive thank you to Rodger and Margaret for their hospitality whilst visiting their gorgeous home in France. Rodger is an absolute treasure and the reason this sport is so great. From Raymond and myself, thank you again".

We hope to provide regular updates of Michael and Ray's exploits in the car bothe here and in Speedscene magazine.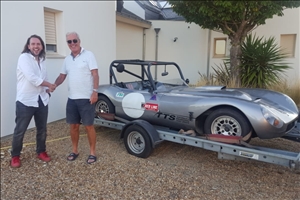 Michael (l) receives the car from Rodger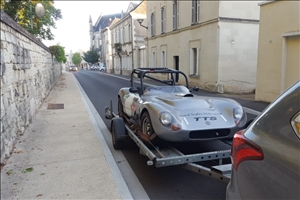 The journey home begins
---
Michael Thomson 'wins' Sylva Phoenix
06/09/2019
Michael Thomson (who drives a Honda S2000 in the HSA Speed Championship) has been awarded the Sylva Phoenix Fireblade offered by current owner, Rodger John, in an exercise to find a competitor who would continue to use the car in Speed events. Michael's was one of six highly credible responses received and plans to share the car with a fellow S2000 competitor.
In announcing the award, Rodger said:
" Thank you to everyone who expressed an interest in acquiring my Sylva Phoenix Fireblade. It is good to know that there are people still wanting to get involved in club-level motorsport.
I think everyone made a good case and across the range of replies every box that I wanted could have been ticked - from women in motorsport, father and son combinations, super ECUs and giving the car a nice wrap. However, as they say, there can only be one winner and I have decided that Michael Thomson should be the lucky recipient.
Being the first to respond he showed that he was very keen. He intends to share the car with his mechanical mentor, who is able to offer the car and trailer storage in his garage and has the technical skills to improve it over time. He is already active in the hillclimb championship and eventually wants to get into single-seaters. So my only stipulation to him is that if he wishes to dispose of the car before then end of the 2003 season, then he should offer it, free-of-charge, to the other respondents. I have asked the HSA to monitor this.
However, I feel sure that once a Michael gets used the benefits of the Phoenix it will be a long-lasting relationship.
Thank you again for your interest and I trust that the HSA will be able to use his stories and encourage everyone to get more involved in the Speed events."
The HSA through it's web site and Speedscene magazine will follow Michael's progress with the car throughout 2020 and beyond.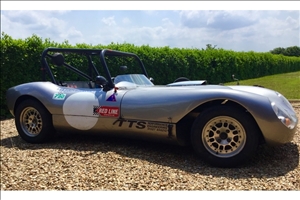 The Sylva Phoenix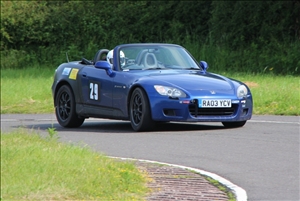 Michael in the Honda at Curborough (A Leivers)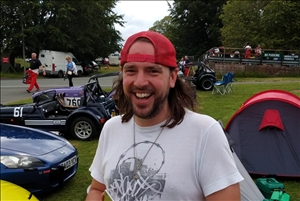 Michael in typically enthusiastic mode at Loton!
---
British Sprint at MIRA on September 14 cancelled
23/08/2019
The British Sprint Championship round at MIRA on September 14th has been cancelled.
The organisers or the MIRA Sprint, Midland Automobile Club, announced that " Sadly we have been advised by MIRA that we are no longer allowed to run the SBD Motorsport UK/HSA British Sprint Championship at this Meeting on 14
th
September 2019
.
We will however continue to run the SBD Motorsport UK/HSA Sprint Leaders Championship and SBD HSA Speed Championships along with the other invited Championships on the day."
This decision has taken everyone by surprise as it has been announced very close to the date of the event and because many of the British Sprint competitors will be taking part as they are registered in other championships.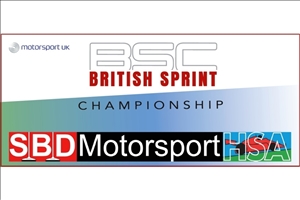 ---
2003 SYLVA PHOENIX / FIREBLADE - A UNIQUE OPPORTUNITY
08/07/2019
Rodger John (the second owner), lives near Saumur in the Loire Valley, has this Sylva Phoenix/Fireblade and Woodford single axle trailer which he would like to give to an aspiring competitor who wants to go hillclimbing and sprinting – ideally a family using it as a shared drive.
The car was originally built by Stuart Taylor for the 2003 RGB Championship (Chassis No6) and has been used for summer trackdays in France since 2007. It has recently been used on track and is in a good, running condition. It has a lightweight body shell so has some gravel rash from underneath. Ideally, it needs the body off, suspension clean up, check and paint etc. A wrap would do wonders.
The car and trailer can be collected from France or delivered to an English ferryport for a sum to be agreed, but in the order of £500.
Anyone interested in this opportunity should write between 500 and 1,000 words describing why they would be a worthy recipient and their plans to go hillclimbing/sprinting with the car and send them to
rdjohn0@gmail.com
to be received by the closing date of August 31st.
Rodger will select the most interesting and deserving response, which will be featured in a future issue of Speedscene magazine.
Brief details of the car include:
919cc Honda Fireblade engine with tuned head by TTS - runs 98 Octane

6-speed sequential gearbox with LSD from LR Discovery via prop-shaft - No reverse

Weight about 450kg dry, produces about 130bhp, so about 285bhp/tonne

Rocker arm inboard suspension at front with adjustable dampers

Rose-jointed long wishbone rear - with adjustable coil overs

Image split-rim magnesium 13 inch wheels - Nankang tyres have done 4 track days. They are too hard for car weight but are fine on track - better with Yokohamas and Toyo Proxes

4-pot Willwood front and Sierra rear brakes

Programmable Stack instruments will IR lap timer (unused)

Tillet race seat set for 31" leg. 5-point race harness (probably -out of date)

Woodford light trailer with long ramps for low ground clearance

Will include things like extinguisher, tow webbing, Jerry can etc.
More photos and a video can be found at
http://www.loire-holiday-rentals.com/car/Index.html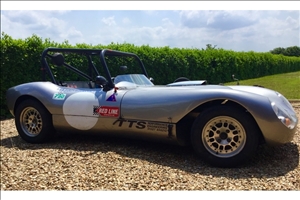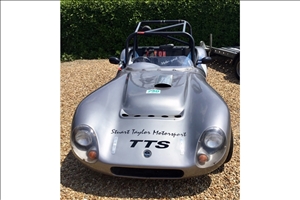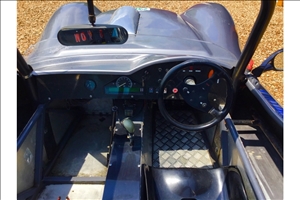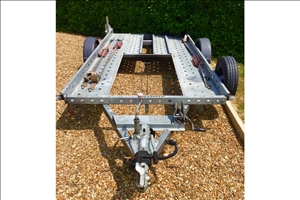 ---
PORSCHES AT PRESCOTT
24/06/2019
In the largest ever gathering of the marque at the Cotswold hillclimb, and with PetroCanada Porsche Club GB Hillclimb and Sprint Championship contenders, supported by a Porsche Invitation class, providing the on-track action, around 40 competitors posed for a photoshoot at Ettores Bend during the lunchbreak for Prescott's 'Porsche at Prescott' day on June 22.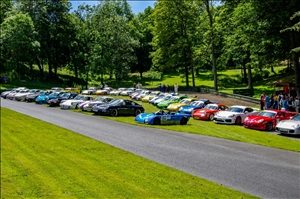 The Ettore's car park! (John Hallett)
---
Pickles & Greenan star at the Palace
28/05/2019

Martin Pickles (33.98s, Jedi MK1) and Andy Greenan (30.57s, Empire Evo) took the FTDs at 7OAKS & District MC's two day Motorsport at the Palace event on May 26 and 27.

Sunday: On his first visit to the event Martin Pickles was pushed hard by Palace regular, David Seaton (34.29s) in his Pilbeam MP43 with BMW V8 power. Behind this pair were HSA members and competitors Pete Goulding (Mygale), Jeff Wiltshire (Zeus), Justin Andrews (Impreza), Fyrth Crosse (F3 Ensign) and Chris Berrisford, also in an Impreza. Grant Cratchley was another Palace debutant in his F3 Brabham BT21B and was 12th overall.

Monday: Andy Greenen took FTD, making a significant improvement on his 2017 time of 31.30s and setting a new course record in the process. He was followed by Seaton, Goulding and Wiltshire. HSA committee member, Eric Morrey, was in the field on Monday and took an excellent ninth overall in his Mod Prod Hillman Imp.
Martin Pickles, Sunday FTD at the Palace (Mike Stokes)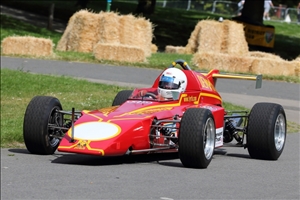 Fyrth Crosse, a Palace regular in the F3 Ensign (Mike Stokes)
---
HOLLIER BACK ON FORM
20/05/2019
After a near 2-year absence from competing in a regional championship event at the East Devon venue, Ed Hollier returned to winning form at Torbay Motor Club's Wiscombe Hillclimb last Saturday with a stunning climb for FTD in his bike-engined Pilbeam MP62. A 36.95s run, his last of the day, was 7/10ths faster than the OMS-Suzuki of Andrew Forsyth (OMS CF04) and also eclipsed the efforts of Southwestern chargers Mike Lee, Ben Bonfield and Rod Thorne, all of whom dipped below the 40 second mark.
The event ran seamlessly until early afternoon, when Luke Trotman contrived to barrel-roll his Mallock in the Esses after getting a nearside front wheel on the grass enough. His emergence from the car completely unscathed was a tribute to modern mandatory safety equipment and the combined efforts of Westcountry Rescue, the marshals and the recovery unit soon had the event back on track. Several of the classes were won by the smallest of margins, with Rodney Eyles' Alfa Romeo 4C snatching a win in just over 2/10ths of a second and Simon Glover beating Martyn Glover in their Mitsubishi Evo by just 14/100ths. The National Hillclimb Association Championship motorbikes again set an example of close competition. KTM machines dominated the solo motorcycle classes, Tommy Hodges taking the major award on two wheels with a 41.54 on his SMR version. Simon and Jayne Foster set the pace on three wheels with 44.96 on their Honda F2 outfit.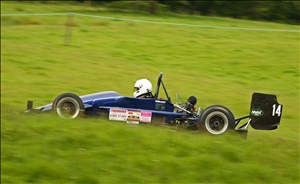 Ed Hollier was back, and on winning form in his MP62 (Howie Fowler - 569 Motorsports Media)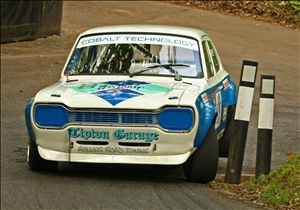 Class winner Martyn Pyke shaves the Esses markers (Howie Fowler - 569 Motorsport Media)
---
DUELLING MAZDAS DELIVER AT GURSTON
24/04/2019
After a weekend of record breaking in their Mazda MX5s, Jason Richardson and Mark Crookall left the opening Gurston Down Championship double-header holding first and second place in the Meadens Skoda backed series.
Richardson's record 39.82 run on Saturday afternoon was followed just seconds later by a 39.58 from defending champ Crookall, which would stand as the fastest of their weekend. But Crookall's failure to score a target time bonus point on the second runs (each run counting as a round, thus four rounds over the weekend) gave Richardson, inside target on every run, a one point advantage. So with both drivers sharing the points on Sunday, Richardson took the championship lead by that single point after the first four rounds.
Crookall was not alone in second place on the table as moments after his record run on Saturday, Miles Horne's Peugeot 306 Rallye took two tenths off Adam Greenan's 3-years old 2-litre Roadgoing Series Production record to gain a bonus point. With three further class wins for Horne over the weekend he levelled with Crookall on 41 points. Two records for John Davey in his Midget over the weekend earned fewer points than he would have liked as they were slower than the class target time and he was the only registered contender in the class. The weekend's final record breaker was Tim Pitfield, who ran below the 1400cc Sports Libre record on all four runs in his DJ Firecat but again, frustratingly outside the class target time. But with 40 points he shared a championship fourth place together with Shaun Fudge, Adrian Lewis, Steve Holland and Murray Wakeham.
The meeting included the first two rounds of the Cavendish Ships Stores BARC SW Top Ten Challenge. A shortage of single seaters – just 8 competed – was the opportunity for the faster Specialist production and Sports Libre cars to score points. Paul Crute in his 3-litre Jaguar V6 engined OMS 28 was fastest on Saturday, delighted with his first ever FTD, which he celebrated the following day by finding another tenth to score his second! He was followed home on Saturday by Chris Cannell's sonorous, twin-engined Force-Suzuki SR8 and on Sunday by Andrew Forsyth's 1.4-litre OMS-Suzuki. Peter Hammock's brand new Empire Wraith was 4th and fifth, swapping the positions with the fastest of the Locaterfields, Steve Holland's Hayabusa engined Caterham.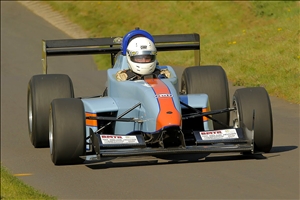 Paul Crute scored his first ever FTD - and did the double! (Steve Lister)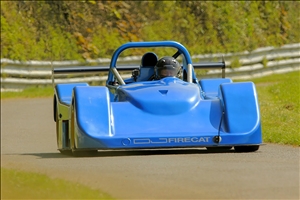 Tim Pitfield was one of several record breakers over the weekend (Steve Lister)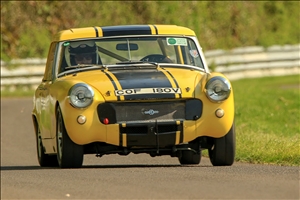 Top Ten Challenge sponsor John Davey also made the record books (Steve Lister)
---
Croft Easter Monday Sprint cancelled
05/04/2019
The Darlington & District Motor Club have reluctantly had to cancel the Easter Monday sprint at Croft which was to be rounds of the 2019 British Sprint and Sprint Leaders Championships. Apparently an insufficient number of entries have been received to make the event economically viable.
We have been advised that Competitors who have entered will be contacted by email and entry fees will be refunded.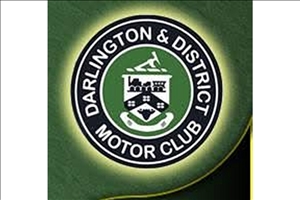 ---
Motorsport at the Palace - tickets & entries
04/03/2019
Sevenoaks & District Motor Club are once again organising the Motorsport at the Palace event, including two Sprints, at Crystal Palace, South London over the May Bank Holiday week-end (26th & 27th).
Tickets to spectate and competitor entries can now be found at https://www.motorsportatthepalace.co.uk/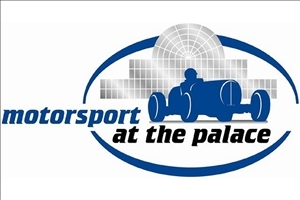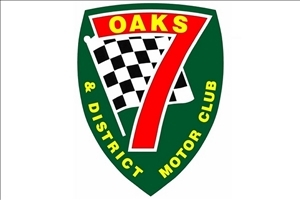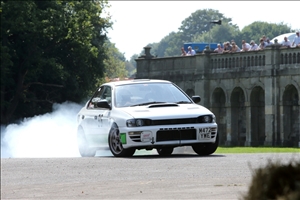 Palace action. Justin Andrews (courtesy Mike Stokes)
---
The Pre-94 Formula Ford Register 2019 Challenge
27/02/2019
The organisers of the 2019 Pre-94 Formula Ford Challenge have announced the dates of this year's events:
| | | | |
| --- | --- | --- | --- |
| Date | Venue | Event | Club |
| July 20th | Gurston Down | Gurston FF Fest | BARC (SW) |
| July 21st | Gurston Down | Gurston FF Fest | BARC (SW) |
| | | | |
| Aug 3rd | Loton Park | Pre-94 FF Hill Climb | HDLCC |
| Aug 4th | Loton Park | Pre-94 FF Hill Climb | HDLCC |
If you would like to learn more about the planned events, or wish to be added to the Register, please contact Charlie Reilly via charlie.reilly @sky.com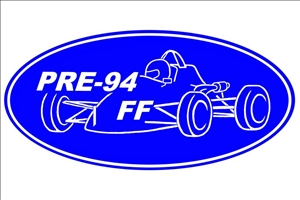 ---
Supercar Fest at Shelsley Walsh
08/02/2019
A Supercar Fest is to be held at Shelsley Walsh on Saturday July 9th 2019.
"Supercar Fest is a supercar themed summer festival featuring both modern day and classic supercars. The event will include a full day of track action, a supercar paddock, a number of motorsport demonstration runs, a classic & sports car show, concours, trade stands, live music and great food & drink. Camping in the Orchard next to the paddock is also available so why not make a club weekend out of it! The 1-day event in this beautiful part of the English countryside is also a great destination for a 'drive out' for your club members.

All car clubs will receive half price tickets (£12.50pp) and a privileged parking area right next to the track."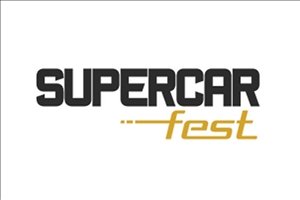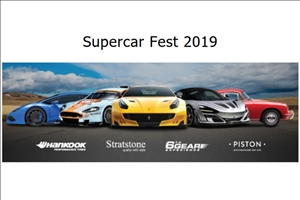 ---
March Combe & April Anglesey entries open
01/02/2019
The 2019 season is beginning to get under way with entries open for (probably) the first event of the year - Bristol Motor Club's Great Western sprint at Castle Combe on March 23rd.
You can find the regs and enter the event on-line.
Longton & District MC have also released their regs for the year and opened entries for their Anglesey April double header.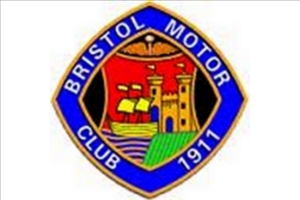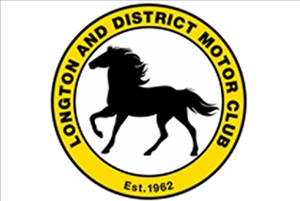 ---
Entries for the 2019 SBD HSA Speed Championship open now
01/01/2019
Entries are now open for the 2019 SBD HSA Speed Championship. Full details, including draft regulations, classes, calendar and how to enter can be found here.
A new suite of Championship web pages has been developed for each of the three Championships the HSA will be organising in 2019 - the HSA Speed, the British Sprint and the Sprint Leaders. Details for the other two Championships will be published in due course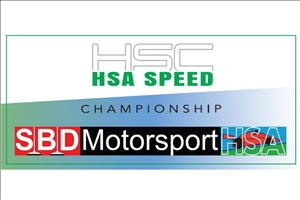 The 2019 SBD HSA Speed Championship
---
Back to Top