HSA NEWS
---
Brtiish Sprint Championship announcement
13/09/2018
The MSA and Hillclimb and Sprint Association (HSA) are pleased to announce that the HSA will be taking over the organisation of the British Sprint Championship from 2019. Paul Parker has successfully run the series for 20 years, but is retiring at the end of the 2018 season and the HSA, already set to run the revived Sprint Leaders Series in 2019, will take over the British Sprint Championship, ensuring the continuation of this important series. A full calendar will be published as soon as available. Sporting Regulations and Scoring System are currently under development. The HSA Speed Championship will continue in its present guise, with SBD as sponsors of this, the British Sprint Championship & Sprint Leaders Championships. If you would like to be kept up to date with details please look on the HSA's website www.hillclimbandsprint.co.uk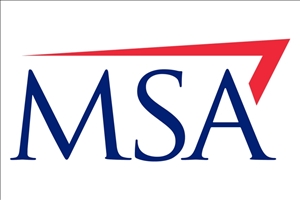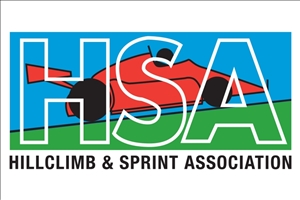 ---
CROOKALL TAKES SECOND GURSTON TITLE
10/09/2018
Defending Gurston Down champion Mark Crookall secured a second hill title at the Wiltshire hill's closing meeting of the season. The series had gone down to the wire with James Moore (Empire-Suzuki) and Paul Dickinson (Honda S2000) tied for the lead coming to the final rounds. But with neither driver entered, two class leading runs by Crookall were enough to ensure that the Mazda MX5 driver surpassed their total to take a second consecutive title.
Already confirmed as the winner of Gurston's parallel Top Ten Challenge series in July, Peter D Smith was sidelined, together with co-driver Dick Gaylard, when their Force-Suzuki broke a driveshaft in practice. This allowed the non-registered Neil Coles to step in and take his first Gurston FTD in his OMS-Suzuki 25. Chris Cannell finished second overall in his twin-engined Force-Suzuki sportscar, moving up to second place in the Challenge series and edging out Gaylard by a single point.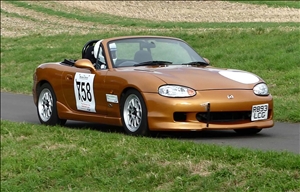 Mark Crookall successfully defended his Gurston Down Championship title (Ian Beard)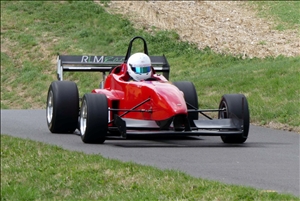 Neil Coles took his first Gurston FTD (Ian Beard)
---
Support for the 600cc Racing Car Class in Speed Events
21/08/2018
Following some recent discussion on the 600cc Race Cars site on Facebook, I have offered to create a register of runners and riders for the 600cc racing car class.
Over the last 3 years, a small team led by Charlie Reilly, including myself, has done this for Pre-94 Formula Fords and there are now about 50 cars and drivers on that register. This has been used to help promote about 6 special events each year (3x2 one day meetings) at which we have gathered between 10 and 20 FF entrants per event. This in turn has helped rejuvenate general interest in FFs and led to stronger entries at a variety of speed events up and down the country.
Can we do the same for 600 racing cars? Both the HSA and Midland Hillclimb championships are keen to see the class build again, and contrary to what some of the commentators say, a competitive 600 is a lot cheaper than a competitive 1100, particularly when capital and depreciation costs are considered on top of normal running costs. I would like to think that we could also attract newcomers to the sport who don't need or want to go down the road car route.

With space frame chassis and mechanical gearchanges, we can avoid much of the 1100 class expense, but still enjoy slicks and wings. I dont think you can go quicker for less investment than in a 600cc racing car. If we can summon enough interest via a register, we can then use that to communicate with each other to help pick events where we can turn out in sufficient numbers to avoid being merged with the 1100s.
If you would like to be included, please write to me at "Ask the Expert at the HSA" via the HSA website with your name, your car chassis/engine/capacity and an email address. Not everyone uses Facebook so I propose that once the register has been set up, we communicate mainly by email with news/ideas etc. This is how the Pre-94 FF register works. If you know someone else who might be interested, please pass this message to them.

I don't believe we need another club or a championship - just a spreadsheet which holds the above contact data. If we get enough names of people who want to compete in 2019, I will be talking to some of the event organisers. Lastly for now, can I suggest that we try to come together before the end of the 2018 season and enter one or both of the Curborough meetings on 13 and 14 October?
Les Buck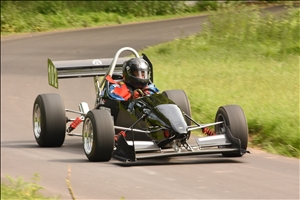 Les Buck , OMS Hornet, Loton Park, May 2018
---
ROY LANE'S HILL RECORD BROKEN AFTER 43 YEARS
19/08/2018
4-times British champion Roy Lane's outright record at Scammonden hillclimb, set in his Championship-winning McRae-Chevrolet GM1 in 1975, the year in which he won the first of his four BHC titles, was finally broken last Saturday by James Baxter in his ex.Tony Marsh/Tony Wiltshire 2.5 Gould-Cosworth GR55 V6 at Pendle District MC's event. Lane's record for the dam-side course alongside the M6 stood at 21.97s, and with two practice and no less than ten timed runs on offer, Baxter was under the record on seven of his eight timed runs finally leaving it at 21.26s. Equally meritorious was David Tatham's 21.81s on the final run in his 1-litre OMS-Suzuki, which would have left him with the new hill record had Baxter not entered!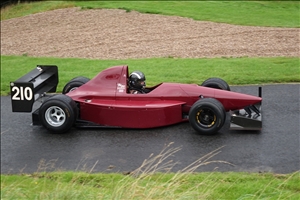 James Baxter in the Gould at Harewood (Steve Wilkinson)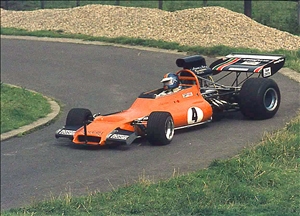 Roy Lane in the McRae (Steve Wilkinson)
---
FORMULA E AT SHELSLEY
13/08/2018
Former GP3, GP2, Le Mans and Formula E driver Mitch Evans drove the Panasonic Jaguar Formula E car at Shelsley in a successful attack on the famous hill's electric car record at the recent British Championship event. Evans had never driven in a hillclimb event before and after a shakedown run late on Saturday, he did two successive runs on a still damp track before the first BHC run-offs on Sunday morning, Although the track was slightly drier than when the qualifiers for the opening run-off had run, his 30.46s run, with a 103mph Ess approach speed and a low 2.0s launch, would have qualified tenth for the run-off as Evans set a new electric car record for Shelsley.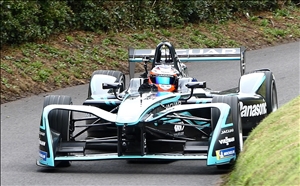 Mitch Evans cuts it fine at Kennel in the Jaguar Formula E (Ian Beard)
---
A few images from the 2018 FoS
26/07/2018
The 2018 Goodwood Festival of Speed was held on 12th to 15th July and saw the Pikes Peak record breaking VW IDR of Romain Dumas win the Sunday shootout with a time of 43.86s on the 1.16 mile hill.Another electric car - Peter Dumbreck's NIO EP9 was runner up, a half a second slower.
Photographer, Mike Stokes of www.tracksideimages.uk.com was on hand to take these images and more will appear in Speedscene magazine.

The VW IDR of Romain Dumas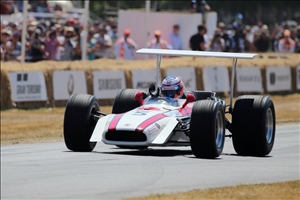 Jenson Button in the Honda RA301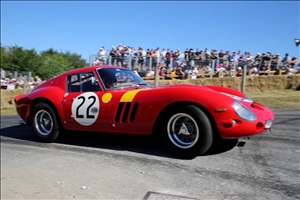 A 1962 Ferrari 250GTO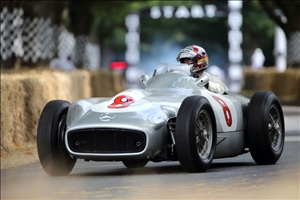 Bernd Schneider in the Mercedes W196
---
HSA Awards Lunch - Book Now
26/07/2018
We would like to remind all HSA members and competitors that the 2018 SBD HSA Speed Championship annual Awards Lunch will be held in the Prescott Club House on November 25th and that you will be able to book your tickets here shortly.
We are pleased to announce that we will be joined by the new MSA Chairman, Dave Richards, who has kindly agreed to say a few words and has been showing great interest in our branch of motor sport.
We will also reveal more details of the 2019 MSA Sprint Leaders Championship, an exciting opportunity for Sprinters in many classes to take part in a National Sprint Championship.
You can book tickets here.

We look forward to seeing you in November.

Special guest, MSA Chairman, Dave Richards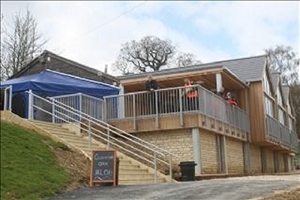 The Prescott Club House
---
SMITH'S GURSTON CHALLENGE TITLE
25/07/2018
With an unbroken run of six outright wins in his Force-Suzuki PT, Peter D Smith secured his first Gurston Down Top Ten Challenge title at the Wiltshire hill's July weekend double. His bid for consecutive FTDs came under fire from driver Paul Crute on Saturday, the OMS-Jaguar V6 driver closing to within eight hundredths of Smith's winning time before bettering it (unofficially)by the same small margin during Sunday's practice. But he couldn't match the time during the actual competition and Smith's co-driver Richard Gaylard elbowed through for second overall as the new champion set a weekend best of 29.57sec.
The event also hosted Gurston's annual Formula Ford Festival, with 16 and 18-strong fields over the two days. Castle Combe circuit ace Shaun Macklin reset Simon McBeath's class record on Saturday, going on to lower it still further the following day despite the best efforts of the former holder in his similar Swift SC92, who had to settle for the runner-up spot each time.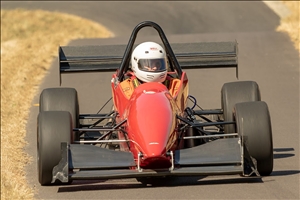 Peter D Smith - unbeaten in 2018 (Steve Lister)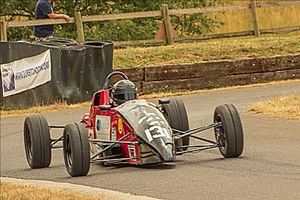 Shaun Macklin twice reset Gurston's Formula Ford record (Steve Lister)
---
Motorsport at the Palace to return in 2019
17/07/2018
The Sevenoaks & District Motor Club are pleased to announce that they will be going ahead with the Motorsport at the Palace sprint in 2019.

Held over the traditional Bank Holiday weekend of Sunday 26th and Monday 27th May 2019, the two day non-championship speed event will be run along similar lines to previous years where classes are decided by year of manufacture rather than engine size. This attracts a wide and varied entry of historic, classic and modern competition vehicles.Sevenoaks Motor Club Event Co-ordinator Karen Webber said, "Sadly we were not able to run the event in 2018 due to the change of date, but at our AGM the club voted unanimously that we should go ahead for 2019. We have therefore begun the task of putting everything in place and trying to attract a sponsor."
Sevenoaks & District Motor Club have run the Crystal Palace sprint weekend since 2010 with an average public attendance figure of 4,500 people. The sprint entry usually attracts around 100 entries per day split into the 20 classes. The sprint course is roughly 740 meters long and uses a good percentage of the original Crystal Palace motor racing track. The outright course record for the Sevenoaks sprint event is currently held by Andy Greenen driving an Empire EVO2 single seater in a time of 31.30 seconds set in 2017.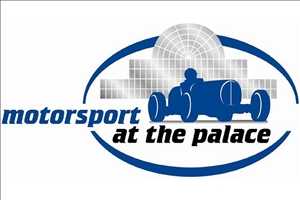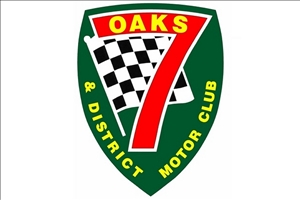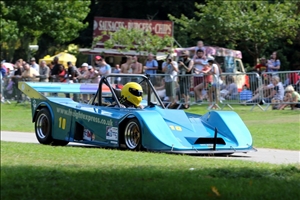 Palace action with David Seaton's Pilbeam (Mike Stokes)
---
Thorne's FTD at Impney hillclimb
13/07/2018
Malcolm Thorne took FTD at the annual Chateau Impney hillclimb in his immaculate Lotus 35 improving on the 2107 record by half a second with a 38.86s run. He was followed by Martin Jones' Brabham BT21B and Justin Maeers Lola T70.
Held in glorious weather over the week-end 7/8 July over 200 competitors gathered for the action.
All images courtesy of Mike Stokes of Trackside Images.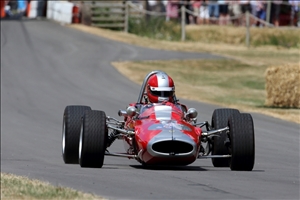 Malcolm Thorne on his way to FTD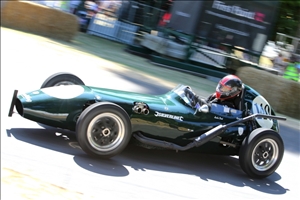 Mark Woodhouse's class winning Elva FJ 100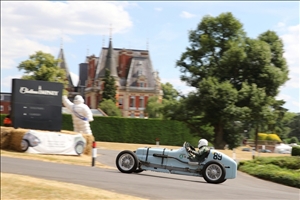 Geraint Lewis' Frazer Nash passes the Chateau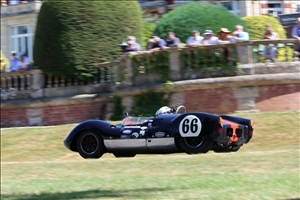 The class winning Cooper Monaco T49 of Justin Maeers
---
The MSA Sprint Leaders Championship
27/06/2018
The MSA Sprint Leaders Championship is to be revived for the 2019 Sprint Season, organised by the Hillclimb and Sprint Association. Drivers and entrants who wish to be registered for the Championship will need to be in possession of a valid current National A Speed Licence (minimum) or equivalent issued by the MSA, or National A (Open) Speed Licence for Classes G & L. We are making you aware of this requirement so that you can obtain the necessary signatures during the 2018 Season if you would need to upgrade your licence to enter this competition.
The series was last run in the early 1990's and the MSA are currently dusting off the impressive trophy ready for the series revival next year. There will be approximately 12 rounds around the UK, a full calendar will be published as soon as available. Sporting Regulations and Scoring System are currently under development. If you would like to be kept up to date with details please register your interest by email at slc@hillclimband sprint.co.uk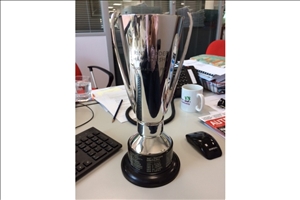 ---
SMITH AGAIN AT GURSTON
18/06/2018
Venue expert Peter D Smith swept the board at Gurston Down's second home championship weekend of the year, the Tony Marsh Memorial event, taking FTD both days in his Force-Suzuki. He left it until the very last minute at Saturday's event, as both Ben Wheeler's Empire-Suzuki and Neal Coles' OMS-Suzuki led the field until Smith's very last run, when he snatched a narrow win from Wheeler by just seven hundredths of a second, stopping the clocks at 30.12sec . 'I was disappointed it wasn't a 29', said the man who has several times set Gurston FTDs with sub-half-minute runs. His ambition was thwarted by the narrowest possible margin the following day, when he beat Coles by a quarter of a second to take the outright win with a run in exactly 30.00sec. But the two wins left him with a clear lead in the Cavendish Ships Stores BARC (SW) Top Ten Challenge series after four rounds, seven points clear of a tie for second place between his co-driver Richard Gaylard and Chris Cannell, in his twin-engined Force-Suzuki SR8 sports libre car.
The only driver now undefeated in all eight rounds of the class-based Meadens Skoda Gurston Championship (with each class run a counting round) is 2-litre Roadgoing contender Paul Dickinson in his Honda S2000, who now takes sole charge of the Championship lead which up to now has been tied by several drivers. Defending champion Mark Crookall is a little down the order having failed to secure an unbroken run of wins, but he did lower his own Mazda MX5 class record on the Saturday event, to win the Tony Marsh Memorial Trophy for the second year in succession.
Aside from the 4-wheel action, there was a sterling performance by NHCA rider Tom Short, the only man on two wheels to set sub-33sec runs over the weekend. The 600cc KTM rider went on to win the Top Ten motorcycle run-off each day, his best run of 32.86 giving him victory in Saturday's shoot-out.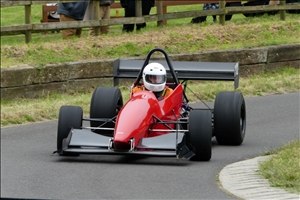 Fastest on four wheels - Peter D Smith (Ian Beard)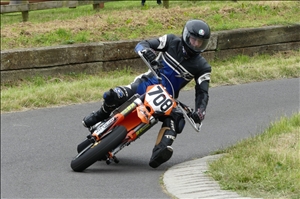 Fastest on two wheels - Tom Short (Ian Beard)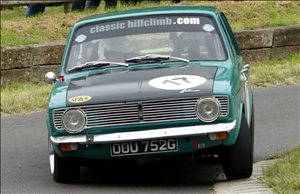 Hillclimber with a difference - Philip Stader's Hillman Minx (Ian Beard)
---
2018 FIA HILLCLIMB MASTERS
14/06/2018
It's now been officially announced that the 2018 FIA Hillclimb Masters, the biennnial event at which Britain's top hillclimbers had such success in 2014 and 2016, will take place in Gubbio, Italy from 12 to 14 October.
Steeped in motorsport history, this medieval Umbrian town is in the region where early 1950s F1 Alfa Romeo driver Luigi Fagioli spent most of his life, and it's in his honour that the local automobile club has been organising a hillclimb since 1966 – the 'Trofeo Luigi Fagioli' – which weaves up a neighbouring hill and through the Gola de Bottaccione archaeological site.
The 4.1 kilometre course will be shortened to 3.3 km for the Masters. The start will be higher up, but the finish line will still be at the summit of the hill where spectators have a spectacular panoramic view of the last 700 metres. As with previous editions of the Masters, live streaming coverage is planned.
For more details, visit: https://www.fia.com/events/hill-climb-masters/season-2018/fia-hill-climb-masters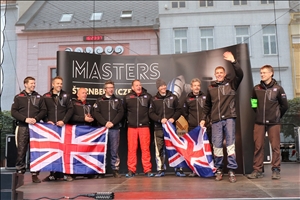 The Team UK lineup in the Czech Republic for the 2016 Masters
---
ONE-ALL DRAW
21/05/2018
Jason Mourant took Loton Park's first Wynn Developments Midland Top Twelve Run-off of the year in fine style ahead of his co-driver for the weekend, Alex Summers, setting FTD in the process. In the second run-off Summers, who had qualified fastest, took the win ahead of his benefactor and extended his Top Ten Challenge series lead to 12 points, with Mourant climbing up to second place ahead of Robert Kenrick and Tony Hunt.
Amid a plethora of personal best times in fine Shropshire weather, one car and driver combination stood out. Still coming to terms with his 'new' GWR Predator-BDG, Johnathen Varley clipped seven hundredths off Morgan Jenkins' six-years-old 2-litre racing class standard and was the only driver to break a record over the week-end.
Midland Championship aspirants James Kerr and Richard Brant renewed their previous weekend's Harewood duel and Peugeot driver Kerr, the victor in Yorkshire, again got the better of the Renault driver, this time in both rounds of the Midland Hillclimb Championship. However the supercharged Vauxhall VX220 of five times Midland Champion Mike Turpin suffered two defeats at the hands of an on-form Paul Howells in his Porsche 911 RSR.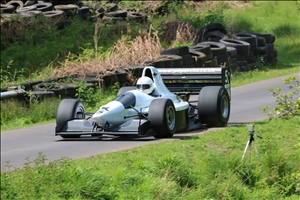 Jason Mourant set the outright pace at Loton Park (Steve Wilkinson)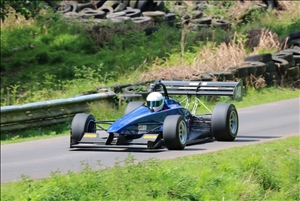 Johnathen Varley re-wrote the 2-litre record book (Steve Wilkinson)
---
Croft Sprint on April 28th Cancelled
30/04/2018
The Croft Sprint due to be held on April 28th was cancelled due to a lack of entries we have been informed.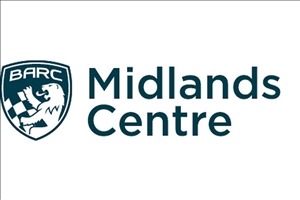 ---
'NEW LOOK' GURSTON CHAMPIONSHIP OPENS
23/04/2018
Gurston Down ace Peter D Smith set the outright pace each day at the first double-header weekend of the BARC Southwest Centre's 'new look' Gurston Championship. Despite missing Saturday's afternoon runs with a broken front wing mounting, the Force-Suzuki driver bounced back on Sunday to take a second outright win. Co-driver Richard Gaylard followed him home, having been edged out of the runner-up spot the previous day by Chris Cannell's twin engined Force sports libre car. At the end of the weekend, which for the first time saw two rounds of the seven-round Cavendish Ships Stores Top Ten Challenge, Smith leads the series with Gaylard and Cannell tied in second place.
The weekend saw no less than four rounds of the class-based Gurston Championship. With a new format and scoring system for 2018, each class run is now a counting round with scoring on a 10-9-8 etc. basis. Three 'double-header' weekends and a one-day final in September bring the number of rounds up from 5 to 14. At close of play on Sunday, five drivers tied for the lead in the series. Defending champion Mark Crookall lost out in a Mazda MX5 tussle with Jason Richardson as they swapped places on Saturday, while on Sunday Graham Hadley got close to Crookall's class record to take the win while just three hundredths adrift, Richardson spun at Karousel. But with all three taking turns to lead the class, they failed to score maximum points and it was left to Paul Dickinson (Honda S2000), Clive Skipper (Caterham), Martin Watson (Westfield), Fyrth Crosse (Ensign) and James Moore (Empire), all of whom had stayed out front in a class of three or more all weekend, to jointly lead the Gurston Championship series after a busy and competitive two days.
A full report will follow in Speedscene 198. Results are available on: http://www.tsl-timing.com/file/?f=sprint/2018/181684.pdf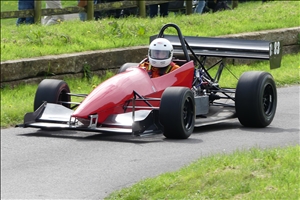 Peter D Smith set the pace throughout the weekend (Ian Beard)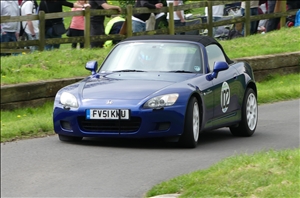 Paul Dickinson was one of five drivers who ended the weekend on maximum Gurston Championship points (Ian Beard)
---
BARBON GROUNDWORKS COMPLETED
13/04/2018
The groundworks at Barbon hillclimb, which has suffered many times in the past from a waterlogged paddock causing abandonment of several events and cancellation of last year's British Championship round, are now virtually complete. The picture shows the new startline access road and some of the drainage channels under construction. There is also a short paddock return road from just below the startline (behind the camera).
Entries for Liverpool Motor Club's Regional Multi-Championship hillclimb on June 9 and for their British Championship meeting on July 7 can now be made on-line. Go to: http://www.liverpoolmotorclub.com/barbon-hillclimb/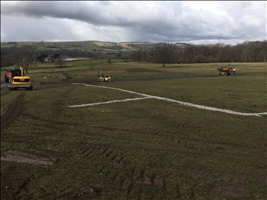 ---
Harewood April 15th Cancelled
12/04/2018
Just received from the Harewood organisers:
"It is with great regret that we have to cancel the Spring National Hillclimb at Harewood on Sunday 15th April.
This difficult decision was made following a site inspection yesterday. The recent wet weather has made a lot of the land unusable and whilst the paddock and track areas are in reasonable condition, we do not have sufficient dry ground to cater for the large number of cars, trailers, motorhomes, etc. Anyone who was at Harewood on Practice Day will appreciate how bad the ground conditions were, especially in the main car park, with numerous vehicles, including 4x4's becoming stranded and having to be towed out with a tractor. You will also be aware that we invested heavily in drainage a few years ago to alleviate what was a regular problem. This has proved successful over the last few years but clearly the extensive period of wet weather has proved too much for the drainage to cope with.
On behalf of BARC Yorkshire Centre, I offer our sincere apologies for the obvious inconvenience and disappointment it will cause to you. I hope that you will understand our decision and look forward to seeing you later in the season.
Tim Wilson
Clerk of the Course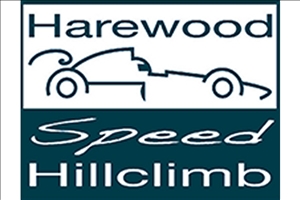 ---
New Hillclimb proposal from the FIA
31/03/2018
The FIA have recently released details of a new proposal for closed vehicle classification for the FIA European Hillclimb championship based on a 'performance factor' in place of the more traditional methods such as engine capacity.
The objectives are to improve competition, increase the number of eligible vehicles and simplify/minimise regulations. Initially for closed cars, it will be interesting to see how the proposals are received and then work if they are put into practice.
Full details are available here: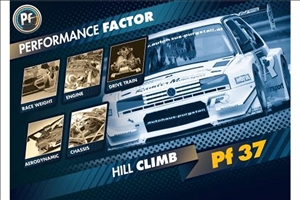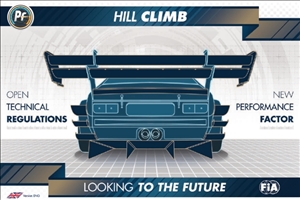 ---
GREEN LIGHT FOR PUBLIC ROAD HILLCLIMB
30/03/2018
The MSA has recently given approval for the first competitive closed road hillclimb on the British mainland to be held since 1925, after the passing of a new law that allows local motor clubs to apply for permission to temporarily close public roads and suspend the Road Traffic Act in order to host motorsport events.
Jointly organised by Truro and District Motor Club, Newquay Auto Club and Plymouth Motor Club, the Watergate Bay Speed Hillclimb will take place on 15/16 September this year over a stretch of the B3276 coast road just north of Newquay. A maximum of 90 cars will start the course at Watergate Bay, one of Cornwall's most popular tourist spots, and head south towards Newquay on a 720 metre (787 yard) course.
Truro & DMC comp.sec. and deputy event director Dave Brenton, put forward the original proposal to the Watergate Bay Hotel, who were very supportive. All profits from the inaugural running of the event will be donated to the Cornwall Air Ambulance and the Cornwall Food Foundation, which includes Jamie Oliver's apprentice training scheme at Watergate Bay's Fifteen restaurant.
More details on: http://www.trurodmc.co.uk/watergate-bay-update/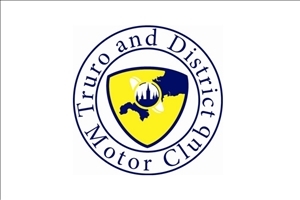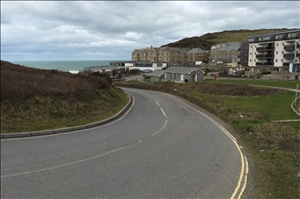 A section of the Watergate Bay coast road
---
2018 Palace Sprint cancelled
17/03/2018
Unfortunately, the 2018 'Motorsport at the Palace' Sprint has been cancelled. The event, which was due to return to its normal May Bank Holiday date this year, saw the promoter pull out, leaving insufficient time to re-organise. Located in South London, the event is a major undertaking but the organisers are hoping that it will return in 2019.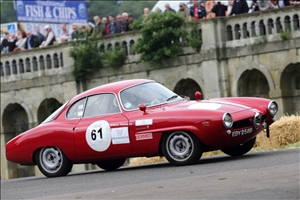 Graham Thomas' Alfa at the Palace in 2016 (Mike Stokes)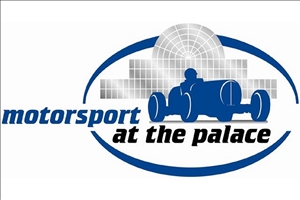 ---
HSA News update
19/01/2018
It's a New Year and a new season is approaching.
Our National Calendar page is beginning to take shape as many (but not all) championships have published their calendars. If you are looking for an event to fit in to your schedule you can find one here.
It is also the time of year when competitors may be on the look out for a new car and you can find an interesting selection on the For Sale page.
It may only be early in the New Year but the 2018 SBD HSA Speed Championship is already attracting plenty of competitors across all classes See who has already entered on the Competitors Gallery page.
Michael Calvert has recently taken over as editor of Speedscene magazine and his first issue is due out at the end of March. Chris Howard-Harris is shortly(mid March) due to take over the chairmanship of the HSA from Les Buck.

The AGM for the Hillclimb and Sprint Association Ltd will be held at the Cromwell Lodge Hotel, Banbury on March 14th 2018 6:30pm. The agenda can be downloaded as a WORD or pdf document and all members are welcome to attend.

Finally the Annual Awards lunch for the 2018 SBD HSA Speed Championshipwill be held at at the Prescott Clubhouse on November 25th.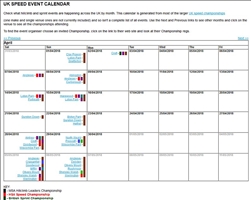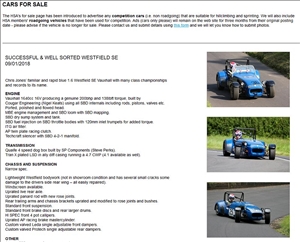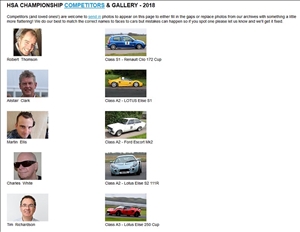 ---
The Pre-94 Formula Ford Register 2018 Challenge
14/12/2017
The organisers of the 2018 Pre-94 Formula Ford Challenge have announced the dates of this event:
If you would like to learn more about the planned events, or wish to be added to the Register, please contact Charlie Reilly via charlie.reilly @sky.com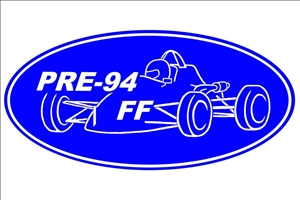 ---
2018 SBD HSA Championship Calendar
14/11/2017
The calendar for the 2018 SBD HSA Speed Championship has been published. These dates should be regarded as provisional until the regulations (to be published in draft form shortly) receive a permit.
Please not the change in the dates for Snetterton from May to June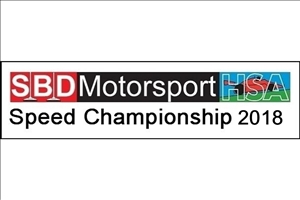 ---
The HSA congratulates its 2017 Championship winners
21/10/2017
The 2017 SBD HSA Speed Championship has been won by Justin Andrews with 153 points in his Subaru Impreza. Runner up (on a tie break) was Gavin Neate in his Peugeot 106GTi and, just one point behind, in third place was Gary Thomas with his Force PC.
The full list of our award winners (the top five placings, class trophies and special awards) can be found here.
The awards will be presented by our Championship sponsor, SBD Motorsport, at the Annual Awards lunch, held at at the Prescott Clubhouse on Sunday 12th November 2017. Reservations for this event can be made here.
2017 SBD HSA Speed Champion, Justin Andrews (A Leivers)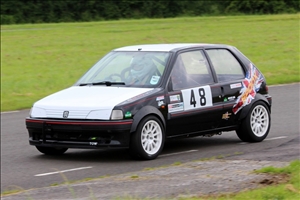 Runner up, Gavin Neate (A Leivers)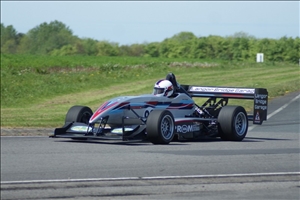 Third place overall, Gary Thomas (Pegasus MC)
---
2018 BRITISH HILLCLIMB DATES ANNOUNCED
02/10/2017
The 2018 MSA British and Leaders Hillclimb Championship dates have now been confirmed and are shown below. All events host counting rounds of both Championships except for those marked *, which are not Leaders rounds. Note that the Barbon Manor event is currently provisional.

Apr 28/29 PRESCOTT Bugatti OC
May 5 CRAIGANTLET* Ulster AC
May 12/13 HAREWOOD BARC (Yorks)
May 26/27 GURSTON DOWN BARC(SW)
Jun 2/3 SHELSLEY WALSH Midland AC
Jun 9/10 LOTON PARK Hagley & DLCC
Jun 23/24 DOUNE Lothian CC
Jul 7 BARBON MANOR (provisional) Liverpool MC
Jul 8 HAREWOOD BARC (Yorks)
Jul 18 (Wed) BOULEY BAY* Jersey MC & LCC
Jul 21 LE VAL DES TERRES* Guernsey MC & LCC
Jul 28/29 WISCOMBE PARK Woolbridge MC
Aug 11/12 SHELSLEY WALSH Midland AC
Aug 25/26 GURSTON DOWN BARC (SW)
Sep 1/2 PRESCOTT Bugatti OC
Sep 15/16 DOUNE Lothian CC
Sep 22/23 LOTON PARK Hagley & DLCC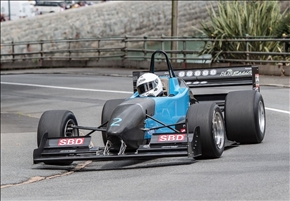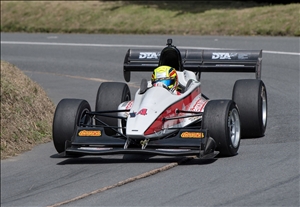 Trevor Willis and Richard Spedding took the British and Leaders titles this year. Who will challenge them in 2018? (Andrew Le Poidevin/www.guernseymotorsport.com)
---
Coming up at Curborough and Prescott
14/09/2017
With just over three weeks to go until our Curborough one–lap sprint on 7th October, entries are coming in strongly, but you still have time to join in the fun if you want to. This event marks the final round of the 2017 SBD HSA Speed Championship, and traditionally has been an event at which hillclimbers and sprinters alike have taken the opportunity to try out alternative cars, perhaps with a view to changing mounts in 2018. A key feature of the event is a class winners' run-off for the Alan Payne Memorial Trophy, which is awarded to the class winner who improves most on his or her competition run best time. Quite a few competitors make a weekend of it and also enter the MAC's sprint on the following day.
You can enter the HSA Curborough Sprint by clicking here.
While on the theme of awards, please note that we are now taking registrations and menu orders for our Annual Awards Lunch at Prescott Clubhouse on 12th November 2017. The cost will be £22.95 per head for a four course lunch. Following feedback from the 2016 event, the format will be slightly different this year, with no after-lunch speaker but more time for socialising before and after the lunch and the presentation of awards. You can sign up with your menu choices and pay online by clicking here, or you can print off an order form and pay by cheque if you prefer.
If you received an Annual Trophy last year, please could you now return it, if you haven't already done so, to a member of the HSA Committee. The Curborough meeting would be a good opportunity to do just that. We need the trophies back as soon as possible please to allow them to be engraved in time for the Awards Lunch.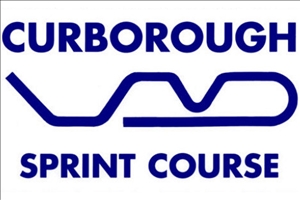 The HSA Curborough Sprint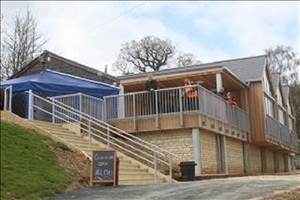 The Prescott Club House
---
TONY FLETCHER 1943 - 2017
13/09/2017
Although the wider hillclimb community were aware that he had been unwell for some time, the news of Tony Fletcher's passing on September 12th came as a sad blow and marked, it's fair to say, the end of an era in the sport.
Tony had occupied key roles in the organisation of hillclimbing for over 50 years, from his earlier days as a timekeeper through to his long tenure as organiser of the British Championship. He was also responsible for the formation of the successful and popular Midland Hillclimb Championship in 1980, which he continued to run until illness finally made that impossible.
Tony's dedication to the sport that had been so much a part of his life was massive and unceasing, indeed it was marked by the MSA with their Lifetime Achievement Award and the HRH Prince Michael Award of Merit. The debt that hillclimb competitors owe to Tony for the sport's increasing popularity and advancement over the last few decades is immeasurable. To his wife Maureen, his son Stephen and his sister Rosie, we offer our sincere condolences.
A full appreciation will follow in the next issue of Speedscene.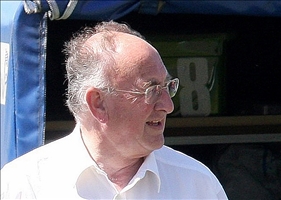 ---
RUDGE TAKES FIRST EVER FTD
12/09/2017
On a day when wet weather stemmed the pace of the single-seaters, 2007 Gurston Down hillclimb champion Mike Rudge set the outright pace at the fast Wiltshire hill's Championship finals day in his Westfield-Duratec SEi. 'What a great result!' beamed the delighted Welshman. 'I've been hillclimbing for 30 years and this is my first FTD.'
With the Meadens Skoda Gurston Down Championship already decided with a round in hand, the outcome of the Cavendish Ships Stores Top Ten Challenge was still in the balance with three drivers in with a shout at the start of the meeting. One was the third placed Rudge, the others were series leader James Moore in his 1-litre Empire-Suzuki and Chris Cannell, lying second in his unique, twin-engined Force-Suzuki SR8 sports libre car. With wet weather tyres long past their sell-by date, Cannell couldn't find enough pace and slipped to third. Rudge's fine performance made sure he moved up to a best-ever second overall in the series, but with a class-winning time good enough for second FTD, it was Moore that maintained his advantage and joined the ranks of Gurston's Top Ten Challenge title holders for the first time.
Following a succession of MX5 class records, Mark Crookall had already clinched the Gurston Championship back in July. Just as well as his Mazda cried enough on the morning of the event and he had to switch to his VW Golf automatic shopping car! So with both Neil Turner in his 16v Mini and Evo 6 driver Stephen Moore tied on maximum points behind him after the requisite four counting rounds, it was a straight duel for second place overall. Both drivers again won their respective classes but with the tie-break to be decided on the best dropped score, Turner's fifth maximum of the season was enough to claim the Championship runner-up spot.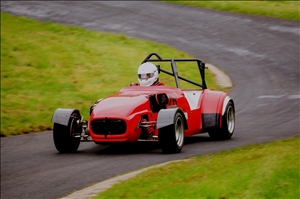 Westfield driver Mike Rudge scored his first FTD (Steve Lister)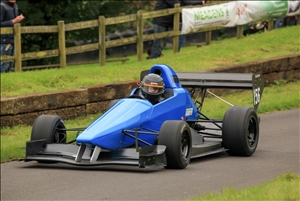 James Moore took Gurston's Top Ten Challenge title in his Empire Evo (Steve Lister)
---
Thomas and Greenan star at Crystal Palace
30/08/2017
On day one of the 2017 Motorsport at the Palace Sprint Gary Thomas took FTD with a 32.46s in his Force PC but was unable to approach his course record owing to a green and dusty track which saw most competitors struggle to match their previous bests. On day two however, in near perfect conditions Andy Greenan in his Empire Evo 2, fresh from Gurston the day before, lowered Gary's record by a couple of tenths on T2 and then by a further 5 hundredths on his final run to take FTD and leave the course record at 31.30s.
The Sevenoaks & District MC had been obliged to move the event from its traditional May bank holiday date to the August one and, while they were blessed with perfect weather, the great number of other events (and not just Speed ones) taking place over the holiday period meant that entries were lower than usual, particularly on the Monday – we hear that a return to the May date for 2108 is on the cards. In spite of all this the event ran smoothly with plenty of spectators on hand to enjoy the show and, for many, experience Sprinting for the first time.
With classes being organised by age as well as category there were some interesting Class competitions.
Sunday: Throughout practice and timed runs Chris Bennett and Dave Rayner in their Caterhams were rarely more than a couple of tenths apart in Class B14 with the win going to the former driver. In the large Class C15, Clive Scott in the 2006 HSA Championship winning GSM Delta, won from Andrew Cairney in Father, Stuart's, immaculate Hillman Imp. In Class C16 Richard West's noisy Sierra XR4 was three tenths ahead of Roger Burgess' MK2 Escort while in Class C17 Laurie Hatchard's impressive V8 powered Dax Rush ran out a comfortable winner and his 36.53s was good enough for seventh overall. Of the other contenders for FTD the unique MV Agusta V8 powered Force of Kevin Creaven had to retire after T1 with bent front suspension but set the second fastest time with a 33.83s ahead of Pete Goulding's Mygale M20 (34.14s) and Palace regulars David Seaton, Pilbeam MP43 BMW (35.53s) and Fyrth Crosse's Ensign LNF3 (36.17s).
Monday: With competitors leaving and arriving there was different competition in some classes from the day before. In the very competitive Class A6, 2017 HSA Championship front runner Justin Andrews in his Impreza provisionally set the fastest time with a 35.53s ahead of Stephen Moore's Evo and Chris Berrisford's Impreza but Justin was later judged as having put two wheels off prior to the finish line and was demoted to second place. In Class A7 Martin Prescott's Mazda MX5 commendably finished 0.05 s ahead of Christian Enderby's Megane R26R while in Class B10/B11 David Nursey and David Waterhouse brought their Turner MK2 down from Shelsley and finished 0.17s apart at the top of the class. Chris Bennett and Dave Rayner continued their close battle finishing as they did the day before while in Class C16 Philip West was out in the Sierra XR4 and his T1 time was enough to win by 0.04s from the Burgess MK2 Escort which was just as well as a big off on T2 ended the Sierra's day. Finally Pete Goulding set second fastest time with a 34.04s ahead of David Seaton (34.97s) and Fyrth Crosse (with a splendid 35.02s).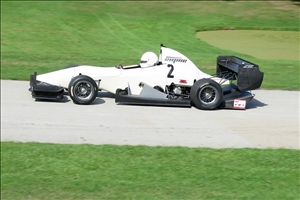 A new course record for Andy Greenan's Empire Evo 2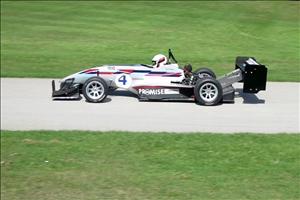 Gary Thomas posted another FTD on Sunday
---
Sam Wilson makes superb competition debut
08/08/2017
Just 16 years and 2 months old, Sam Wilson made a very successful competition debut at Harewood Hillclimb on 5th and 6th August, driving Gary Hill's 600 cc OMS Hornet, which he shared on each day with Mike Fitzsimons. Still 10 months away from being able to drive on the road, Sam had only driven the car for the first time at a private test session at Curborough the same week, tutored by the constructor of the car, Steve Owen.
Very sensibly, Sam built up his speed over the two days as he learned to explore the full performance of the car. He started with a first practice run of some 78 seconds, but improved progressively to a best time on the Saturday of 64.28 seconds. Then on the Sunday he took almost another 3 seconds off and finished the day on 61.51 seconds as the quickest 600 and 12th out of 15 runners in the combined up to 1100cc racing car class. Sam now has three of the four signatures needed on his Non–Race National B licence in order to upgrade to a Speed National A version. (His first signature came from attending the Harewood driving academy in his mum's road car).
That he performed so well should not be a surprise, as he comes from a strong motorsport background, and has been around competition vehicles all his life. His dad Tim runs the British Hillclimb Championship and is Chairman of the BARC Yorkshire Centre, and mum Jackie is the entry secretary at Harewood. For the last 5 years, Sam has been a pit crew member for Trevor Willis at national Hillclimb events, assisting with tyre changes, fuelling and checking tyre pressures. He has done some karting and also has a Gas Gas 125 trials bike on which he has completed 3 motorcycle trials. He feels that the balancing skills, throttle control and mechanical sympathy learned from trials riding is helping with feeling his way into competitive times in the OMS.
Sam, who lives near York, has just completed his GCSE exams, and after a 2 week period of work experience at Rolls Royce Motors near Goodwood, expects to return to school in September to work towards A levels in Maths, Physics and Product Design. Speaking to Sam, you get the feeling that he knows exactly what he wants to do and where he's heading, and his quiet determination will take him a long way.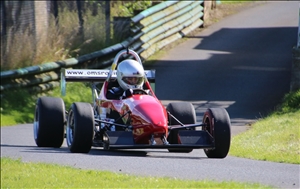 A study in concentration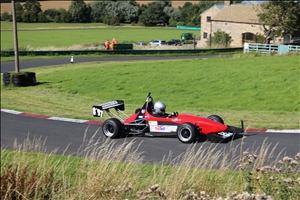 Sam exits Farmhouse Bend in the 600cc OMS Hornet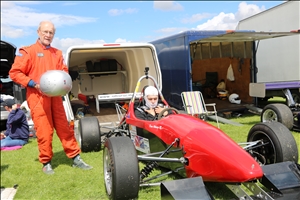 Getting prepared for a run, with co-driver Mike Fitzsimons
---
Boorman's completes FTD hat trick at Combe
30/07/2017
Malcolm Boorman is having a very successful season and made it three FTDs in three events at Castle Combe on July 29th at Bristol Motor Club's Dick Mayo Sprint. Despite the poor forecast the rain held off and the capacity entry enjoyed 4 dry runs which concluded well before the early evening curfew.
After practice it looked as if FTD was going to be fought out between the Clemow/Greenslade 1600 Force PT, the Sketchley 2000cc Force PT and Boorman's OMS 2000M. However, engine problems (Clemow/Greenslade) and Electrics (Sketchley) sidelined both Forces leaving Boorman to take FTD with a 57.61s. The only other driver to break 60s and take second FTD was Meteor Motorsport's SImon Rogers in his Caterham Hayabusa with an outstanding 59.87s time which easily won the well supported Caterham Owners (aka L7C) class.
Elsewhere, the battle of the Elises was won by Clare Tooth ahead of Elen Worthington and David Edwards. Matthew Bennett's 911 Turbo just edged out Trevor Hartland's Evo by 0.03s in the large Roadgoing class and things were even closer in the 1800cc Mod Prod class where Sarah Munns and Brian Davage set identical T2 times of 72.44s in their Minis with the win going to Sarah due to her faster T1 time. Sports Libre was also closely fought with Luke Trotman (Mallock MK18b) coming out just ahead of Clive Wooster (Radical SR4) by 0.26s.
Some other Class wins went to Mike Smith (Specialist Production), Mike Butler (large Mod Prod), Jeff Wiltshire (Specialist Mod Prod), Chris Bennett (1100 Racing Cars) and Andrew O'Malley (MX5s).
PS Malcolm Boorman made it four FTDs on the bounce at Goodwood on the week-end following Combe!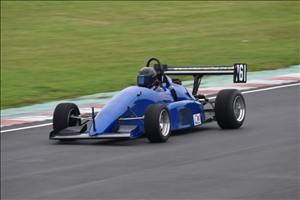 Malcolm Boorman's winning OMS 2000M at Combe (Paul Torkington)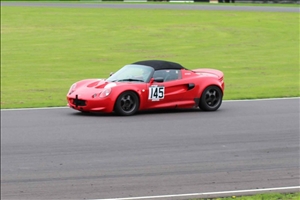 Clare Tooth's rapid Elise (Andy Mitchelmore)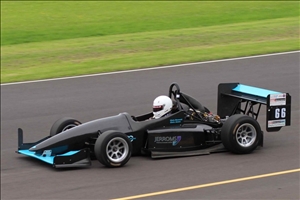 The Force TA of Chris Bennett (Andy Mitchelmore)
---
MOURANT'S GURSTON DOUBLE
25/07/2017
Jason Mourant swept the board at a damp Midland Championship event at Gurston Down, winning both TTC Group Top Ten Challenge run-offs and setting FTD on the second one for which he almost failed to qualify. With sunshine drying the track and conditions the best of the weekend. Mourant 's half spin at Karousel almost brought his Gould-Judd to a halt in Q2, but with a miraculous recovery he managed to qualify fifth and went on to set the day's outright pace with a 28.08 in the run-off, 1.3sec clear of the field. In a day-long battle with Graham Wynn's Gould-HB, Mourant had the edge each time, but in the absence of previous leader Trevor Willis, Challenge series sponsor Wynn now tops the table ahead of rapid class winner Ben Stephenson, who finished third and fourth respectively in his 1-litre Empire Evo.
In the parallel BMTR Midland Championship, another class win in his VX220 kept Mike Turpin on course for a fifth title, but with the chasing Dave West also taking a win, the Peugeot driver remains just three points adrift with two rounds still to run.
With three records already this year and another class win on Sunday, Mark Crookall became the second driver since Paul Webster in 2011 to win the Gurston Down Championship in a Mazda MX5. With one round to go his score in the Meadens Skoda backed series cannot now be beaten. The weather played havoc with the form book in the Cavendish Ships' Stores BARC Top Ten Challenge table. James Moore's 1-litre Empire-Suzuki now holds a narrow advantage over former leader Chris Cannell's twin engined Force sports libre car and Mike Rudge's Westfield, past Gurston champions both, but there will be all to play for at the final round in September.
A superb scrap among the huge pre-94 Formula Ford field saw the lead changing continually towards the end of the frantic second runs. You can read Les Buck's report on the fun and games below.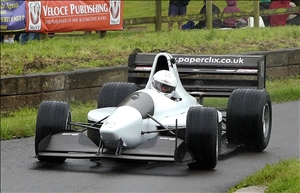 Jason Mourant took both run-off wins and FTD (Ian Beard)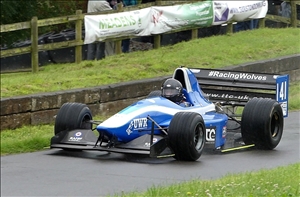 Graham Wynn chased Mourant home and now heads the TTC Group Challenge table (Ian Beard)
---
Gurston Down Hillclimb FF Fest Judged A Huge Success
24/07/2017
Despite heavy rain showers affecting both practice and competition runs, spirits remained high throughout the weekend of 22/23July within the largest class at Gurston Down hillclimb, namely the Pre-94 Formula Fords. 24 drivers in 18 cars took part in the festivities, which was also the third of three speed events in the 50th Anniversary FF Challenge, sponsored by the Hillclimb and Sprint Association and Merlin Motorsport, with additional support from Ford Performance. This Challenge was designed both to celebrate 50 years since Formula Ford had been initiated in 1967, and to help encourage more Formula Fords to take part in sprints and hillclimbs . (The first and second rounds took place at the Snetterton 100 circuit on May 13th and 14th).
With Formula Ford being a tightly regulated class, the competition was, as expected, very tight, but it was last year's winner, Simon McBeath in his Swift SC92F who again came out on top, just ahead of former record holder Andrew Henson (Van Diemen RF91) and with Neville Rollason (Jamun M90) in third place and Mark Alley (Swift FB91) fourth.
The 50th Anniversary FF Challenge also produced a tight finish with Iain Houston (Van Diemen RF89) scoring well again to add to his previous Snetterton victory, over Nev Rollason and Charlie Reilly (Van Diemen RF92).
1st Iain Houston 196.67 points
2nd Nev Rollason 195.87
3rd Charlie Reilly 192.46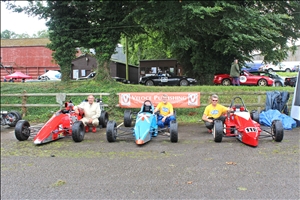 Andrew Henson, Simon McBeath and Nev Rollason on the FF Podium. Photo Tracey Inglis-McBeath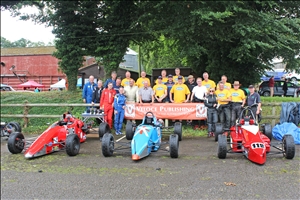 The Pre 94 Formula Ford Fest Class of 2017. Photo Tracey Inglis McBeath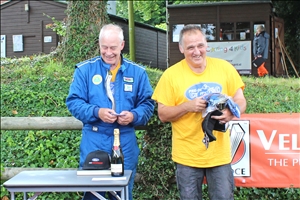 Iain Houston collects the 50th Anniversary FF Challenge Trophy from Les Buck. Photo Tracey Ingils McBeath
---
Gurston Down Hillclimb FF Fest attracts big entry!
17/07/2017
Gurston Down Hillclimb FF Fest attracts big entry!
The second 'Hillclimb FF Fest' will run within the Midland & Gurston Down Hillclimb Championship meeting over the weekend of July 22nd/23rd, and caters for drivers entering 1600cc 'Kent' engined pre-1994 Formula Fords. The organisers are delighted to say that Dorchester-based Veloce Publishing will once again support the 'FF Fest' at the award-winning Wiltshire venue. Additional support comes from Ford Performance.
The Pre-94 FF class has been gaining support in the speed event world in recent seasons, and last year's inaugural FF Fest at Gurston Down saw an entry of 15 drivers in 9 cars battle it out against the clock on the fast and sinuous 1km long course. As proof of the growing popularity of the category, the 2017 entry sees no less than 26 drivers in 20 cars going for glory! Among them is the 2016 winner, Veloce author and freelance motorsport writer Simon McBeath from Sturminster Newton, Dorset, who set a new class record of 36.30 seconds on his way to victory last season in his Swift SC92F. He will be up against, among others, former British Touring Car Championship race winner and current ITV4 BTCC commentator Paul O'Neill from Merseyside, guesting in the Swift FB91 of friend Mark Alley from Wells (who currently leads the class in the Gurston Championship); Andrew Henson from Rochdale, the previous record holder in his Van Diemen RF91; and circuit racer and former hillclimber Shaun Macklin from Romsey, who took his Swift SC92F up Gurston in under 36 seconds in 2006, before the class was officially formed.
So the competition will be ferocious this year, and with the cars so closely matched on performance, using as they do the same Ford 1600cc engines prepared to tight regulations and running on the same tyres, any of the 26 drivers could win.
2017 marks two very special 50th anniversaries, with both Formula Ford and Gurston Down Speed Hillclimb getting underway in 1967. So it is fitting that such a strong entry has been received at Gurston this season to help celebrate both these Golden Jubilees!
As a further celebration of the 50th Anniversary of Formula Ford, the Pre-94 FF Register has organised the 50th Anniversary FF Challenge, which is based on the results of two sprint events held on the Snetterton 100 circuit on May 13th & 14th and on the results of the FF Fest at Gurston on July 22nd/23rd. The contest is supported by the Hillclimb & Sprint Association and Merlin Motorsport. Currently leading after Snetterton is Iain Houston (Van Diemen RF89) on 100.00 points, with Geoff Ward (Swift SC93F) second on 99.98 points and Charlie Reilly (Van Diemen RF92) third on 98.71 points.
The 2017 FF Fest paddock will be even larger than it was in 2016. Photo Tracey Inglis-McBeath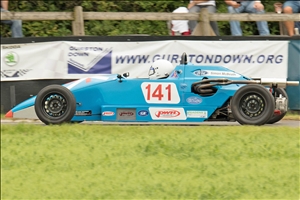 Current FF record holder at Gurston Down, Simon McBeath. Photo Steve Lister
---
WYNN'S WIN
25/06/2017
Graham Wynn took FTD at Prescott's one-day Midland Championship round, which followed Saturday's club event hosting an SBD/HSA Speed Championship round (see separate report). Appropriately enough as series sponsor, the Gould-Cosworth HB driver also won both TTC Top Ten Challenge run-offs, the final win setting the days outright pace on 39.00sec. But in a shootout that saw seven out of the twelve qualifiers at the wheel of 1100cc single seaters it was Robert Kenrick's GWR Raptor that ran him closest. With standard 1-litre BMW motorcycle power, the former double Midland Hillclimb champion had already qualified top for the opening run-off and finished second to Wynn, then for the closing shot he ran just a quarter of a second shy of Wynn's V8 to take second FTD and the Moran Motorhomes Midland Man of the Meeting award. The Empire Evos of Tom Poole and Ben Stephenson ran third and fourth each time, split by a hundredth at the end, while in a good day for Bill Chaplin's marque his son Lloyd and Adam Greenan swapped the final top six run-off places.
Unchallenged at the head of the Top Ten Challenge table, Trevor Willis was not entered, but top Midland Championship contenders Mike Turpin and David West both enhanced their score with a class win apiece as Turpin continued his quest for a record-equalling fifth Midland title.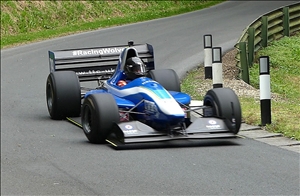 Graham Wynn set the outright pace at Prescott (Ian Beard)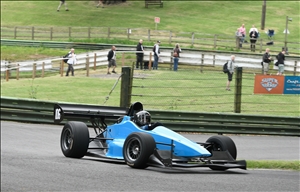 Man of the Meeting Robert Kenrick challenged hard for FTD (Geoff Robinson)
---
MAX TRIMBLE —1935-2017
15/06/2017
The HSA has just received the sad news that Hagley & DLCC President Max Trimble has passed away. Max had held the office previously, notably during the time when the Hagley Club first ran the extended Loton Park hillclimb in 1970 and also in 1985, its 50th Anniversary year. He had a tremendous knowledge of, and background in, motor sport having circuit raced extensively during the 1950s, most notably in Jaguar C and D Types. One of the real stalwarts of the Hagley Club, Max was a regular commentator at both Shelsley Walsh and Loton, where he invariably occupied his favourite 'box' at the top of the hill. A great character with a dry sense of humour, Max will be sorely missed not only by his wife Pauline and their family, but by his many friends in the motorsport community. To all of them, we offer our condolences.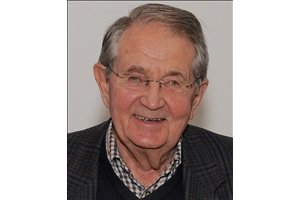 ---
THORNE AND FORSYTH SHARE MANOR FARM SPOILS
14/06/2017
Rodney Thorne and Andrew Forsyth took a closely contested win apiece by almost exactly the same margin at the Taunton, Torbay and Burnham MCs 'Three Clubs' double-header hillclimb at Manor Farm, Charmouth, last weekend.
After a dull and damp start the weather improved and the field took advantage of four timed runs each day. Thorne visibly struggled to put down the power of his Pilbeam MP43 V8 on the uneven lower section of the course, but in a model of consistency on Saturday slotted all four runs into the 25s bracket. Forsyth brought his ex.Chris Houston Northern Ireland Hillclimb Championship-winning OMS CF04 to the venue for the first time and and eventually got into the 25s himself. Stuart Lillington's Radical and Paul Reynolds' Caterham Seven both posed an initial threat with sub-27s class-winning times, but Forsyth's final run was just under three-tenths shy of Thorne's 25.19 FTD.
On Sunday, Forsyth just shaded Thorne by hundredths on their pre-lunch runs, but when Thorne opened his afternoon account with all four wheels off at Valley and failed to improve on his last run, Forsyth took the contest by the scruff of its neck with two consistent runs, his final 24.91 reversing Saturday's result and taking FTD by just under three tenths.
Rupert Barker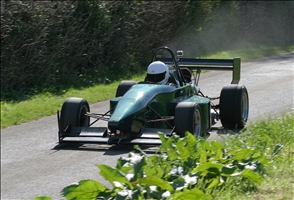 Andrew Forsyth (shown here at the Gurston test day) took the first outright win for his new OMS
---
DUD CANDLER
30/05/2017
Motorsport journo colleagues were saddened to learn of the recent untimely passing of Dud Candler. His tall, distinctive figure, notebook in hand, was something of a fixture at race circuits and hillclimbs in the south of England for well over 30 years, reporting club events for Autosport and Motoring News - not to mention Speedscene - in addition to a heavy schedule of PR work. Even on his retirement from full-time journalism he never lost his enthusiasm for the sport, being a regular visitor to his local venue at Gurston Down and continuing to report Goodwood sprints and other events in the south east for Speedscene. Dud's funeral will take place at Worthing Crematorium, BN14 0RG, at 12.45pm on Friday, June 2nd.
---
REVEREND BARRY WHITEHEAD ̶ 1931-2017
25/05/2017
We are sorry to report that the Reverend Barry Whitehead succumbed to cancer on May 22. This 'larger than life' character was a self-taught engineer who was inspired to build his own range of RBS (Rev. Barry Special) single-seaters by the books of fellow enthusiast and North country resident, Allan Staniforth. Like Allan, Barry competed primarily in the 1100cc racing car class. For the last 18 years, he shared his cars with his daughter Eve until ill-health forced him to retire from driving two seasons ago when he assumed the role of 'RBS mechanic', preparing and maintaining RBS8 for Eve; he enjoyed the engineering as much as, if not more than, the driving.
His was a much-liked and respected presence in hillclimb paddocks with his booming voice and laugh (not to mention derogatory comments!) and will be sadly missed by a huge number of competitors across the north of England. Barry competed for over 45 years, never missing a season ̶ an amazing record.
Our condolences go to his children Pat, Eve, Mark and Nicola. Barry's funeral will be held at 2pm on Wednesday, 31st May at St Wilfrid's Church, Standish.
Away from the pulpit - Barry in his element
---
A THORNE IN THE SIDE
18/05/2017
Woolbridge MC's Rodney Thorne continued to dominate the 2017 time sheets at Wiscombe Park with another FTD award at Torbay Motor Club's HR Owen Ecurie hill climb event on May 13th, setting a time in the 38 second bracket that none of his rivals could match. This popular event attracted a maximum entry of 120 cars and 45 motorcycles contesting a total of ten national, regional, club, venue and marque championships.
After an accident in the Esses near the end of the second practice, the recovery operation took nearly one and a half hours and as it was after 3.00pm before the event resumed, the organisers reluctantly decided to limit the event to just one timed run. So the pressure was on and Doug Bennett was the first to dip below 40 seconds with a run of 39.46 in his spectacular aero-modified Sylva Stryker. On the hill at the same time, Thorne had no chance to consider his response but immediately set the winning time with a perfect run in his Rover V8 powered Pilbeam MP43, stopping the clocks on an unbeatable 38.57 seconds. The pursuit by the following racing-car classes saw fine efforts from Stuart Browne, within half a second in his OMS 25, then Dave Gardner a further three tenths adrift in his newly-acquired Pilbeam MP62 and just six hundredths clear of Andrew Forsyth, aboard his 2016 Northern Ireland Hillclimb Championship winning OMS CF4.
Many of 2016's leading lights dominated the classes with Jonathan Wright (Audi A3), Richard Trevail (BMW Mini), Ian Ingleheart (Westfield), Ben Bonfield (Austin Mini), Russell Tout (Ford Fiesta) and Jonathan Williamson (Porsche 911) all taking the top awards in their divisions. Richard Withers (MGB GT) won the Classic Marques Speed Challenge on handicap, while Derek Kessell (Maguire Mini Cooper S) was the best of the Downton Engineering Social Club Speed Series' three entries. Steve Mogg won the 7-car TVR Sports Car Club Speed Championship class in his Griffith, and Rob Orford (MGB Roadster) led home the five other MG Luffield Speed Championship entrants.
Among a strong NHCA contingent, Paul Jeffery set the outright 2-wheel pace of 42.06 on his KTM SMR.
Rupert Barker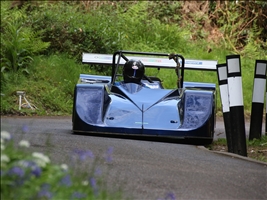 Rodney Thorne cuts in fine in the Esses on his way to FTD (Derek Hibbert)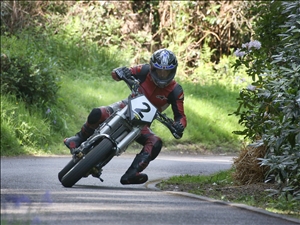 Paul Jeffery set the pace on two wheels (Derek Hibbert)
---
Iain Houston wins the first two Hillclimb & Sprint FF Festival events
16/05/2017
The pre-94 Formula Ford Sprint and Hillclimb Challenge got off to a thrilling start at Snetterton with a round on both Saturday and Sunday, running as a separate class at the Borough 19 MC's British Sprint Championship meeting.
The chilly Snetterton wind greeted the 10 competitors who arrived on the Saturday and with no dual-driven cars it was going to be a quick run through every time the cars came forward. Two practice runs and three timed runs were available each day on the Snetterton 100 Circuit, which is enclosed within the confines of the old Snetterton (now called the Snetterton 200) circuit. Run anti-clockwise, the shape of the circuit is very similar to Brands Hatch run in reverse though there is next to no elevation change and the corners are a bit tighter. The runs covered 1 ¾ laps of the circuit which meant that there was one complete flying lap included in a run, which is not always the case.
The Snetterton 200 circuit was hosting the Mini Festival all weekend and so it was a busy place and there was no chance for any sprint commentary as the circuit's tannoy system was being used for the Mini races. This did mean that the sprinting probably attracted a few new spectators but they may well have been confused by what they saw, especially if they had no idea that there was such a thing as sprinting and they saw everything from a white and pink Mini to a couple of Gould single-seaters circulating!
The FF runners and riders were a mix of some of the regulars from the hillclimb / sprint FF class plus some who were having their first go at sprinting for a while or their first go ever. Cars ranged from the ex-Mike Fisher Pringett Mistrale of 1969 vintage of Les Buck to Charlie Reilly's over 20 year younger Van Diemen RF92. Van Diemen was the dominant marque with 5 cars on Saturday together with 3 Swifts, Nev Rollason's familiar (ex Alan Terry) Jamun M90 and the Pringett Mistrale. The class was joined by a double driven Merlyn on the Sunday while a couple of the Saturday runners did not participate.
Unfortunately the 10 runners on Saturday were reduced to nine when Keith Sollis ran wide on his second practice run at the hairpin and his car hit a concrete block embedded in the grass, causing damage to the front cross-member and one of the side rails of his immaculate ex Alistair Lane Star of Mallory winning Van Diemen RF86 which Keith used to win the CCC Speed Championship back in 2001.
Another former champion, this time on the circuits, Iain Houston set the pace all weekend in his Medina Motorsport built Van Diemen RF89 in which he won the 2013 Castle Combe pre-90 FF Championship. His first practice run on Saturday of 102.97s was nearly two seconds quicker than the next best runner, Charlie Reilly, and although his second practice run was a bit slower on a track made greasy by a light shower of rain, Charlie was caught out by the same conditions with a harmless spin, and it was Nev Rollason who picked up the second best time for that run, though still third fastest overall.
The first timed run was held before lunch and as the competitive spirit kicked in the times fell. Iain led with a 101.30s but Geoff Ward in his Swift SC93F, all the way down from Preston, found some extra pace, compared to his practice best of 108.73s, and was second on 102.02s from Nev on 103.08s and Charlie on 103.45s. There was then a bit of a gap to Paul Morcom, out in his Swift rather than his Merlyn, who recorded 106.09s.
Unfortunately Iain had discovered an oil leak and was unable to take his second timed run but although Charlie improved to 101.9s1 he still trailed but was now second as Geoff slowed to 102.39. Nev also was slower and dropped to 4th but Paul found nearly 2 and a half seconds to cement his fifth place as Gerry Fincham, Chris Bennett (in another Medina built RF98), Les Buck and Geoff Lancaster completed the runners in that order.
For the third timed runs the top 5 FF runners ran in reverse order and after Gerry, Chris, Les and Geoff and all improved their times, though not enough to break into the top 5, Paul Morcom led off in 5th place but was slower than his best as was Nev Rollason. Geoff Ward then took a chunk off his previous best to take the lead on 100.34 and while Charlie improved to 101.61s he slipped down to third behind Geoff. So it was all down to Iain who charged round to a time of 100.32s to take nearly a second off his best and win by just 2/100ths of a second, a thrilling end to a successful competition.
SATURDAY RESULTS:
1. Iain Houston Van Diemen RF89 100.32s
2. Geoff Ward Swift SC93F 100.34s
3. Charlie Reilly Van Diemen RF92 101.61s
4. Nev Rollason Jamun M90 103.08s
5. Paul Morcom Swift SC93F 103.63s
6. Gerry Fincham Van Diemen RF84 104.93s
7. Chris Bennett Van Diemen RF89 106.50s
8. Les Buck Pringett Mistrale 108.56s
9. Geoff Lancaster Swift SC92F 128.45s
On Sunday, Iain Houston broke the 100 second barrier with a 99.42s while on the last run, featuring the top 5, Geoff Ward was quickest with 100.67.
The top 5 finished in the same order while Chris Bennett moved up to 6th with Gerry Fincham's absence, Julian Glass in the family Merlyn was 7th, Les Buck stayed in 8th and Colin Glass rounded off the runners in the Merlyn as Geoff Lancaster did not run.
SUNDAY RESULTS:
1. Iain HoustonVan Diemen RF89 99.42s
2. Geoff WardSwift SC93F 100.44s
3. Charlie ReillyVan Diemen RF92 101.57s
4. Nev RollasonJamun M90 102.42s
5. Paul MorcomSwift SC93F 104.47s
6. Chris Bennett Van Diemen RF89 105.14s
7. Julian Glass Merlyn 107.42s
8. Les Buck Pringett Mistrale 107.85s
9. Colin Glass Merlyn 116.14s
John Brown

Iain Houston was the only FF driver to get under 100s (Andy Leivers)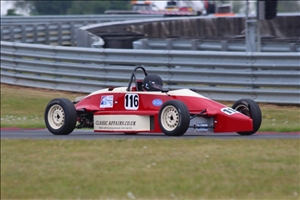 Nev Rollason saved his best to last on Sunday (Andy Leivers)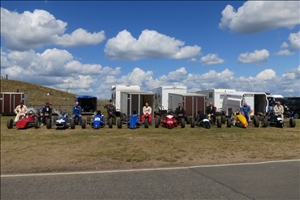 Formula Fords galore (Christine Bennett)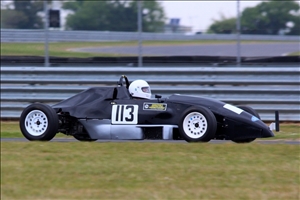 Geoff Ward's Swift wasn't far behind Houston (Andy Leivers)
---
SHELSLEY WALSH TO HOST RAC RALLY STAGES
12/05/2017
In a first for the 112-year-old venue, the opening stages of a major rally will be held at Shelsley Walsh when the Roger Albert Clark Historic rally visits the Teme Valley on Friday 10 November. Starting at 9.00am, and running at 30sec intervals in batches of 30 cars, competitors will tackle the opening stage which runs from the start to the finish of the hillclimb. Stage 2 will run down the hill (another competition first for Shelsley, although several chicanes will be added) before turning left at Kennel and finishing on the gravel road in the main car park. After a short service halt in the paddock, the rally will continue into the Welsh forests. Documentation will take place before the event at Brightwells in Leominster, who will sponsor the Shelsley stages.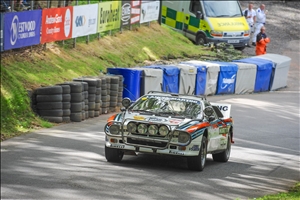 Historic cars will tackle Shelsley for the first time in November as part of a major rally (Geoff Robinson)
---
FORCING THE PACE AT GURSTON
25/04/2017
The supercharged Force-Suzuki LM of Jonathan Gates and Peter Sexton showed the way throughout at Gurston Down's traditional season opening double-header. Sexton scored his first ever Gurston FTD at the Saturday event with the day's sole sub-30sec run as his co-driver fumbled a gearchange entering the Ashes left-hander leading into the steep finish straight. But it was Gates' turn for the win at Sunday's Gurston Championship event, setting the best time of the weekend with a decisive 29.45 to head the venue's Top Ten Challenge table after round one.
The expected challenge from Peter D Smith failed to materialise on Saturday, the Force single-seater driver also struggling with gears before getting two wheels on the grass at Karousel on a frantic second run chase. It was left to Chris Cannell in his twin engined Force sports libre to chase the two leaders home, just three hundredths clear of Smith's co-driver Richard Gaylard. But Smith came good the following day to split the duelling Force LM pair for second overall in the Challenge, with all three drivers running sub-30.
Three-times Gurston champion Steve Butts, returning in his turbocharged Elise after a 3-year layoff, got the better of another former champion, Simon Purcell in his supercharged Elise, in a combined Marque class. But leading the series after the opening round was MX5 driver Mark Crookall, out on his own by virtue of a new record in the Mazda class. Defending champ Stephen Moore, in his Evo 8, ended the day joint second overall with Cannell and Mini ace Neil Turner.
A big turnout of Classic Marques Speed Challenge contenders were on hand each day. Steve Cox led the class after Saturday's first runs, but the TVR V8S driver was elbowed out of top spot by Matthew Eady's nimble Ginetta G4 by close of play. Cox got his own back the following day, pegging Eady back to second place on each run. The diminutive ex.Toet/Marshall Peugeot 205 of Darren Balster was up against the Aston Martin Vantage of Tim Painter and Andy Fraser in a combined class each day. An early lead on Saturday was swallowed up by Painter in the big Aston, but Balster turned the tables on Sunday to exact defeat by half a second.
A delighted Mike Broome scored his first ever win in Sunday's Historically Interesting class aboard the immaculate Alexis Twincam, reversing his defeat by Gurston veteran Geoff Hunt's Lotus 22 the previous day. A close-fought Formula Ford class saw Mark Alley take the win each day, his Swift shared by wife Lynsey on her competition debut. Circuit racer George Haynes (see separate HSA report), at Gurston for the first time, scored a fine second place in the new Zeus, just seven hundredths behind the class winner.
Hotfoot from Prescott where he had set the outright pace on two wheels the previous day, Steve Mills was again on top form on his 1-litre Aprilia Tuono. Not only did he snatch the 1300cc class from Paul Jeffery's 1200cc KTM but he won the motorcycle run-off with a day's best 34.05.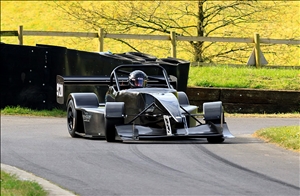 jonathan Gates attacks Ashes on his way to Sunday's outright win (Steve Lister)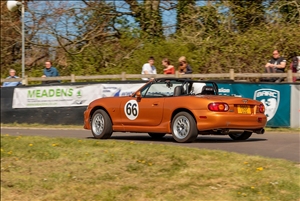 Mark Crookall leads the Gurston Championship after a record run (Steve Lister)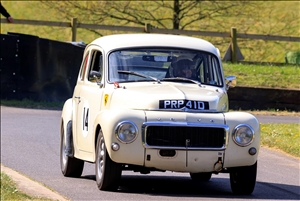 Despite running solo, Richard Conway broke the Volvo OC record twice in his historic PV544 (Steve Lister)
---
SCOTTISH HILLCLIMB OPENER
19/04/2017
The Scottish hillclimb season opened with the traditional mid-April meeting at Doune, where 96 drivers lined up for what was a rather frustrating start to the Guyson Scottish Hill Climb Championship. The main culprit was the weather which was dry but very cold for Saturday's event and then wet for most of Sunday's, leading to less than favourable track conditions. This meant plenty of delays due to off-track excursions – the most notable being that of recent Harewood winner Wallace Menzies, who knocked a front corner off his new Gould GR59 on Sunday afternoon. Prescott's opening BHC rounds come just a week later, but the damage should be repairable.
Notable Saturday performances came from David Adam, his Peugeot 205 just 0.31 seconds outside the class record, while Neil Hopkinson's Austin Mini who was only nine hundredths off record pace. There was a healthy battle for FTD between Menzies, Stewart Robb and Les Mutch with the ever smiling Les snatching the win in his Raptor from Wallace by a scant five hundredths of a second.
On Sunday, patchy light rain made the surface very unpredictable and no-one came close to record pace. However, Keith Weeks in his 1-litre Image revelled in the conditions, taking a comfortable class win and third FTD from Mutch and eventual winner Ross Napier's Force PC.
Kenny Baird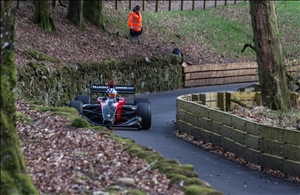 Wallace Menzies threads his new Gould GR59 through the Tunnel (John Crae)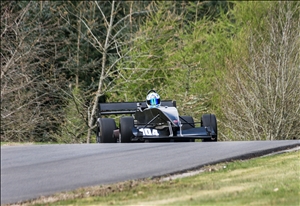 Ross Napier and the Force set the outright pace on Sunday (John Crae)
---
GATES SETS GURSTON TEST PACE
03/04/2017
With an extra 100bhp now available from his supercharged, Daytuner-built Suzuki motorcycle engine, Jonathan Gates set the outright pace at Sunday's Gurston Down test day in his Force LM sports libre car. Despite confining themselves to morning running on a dusty track Gates and co-driver Peter Sexton, who ran third fastest on the day, were satisfied that the car was more than ready for the Gurston competition season, which starts with back-to back events on April 22/23. The pair were split by another Gurston regular, Neal Coles, in his 1.6 OMS-Suzuki CF04. Having taken delivery of his 1.4-litre CF04 only the previous day, Andrew Forsyth was fourth overall in the car that won last year's Millers Oils Northern Ireland Hillclimb Championship in the hands of previous owner Chris Houston.
Now with a massive horsepower increase, Sarah Fudge's Impreza, which she and husband Sean last campaigned in 2015, was the fastest roadgoing saloon. Neal Turner set the ModProd saloon pace in his Polestar 16v Mini, just a second outside his record set last September.
Best value for money was obtained by Steve Barnett, who managed no less than seventeen runs in his hard worked, supercharged Cooper S!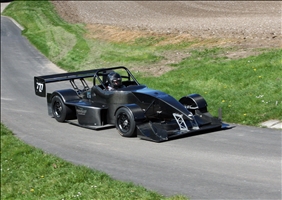 Jonathan Gates topped the Gurston test day timesheets (John Hayward)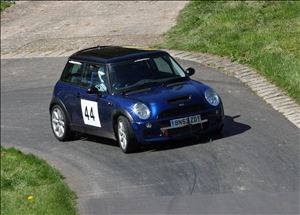 Steve Barnett got value for money with seventeen runs up the Wiltshire hill (John Hayward)
---
100 Competitors registered for 2017 SBD HSA Championship
01/04/2017
It may be April 1st but it's no April Fool. One hundred competitors have already registered for the 2017 SBD HSA Speed Championship and the season is only 2 rounds old so there is plenty of time to register for the rest of the season.
It is already shaping up to be an exciting season with three drivers (Terry Holmes, Philip Stader and Alan Mugglestone) all taking maximum points from the first two rounds in three quite different cars - A Lola F3000, an Alfa Berlina and a RAW Fulclum.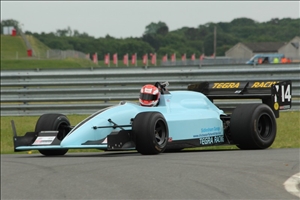 Terry Holmes, Lola F3000 (A Leivers)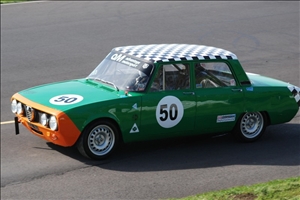 Philip Stader, Alfa Berlina (C Bennett)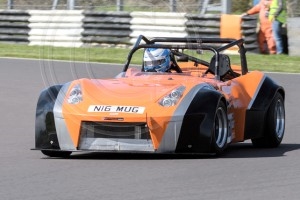 Alan Mugglestone, RAW Fulcrum (S Kilvington)
---
Ginetta Acquires Blyton Park Driving Centre
22/03/2017
Yorkshire car manufacturer Ginetta, a subsidiary of the LNT Group, has today (Wednesday 22 March) announced that it has purchased Blyton Park Driving Centre, a test track in Gainsborough. Former owner Richard Usher is staying on board at the circuit and will continue to manage day to day operations for Ginetta.
As one of the UK's busiest test facilities, Blyton's strong business proposition fits well with Ginetta's wider dedication to the sport making the Yorkshire business a logical buyer for the Circuit. Ginetta has long been a bastion of British Motorsport, with a well-established commitment to breeding the next generation of racing stars. As the new owner of Blyton, Ginetta's priority will be to protect the flexibility it offers to drivers, manufacturers and motorsport fans alike across the sport.
Improvement plans are already in motion to enhance Blyton's customer experience through progressive development of the circuit. Plans include additional circuit configurations within the existing complex, along with improved facilities for competitors. All development opportunities will take into consideration the requirements of the individuals, organisations and manufacturers who currently use the track.
Already one of Blyton Park's biggest customers, Ginetta will continue to use the circuit for all car shakedowns, as well as a venue for customer and corporate track events with plans to make dedicated areas - such as a flat patch - available for customers to hire for set-up. By keeping cars available on site, Ginetta will also give Blyton's drivers and motorsport fans the opportunity to hire vehicles, including their G40 Club Car.
Nick Portlock, Ginetta Commercial Director; "The purchase of Blyton Park made ideal business sense to Ginetta. It's one of the UK's biggest testing facilities and we are one of its biggest customers. We plan to invest in improving the customer offering and experience at the circuit, as it's crucial for us to ensure it remains 'business as usual' with all manufacturers encouraged to continue to use the facility."
Richard Usher, Blyton Park Managing Director; "Ginetta and I have a fantastic passion for motorsport and are keen to see racing talent flourish. Ginetta is heavily invested in their motorsport career ladder whilst Blyton Park is an ideal place to hone your race craft whether it be on two wheels or four. The circuit has gone from strength to strength in recent years, and the purchase by Ginetta is exactly what we need to continue the development. I am incredibly excited to begin the next chapter in Blyton Park's history and I am sure our customers are too."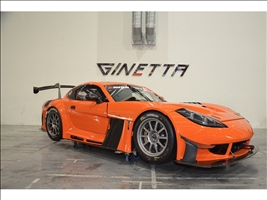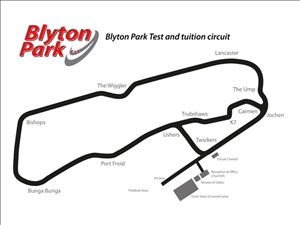 ---
DAVID RENDER ― 1924-2017
12/03/2017
The sport lost one of its senior elder statesmen with the recent passing of David Render at the age of 92. His motorsport career started just after WW2, in which he had served with distinction as a tank commander in Northern France, being awarded the Legion d'honneur as recently as last year. David competed in all forms of motorsport, including racing his Morgan at the very first Goodwood meeting in 1948. He was a great Sporting Trials enthusiast and a leading light behind the TV Trophy Trials of the '50s as well as competing in the televised London MC Autopoint in the '60s. During a long career in hillclimbing and sprinting he drove a wide range of cars, from a Ford Twincam powered Fiat 600 to ex.F1 Lotuses on loan from his friend Colin Chapman. He won the British Sprint Championship in 1983 driving Lola-Hart and March-DFV and sponsored the series for many years through his concrete company Warecrete. He remains the top points scorer in the 46-year history of the series. Having competed in the Brighton Speed Trials since its early post-war days, he delighted to win the event outright in his Pilbeam-Hart sportscar in 1996. Ill-health forced his retirement from active competition in the late 1990s, but he continued to do classic touring events in his Jaguar E-Type and give individual charity talks around the country about his activities in tanks, in motorsport and in business.
David's funeral will take place at St Andrews Church, Totteridge Village, London N20 8PR, on Tuesday March 21st at 1.30.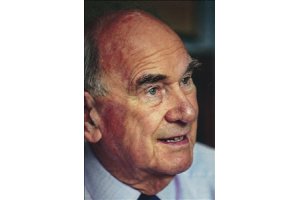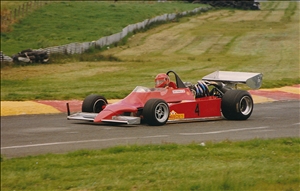 David's Toleman-Hart at the Knockhill British Sprint round in 1990
---
TERRY SMITH
12/03/2017
We regret to report the recent passing of Terry Smith, in his early 80s. A stalwart of the Bristol motorsport scene, Terry had a long career in sprinting and hillclimbing first in a Cooper-JAP Mk10, then in the 1100cc class in the ex.David Franklin Vixen-Imp VB5. Moving on to bigger machinery, in 1978 he set, jointly with fellow Bristolian Dave Harris's McRae GM1, the fastest time that would ever be recorded over the Brighton Speed Trials' half-kilometre course in his Brabham-Repco. The following year he won the event again in his March-Repco (and again in 1981), and also set the outright Ramsey Road sprint record on the Isle of Man in the March, an achievement which led to his being featured on a special set of motorsport postage stamps issued by the GPO, together with Nigel Mansell and Ari Vatanen. Like several of his Bristol-based associates, Terry switched to a successful career in historic circuit racing, driving an MGB V8 and a Lola T70.
Terry's funeral will take place at South Bristol Crematorium, Bridgwater Road, Bristol, BS13 7AS, on Friday, March 24th at 2.15.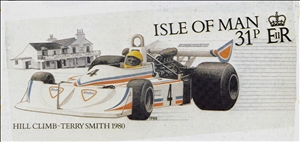 Terry's IOM record was featured on a GPO postage stamp
---
Back to Top