HSA SPEED CHAMPIONSHIP - REPORT ARCHIVE
Reports for 2020
Reports for 2019
Reports for 2018
Reports for 2017
Reports for 2016
Reports for 2015
Reports for 2014
Reports for 2013
---
Rounding off a curtailed season in style

Event 14 at Curborough on 11/10/2020

Eric Morrey reports

The Sunday event using Curborough's figure of 8 course, was a completely different day, staying dry throughout.

In the Standard Car Class, Rob Thompson in his Clio 172 Cup took the win again, a second within his own HSA class record, with Terry Roberts taking second in another Clio, this time a 182.

Class A1, up to 1400 Roadgoing cars were next, with this time Martin Rowe in his Peugeot 106 Rallye taking the win. In the bigger engine class (1400-2000), Simon Kirton in his Elise won the class again, this time beating Oliver Wright in his Peugeot 106 into 2nd. In the over 2,000cc class, the 4 wheel drive cars were fighting it out again, this time though, it was Justin Andrews Subaru Impreza that took top spot. In the MX-5 class, Peter Taylor took another class win

In Class B2 for the specialist Roadgoing Cars, the AMS Murtaya of John Pick took his second class win of the weekend.

Modified Production up to 1,400cc cars (Class C1) were next, with Gavin Neate, in his Peugeot 106 taking the class win.

In Class C2 for Mod Prod over 1,400cc cars, Taras Andrusin in his Clio 172 Cup took the win .

In Class D for the Modified Specialist cars, the Ginetta/Caterham shoot out continued, with this time the Caterham taking the class honours, with Chris Goodreds beating the two Ginettas.

Simon Bainbridge (Chrono) was again the victor in the sports libre category, with David Large (Radical) second and Anthony Brown ( Audi TT) third.

Stuart Bickley (Jedi TDF) won the 1,100cc racing car class in a time of 51.51 seconds, which was also FTD. As with the previous day, Debbie Dunbar and Andrew Bisping placed second and third respectively.

An even bigger Pre 94 Formula Ford class ran next, this time with 15 competitors in 6 manufacturers' cars. Simon Andrews narrowly took the win from Trevor Willis and Richard Summers.

Kelvin Broad (Force TA) again led the over 1,100cc racing car class, pushing Peter Goulding (Mygale) back into second place by 0.03 seconds on the second runs.

Philip Stader and Dave Nursey both drove Philip's Mallock Mk 11A in the Pre 76 classic racing and sport racing car class, and Philip won the duel. Finally Pauline Goodwin and Jon Goodwin battled in their respective Ferraris with Pauline beating Jon, her 328 proving a little quicker than his historic and beautiful 250.

Andrew Webber (Lotus Elan Plus 2) won the merged classic road going and modified pre 1976 saloon and sports car class and in doing so added to his Triple M/Pirelli HSA Speed Championship points total to win the 2020 abbreviated series outright.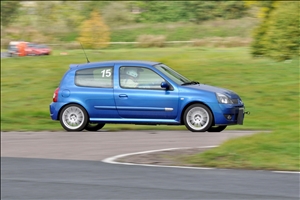 Rob Thomson took the class win in the Renault Clio 172 Cup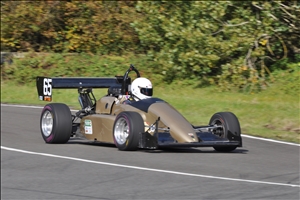 Andrew Bisping - OMS 2000M finished 3rd in the 1,100 racing car class
---
The season-ending weekend kicks of on a slippery Curborough

Event 13 at Curborough on 10/10/2020

Eric Morrey reports from the HSA's Curborough weekend

The traditional season-ending HSA event at Curborough started off on the Saturday with a full entry for the double lap course. A damp and showery day, the track never really dried out.

In the Standard Car Class, Rob Thompson in his Clio took the win, with John Fox taking second in another Clio in the seven car class.

Class A1 saw Jamie Yapp taking the win in his shared Nova SR. In the bigger engine class (1,400cc-2,000cc) we had a great selection of different cars competing, with Simon Kirton in his Elise beating Nigel Trundle to 2nd in his Abarth 500. In the over 2,000cc class, the 4-wheel drive cars held the advantage in the damp conditions, with Alex Gilchrist Jones in his Mitsubishi Evo 9 taking top spot. Peter Taylor came out the convincing MX-5 class winner, finishing a full 7 seconds ahead in the tricky conditions.

Class B2 for the specialist Roadgoing Cars saw John Pick making the most of his 4-wheel drive AMS Murtaya to take the class win. Class C1 for the smaller-engined Modified Production cars saw Eric Morrey in his turbocharged Hillman Imp take the class win from Gavin Neate, after Gavin manged to spin his Peugeot 106 at the Molehill.

In the bigger-engined Mod Prod class (C2), John Stone in his impressive Ford Fiesta RS WRC rally car took the win from Taras Andrusin in his Clio 172 Cup. Class D saw a Ginetta/Caterham shoot out, with the Ginetta G33 of Graham Beale coming out ahead.

Class F for hillclimb super sports and sports libre cars was dominated by Simon Bainbridge in the fearsome 4.2 Turbocharged Chrono. His sole competitive run of 57.21secs was also enough to take FTD. Clive Wooster made just one competition run, beating David Large in another Radical into second place by a mere 0.08 secs. The 1,100cc racing car class was won by Stuart Bickley (Jedi TDF) with Debbie Dunbar (DJ Firehawk) second.

The large Pre-94 Formula Ford class had 12 runners. Simon Andrews came out the winner, with Richard Summers and Sarah Bosworth second and third respectively, all in Van Diemens.

The three classes for racing cars above 1,100cc were amalgamated, with Kelvin Broad (Force TA) the winner ahead of Peter Goulding (Mygale) and Graham Porrett (Lola Tegra T90). Bruce Atkinson (Alfa Romeo Junior) won the pre-1976 classic road going saloon and sports car class, while Philip Stader (Mallock Mk 11A) won the pre-1976 classic racing and sports racing car class.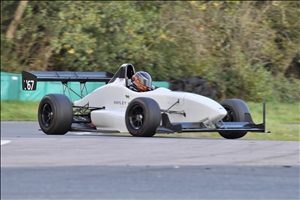 Debbie Dunbar was pipped to second in class in the DJ Firehawk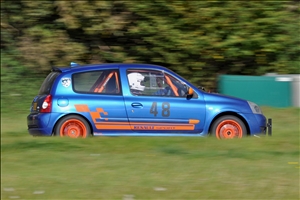 Taras Andrusin Renault (Clio 172 Cup) lost out to John Stone in Class C2
---
Webber takes championship lead as title battle gets serious

Event 10 at Blyton Park on 20/09/2020
On the second day of Nottingham Sports Car C lub's Blyton Park double header, held on the Outer circuit, Andrew Webber (Elan +2) scored 15 points to take the championship lead. Peter Taylor (MX5) again went well and his 13 points score moved him into a close second place and Justin Andrews (Ipreza) took a maximum score to move into fourth behind, former leader, Andrew Till.

With his car repaired after his Saturday excursion, Pete Goulding (Mygale M13) set the early pace but with six timed runs on offer if was going to be a long afternoon. Steve Miles (Van Diemen RF96) quickly asserted himself and with a series of very quick runs managed to stay ahead of the pack, setting FTD with a 55.06s on T4. Chris Jones (Force TA) put on a new set of Pirellis and began to push the 998cc Suzuki engined car to hold second overall on T4 and T5 with a time 2 secs inside his PB. Sitting out T6 proved to be a mistake as Pete Goulding found some more speed in the Mygale and pushed Jones down to third. Terry Holmes (lola T90 Judd) would have threatened the top three but gearbox problems prevented him and shared driver, Graham Porrett, from taking their final two runs. Another driver expected to appear near the top of the timesheets was Glyn Sketchley (Force PT) but he lost a cylinder on T3 and took no further part.

Steve Miles was very satisfied (PB by 3.1secs!) with the latest iterations of the constant development of his 1996 vintage Van Diemen. He put his FTD performance down to new brakes, engine rebuild, SBD gearchange and traction upgrades and Triple M Motorsport driver coaching. He also had to contend with some noise issues which were solved by adopting his 'Goodwood' deflector tubes sending the noise in the opposite direction and saving 7Db without significant power loss. Simon Bainbridge (SBR Crono) joined Miles, Goulding, Jones and Andrews in beating the existing HSA class records.

Close competition was again the order of the day in a couple of the Lotus 7 Club classes with only fractions of a second covering the top runners. Peter Taylor again went well to win the 2000cc Roadgoing class while many of the other classes only featured one or two runners. The 1100cc Racing Car class was again won by Chris Jones but this time from Mark Anson (Jedi). Chris Price, from MBE, was guesting in the Force TA and quickly got to grips with the car, narrowly missing out on fourth place behind Mike Hull and Tony Beesley in their Jedis.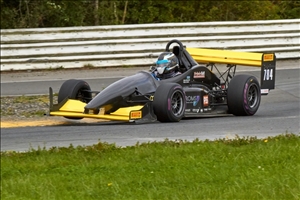 Chris Jones lifts a wheel on his way to an excellent 3rd place (Anthony Mitchell)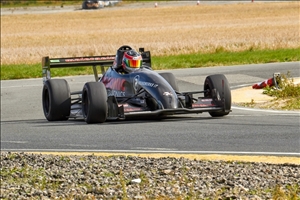 Steve Miles took a well deserved FTD (Anthony Mitchell)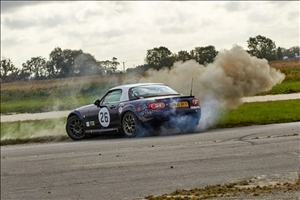 Despite this dusty spin Peter Taylor moved into 2nd place in the championship (Anthony Mitchell)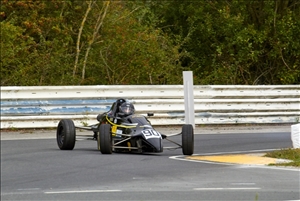 Nigel Fox having a 'moment' in his Van Diemen (Anthony Mitchell)
---
Holmes takes FTD as Webber closes championship gap

Event 9 at Blyton Park on 19/09/2020
The first day of Nottingham Sports Car Club's Blyton Park double header was held in warm and dry conditions on the Eastern Circuit. The meeting was well received by competitors and run to COVID restrictions which meant reduced entries, more spacing in paddock, no awards, no briefing, everything electronic for sign on, extra ambulance brought in as normal rescue vehicles need a 3 hour decontamination which could not always be done and finally masks worn when you couldn't keep more than 2m apart.

After T3 Pete Goulding (Mygale M13) was leading the field from Steve Miles (Van Diemen RF96) and Terry Holmes (Lola T90 Judd) who was trying the latest spec AVON race tyres for the first time. A fail by Goulding on T4 (an off at Curva Grande and some suspension damage) left him out for the day and Miles edged ahead only to be pipped by Holmes on T5, taking FTD with a 60.78s run and having overcome problems with 2nd gear.

Peter Taylor (MX5) won the 2000cc Roadgoing class and kept up his championship challenge while in the same event class, Andrew Webber (Elan +2) scored good HSA championship points to stay close at the top of the table. John Wadsworth, also in an MX5, took the 200cc Standard Production class while Julian Harber (Mini Clubman), Simon Bainbridge (SBR Crono) and Goulding all broke the existing HSA class records and scored maximum points.

The consequences of the smallish (72) entry were plenty of timed runs and generally small classes. Exceptions included the 1100cc Racing Car class with 8 entries and this saw the return of Chris Jones' Force TA after being absent from racing for nearly two years. The Saturday event was the first time it had turned a wheel with the latest generation Suzuki GSXR motor and after a few teething problems (and running on very old tyres) got down to representative times and took the class win from Simon Wallis' OMS 3000M. Unfortunately, Martin Pickles blew the engine in his Jedi during practice and was out for the week-end.

Two of the Lotus 7 Club classes were very well supported and both were highly competitive with the first three runners in each class separated by less than 0.4s with Chris Whitlow and Robert Jacobs being the victors.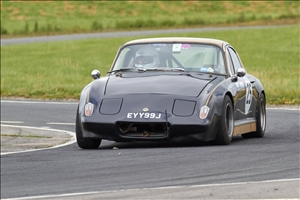 Andrew Webber made a championship charge at Blyton (Anthony Mitchell)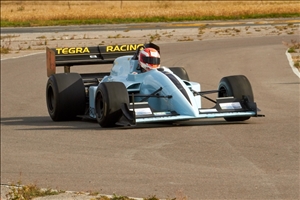 Terry Holmes took FTD in the Lola (Anthony Mitchell)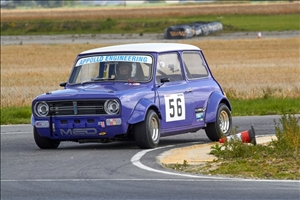 Julian harber broke the HSA class record (Anthony Mitchell)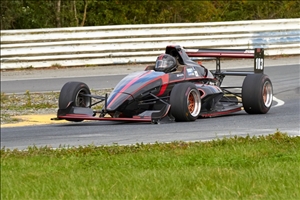 Pete Goulding was on the pace at Blyton (Anthony Mitchell)
---
Bradshaw scores as Willis takes Run Off
Event 8 at Shelsley Walsh on 19/09/2020
One of the most striking things about the Midland Automobile club event (and reportedly the other successful events they ran in the preceding weeks) was the thorough and precise way in which the COVID-19 secure provisions had been designed and were carried out. And, all this without making it heavy handed or officious which led to a thoroughly enjoyable and, as near as possible, normal, experience for all. Indeed, it went beyond normal as many potential attendees, forced to remain at home, were enjoying the live video and commentary for all of the timed runs.
Hopefully, with this as a template we can look forward to a full 2021 season provided that the situation doesn't deteriorate beyond current expectations.
The event drew a near capacity entry (and only a few no shows) including some of the British Hillclimb fraternity and the HSA, Paul Matty Lotus and the Classic Marques championships.
There was a Top 10 Run Off which was won by Trevor Willis (OMS 28) from Alex Summers (DJ Firestorm) by 5 hundredths, the latter having set FTD with a 23.01s during the timed runs.
The warm and clear conditions made for a perfect Autumn day with a number of competitors setting times close to or better than their PBs. Peter Hubbard was back again with his V8 two stroke engined Maximus GT and hoping to get in some good runs following a successful test at Snetterton a few days earlier. However, the diaphragms that control fuel flow into the carbs are very pressure sensitive (and different for each cylinder apparently!) and the atmospheric pressure difference between Norfolk and Shelsley was enough to cause the engine to run too rich. Modifications were made and the hoped for runs postponed until the following day.
Championship leader, Andrew Till was back in the Fiesta ST but, with the unfortunate cancellations of a number of his planned rounds, this was to be his last event and he was therefore resigned to losing his lead by the end of the season. Andrew was just beaten into second place in the 1400cc series production class by 0.25s by Victoria Hunt's Cooper S. In the 2000cc class Charlie Delahunty and Andy Johnson were evenly matched in their MX5 but outpaced by some quicker cars. Justin Andrews was hunting championship points in his Impreza and took a good class win in the strongly contended over 2000cc class by a few tenths from Alex Gilchrist-Jones' Evo 9 and Alex Bones' Audi S3. Justin was moving on to Blyton the next day in his search for points.
It was also tight in the Roadgoing specialist production class with Chris Bennett setting a PB and just managing to stay ahead of Oliver Wright's Westfield and Anthony Earl having his second event in his Caterham.
In the modified specialist production class John Bradshaw posted a storming sub 30s time (29.68s and a new HSA record) with his Westfield on his first run to win the class from Phil Cooke's Caterham following Ray Lohr's withdrawal after practice. John described the car now with a very powerful Cougar motor, a Triple M chassis set up and Pirelli ultra soft slicks as being near perfect resulting in a PB.
Clive Wooster was making a rare trip to Shelsley with his Radical SR4 and, after reminding himself which way the hill went, he succeeded in edging out David Bickley's SR1 model in the Libre class.
In the 1100cc racing car class Stuart Bickley set an excellent 26.91s time in his Jedi but unfortunately Robert Kenrick was present with his Raptor and two seconds further ahead! Carole Nicholls was out in her trusty Nike Formula Ford and a tenth and a half off her PB. As usual the Paul Matty championship runners provided plenty of visual appeal although Tony Wallen suffered a front end damaging 'off' in his familiar Gold Leaf liveried Lotus 69 ending his day on T1.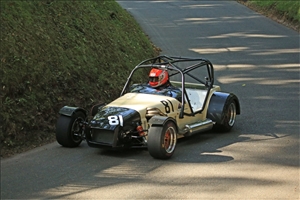 A standout performance from John Bradshaw (Rob MacDonald)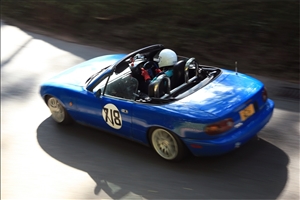 Charlie Delahunty in her MX5 (Rob MacDonald)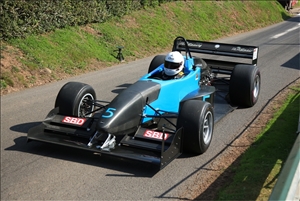 Trevor Willis took the Run Off (Rob MacDonald)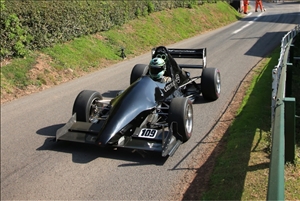 Stuart Bickley in his very quick Jedi (Rob MacDonald)
---
Taylor scores at Wiscombe
Event 4 at Wiscombe Park on 23/08/2020
With a maximum score at Wiscombe on August 23rd, Peter Taylor and his MX5 closed to within a couple of points of 2020 HSA Speed championship front runners, Andrew Till and Andrew Webber.
The battle for FTD was waged between three pairs of single seaters - two Empires, two Jedis and two OMSs - and Paul Haines' Gould GR59. Almost inevitably it was the Gould that took the honours with a 36.36s run with the OMS CF04 of Andrew Forsyth the 'best of the rest' on 38.04s from Ben Bonfield's Jedi on 38.73s.
It looked like there may have been an Empire in the mix for FTD – Jason Tunnicliffe was out in his Empire Evo. On his final run, out of the tight Wis Corner, he caught the bank on the exit and the car became wedged. Fortunately, no injury to Jason, and the car seemed unscathed as well. What might have been....Jason has been quick in recent years hustling a Peugeot 205 – he switched to the Empire in 2019, so probably still learning the car.
Eight HSA Championship competitors made their way down to Devon for Torbay Motor Club's Wiscombe event. Even though, sometimes dark and ominous, clouds rolled overhead throughout the day the rain held off and the damp track under the trees after The Gate dried out enough to allow both Martin Ellis (Ford Escort) and Peter Taylor (Mazda MX5) to break the respective HSA records for Classes A2 and A2.1 and score maximum points. Andrew Webber(Lotus Elan +2) also ran well and just missed eclipsing the Class U1 record by a scant 0.19s on his final run.
Quickest HSA runner on the day was Tony Bonfield in his Jedi Mk. 4 with a 41.99 on his first timed run while, also competing in the single seater classes was Carole Nicholls with her beautiful yellow Nike Formula Ford who put in two very consistent climbs separated by just 0.07 seconds.
Both achieving useful points hauls were Julian Harber (Leyland Mini) who finished 2
nd
in Class C1 and Michael Smith (Sylva Striker) claiming 4
th
in a very competitive class B1. Andrew Till brought out his ZR105 for the first time since last October and ran alone in a specific MG class, scoring 13 points, his Championship lead cut to just two ahead of Andrew Webber, with Peter Taylor a further solitary point adrift in 3
rd
overall. Martin Ellis moved up to 4
th
in the table with his maximum score.
Motorsport UK Covid guidelines meant that there was a reduced number of competitors to ensure that social distancing could be maintained. The entry comprised of 100 cars and 40 bikes. Some competitors competed on the day before and there were also no spectators allowed – so it was a very different atmosphere to a normal Wiscombe weekend.
The event ran very smoothly, the only significant delay being caused by the need to retrieve Neil Catling's Lotus Elise after an excursion in to the trees after Bunny's Leap. Competitors were limited in the number of helpers they could take, there were no spectators allowed and viewing was restricted to Wis Corner. Refreshments were available throughout the day from the caterers and there was plenty of space to maintain social distancing in the paddock. Organisation and marshalling were both of a very high standard and a separate batch of motorcycles added spectacular variety. The appreciation of all those involved in putting on the event was shown with a round of applause at the end of the afternoon as the sun eventually emerged from behind the clouds and the 110 car competitors made ready to head home after a great day's sport .
We have to thank Andrew Till and Nigel Cole for this report.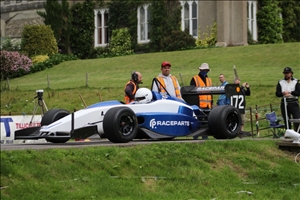 Paul Haimes on his way to FTD (Nigel Cole)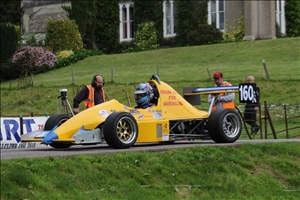 Ben Bonfield in the Jedi (Nigel Cole)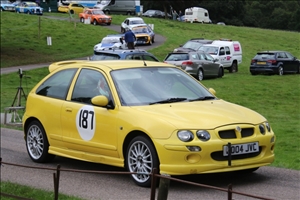 Andrew Till still leads the championship (Nigel Cole)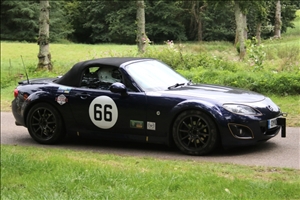 Peter Taylor took maximum points (Nigel Cole)
---
Till extends lead as Miles takes FTD at Pembrey

Event 3 at Pembrey on 16/08/2020
The second half of the Welsh Sprint week-end took place at Pembrey on Sunday August 16th following the unfortunate and last minute cancellation of Llandow the previous day - a decision that left competitors mystified. The organisers, showing commendable flexibility, allowed Llandow runners the chance to compete at Pembrey the following day even if they had not planned to do so.

Despite the predictions of heavy rain, competitors enjoyed two dry runs after lunch following a wet practice (exciting for the slick shod racing cars!) and damp T1. Steve Miles took his familiar and heavily modified Van Diemen RF96 to a relatively untroubled FTD with a 95.37s run from Dave Cutliffe's even more modified RF93 model (99.80s) and Martin Pickles' Jedi Mk1 (104.65s).

In all, 78 competitors set times and, of these, 10 Triple M/Pirelli HSA Speed Championship runners scored points, with four front runners beginning to emerge at the top of the table.

With another maximum score, Andrew Till is clearly getting to grips with his 'new' Fiesta ST and he extended his lead in the Championship. Andrew Webber also took a maximum score to keep in touch with his Elan +2. Although running in a different HSA Class, Peter Taylor almost matched Webber's time with his MX5 while Justin Andrews put in a typically competitive performance in his Impreza to win the large Roadgoing Class and sit third in the championship.


Off the track, competitors were impressed with gloved, masked and temperature taking 'check-in' as well as an excellent turn out of marshals who were much appreciated. Paddock management was well organised and the starting procedure was similar to that used at Combe and worked well. A new set of permanent garages have been erected behind the pit lane and competitors enjoyed a local, acrobatic air display team who were practising overhead for most of the day - " The aerobatic team were propellor driven - a very impressive mimic of a Red Arrows display with a corkscrewing aircraft around the tightly grouped formation of the remainder of the team! ".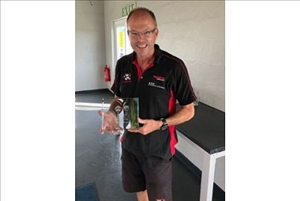 Steve Miles receives the FTD award
The Pembrey paddock (S Miles)
---
Warburton's FTD as Till leads HSA Championship
Event 1 at Shelsley Walsh on 09/08/2020
The 2021 Triple M/Pirelli HSA Speed Championship got off to a welcome, if belated, start at Shelsley Walsh Reg Phillips Trophy meeting on August 9th with 18 registered competitors scoring points.
Outright honours went to the Warburton family, David and Allan, in their shared Gould GR59 with times of 25.12s and 26.78s respectively.
Held in fine conditions with a cool start the standout performance from the HSA Speed Championship runners was Andrew Till, running his 'new' Fiesta ST in preference to his long serving MG ZR105, who was the only competitor to set a new HSA Class record.
Peter Taylor was competitive as usual in his MX5 and scored well, as did Justin Andrews in the Impreza who also won the well supported large Series Production class. Andrew Webber was back in his Elan +2 and took second in the 2000cc Series Production class and so did Stuart Bickley (Jedi) in the 1100cc Racing Car class with a run good enough for 4th FTD.
An unfamiliar sight at a hillclimb was British Sprint stalwarts, Graham Porrett and Terry Holmes, in their big Lola Tegra Judd and Graham's first hand report of the event, after a long gap from his first and only visit to the venue, follows.
"Useful advice was given to Terry and myself by various entrants although I am sure someone mentioned a long run off. When I went to the line first brake pedal was rock hard and no brakes I thought must need bedding in but no it was a seized front master cylinder. I went very gingerly but decided to blast it down to the line and soon realised that the run off not that long, stamped hard on the brakes which freed the cylinder and luckily the Lola stopped.
Terry started on a low 30's and I, at 38s, ended up roughly were Terry started. He finished in 28's - not bad for Sprint tyres. Although a Westfield finished on 30.07 and made me think my efforts a bit feeble. But 'live to run another day'.
We were made very welcome the track manager, Gary, who visited and welcomed us. Garages were well spaced which was just as well as they are quite small and we needed two for all our kit. There were lots of signs on social distancing and a great canteen.
As had been the case on my previous visit, a long time ago, the event was very friendly and accommodating. The only drawback was 4, '30 odd' second, runs in the car but the motorbikes had a top 10 run off.
Terry had the oil filler cap come off on his last run and it sprayed a small amount of oil on to the rear engine cover which looked a lot worse than it was and the marshals' concern for the track kept him there at the finish until the meeting was over. They gave him water and shelter from the sun and he used paper towels to clean the car whilst he waited.
Other than the initial brake issue the Lola ran perfectly but it will be Blyton before we are out again."
Like the July 'Summer Spree' event at Shelsley the meeting was streamed live and should be available to catch up on YouTube soon.
The Warburton's prepare for a run (Instagram @ShelsleyWalsh)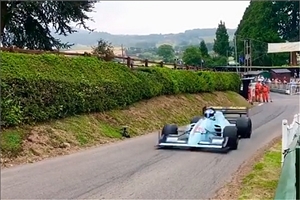 Graham Porett re-discovers Shelsley (Instagram @ShelsleyWalsh)
---
Back to Top