HSA SPEED CHAMPIONSHIP - REPORT ARCHIVE
Reports for 2017
Reports for 2016
Reports for 2015
Reports for 2014
Reports for 2013
---
THOMAS'S WIN - HOWARD-HARRIS'S TITLE
Event 32 at Curborough on 11/10/2014
Early morning fog gave way to sunshine in the Lichfield area as, after replacing a drive-chain broken in practice, Gary Thomas bounced back with his 1400cc Force-Suzuki to take FTD by almost a second at the HSA's Championship finale at Curborough with a winning run of 28.35sec. But after overcoming a strong challenge from early Roadgoing Specialist class leader Tim Pennington, it was Chris Howard-Harris that turned the tables by a mere tenth on the second runs and he rounded off a fine season in his Caterham-K Superlight R with an HSA class record-breaking win, leaving Curborough as the 2014 SBD/HSA Speed Champion.
Having carefully calculated the dropped scores, 2010 champion Tony Thomas, second on the series table, came to the last round knowing that he could neither catch Howard-Harris nor be caught by the third placed Matt Carter, so the Mazda driver opted to join the organising team for the day. Carter still gave it everything, winning the sports libre class with another HSA record. Unfortunately a broken driveshaft sidelined his Radical from both the second runs and the Alan Payne class winners' run-off, so Matt had to settle for a championship third place.
The other class record-breaker was over 2-litre Roadgoing class winner Andrew Cottrill. In a great day for the Subaru driver, he not only moved up to fourth place on the championship table, but found even more time in the run-off, running 0.48sec inside his class winning time and taking the 2014 Alan Payne Memorial Trophy win by just two hundredths from Mazda class winner Ken Morris.
Although Thomas was a clear FTD winner, the battle for second and third overall was close and fought out in the well-supported 1100cc racing class. Sharing the OMS-Suzuki 28 with Bernard Kevill, whose regular co-driver Simon Andrews was at the wheel of his son Michael's similarly powered Force HC for the day, Alex Summers just managed to hold off the flying Force PT of Martin Jones by four hundredths to take 2nd FTD as, just three tenths further back, Michael Andrews closed in for fourth place overall.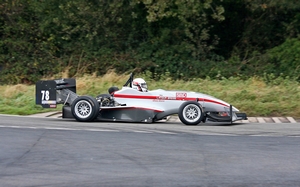 Shelsley winner Gary Thomas made it two in a row at Curborough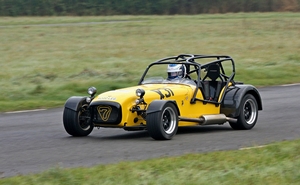 2014 SBD/HSA Speed Champion Chris Howard-Harris rounded off his season with a class win (Steve Wilkinson)
---
Another Thomas FTD at Shelsley Walsh
Event 31 at Shelsley Walsh on 20/09/2014
A final run time of 27.19s was enough to secure another FTD for Gary Thomas in his Force PC ahead of Terry Graves' Gould GR37 on a 27.53s as the day finally warmed up and the track dried out after a rather miserable morning when the fog/mist was so bad that the start of practice had to be delayed.
Sarah Bosworth took the well supported up to 2000cc Production class by over a second and a half with a 34.28s run from Dave West's Peugeot 106. HSA competitor, Tom Ellis in his 1.0 Vauxhall Nova was having his fourth event of the year and thoroughly enjoying the experience. Andrew Cottrill comfortably won the large Production class but was unable to match his existing HSA record.
Chris Jones, having an occasional outing in his Westfield, was on fine form (despite a small off in the morning) and after stiffening the rear of the car posted a 30.83s run to easily win the small Kit Car class and demolish his existing HSA record. He went even faster on the Sunday! In the larger Kit Car class HSA competitors Stephen Laing and Chris Bennett enjoyed their competition but were outclassed by the 5 litre TVR of Steven Mogg.
The small Mod Prod class was won by Martin Depper in his familiar Mini on a 35.22s while in the larger class neither Tim or Adam Monk in their shared Impreza could get near Nigel Elliott's TR& V8 or Andy Norris' 911. In Mod Specialist Prod there were 4 Ginettas and Graham Beale's B33 example did well to finish second (32.72s and 0.02s ahead of Malcolm Mackay's Sylva Riot) from Stuart Bickley's Sylva Phoenix with a 31.98s effort.
The 1100cc Racing Car class saw Simon Andrews take a relatively (for the 1100cc class these days!) easy win in his impressive OMS28 with a 28.89s from Darren Gumbley's Force PT on 29.45s.
Malcolm Thorne's Lotus Buick won the Classic class while Mike Broome (like a number of other HSA competitors) was unable to beat his existing Classic Formula Ford record in his Elden as he edged out Jeremy Smithson's Merlyn MK11a.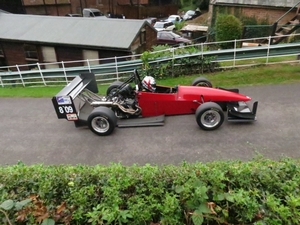 Martin Jones was sharing Darren Gumbley's Force PT and was a tenth behind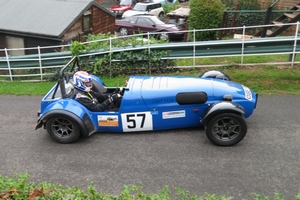 Chris Jones did a 30.83s in his 1.6 Westfield
---
0.01 secs separate Opie and Burton
Event 30 at Thoresby Park on 14/09/2014
Sunday was perhaps a little cooler than Saturday but remained dry despite threatening clouds.
Most the HSA Championship contenders who took part in the Saturday event stayed on for the Sunday event, though Jamie Yapp, Tom Ellis, Chris Bayliss and Andrew Cottrill had to go. Those remaining were joined by Mike Hawley in his Honda S2000 and three drivers who competed in cars they had not registered for the championship and so did not score points - Alan and Nick Mugglestone and Jonathan Plowe,
In Class A1 (Road-Going Series Production Cars up to 1400cc) John Fox was the only one left in his class but improved on his time of the previous day to record a time of 58.53 and earn himself 11 points.
In class A2 (Road-Going Series Production Cars 1400cc to 2000cc.) Mike Hawley set a new class record of 55.17, beating Jonathan Plowe's previous record of 58.94 set in his X19 Turbo last year. This moves Mike up into 5th place overall with two rounds to go.
Class A2.1 (Road-Going Mazda MX5s) saw Tony Thomas set another class record, beating the one he set on the Saturday and leaving it now at 55.62. He scored 15 points, not being able to score more for lack of competitors in his class and the score does not affect his total championship score since his next lowest score is 15 so they cancel out. Tony remains second in the championship.
In Class B1 (Road-Going Specialist Production Cars up to 1700cc) Richard Abraham and John Clarke continued their battle from the Saturday with the same result, Richard getting more points even though he only completed one competition run.
In Class C1 (Modified Limited Production Cars up to 1400cc) Gavin Neate made no mistakes and beat Ivan Russell's new HSA class record but couldn't quite beat his own new Nottingham record set the previous day. His time of 52.19 earned him 16 points, his highest score of the year, and put him into 7th place in the championship, one point behind Brian Marshall.
In Class F (Hillclimb Super Sports Cars & Sports Libre Cars up to 2000cc) Clive Wooster again was the only one in his class but couldn't better his time of theprevious day and as a result scored two fewer points – 13 compared to 15.
In Class J1 (Pre 1994 Formula Fords) the battle continued from the previous day between Mark and Russell Haynes and Paul Webb, with the result being the same - Russell then Paul then Mark. However, Russell could not better his new HSA record so his score was 13 compared to 17 on the Saturday but this was still good enough to move him up to 16th in the championship.
In Class N (Modified Specialist Production Cars with Imp engines) Graeme Williamson avoided all obstacles and recorded a time a tad slower than his Saturday time, earning him another 8 points.
In Class W2 (Classic Racing Cars 1975-1984) John Burton and Richard Opie continued their battle in their shared Ralt R3, but whereas John won on the Saturday, Richard won on the Sunday by the narrowest of margins – one hundredth of a second. On their second competitive run the times were: Richard– 47.97; John 47.98. Both broke the HSA class record and the one hundredth of a second earned Richard an extra point – 16 to John's 15.
Gary Thomas again got FTD and in doing so set a new Nottingham record of 43.81. Fastest HSA member registered for the HSA Championship was Richard Opie who was 7th fastest.
Bob Ridge-Stearn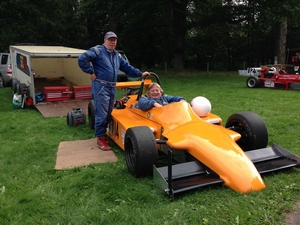 Richard Opie (standing) and John Burton (in car)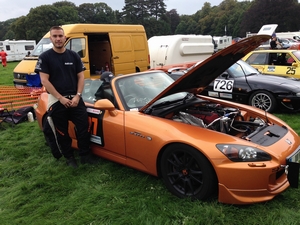 Mike Hawley
---
Good turnout and 5 new records!
Event 29 at Thoresby Park on 13/09/2014
The forecast for the weekend was cloudy but dry and that is how it turned out. Not a drop of rain all weekend which was in marked contrast to the last few years at Nottingham Sports Car Club's sprint in the picturesque surroundings of Thoresby Park in the Sherwood Forest.
In Class A1 (Road-Going Series Production Cars up to 1400cc) Tom Ellis, John Fox and Jamie Yapp were present though not in the same Nottingham class. NSCC runs a standard roadgoing class which meant that the trio were split with Tom running his bog standard Vauxhall Nova in this Standard class while the other two entered NSCC's Road Modified class in their Peugeot 106. The HSA class record was held by Jamie with a time of 57.72, set last year in his Vauxhall Nova SR, but today in the 106 he could not better 59.71 and was beaten into second place by John with a time of 59.68 - only 0.03 quicker. John did go on to do a time of 59.02 in his third competitive run but only the first tow count towards HSA points.
There weren't any HSA members in class A2 (Road-Going Series Production Cars 1400cc to 2000cc.) except me, but because I changed car mid-season I didn't enter my Elise in the championship this year.
Class A2.1 (Road-Going Mazda MX5s) only attracted one of nine MX5s registered in the championship, that of Tony Thomas, who before Thoresby was only six points behind championship leader Chris Howard-Harris.(He might have been five behind had Ken Morris known that the Loton event was on Saturday not Sunday and Tony had beaten him, but that's another story). At Thoresby Tony set a new class record of 57.42 beating the previous record, which he set himself in 2012, by 0.12 seconds. However, because there were no other competitors on the day the maximum he could score was 12. So when he drops his lowest score, which is a 13, he moves two points closer to the championship lead wiith 143 compared to Chris's 147.
In class A3 (Road-Going Series Production Cars over 2000cc) Christopher Bayliss was in his fourth HSA event of the year in his Fiat Stilo Abarth, but it was Andrew Cottrill in his eighth event in his Subaru Impreza who stole the glory, setting a new HSA class record with a time of 51.58. This beat the old HSA record of 52.14, which he set in the same car.
Class B1 (Road-Going Specialist Production Cars up to 1700cc) saw Richard Abraham and John Clarke battling it out with Richard getting the upper hand in his Westfield SEi. In his third run Richard's time of 49.59 was 0.29 seconds quicker than his own 2012 HSA record but it's the first two runs that count and his best then was 50.36.
Class B2 (Road-Going Specialist Production Cars over 1700cc) was uncontested but would have provided easy points to anyone turning up as there is no HSA class record at Thoresby.
Class C1 (Modified Limited Production Cars up to 1400cc) does have a class record, 53.17 set in 2012 by Wil Ker in his Mini. This year this was beaten by Ivan Russell in his Anglia 105E with a time of 53.05, with Gavin Neate in his Peugeot 106 a close second just outside the record with a time of 53.21. However, in the fourth timed run the competition between Ivan and Gavin really came to a head and both recorded excellent times under 53 seconds with Gavin getting the better of Ivan, taking the class win and establishing a new Nottingham class record of 52.03.
In Class F (Hillclimb Super Sports Cars & Sports Libre Cars up to 2000cc) Clive Wooster was alone in his Radical SR4, though one of three in the Nottingham class, which he won with a time of 49.43. Clive, like many in cars with very little ground clearance, had problems after the finish line where two deep grooves in the road surface had appeared and caught the front of some cars as they braked.
Class J1 (Pre 1994 Formula Fords) was fiercely fought over by father and son Mark and Russell Haynes in their Zeus and Paul Webb in his Van Diemen. All three beat my previous HSA record with Russell coming first with a new Nottingham class record of 52.19 followed by Paul close behind and Mark third. Russell's new HSA record earned him maximum points (17) as there were three in the class and he was the highest scoring competitor on the day.
In Class N (Modified Specialist Production Cars with Imp engines) was Graeme Willimanson in his Hillman Imp, though he was competing in the same Nottingham class as Ivan Russell and Gavin Neate. Graeme made a dramatic start to his weekend when he ploughed straight through the first chicane sending oil drums flying and causing some delay as the marshals had to rebuild it. Later runs were tidier though and he got his time down to an excellent 61.90 (compared to Mark Paterson's HSA record of 58.99 set in a Ginetta G15). However, this was Graeme's third timed run and his best run to count towards HSA points was 62.12.
Class W2 (Classic Racing Cars 1975-1984) saw John Burton and John Opie having a good battle in their shared Ralt R3 with Burton coming out on top by 0.35 seconds with a time of 50.24, which was some way off his 2010 HSA record of 48.04.
Fastest time of the day went to Gary Thomas in his Force PC with a time of 44.61 and the fastest HSA member registered for the HSA Championship was John Burton who was 13th fastest.
Bob Ridge-Stearn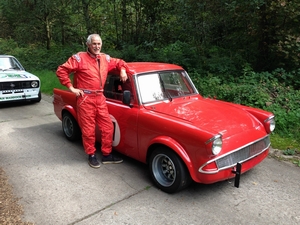 Ivan Russell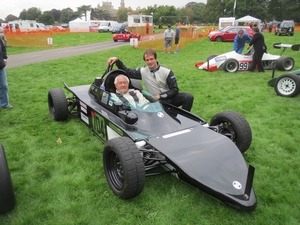 Mark and Russell Haynes
---
Jenkins Forces His Way To The Front
Event 28 at Aintree on 06/09/2014

Round 28 at Aintree on 6th September was won in fine style by Daventry's Morgan Jenkins in his 1600cc Force PC. Morgan recorded a 43.03 to push Matt Carters Radical PR6 into 2nd Place on 44.02.

A damp start was soon dried by a warm breeze as 10 HSA contenders travelled to the same tarmac once fought over by the likes of Moss and Fangio. A sure sign of this writer's advancing age came when not all the younger competitors he spoke to actually knew about Moss and Fangio....

However, HSA contenders kicked off with Road-going series Production Sports cars up to 2000cc and Mike Hawley's Honda S2000 GT racking up a 55.00 for 3rd from the 5 strong class.

In the over 2000cc split the well- travelled Brian Marshall and his Porsche Turbo set a best of 53.31 to beat Paul Trill's Mazda RX7 FD3S who set 56.65.

In class 2B Championship leader Chris Howard- Harris took the Caterham Superlight R to a class win on 46.15 closely followed by team mate Lynn Gilbert's 48.44 in the same car for 2nd place.

In Sport Libre up to 1700cc, Radicals abounded including Clubsport, SR3s, SR4s and PR6s and it was the latter of Matt Carter who took the class on a 44.02 smashing the class record. Clive Wooster's SR4 came in 2nd on a 45.86.

In Formula Ford 1600 Racing cars pre 94, Paul Webb and his Van Diemen RF84 took the class on a 50.72 followed home by the shared Zeus ZR163 of Russell and Mark Haynes. Russell recording a 52.26 to Mark';s 53.98.
Clive Wooster
---
Howard-Harris Still On Top After Loton Park
Event 27 at Loton Park on 30/08/2014

Some eighteen SBD HSA Speed Championship contenders were at Loton Park on 30th August, including five of the top ten runners after round 26 held at Gurston Down the previous weekend. Chris Howard-Harris came away with a new HSA class B2 record and a hatful of points to keep his lead at the top of the table over Tony Thomas. Tony also broke his own MX5 class record, and will close the gap on Chris by one point as he drops a lower previous score. The other three top ten contenders taking part were Colin Satchell, Paul Drowne and Paul Morcom.

FTD was set by Simon Keen in his 2 litre Dallara F302 at 49.29 seconds – the only person to break 50 seconds all day - as he won the combined over 1600cc and over 2000cc racing car class. Second FTD was Gary Thomas, who won the 1100 to 1600cc racing car class in 50.70.

Jonathan Plowe took nearly a second off the HSA record for 1400 to 2000cc roadgoing series production cars in his Fiat X19, a large class which was won by HSA committee member Bob Ridge-Stearn in his Lotus Elise S1 in 62.44. In the over 2 litre division, Andrew Cottrill finished a close second in his Impreza to Mike Reece in a Mitsubishi Evo X SST, but set a new HSA class A3 record in the process.

Chris Jones continued his winning ways in class 2 for roadgoing specialist production cars in his 1640cc Westfield SE, just 14 hundredths quicker than the aforementioned Chris Howard-Harris, despite the latter taking 8 tenths off the old B2 HSA record.

Class 3B for modified series production cars between 1400 and 2000cc was very well supported and hotly contested at the sharp end by a cluster of very rapid Peugeot 205s, led by Colin Satchell and then Paul Drowne in their highly developed machine, followed by Ralph Pinder and (just married) Adrian Crawley. Mick Harriman won class 3C for over 2000cc modified series production cars in his Audi Quattro Sport, while Adam Phelps won class 4 for modified specialist production cars in his Aries Locost.

Andy Dunbar (Force PT) won the up to 1100cc racing car class in 51.45 seconds from Simon Andrews (OMS 28), just 3 hundredths adrift, with Debbie Dunbar in third place. Sadly Steve Loadsman was a non-starter as his differential had blown at Gurston Down, and the same fate befell Jim Spencer's Reynard at the start of his first competition run.

Two historic and one classic Pre94 Formula Fords contested class 9A, with Les Buck (Lotus 61) coming out on top after Paul Morcom (Merlyn Mk 11a) had a big (too late) braking moment at Fallow. Charlie Reilly got between them in the Van Diemen RF82, and unfortunately Paul was unable to get a clean second run due to a rain shower which slowed many of the second half of the entry.

There were large entries in both the Premier Power Lotus 7 and Westfield SCC Northampton Motorsport Speed Series classes, and these were won by Simon Jenks in 54.99 and Stu Hill in 55.44 respectively.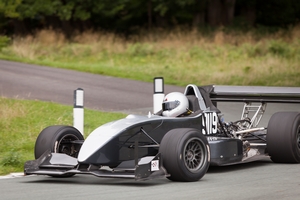 Simon Keen rounds Triangle ( Rich Danby - Zipp Photography)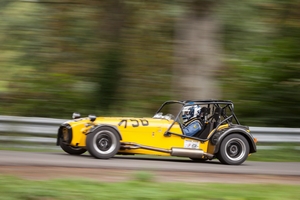 Chris Howard-Harris at Speed (Rich Danby)
---
Close at the top
Event 26 at Gurston Down on 24/08/2014
With only 7 rounds of the SBD HSA Speed Championship to go each event is critical in determining the outcome of the competition.
Surprisingly, for such a popular venue, only 3 of the top 10 in the standings were on hand. Current leader, Chris Howard-Harris, has already been dropping scores so it was imperative he not only beat the other HSA competitors in the Class but also set a new HSA Class record. He achieved on both counts, bettering his own mark by more than half a second and beating his other championship class competitors. However, the Specialist Production class was won by DTA's Alan Warburton who had a tense battle with Piers Thynne, coming out ahead by two tenths despite battery problems.
Lying fifth in the Championship and, crucially not yet dropping scores, was Colin Satchell who repeated Chris H-H's effort by setting a new HSA record by over half a second but with co-driver, Paul Drowne, being absent potentially missed out on an extra position point. However, Keith Murray was also in attendance with his very rapid turbo charged Audi A4 and went a tenth quicker still.
The final top 10 runner, Paul Morcom, was less fortunate, failing on his second run and finishing behind Les Buck (who set a new HSA Class record), Jeremy Smithson and Mike Broome. It was a shame that these 4 'classic' Formula Ford competitors competed in three different classes on the day.
Elsewhere, Steve Loadsman broke the diff in his OMS in practice which means he will have to miss the next couple of rounds while John Burton and John Opie were back having solved their gearbox problems but couldn't approach the Burton Class record. Meanwhile Stephen Dally and Charlie Reilly were still learning hillclimbing (and Gurston in particular) and completed their 6 runs successfully. Finally with his Gould GR55 still out of action Terry Graves was in his familiar GR37 model and easily bettered his previous best HSA time.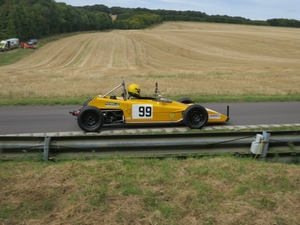 Les Buck setting a new HSA class record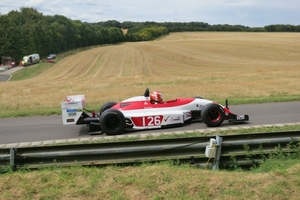 Terry Graves, back in his Gould GR37
---
Another Jedi FTD
Event 25 at Hethel on 03/08/2014
A day of surprises at the Lotus Cars' Hethel test track began with only four HSA competitors appearing in the massively over subscribed entry for Borough 19's second sprint of the year here. Clearly, news of this excellent venue hasn't reached everywhere and the second surprise for all the first timers was the quality of this wide, smooth and fast circuit with plenty of challenging and rewarding corners. You will be able to read more about it in the next issue of Speedscene.
FTD was going to be an interesting duel between Tony Beesley's Jedi MK4 (a car he describes as having the perfect balance and great to drive), Tony Staines' Reynard Formula Opel and Gary Hayward's powerful Mitsubishi Evo who finished 1, 2 and 3 back in May. However, Matt Carter was also present in his Radical PR06 and looking to be a contender even though this was his first visit.
In practice Beesley, Carter and Hayward set near identical times with Staines a little further back. Beesley reduced his time by 4 secs on the first timed run and it was Duncan Cowper's turbocharged DAX Rush who was in second place. The second timed runs proved to be the fastest of the day for many competitors and saw Beesley, Carter, Hayward and Cowper covered by less that a second in that order. Carter was unable to make up his 0.36s deficit on his third run leaving FTD to Beesley on 120.12s.
Brian Marshall, Stephen Laing and Chris Bennett joined Matt Carter in establishing new HSA Class records.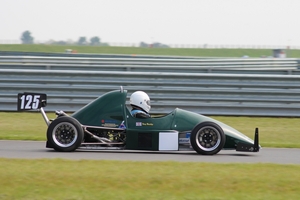 Tony Beesley's Jedi MK4 pictured at Snetterton (Andy Leivers)
---
Three New HSA Class Records at Wiscombe
Event 24 at Wiscombe Park on 27/07/2014
This year the two HSA championship rounds at Wiscombe Park were split, the first taking place at the April meeting and the second at the July meeting. The weather on Sunday July 27 was fantastic and there was a good crowd of spectators, brought in by Radio Exe's broadcasting from the event and the fact that it was a round of the British Hillclimb Championship.
Nine SBD Motorsport HSA championship contenders made the journey to Devon, three more than attended the April meeting but well down on previous years when the journey yielded two championship rounds.
Nigel Hodson was alone in class A2.1 (Mazda MX5) and got within 0.31 seconds of Nick Mugglestone's 2011 class record of 50.72, a fine performance considering Nigel's car is more or less standard and this earned him 13 points and moved him up to 13th place in the championship
In the Roadgoing Specialist Production Cars class Chris Howard-Harris (Caterham Superlight R) and Steve Wells (Caterham VX 2.0) battled it out, with Chris coming out on top, beating the class record (which he held himself) with a time on 42.34. This moves Chris into first place in the championship, four points ahead of Tony Thomas and with both of these drivers having already completed more than nine rounds and now dropping lower scores, it will be very close between them at the end and neither is safe from others coming up fast behind them.
Julian Harber was the only contender in the Modified Limited Production Cars up to 1400cc class with his Mini Clubman but he couldn't get close to Steve Harris's 2008 HSA record time of 47.74. Nevertheless, his 5 points moved him ahead of Ivan Russell and into second in his class in the championship.
In the Modified Limited Production Cars up to two litre class Colin Satchell and Paul Drowne, in their shared and very purposeful Peugeot 205, both beat Dean Gammon in his smaller Peugeot 106 Rallye and also both beat the HSA class record set by Colin last year. Of the two, Colin was 4 tenths quicker and the record now stands at 40.24. Colin's maximum points and Paul's 16 points put them 4th and 7th respectively in the championship. Dean's time of 42.85 earned him 10 points which was his second haul of good points in succession.
In class I (Racing Cars up to 1100cc) Stephen Loadsman in his pretty white and yellow OMS collected a useful 7 points to put him at the top of class I for the first time this year and in class K (Racing cars up to two litre) Andrew Dinner in his Pilbeam MP82 collected 15 points for breaking the HSA class record with a time of 38.96, making his time the fastest HSA class record time at Wiscombe. A new outright record, by the way, was set on the same afternoon by Will Hall and Trevor Willis who both recorded a 33.79.
Bob Ridge-Stearn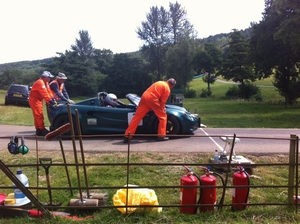 Bob Ridge-Stearn and his Elise at the startline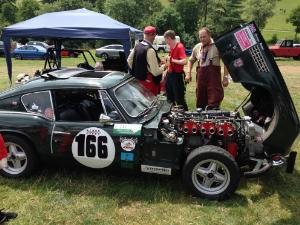 A good selection of air intakes for both car and driver
---
Howard-Harris goes top
Event 23 at Llys Y Fran on 20/07/2014
Eight SBD HSA Speed Championship competitors made the trip to the second part of the Welsh speed week-end at Llys y Fran on July 20th.
It was certainly worth the effort for Chris Howard-Harris as a class win and new HSA Class record in his Caterham Superlight R helped propel him to the top of the Championship table just one point ahead of former champion, Tony Thomas.
John Fox also broke the A1 class record in his Peugeot 106SXi virtually tying up the Class in the Championship.
The Mod Prod class was shaping up to be a close battle in practice with Dean Gammon's Peugeot 106 right up with the Colin Satchell/Paul Drowne 206 model but the latter pair had to withdraw after problems leaving Dean to take a good class win.
Former FTD man at Llys y Fran, Adam Phelps had his work cut out in Mod Specialist Prod but did well to split the rapid Westfields of Tim Nunn and Stu Hill to take second in class with the Aries Locost. In fact it was Tim Nunn who took FTD with a cracking 43.04s run.
---
Sims Sums Add Up
Event 22 at Llandow on 19/07/2014
After thunderstorms and torrential rain, the weather was on most people''s minds as they arrived for round 22 at Llandow circuit. The track remained damp and tricky until lunch when, aided by sun and a light breeze, competitors finally had a dry track to work with.
David Sims made the most of it for a fine 70.98 and FTD in the family Ralt RT33/34 with Bradley Hobday''s Jedi Mk4 taking 2nd spot overall on a 71.91 and Roy Sims taking 3rd on a 73.94.
In the classes John Fox was fastest HSA runner in his Peugeot 106 on a 96.21 in Standard and Road Modified up to 1400cc. In the 1400-2000cc group Ken Morris''s Mazda MX5 set a 96.11.
Road Kit cars up to 1700cc saw Mike Smith and John Bradburn''s Sylva Strikers battle it out with Mike just sneaking ahead on 82.00 to John''s 82.63. Colin Way''s Westfield was 3rd on 92.03. The over 1700cc split saw Chris Howard-Harris in the Caterham Superlight take 3rd on a 77.11 with Lyn Gilbert 4th in the same car on a 81.15.
In Road-going Elises Andy Michelmore version took 2nd on a 91.25.
Mod Prod 1400-2000cc was the domain of the mighty Peugeot 205 of Colin Satchell and Paul Drowne, this time Colin taking the win on 78.10 to Paul''s 79.62.
In Sports Libre Clive Wooster''s Radical SR4 ran on its own for 77.46 best and the class.
A Top 10 run off was thrown in at the meeting''s end which gave the faster runners another chance in a one run Shoot out- David Sims was victorious again.
Clive Wooster
---
Blistering Blyton Park Sprint
Event 21 at Blyton Park on 13/07/2014
More perfect weather for sprinting – or nearly so. Some of the single-seater drivers thought that the track temperature was too hot for their "soft" slicks (A91 or A92 compounds for the Avon-shod drivers). No one was running the super-softs, and those using the "medium" A15 tyres reported no problems.
About thirty from the previous day had "gone home", there were a couple of new faces, but mostly the competition was the same as the day before. In the combined class SA & SB for road-going series production cars up to 2-litres, the previous day's winner was not playing and left Bob Jones (Mazda 3 TD) to win a class of just two. There was no change of order in road-going production saloons 1400c to 2-litres, whereas the whole of class 1C (prod saloons over 2-litre) had gone home! No change in the first two places in 1D (sports cars upto 2-litres), with Gordon Riley trying so hard that he spun his Elise after the finish line, but he still took the win. Roger Fish's Honda S2000 took third place away from Martin Rowe's similar car.
In the Westfield classes, Jason Brown again took top honours in 2A and in 2B the status quo was maintained from the previous day. Chris Hussey again won Class 2C with David Hussey getting ahead of Richard Abraham; there were no changes in class 2D nor 2K, and neither in the top two slots in 2G/2J combined. In 2H, the first two swapped round, with Howard Gaskin taking over top spot from Matt Hillam.
The first of the mod-prod saloon classes (3A & 3B) was for Peugeot 106 and 205 cars only! Gavin Neate who had been third on Saturday was towed in on his first timed run and was out. Andy Larton and Bruce McKie-Thomson again took the top two places. Class 3C had gone home and little changed in 3D(1) for Lotus Elises. Similarly in 3D(2) Sarah Bosworth (Elise) again took her class win with a two-second advantage over David Mann's Elise. Then it was back to the Westfields – again! Tim Nunn looked extremely fast through the final corner and the finish and was a worthy winner, but Mark Anson improved by 2.3 seconds from the previous day to finish 2nd, only 0.24s behind Nunn.
In the Sports Libre and Hillclimb Super Sports upto 1700cc class, Daniel Mason (Radical) improved by nearly three seonds to win from the OMS of Richard Vaughan. The over 1700cc class bucked the trend by having two more entries than the previous day, but only half the class posted a time! It was a Ford benefit as Graham Millar in his Escort Mk 2 took the win again, and 4-WD WRC-spec Ka of Ian Oldfield improved by 1.8 s to take 2nd. David Strange was third in his Crossle 9S.
Next it was the turn of the 1100cc bike-engined single-seaters. Glynn Sketchley's smart Megapin was off-tune (hot carburetters?) and was 2.5 seconds behind Eve Whitehead's "Reverend Barry Special Mk 8" – she took third behind a rapid Martin Pickles's Jedi who did an excellent 64.30s. But another Jedi, that of Bradley Dickerson was on a different planet to win in 61.81 after a failed first run.
The HSA members in their Formula Fords were trying hard with Charlie Reilly spinning at the last corner, coming in fourth. As before, Geoff Ward won from Paul Webb, but Russell Haynes moved up to third.
There was a problem for Gary Thomas' Force PC on its first timed run, and he was given a re-run. Unfortunately it would not fire up for his re-run. He borrowed a battery from the side-lined Marengo, and shot off for his re-run, but the engine sounded rough, caused by a below-par fuel pump. This did not seemed to slow him as he went sub-60s on his re-run, only for it to be disallowed as it was deemed that he had a wheel over the white line at the finish. His second run was a safe 60.8 giving him the win by nearly two seconds from Paul Martin's OMS 2000M.
In the 2-litre class of just two, John Prickett (Quest Terrapin) won again whereas in the big-banger class, we all expected John Graham, in the mighty Gould GR55 to set another outright course record, but it was not to be. Electrical gremlins, thought to be a faulty temperature sensor, stopped both his runs just a few yards after he had left the start-line like a bullet from a gun. David Tilley had cured an oil pressure sensor problem on the Toleman TG280R and posted a creditable time of 64.9 to win a class of two starters but only one finished. Paul Morcom won the classic car class unopposed.
This left Gary Thomas's less than perfect Force with FTD, powered by my battery, so Gary generously agreed to share any prize-money with me!
Jonathan Toulmin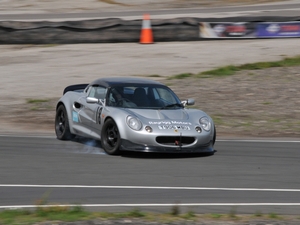 Gordon Riley managed to win his class despite this moment (JCB photography)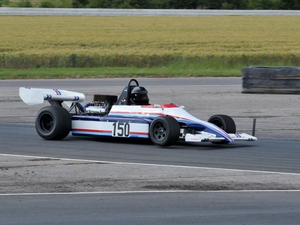 David Tilley in the rare Toleman TG280 (JCB Photography)
---
FTD & new record for John Graham
Event 20 at Blyton Park on 12/07/2014
John Graham was getting more mileson his 'new' Gould GR55B which he campaigns in the British Sprint Championship and easily took FTD with a 58.84s run, breaking Steve Miles' record by nearly a second.
Practice was not so good for a few. Car number 1, Bob Jones' Mitsubishi, expired without completing a lap as the crank sensor had failed.Steve Miles went home early with his gearbox making death-rattle sounds. Jonathan Toulmin was sidelined after a spin under braking resulting from the fitment of very soft brake pads in the rear brakes. The spin into a large plastic track marker at "the Wiggler" damaged the front wing, the diffuser, and, sadly the body top – but the majority of drivers were well behaved.
In the class runs, novice Adams Mills (Peugeot 106 GT) won class SA/SB, beating four experts and David West, in a similar car, took class 1B.HSA-member Andrew Cottrill won 1C in his Impreza. Despite a failed 2nd run, Gordon Riley won 1D in his Elise as Sarah Bosworth had been moved to class 3D. Despite having the smallest-engined Westfield in class 2A, Jason Brown won (73.43s) with two seconds to spare over James Alexander. In the 2-litre Westfield class (2B), Philip Nichols had a three-second margin over Martin Harvey to win in 68.91s.Chris Hussey (RAW Striker) won 2C from Richard Abraham. HSA-member Chris Howard-Harris (1800cc Caterham Superlight) took second spot in 2D, but was 2.6 s down on John Hoyle's 66.33s in his 2.2 litre Westfield.
Adrian Clinton-Watkins (1800cc Westfield GGR) easily took the honours in the combined class 2G/2J in a spirited 65.83s.HSA championship contender, Matt Hillam had swapped his Dallara F399 for a shared Westfield in class 2H, winning by 1.25 seconds.
Like father, like son perhaps, but Luke Algar, making his debut in the supercharged 2-litre Playskool SuperTec was less than 2 seconds away from winning class 2K, which David Cleaver took in 64.56s in his 2-litre Westfield.
Andy Larton won Class 3A/3B (Mod Prod upto to 2 litres) by 0.15s from Bruce McKie –Thomson. Class 3D(1) was for Lotus Elises and went to Xavier Brooke in 73.10s, just over one tenth quicker than Rob Clark. Class 3D(2) had a mix of Elise, Exige and a single 2-litre twin cam Europa. Yet again Sarah Bosworth showed the men how to do it with almost a 2-second advantage over David Mann and more over the other seven men in the class! There were just two cars in class 3H, a pair of interesting Sylva Riot Bingley Specials, powered by Suzuki Hayabusa engines.Malcolm Mackay won the battle in 67.68s by a third of a second from Chris Boyd. Classes 3K & 3L were the final classes for yet more Westfields, and was closely fought. Tim Nunn was quickest on 65.04s, with Stu Hill 1.6 seconds behind in fourth place.
In classes 4C & 4D (combined), Paul Woolfit's 1340cc turbo-charged "Z Cars Mini" was way out in front with a 67.75s run, almost ten seconds ahead of Ian Oldfield's interesting rally-spec Ford KA with its 2-litre turbo power which really looked the part.
HSA members were well represented in the racing car classes. In the 1100cc class, Martin Pickles was really flying in his Jedi with a fine 2nd place on an impressive 65.30s. Eve Whitehead was going well in dad's "new" RBS 8 with standard GSX-R engine to get 3rd in class, but no one was even getting close to Bradley Dickerson's remarkably quick Jedi. He flew round in a stunning 60.87s for third overall – and there were lots of single-seaters with much bigger engines.
Five Formula Fords battled it out, all driven by HSA members, Geoff Ward's Swift proving to be the quickest, with Paul Webb (VD RF84) a couple of seconds back, and Charlie Riley (VD RF92) taking third. In the up to1600cc class, Gary Thomas in his smart Hayabusa-powered Force PC whipped round in 60.68s to take the class (and 2nd overall) ahead of Paul Martin in his OMS 2000M on 62.09s. With Steve Miles already getting action to fix his gearbox at Donington (!), there were just two runners in the up to 2-litre racing car class and John Prickett's Quest was easily the faster.In the "big-banger" class, David Tilley's interesting and rare Toleman TG280R, with 3.9L Rover V8 engine was no match for John Graham's stunningly fast Gould.
The meeting closed with a class of just three classic cars. Les Procter's pretty Sebring Sprite brought up the rear, with Paul Morcom's smart 1600cc Merlyn Mk 11A taking second behind the rapid and attractive old Formula 2/Formula Atlantic 2-litre Lotus 69 of David Hampton posting a very creditable 68.56s.
Mike Hawley, Jon Plowe and David Tilley all broke the existing HSA Class records and along with Paul Webb, Andrew Cottrill and Paul Morcom all scored well.
Jonathan Toulmin
Thanks to Chris Bannister of JCB Photography for the images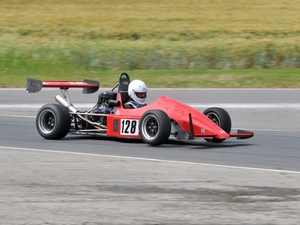 Bradley Dickerson continued his winning ways in the Jedi (JCB Photography)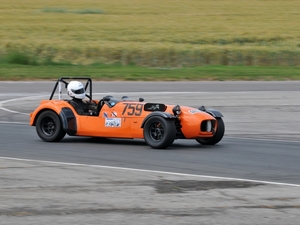 Matt Hillam in unfamiliar colours but still won (JCB Photography)
---
THOMAS TAKES THE LEAD
Event 19 at Harewood on 06/07/2014
Despite the counter-attraction of the nearby Tour de France stages, Harewood hillclimb attracted a good crowd of spectators for the July visit of the British Championship (see separate report) with the event, as ever, including the HSA Championship's annual visit to the Yorkshire hill. 2010 HSA champion Tony Thomas celebrated in style with an HSA class record and a maximum points score, which moved the MX5 driver into a three point lead in the current series ahead of the absent Matt Carter.
Thomas was one of three drivers to set new HSA records, snicking a couple of tenths off his own HSA A2.1 Harewood mark. Keith Murray, his 4WD Audi 80 now recovered from its Castle Combe gearbox maladies, not only demolished Tony Hart's C2 standard by the best part of two and a half seconds, but also knocked three tenths off Sarah Bosworth's 2-litre ModProd Harewood class standard. A fine drive by Chris Howard-Harris carved well over a second off his own B2 record. He left Harewood having also defeated the regular National level front-runners by winning the Harewood class outright in his Caterham Superlight ahead of record-holder David Warburton's DTA Caterham and Simon Jenks' bike-powered version. CH-H's co-driver Lynn Gilbert pushed hard too, running just four hundredths shy of Jenks.
It was Brian Marshall's first visit to Harewood, so the Porsche 944 driver suffered a little in the face of Howard-Harris's charge as the Caterham driver edged him out to fourth place on the table. Apart from Thomas, top scorer in the dedicated HSA 'B' licence class was Julian Harber in the 'Cadbury Blue' Mini Clubman on only his second ever event. MX5 driver Ken Morris and Mike Hawley were also into double-figure points, Hawley delighted to 'exorcize the demons' after his accident at Harewood last year in the Honda S2000 GT.
Although not registered for this year's Championship, John Phelps set the outright pace in the 'B' licence class. His Aries Locost ran over two seconds clear of Steve Wells' Caterham-Vauxhall. Charlotte Phelps finished a fine third on scratch in the 12-car class on only her second outing in the car.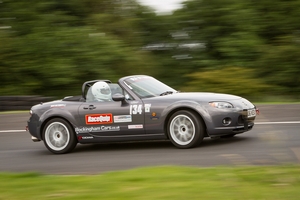 Tony Thomas took the Championship lead with a new HSA record (Rich Danby - zipp.co.uk)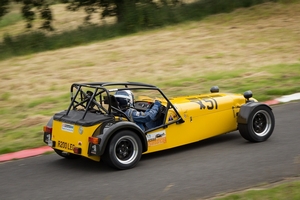 Chris Howard-Harris defeated the National class regulars and moved up to third on the table (Rich Danby - zipp.co.uk)
---
The HSA at the Curborough Figure 8
Event 18 at Curborough on 15/06/2014
Just 5 HSA competitors made the trip to Curborough on June 15th to sample the new figure 8 layout at the Owen Motoring Club's traditional Graham Hill Sprint.
Jon Plowe shares his experience of this event:
Sunday the 15th June arrived at the Curborough Sprint track to try out the new figure of eight layout. Those of us who barely give the usual layout the courtesy of an inspection as we know it so well (or we think we do!) headed out to join quite a crowd walking the track. The extra bit of track is basically a cross over at the apex of the Mole Hill joining it to the finish straight, giving you the 'figure eight' which could be used be used as a single or double lapper in various configurations.
For this event it was a double lapper with the first lap keeping the original back straight, round Fradley Hairpin and then half way down the finish straight using the new crossing to re-join the back straight at the mole hill travelling in the opposite direction towards Woodside corner and back onto the finish straight until you used the new crossing again to re-join the back straight at the Mole Hill heading towards Fradley Hairpin and eventually to the usual finish line.
At first glance you might wonder what the addition adds apart from a bit of extra track and variety but I for one thought that it created a number of new challenges that didn't exist before. The long tightening S shaped bend into Woodside or the more regular S shaped bend heading towards Fradley are good to drive and can be taken surprisingly quickly. In effect a double lapper can be seen as one long circuit instead of going around the same route twice. The only down side I can see is that it obviously takes more time to get the cars through which may affect entry capacity, but for Curborough it adds a welcome development to the venue.
One surprising thing was that nobody went the wrong way!
---
Longton and District's Prescott Pageant - Day Two
Event 17 at Prescott on 15/06/2014

Competitors awoke to more dry, fine but rather humid weather for day two of the Red Rose Speed Pageant at Prescott. Somewhat controversially, those who had competed on the previous day were given only one practice run, while those who came for day two only had two practice runs. However, the time saved by this measure allowed the first competition runs to be completed by lunchtime, with three more competition runs being offered in the afternoon.

Two of the top three fastest times were set by the same competitors as on the day before, with Howard Savage-Jones and Bradley Dickerson in hot pursuit of Sunday's FTD man, who this time was Gary Thomas in his 1400cc Force PC, in a time of 40.04 seconds.

In the classes, John Fox repeated his Saturday performance and beat his own record set the day before despite having no opposition in the up to 1400cc series production saloon class. Andrew Cottrill took almost another second off the record which he had set a day earlier, winning the over 2000cc division. John Harrison ran unopposed in his crowd-pleasing Dodge Coronet, complete with new rear tyres – still whitewall cross-plies – but now with more grip and a bit less smoke generating capacity. Chris Jones and John Bradshaw repeated their one/two performance from Saturday in the under 1700cc "kitcars", and Chris Howard Harris again came out on top in the over 1700cc division.

Julian Harber scored a third place in the up to 1400cc modified saloon class, which was won by Martin Depper. Julian's Mini Clubman also won the best prepared car (in the view of the scrutineers) award, and set a class C1 HSA record for the hill. Messrs Satchell and Drowne took another team one/two at the head of the 1400 to 2000cc modified saloons, and this time Colin beat the HSA class C2 record by 0.29 seconds. Matt Carter had another good day and took another big chunk out of the up to 2000cc sports libre class F record, leaving it at 42.72 seconds, not far behind the top three FTD contenders.

In the Formula Fords, Les Buck and Paul Morcom both broke the previous day's class X record again, - this time Paul took it down to 48.42 on his second run after Les, running today in the Paul Matty Classic Speed Championship, had reset it on his first run to 48.79. Preston's Phil Perks grabbed a late second place behind Paul Morcom in the FF class, just pipping Paul Webb on his fourth run.

In the over 1600cc single seaters, Howard Savage–Jones took the win, and reset the class K record to 40.86. Andrew Dinner had a strong run for second place in 42.36 seconds. Murray Wakeham won the Sprite class in the Austin Healey Club championship, running consistently in the 49 second range, while Richard Mason was quickest in the Big Healeys in a 3000Mk11, winning in 52.99 seconds. John Weedon in the family TR5 was the quickest of a large field of Triumphs, while on handicap, Peter Hall in his Porsche 914 won the combined BOC Paul Matty Sportcars Classic Championship class, with Andy Tippett being the best (on both scratch and handicap) of the single seaters in the class.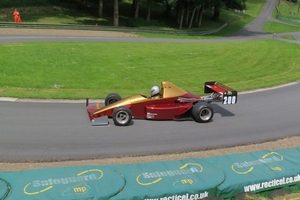 Andrew Dinner (Pilbeam MP82) enjoying his first visit to Prescott
---
Longton and District's Prescott Pageant - Day One
Event 16 at Prescott on 14/06/2014
Longton and District Motor Club took over the famous Bugatti Owners' Club Prescott venue on the weekend of 14/15th June for two separate one-day events. Their own team of officials plus many of the Prescott regular marshals and helpers laid on a very well run event, allowing competitors two practice and three competition runs on the Saturday, despite numerous red flag incidents as some of the newcomers to the course found out a bit late which way the track went.
Not surprisingly, it was the single seaters which provided the quickest times, and a delighted Tina Hawkes scored FTD in her 1600cc Force PC with 41.05 seconds, just 0.01 ahead of the 2001 HSA champion Howard Savage-Jones in his 2 litre ex-F3 Lola Colgan and best LDMC member, Bradley Dickerson in his 1000cc Jedi Mk 4 on 41.26.
There were some strong performances from many of the HSA championship competitors in the classes. John Fox won the under 1400cc roadgoing series production class in his Peugeot 106 and established an HSA class 1A record in the process. Andrew Cottrill won the over 2000cc roadgoing class in his Subaru and took over a second off the old HSA class A3 mark. Tony Thomas picked up another hatful of points for his second place in the up to 2000cc roadgoing sports car class, taking almost half a second off the old A2.1 record, although Paul Jones in an Elise was a comfortable class winner.
Chris Jones, after a three year absence from the sport, won the up to 1700cc "kit car" class in his 1600 Vauxhall engined Westfield SE, taking 0.64 seconds off the HSA class B1 record. John Bradshaw pushed hard for second in class in the Sylva Striker, but was unable to match Chris Jones' pace. Then Chris Howard Harris took on a large field of 17 cars in over 1700cc division. He won the class, and broke the HSA class B2 record by 0.79 seconds.
Colin Satchell and Paul Drowne continued their winning ways in the 1400cc to 2000cc " modprod" saloons, finishing first and second respectively. Then Matt Carter fired up the 1340cc Radical and took 0.64 seconds off the HSA class F record, winning the smaller capacity sports libre class by a comfortable margin.
Formula Fords provided a healthy class of six competitors, including three pre-1973 machines and three more recent pre-1994 cars. Paul Morcom (Merlyn) and Les Buck (Lotus) swapped the leading places all day, both breaking the HSA class X record, with Paul finishing first by a margin of 0.06 seconds, although he further improved on his best time on the third runs by another 0.82 seconds.
The aforementioned Howard Savage-Jones, a Dublin/Cotswolds based surgeon, won the over 1600 cc single seater class, lowering the HSA class K record in the process by 1.50 seconds, with Geoff Guille (OMS SF04) next up and Andrew Dinner (Pilbeam MP82) third.
The Flathead entrants ran in a pre-1973 classic car class which was won by Andy Tippett in his immaculate 1600cc Russell Alexis, with Peter Ayres the first of the class Z brigade, establishing a Flathead class record of 58.18 seconds.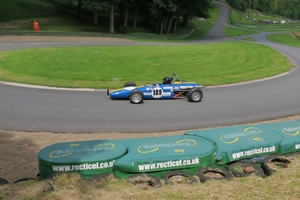 Paul Morcom took a narrow win in the Formula Ford class
---
A fine day at Anglesey
Event 15 at Anglesey on 08/06/2014
The weather was much improved on the Sunday for competitors (including just 7 SBD HSA Speed Championship contenders) on Ty Croes'' National Circuit.
Chris Howard-Harris, disappointed to have broken the HSA Class record the previous day on his third and only true dry run and not having it count, made no mistake on the Sunday and set a new mark to take maximum time points, joining Matt Carter and Matt Hillam who repeated their performance of the previous day.
Photos courtesy of Neil Lambert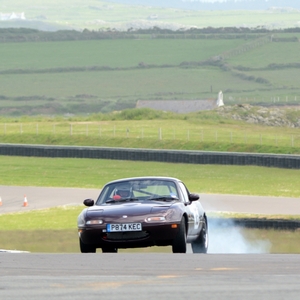 Ken Morris's Mazda MX5 'Merlot' & the Ty Croes backdrop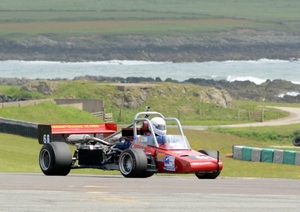 Peter Clarke brought the Jagernought over from the Channel Islands
---
The day the rains came to Anglesey
Event 14 at Anglesey on 07/06/2014
Heavy rain disrupted the morning practice and early times runs at the Ty Croes International circuit on June 7th with some competitors choosing to sit out the first timed runs.
However, the conditions rapidly in the afternoon so that the later runners, the two Matts, Hillam and Carter, were able to set new HSA class records and score well.
Stuart Bickley's Sylva Phoenix performed remarkably with 17th best time along with John Palmer whose venerable Lotus 61 finished 21st and ahead pf many more modern and more powerful cars.
Photos courtesy of Neil Lambert of Lambosport photography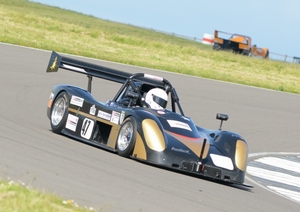 Matt Carter's Radical PR6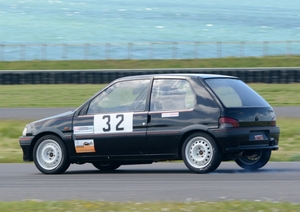 Gavin Neate's Peugeot 106 locks a rear wheel
---
Wooster's Welsh woes
Event 13 at Pembrey on 01/06/2014
A broken chain in practice brought Clive Wooster's day to an end as the broken part managed to crack the Radical's gearbox casing and damage the gear change linkage. The Bob Adams Royale was fitted with a new battery for the Sunday and was hoping for a better day but suspected fuel starvation problems in practice finished his competition while the Burton/Opie RALT's gearchange problems were finally diagnosed and fixed with a new fourth gear but too late to take part in the competition.
Paul Morcom appeared for the Sunday event and went well in the pretty Merlyn MK11a just missing out on a new HSA record as did Chris Howard-Harris and Chris Bennett. However, the two Matts – Hillam and Carter went one better and set new HSA marks in their respective classes.
Fortunately the promised rain held off and all runs were held in cool and overcast conditions with BARC Wales managing to complete timed runs by 3:30pm giving competitors the chance for an early start on the (for most) long trek home.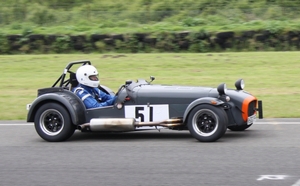 Stephen Laing had a good week-end in his R500 (Kim Broughton)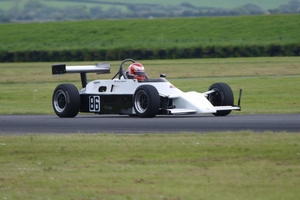 Chris Bennett was still learning his new Van Diemen (Chris Price)
---
New cars and old problems!
Event 12 at Pembrey on 31/05/2014
A reasonable field gathered for the first day of BARC Wales' traditional Pembrey double header at this long, fast and challenging track. Warm and sunny conditions greeted the competitors who included former champions Alan and Nick Mugglestone in their Dallara F301. The car is in F3 Cup spec with circuit race tyres, a TOMS Toyota motor and is the last F3 car fitted with a traditional H pattern gear shift. Despite having had only a brief run out at Bltyon prior to coming to Pembrey Alan was quickly on the pace – so much so that he would have qualified for the British Sprint Top 12 run offs on the Sunday!
Other competitors didn't have such a trouble free time. Bob Adams in his Royale RP30 had electrical problems necessitating a tour of South West Wales in search of a new battery while the John Burton/John Opie RALT RT3 suffered gear selection problems all day and didn't manage to complete a run. Leigh Andrews was also most unfortunate as he went off in his Mazda RX8 damaging his nearside front corner but was just about able to limp home. Gordon Hick was again out in his SEAT tow car as the Fisher Fury was in the process of being repatriated from Portugal!
The warm weather meant that record times were possible and Chris Howard-Harris and Matt Carter both set new HSA marks with John Loudon, Clive Wooster and Chris Bennett all getting close. In fact John Loudon was very fortunate as the alternator broke off the engine block during practice but a concerted effort was made over the lunch break by a number of fellow competitors (including some in the same class who he went on to beat with his final run!) to fabricate a new bracket to mount the alternator on the other side of the engine.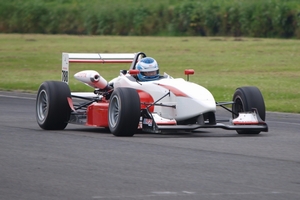 Alan Mugglestone was quick in the Dallara F301 Toms (Chris Price)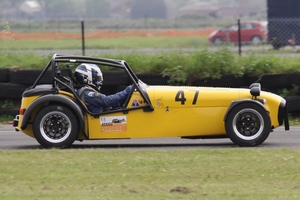 Chris Howard-Harris set a new record (Kim Broughton)
---
Matt Masters MIRA Showers
Event 11 at MIRA on 24/05/2014

MAC's MIRA sprint on 25 May was dominated by very heavy rain throughout morning practice, leading to large areas of standing water on the back straight, and some grass-cutting excursions as a result of aquaplaning off the course. The rain eased off by lunchtime, with intermittent showers during the afternoon, but the track stayed wet all day. Of course the sun came out and the drying process began just as the meeting ended! Needless to say, this was not a day for setting new records.

Despite the bad weather, MAC's organisation and slick running of the event were noteworthy, and the meeting was completed successfully, without major mishaps, by about 4pm. MAC had even offered a third practice run before lunch, but many competitors decided to pass and leave further scary moments until the competition runs.

Matt Carter (Radical PR6) was the undoubted master of the difficult conditions, achieving FTD in a time of 50.26 seconds, less than 4 seconds outside Lindsay Mercer's HSA sports libre class record. Unopposed in his class, he was chased for top honours by Howard Savage-Jones in his Lola Colgan B5 single seater on 52.09 seconds.

John Fox (Peugeot 106) had a good win in the roadgoing series saloons up to 1400cc, and Fred Currell ( VW Golf) edged out David West (Peugeot 106 GTi) in the 1400 to 2000cc division. Andrew Cottrill (Subaru) won the over 2000cc category from Peter Cox in a similar Impreza in an excellent time of 56.60 seconds.

Elen Worthington (Elise) won the 1400 to 2000cc roadgoing sports car class from Tony Thomas' MX5. Gordon Peters (Nissan 350Z GT) was the victor in the over 2000cc division from current SBD HSA points leader Brian Marshall (Porsche 944 Turbo).

Mike Smith (Sylva Striker) came out on top of the roadgoing specialist production cars from John Louden (Westfield SE) and Matthew Eady (Ginetta G4). Andy Norris (Porsche 911 Carrera) won the merged classes C for modified series production cars from Gavin Neate (Peugeot 106). Stuart Bickley (Sylva Phoenix) won class D for modified specialist production cars and Keith Adams emerged the victor of the Westfield championship class.

Derek Sweeney (OMS 2000) won the up to 1100 cc racing car class, just ahead of Jonathan Toulmin making a welcome return in his Marengo M2. Bruce Atkinson (Alfa Romeo GT Junior) was the quickest of the classic saloons ahead of Graeme Williamson's Hillman Imp, while Jonathan Baines (Merlyn Mk 20) was fastest of the classic racing cars, although Alan Terry (Nike Mk 8) emerged as winner on handicap. Finally Simon Baines, father of Jonathan, was the quickest of the Morgan championship contenders.

Les Buck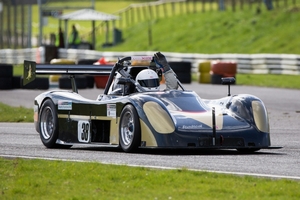 Matt Carter took FTD at MIRA (no photos so here at Combe by Jmaes Wadham)
---
Records fall at Sunday Snetterton
Event 10 at Snetterton on 18/05/2014
Another hot and sunny day saw Borough 19's flawless organisation again offer two practice and three times runs along with the British Sprint Championship run offs – all done and dusted well before 5pm.
Following five runs (for some) the previous day and a couple more practice runs on the Sunday competitors were able to make significant improvements to their times and many new records were set. However, it only took Tony Thomas one timed run to set a new HSA Class record and continue to close in on Brian Marshall at the top of the Championship leader board. Brian and Gavin Neate both responded with new records to complete the top three in the HSA Championship.
Charlie Reilly improved on the mark he set the previous day to take the Formula Ford honours while John Burton turned the tables on John Opie in their shared RALT RT3 by a couple of tenths with both drivers beating the old HSA record. Once again Paul Morcom went well in the Merlyn MK11a (another new HSA record) which he bought, unseen, from the Austrian Ritter collection via a Coys on-line auction - clearly as accomplished behind the keyboard as behind the wheel!
Well done to Mortorsport Vision for providing such excellent facilities and Borough 19 for their well organised event and team of marshals.
Colin Calder again took FTD in the Gould with a 77.64s
Thanks to Andy Leivers for the photos.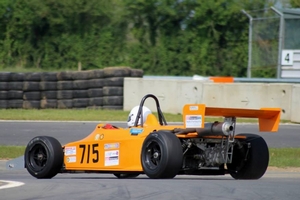 John Opie had a successful week-end in the RALT RT3 (Andy Leivers)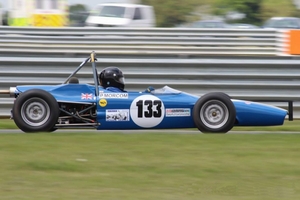 Paul Morcom's lovely Merlyn MK11a (Andy Leivers)
---
Sunny Snetterton for the HSA Championship
Event 9 at Snetterton on 17/05/2014
Borough 19's now regular trip to Norfolk for their Snetterton double header attracted a good entry from the ranks of HSA competitors but with one thing or another quite a few were missing when practice began. Fyrth Crosse was out following his Werrington contretemps, Bod Adams was unwell, Peter Hubbard had decided to put the Marcos up for sale while David Bennett's similar car was suffering engine maladies and Jon Plowe couldn't make it either.
However, the remaining entrants were to enjoy two days of glorious sunshine and warm weather. Former champion Tony Thomas had received some help from Alan Mugglestone for both car and driver and put it to good use by setting a new HSA class record on his first timed run and then decided to rest the car for the following day. In the large Roadgoing production class Brian Marshall was up against a couple of rapid 911s having a very close battle with Brian Winstone's GT3 RS just coming out on top by the odd tenth.
In the smaller 'kit car' class John Loudon's newly liveried Westfield was surprisingly edged out by David Hussey's quick Striker (aren't they all?) by over a second while the larger class featured a good turn out of Westfields and Caterhams with the two Westies of winner David Cleaver and John Hoyle in the 92s bracket and only a couple of tenths apart.
In Mod Prod, Gavin Neate's Peugeot 106 and ex stock car racer Ivan Russell's Anglia may be years apart in age (the drivers too?) but on track were separated by only a couple of seconds although they had to give best in class to Martin Depper's Mini.
The Dallaras of Martin Webb, Matt Hillam and Tony Jarvis enjoyed a close battle for HSA points finishing in that order. In Class W John Opie enjoyed a win over John Burton in their shared RALT RT3, both comfortably ahead of Chris Benentt's Van Diemen RF82 which was fresh from some remedial work at nearby Universal Racing Services.
Ex Champion of Brands series racer, Charlie Reilly took his smart Van Diemen RF91 to a good Formula Ford win over Paul Webb's RF84 (a car he has now owned three times!) and well known Westfield driver, Paul Morcom's beautiful Merlyn MK11a.
Colin Calder took FTD in his Gould GR55 with a 77.06s
Thanks to Andy Leivers for the photos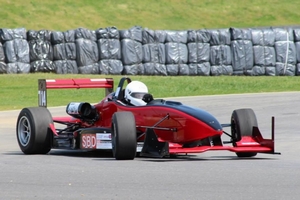 Matt Hillam, rally style in the SBD Dallara (Andy Leivers)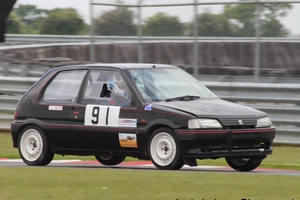 Gavin Neate is going well in the HSA Championship in the Peugeot (Andy Leivers)
---
Hall and Willis Steal The Shelsley "Speed into Spring" Show
Event 8 at Shelsley Walsh on 04/05/2014
After the miserable weather of the previous weekend, competitors and spectators at Shelsley Walsh were treated to fine, dry conditions for rounds of the Midland Hillclimb, Paul Matty Lotus, SBD HSA Speed and the Porsche Club of Great Britain Championships.
As expected on this power hill, the fastest times came from the over 2 litre racing cars, with Will Hall (3.5 Force WH) and Trevor Willis (3.2 OMS 28) trading the top two places all day. On the first competition runs, Hall qualified first for the top ten run-off, on 24.16 seconds, shading Willis by just 4 hundredths. Both improved in the first run-off, with Hall taking the top slot on 24.00, by a margin of just 0.13 seconds. However, on the second competition runs, Willis improved to 23.87 and took the class win, this time by 12 hundredths. The scene was set for a nail-biting second run-off in which Trevor went quicker still, getting down to 23.74, but Will put in a supreme effort to capture the top placing and FTD on 23.73!
MAC's event was divided into some 28 classes, now that the Midland Hillclimb Championship caters for both A and B licensees, with many of the classes duplicated. This makes for an interesting and eclectic assortment of competitors and cars, but a complicated task for commentators and reporters. Where else would you see a road-going 5.7 litre McLaren M12 Can Am car competing against the ex-Basil Davenport GN Spider II?
There were some notable performances from HSA championship competitors. Peter Cox (Subaru Impreza) took second place in class A2 behind Robert Lancaster-Gaye's Porsche 996 GT3. Tony Thomas probably had 3 Weetabix for breakfast and creamed nearly 2 seconds off his own MX5 record and won the merged class A1b/A2b. John Bradshaw won merged class B1b/B2b for roadgoing specialist production cars in his Sylva Striker, only 0.01 outside the HSA record for B1, and Matthew Eady came second in his beautiful Ginetta G4.
Adam Monk won class C2b for modified series production cars over 2000cc, while Howard Savage Jones came second in the 1600 to 2000cc racing car class, in a time of 28.10 seconds, which qualified for a place in the second run-off. John Harrison continued to entertain in his tyre smoking Dodge Coronet, and won an unopposed Class I1b for pre-75 saloons and sports cars. Mark Brett won the Flathead class Z, but only Peter Ayres, Gavin Meanley and Roy Underhill scored HSA championship points coming 2nd, 3rd and 4th in class respectively.
Elsewhere, in the more strongly supported classes, there were wins for Mike Turpin in class C3 for over 2 litre modified series production cars, Paul Howells (911 RSR) in the Porsche GB championship class, Grayham Parker (Elise) in the Paul Matty Lotus saloons/sports class and David Hampton (type 69) in the Paul Matty Lotus sports libre/racing cars. Chris Aspinall won combined classes H and I for up to 1100cc racing cars with his new Empire Wraith, while Steve Owen took the 1100 to 1600cc division, and Ash Mason won the 1600 to 2000cc racing car class. Richard Jones came out on top of the sports racing and racing cars built up to and including 1971 in his Brabham BT29X, while Rodney Eyles (Pilbeam MP53) won the similar category for 1972 to 1985 cars.
Photos by courtesy of Derek Hibbert.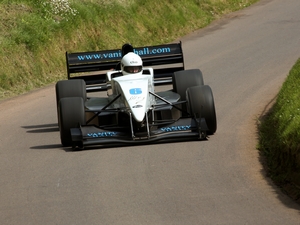 Will Hall en route to FTD in the Force WH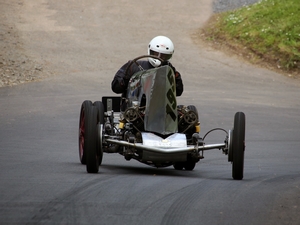 Martin Spencer attacks the Esses in his GN Spider 11
---
Lee pushed hard by Thomas at Werrington
Event 7 at Werrington on 04/05/2014
After the overcast but dry weather of the day before, Sunday was a glorious day with wall-to-wall sunshine and, consequently, warm temperatures. The section of the track from the courtyard to the kink however is mostly covered by trees and this section was to be the undoing of several competitors including Fyrth Crosse who had a coming together with the Cornish hedge in his Ensign. We hope that you're now fully recovered Fyrth and that the Ensign will soon be too (Latest: The car has been stripped and is in the process of being repaired and the driver is in good spirits. Ed). The good weather seemed to make people try harder today with a bumper crop of five new class records. We also had a new feature today, a second commentator. Commentators are had to come by here in the South West but Burnham's Dave Pearce came up trumps as our "roving" commentator, interviewing the likes of Tiny Wiltshire & Neil Gould with aplomb and adding a new dimension to the event. The Sunday results were pretty much true to the form book generated by the previous day's event, but the times were generally quicker.
David Foster once more won in A1, stretching his lead over Lee Kessell to almost 2.5 seconds. Martin Ellis and Richard Trevail won their respective classes, Richard lowering the class record by nearly two tenths, but Roy Bray lost out today to Steve Clarke who was also on record breaking form, lopping over half a second off the old record. Steve Brown again was the sole runner in B1 and Phil Pearn won in B2 but Ivan Mead wasn't far behind. Darrell O'Neill also won again in B3.
Mark Shillaber took eleven hundredths off the class record on his way to the C1 class win and the Chris Inch Memorial trophy with Dean Gammon again winning in class C2. Colin Satchell had his revenge on co-driver Paul Drowne today but both seemed to have an affinity with the course marking cones opposite the courtyard! Ben Wheeler again saw off the challenge from Ian Ingleheart to win C5. Luke Trotman had company today in D1 but was able to fend off the challenge from Derek Kessell to win again. Doug Benett won D2 and Kevin Wadland won in D4.
E1 was again hotly contested by John Bunting & Alan Bond with Alan again coming out in front. Newcomer to single seaters, Steve Hatton, wasn't far behind and will be one to watch later in the season. Gary Thomas spent most of Saturday evening walking up & down the hill considering the best lines, effort well spent as he managed to get nearly two tenths inside the record set by Mike Lee the day before with a time of 34.2s8 but Mike was really on a mission & lowered the record still further to 33.78s and claim FTD as well. Another newcomer to single seaters, Neal Coles, was third – another one to watch! Andrew Dinner won in E3 and a heroic drive by Keith Harris took the class win in the Formula Ford class - and set a new class record!
In the HSA classes Nigel Hodson, Brian Marshall and Mike Broome all set new HSA Class records and in Mike's case by a very creditable 3 seconds. Colin Satchell and Paul Drowne continued their fierce rivalry in their shared Mod Prod Peugeot with Colin coming out ahead on this occasion by half a seconf.
Peter Locke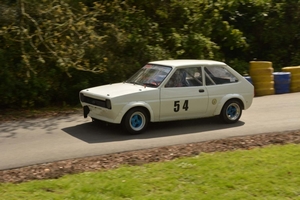 Mark Sillaber was a double winner in the rapid Fiesta (JRS photography)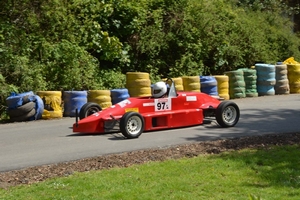 Keith Harris ventured South to take a class win in the Jamun (JRS Photography)
---
FTD for Mike Lee at Werrington
Event 6 at Werrington on 03/05/2014
After a few incidents in practice proceedings got underway with Class A1, which was the domain of David Foster with second placed Lee Kessell improving but some way off the leaders pace. With brother and fellow competitor Steve Ellis not driving this year, Martin Ellis had A2 sewn up well ahead of the scrap for second place between Jamie Riggs & Tim Cartledge, which the former won by a couple of tenths. Richard Trevail prevailed in A3 and Roy Bray, this year in the Escort Cosworth, won A4 from ASWMC championship sponsor Mike Potter by almost a second. Steve Brown ran unopposed in B1 and Phil Pearn took the honours in B2 ahead of the close battle for second between a very consistent Roger Coote (two runs two hundredths different) and eventual runner up Keith Hazell with Darrell O'Neill winning B3.
On to the Mod Production classes & C1 was always going to be won by Mark Shillaber and so it was by over four seconds from Ben Uglow – but not the biggest winning margin of the day. Dean Gammon got the nod over Andy Stoddart in C3 and in C4 Adam Woodward was the sole runner. Ben Wheeler & Ian Ingleheart had a good fight in C5 with Ben coming out on top. Luke Trotman was the sole entry in the small Sports Libre class and in the large capacity class the largest winning margin of the day – almost eleven seconds – went to Doug Bennett in a car that would only rev to 7000rpm due to the engine tuning not having been finished in time for the event. Kevin Wadland was the only rally car entered in the event.
Racing cars next & after practice John Bunting was the favourite but couldn't manage to beat the pace of Alan Bond who pulled out all the stops on his second run to upset the form book and snatch the win from John. E2 produced one of only two record breaking runs in the day with Mike Lee lowering the record by 11 hundredths to 34.47s and taking FTD. Venue newcomer Gary Thomas was second and improving rapidly. Andrew Dinner took the win in E3 with Roger McEwen the sole runner in the TR class. The Formula Ford class received good support this year after several years in the doldrums with five entries, Keith Harris took the class win making the trip down from Shelsley worthwhile whilst the father & son pairing of Russell & Mark Haynes, returning to Werrington after over 20 years came third & fourth. Andrew Forsyth managed to break the 500OA class record by over a second and a quarter before the engine in the car seized & curtailed his, and father John's, weekend. Andrew also won the Letchworth trophy for the best performance by a motor cycle engine car against the class record.
In the HSA Championship the only new record was set by Mike Broome breaking his own mark from 2012 although Nigle Hodson and Brian Marshall both scored well.
Peter Locke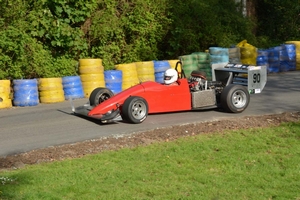 FTD went to Mile Lee's OMS (JRS Photography)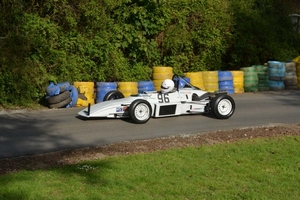 Mike Broome set a new HSA class record in the Elden (JRS photography)
---
Weather Interrupts Play
Event 5 at Wiscombe Park on 27/04/2014
The second of the weekend's rounds moved from Wiltshire to Devon but didn't avoid the rain either at the glorious setting of Wiscombe Park. So much so that after one practice and one timed run proceedings were curtailed.
In A2 Road-going series production Daniel Ward's Saab 96 didn't record a practice time but put in a 61.73 in the timed runs.
In A3 the 1800cc and up division, Nigel Hodson in his Mazda MX5 ended up mid table on a best of 54.64.
A rather unequal battle in A4 between the Dodge Coronet of John Harrison (see news pages for more on this neat car) and Geoff Kershaw's Impreza saw HSA honours go Geoff's way on a best of 52.09 to John's 65.43. As at previous outings, the Dodge drew gasps of amazement from spectators and competitors alike.
In B2 Road-going Specialist, two Caterhams battled it out – Chris Howard-Harris's Superlight getting the nod this time by the tiniest of margins. He beat Graham Vingoe's version by 7/100ths to record 49.93 to Graham's 50.00.
D1 Sports Libre lost Saturday runner Clive Wooster in his Radical due to underbody damage and he was unable to rejoin battle with Andrew Short in his OMS SC1. Andrew ended up victorious on Sunday with a 52.27.
With Bob Ridge- Stearn busy on HSA interviewing duties, Andrew Dinner in Racing Cars 1600cc- 2000c was the Single seater representative. Andrew had a fierce battle with David Sims in the family Ralt RT33/34 and narrowly missed out finishing 2nd in class on a 48.71.
So, as mentioned, after one timed run the meeting was halted. Competitors enjoyed a great organising team in Woolbridge MC, who despite valiant efforts had to admit defeat on this one.
Clive Wooster
---
HSA AT GURSTON
Event 4 at Gurston Down on 26/04/2014
With back-to-back rounds at Gurston Down and Wiscombe Park on the weekend of April 26/27, by all accounts the 15 SBD/HSA Championship contenders that turned out for round 4 at Gurston got the best weather of the two with a wet first run but an almost dry track for the second half.
Eighth fastest overall, Andrew Dinner, potentially the fastest HSA contender in his Pilbeam-Vauxhall, proved to be just that with a 32.71, although he had to give best in the 2-litre racing class by two seconds to 2nd FTD man Andy McBeath's supercharged OMS-Suzuki. Next quickest HSA runner was Paul Drowne, his class-winning 34.90 run in the Peugeot 205 GTi, with wider track for this season, good enough to edge out co-driver Colin Satchell by eleven hundredths.
Satchell's 35.01 was identical to that of the winner of the dedicated 7-car HSA Championship class, Chris Howard-Harris, in a Caterham top four battle. Steve Wells led on the damp opening runs from Howard Harris's co-driver Lynn Gilbert, but H-H stormed back from third place to snatch the win as Stephen Laing's R500 moved up to third. Speedscene advertising manager Colin Way, running in a new bottom end in his Westfield's Ford unit, ran fifth despite a self-imposed rev limit.
Brian Marshall's 944 Turbo ran second in the big Roadgoing Production class, a second adrift of rapid Gurston regular Shaun Fudge's Impreza WRX. Experimenting with slicks on the Ensign this year, Fyrth Crosse led home the Historic cars by almost a second from Hugh Kemp's ex. Damien Magee Palliser twincam, the two Formula Fords of Mike Broome (Elden) and Jeremy Smithson (Merlyn) next up.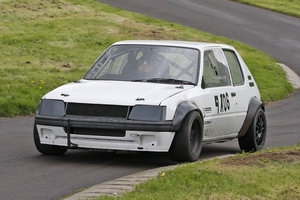 A class-winning run by Paul Drowne edged out co-driver Colin Satchell (Simon McBeath)
Chris Howard-Harris locks up at Karousel on his way to the HSA class win (Simon McBeath)
---
Three new records at Loton!
Event 3 at Loton Park on 21/04/2014
[NOTE! This report was written before the official results were posted and may contain some inaccuracies. As soon as they are published we can double-check the report.]
Fourteen HSA members turned up on a sunny and dry Easter Monday for the third round of the SBD Motorsport Speed Championship, which was run by Hagley & District Light Car Club. Going into this round Mike Hawley in his Honda S2000 was leading with 28 points, with ex-S2000 driver Matt Carter in his Radical PR6 and Gavin Neale in his Peugeot 106 both just one point behind.
Jon Fox was the only contender in Class A1 (Road-Going Series Production Cars up to 1400cc) and almost set a new HSA class record on his first competition run. Jon recorded a time of 69.96 in his Peugeot 106 XSi just three tenths behind Richard Stephens'' class record set in a Peugeot 106 Rallye in 2012.
In Class A2.1 (the popular special class for Mazda MX5s) Tony Thomas and Michael Tindale were present, driving cars from either end of the MX5 spectrum - Michael in his old, high mileage and more or less standard Mk1 and Tony in his new and much more powerful Mk3 and showing that you can have fun in both. Michael was 7 tenths off his personal best and Tony broke his own HSA class record with a time of 66.11, earning him a useful 16 championship points.
In Class A2 (Road-Going Series Production Cars 1400cc to 2000cc) neither Mike Hawley (S2000) nor Leigh Andrews (Mazda RX8) had been to Loton before. If you had seen Mike''s car after his Harewood accident last year you might have thought it would be written off, but here it is looking like new and leading the championship. Leigh''s car has also had a makeover during the winter and looks very smart in its new paint. In the competition Mike got the better of Leigh and with a time of 67.95 smashed the existing HSA record by almost three seconds and in so doing collected enough points to stay ahead in the championship.
All these HSA classes were grouped together in the HDLCC''s class 1B for Roadgoing Series Production Cars up to 2 litre, which was won by David West in an 1800cc Peugeot 106 GTi in a time of 63.13 seconds.
In Class A3 (Road-Going Series Production Cars over 2000cc) Paul Trill (Turbocharged Mazda RX7), Peter Cox (Suburu Impreza) and Brian Marshall (3.2 litre Porsche 944SE) vied for points, though because Brian had entered the Classic Marques Handicap Challenge he ran with HDLCC''s Class 14 well after the others ran in Class 1C - Roadgoing Series Production cars over 2 litre.
Peter, who has been up Loton in 50.27 seconds in his Chevron B42, was the fastest of the trio with a time of 61.74 in his Scooby. Brian, who has competed in a Porsche 924S and 944 Turbo and is now driving a 944SE recorded a personal best in practice of 65.06 but couldn''t match that in the afternoon when his best time was 65.18 and Paul, in his first ever hillclimb, improved on every run, which is what we all want to do but often can''t.
In C2 (Modified Limited Production Cars up to 2000cc) there were three competitors - Paul Drowne and Colin Satchell sharing a Peugeot 205 and Keith Murray in his Audi 80 Quattro. Class C2 matched HDLCC''s class 3B exactly and attracted nine entries and was won by Keith in a time of 55.96 with Colin and Paul taking second and third in class respectively. Keith''s time of 55.96 is a personal best, a new Loton class record and a new HSA class record. Colin and Paul also broke the standing HSA record of 58.23 and in doing so scored extra points.
In J1 (Formula Fords up to 1994) I was the only HSA contender but could not get near my personal best of 60.76, recording a best time of only 62.46. However, the interest in this class was Samantha Lester who is being mentored by Richard Summers, whose Van Diemen RF80 she is sharing this year. Richard was the fastest of the Formula Fords with a 59.38 and Samantha recorded an outstanding 61.58 in her first event in a single seater.
In Class W2 (Classic Racing Cars, 1976-1983) David Tilley was the sole competitor in his magnificent 1980 Formula Two Toleman T9280R. He competed in HDLCC''s Class 11 (Racing cars over 2000cc), which was won by Scott Moran in his new Gould GR-55, but David''s participation in the class added a lot of interest. His time of 55.92 was just over a second off John Burton''s HSA class record of 54.76, which John set in a Ralt RT3.
In Class U (Classic Road-Going Saloons up to 1976) John Harrison undoubtedly provided the best spectacle of any of the competitors as he wrestled his huge 5.3 litre 1958 Dodge Coronet up the hill. Everyone held their breath as he squealed around each corner, the whole car lurching from side to side and threatening to tip over, with John driving single handed, his left arm out of the window to hold on for dear life and stop him sliding across that very long bench seat. At first many of us thought it was all a joke and it would end in tears, but John completed all four runs - a testament to his skill and bravery and the car''s reliability. There''s only one other car registered in this class - Daniel Ward''s Saab 96 which is undoubtedly much quicker, but I hope we get to see them go head to head and that John and Daniel can have a good battle for class honours - completely different cars but a welcome addition to our championship. There was no previous record in this class so John now holds it with a time of 83.05.
Interviews with some of drivers can be found at http://youtu.be/M4XJXWm7h-o
Bob Ridge-Stearn.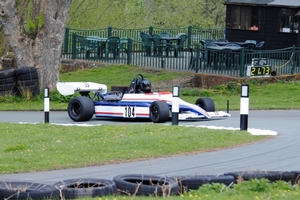 David Tilley, Toleman TG280 (B Ridge-Stearn)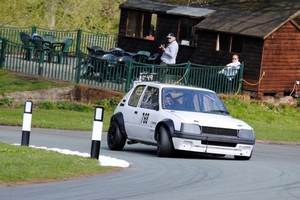 Paul Drowne trying hard in the Peugeot (B Ridge-Stearn)
---
Carter & Neate lead after Combe
Event 2 at Castle Combe on 22/03/2014
Despite a discouraging forecast the day turned out cool but clear with only a short shower to interrupt proceedings at Bristol MC's opening Sprint of the season.
In the Roadgoing classes the stand out performance was that of Anthony Wright's Audi A3 which outpaced many larger cars including plenty in the modified class. Martin Garner, who previously pedalled a Peugeot 106 in the HSA Championship has moved to the MX5 class but wasn't able to match the speed of Nigel Hodson's similar car.
In Specialist Production Mike Smith was a little disappointed to be edged into second place by Bob Bellerby driving Mike's 'development' Sylva Riot – the rear engined car looking very convincing on track. In fact it was another RIOT, that of Ian Parr, that almost caused the upset of the day in the large Mod Prod class by running winner Keith Murray's mighty Dialynx Audi 80 Quattro a close second by the scant margin of 7 hundredths of a second.
In HSA Class A3 Brian Marshall (Porsche 944 turbo) had a close fight with Chris Bayliss in his unusual but quick Fiat Stilo Abarth who was 4 hundredths faster after the first timed run.
In HSA Class W Bob Adams (Royale RP30) and Chris Bennett (Van Diemen RF82) were looking forward to a close battle after practice but Bob stopped out on the circuit on his first timed run with an electrical problem and although this was soon fixed a slipping clutch forced his withdrawal. Chris was uncomfortable in (pedals poorly positioned) and out (heavy cold) of the car and felt that his first timed run was as fast as he wanted to go in the circumstances.
Matt Carter put up a very creditable performance in Sports Libre by bringing his Radical PR6 home less than a second behind Jim Belt's rapid Juno TR400 and took the joint lead in the SBD HSA Championship with Gavin Neate.
In the big single seater classes both 2013 HSA Champion, Matt Hillam, in his Dallara F399 and Terry Graves in his Gould GR55 set new HSA class records for good points scoring starts to the season.
Appearing for the first time were father & son pairing of Mark & Russell Hynes in their Formula Ford Zeus ZR163 which ran well completing all runs for both drivers... In fact Mark used to work with designer Peter Sneller back in the day and of the four 163 chassis produced now owns three of them along with moulds and spares. Zeus had a good business supplying school cars to Silverstone and even Singapore where they are still used to-day!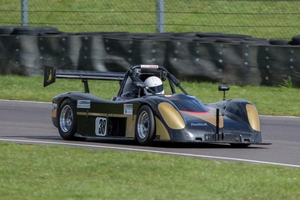 Matt Cater at speed in the Radical (James Wadham)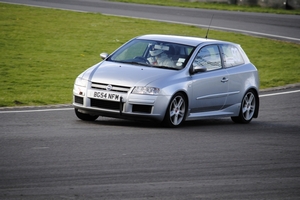 Chris Bayliss' unusual Fiat Stilo Abarth (Peta Marshall)
---
Superb Season Start at Rockingham
Event 1 at Rockingham on 16/03/2014
The 90 plus competitors who gambled on the weather and entered BARC Midland Centre's Rockingham sprint on 16 March were richly rewarded with bright, sunny conditions, although a stiff breeze kept temperatures down in the low teens. Better still, BARC ran the event superbly, with each set of runs taking little more than an hour, so two practice and one competition runs were held before lunch, with two more competition runs offered in the afternoon. Cars set off at roughly 20 second intervals on the fast 1.6 mile track, which used all but one of the corners of the Rockingham International Super Sportscar circuit. This provided a challenging combination of the very fast outer banked speedway between turns four and two, plus a combination of flowing right and left turns on the infield. The event marked the first round of a number of 2014 championships, including the SBD HSA, Speed Hydraulics, BARC SBD, Luffield MG, NSCC, Westfield and TVR series.
The Fastest Time of the Day was set by Terry Holmes in his Lola Tegra T90 with 3.5 litres of Judd power, in 64.60 seconds, at an average speed of 89.2mph. He held off the challenge from Steve Miles' 2.0 litre Van Diemen on 67.46, and his co-driver Graham Porrett on 68.00. Next was Matt Carter in his 1340 cc Radical PR6, with Malcolm Boorman's 1397cc OMS 2000M rounding out the top five. Emma Bennison (Sylva Striker) was the fastest lady driver, and Clive Wooster won the trophy for fastest BARC centre member in his Radical SR4.
HSA's Tony Thomas had a convincing win in his Mazda MX5 in the 14-strong roadgoing standard production sports and saloon class (1.4 to 2.0 litres), having driven all of 10 minutes from home to get to the event. (He did admit that running at the previous day's Track Day had helped get his eye in.) The up to 1400 cc division of the standard roadgoing car class was won by Mike Stark in an Alfa Romeo 147, while Mike Gallery won the over 2 litre division in his Porsche Carrera 3.2.
David West and David Marshall battled hard all day in the roadgoing production sports and saloon class (1.4 to 2.0 litres) in their Peugeots, this time with David Marshall coming out on top by just 0.22 seconds. Gordon Peters then won the over 2 litres category in his Nissan 350 Z GT.
Andrew Cottrill resumed his winning ways from 2013 and won the 4 wheel drive class by almost 4 seconds. Mike Smith and Emma Bennison had a close Sylva Striker battle in the under 1700cc Kit Car class, with Mike taking the win by just 0.41 seconds, and Richard Abraham third. Peter Goulding won a well supported over 1700 Kit Car class in his Westfield SEiW from Jeff Wiltshire in another Sylva.
Gavin Neate won the up to 1400cc "modprod" class in his Peugeot 106, while Ricky Goulding was the victor in the 1.4 to 2.0 litre category, and James Hunt took the over 2 litre division.
Keith Sollis took a strong win in the Pre 96 Formula Ford class, and Howard Barnard was the quickest of the eight TVR entries in his Griffin. David Butler won the Period Defined roadgoing production car class in an 1953 MG TD Special, while Andrew Croysdill was a lone runner in the Period Defined racing car class in his 1936 Riley 12/4 special. It was also interesting to see Jeff Allan plugging into the mains runs to keep his Mitsubishi I MiEV fully charged between runs in the Invitation class.
During the day, the following established new HSA championship class records :
John Fox, Peugeot 106, Class A1
Tony Thomas, Mazda MX5, Class A2.1
Mike Hawley, Honda S2000GT, Class A2
Andrew Cottrill, Subaru Impreza, Class A3
Mike Smith, Sylva Striker, Class B1
Gavin Neate, Peugeot 106, Class C1
Matt Carter, Radical PR6, Class F
Simon Boulter, OMS SF2A, Class I
Paul Webb, Van Diemen RF84, Class J1
Les Buck, Lotus 61, Class X
With the added benefits of pit garages for the open cars, plus all the other facilities of a modern race circuit, together with BARC's efficient and friendly approach, the Rockingham event proved to be a very welcome addition to the speed event calendar. Let's hope it becomes a regular feature.
Mike Gallery enters the Rockingham Banking at Turn 4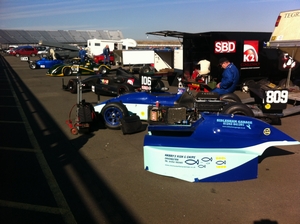 Rockingham Paddock scene, at the sharp end
---
Back to Top