HSA SPEED CHAMPIONSHIP - REPORT ARCHIVE
Reports for 2017
Reports for 2016
Reports for 2015
Reports for 2014
Reports for 2013
---
THOMAS ON TOP AT CURBOROUGH
Event 34 at Curborough on 10/10/2015
With the 2015 Championship outcome already decided in favour of Alan Mugglestone, who had taken the title for the second time, the main interest at Curborough's SBD/HSA series finale centered around the close battle for the leading places on the day. As at last year's event, the man to beat was Curborough short course ace Gary Thomas who once more set the outright pace in his 1600cc class winning Force-Hayabusa with the day's only sub-28sec run. But it was the ever competitive 1100 racing class that produced the fireworks. Driving the family Force-Hayabusa as a change from his Gould V8, 2015 British hillclimb champion Alex Summers led the day's best supported class for second FTD after the first runs, two tenths behind Thomas's opener. On the second runs both found more, Thomas consolidating FTD with a 27.82, then Simon Andrews equalled Summers' 28.29 in his OMS 28. Summers took the class win on aggregate by virtue of his faster opener, but finally took sole charge of second FTD with an even quicker run in the Alan Payne class winners' run-off. The icing on the cake for the Andrews family was that Simon's son Michael, sharing his Dad's OMS for the first time, ended the day less than four tenths behind with fourth overall.
At the sharp end of the Championship, Andrew Cottrill suffered mechanical problems on his first run with his Subaru Impreza and retired, but with neither Alan Mugglestone nor his son Nick, third overall, present at the meeting his second place overall in the series was safe. With a class win and a new HSA record in his Elise, Bob Ridge-Stearn moved up the Championship standings, taking fourth overall on a tie-break with the absent Bradley Hobday. A class record for John Loudon, after coming out on top in a duel with six-times HSA champion John Palmer, moved the Westfield driver up into the top six, while class winner Gavin Neate moved his Peugeot 106 up the table to ninth place overall. The other HSA record-breaker on the day was Phil Tucker, who won the opening roadgoing class in his Peugeot 106.
The Alan Payne Trophy for the class winners' run-off saw several drivers inside their target times, the award going to Andy Lawrence's Mygale 'Egoboost' single-seater, from Tim Pennington's Westfield, both running over a second quicker than their class winning times.
SBD/HSA Speed Championship, final positions: 1 Alan Mugglestone 152pts; 2 Andrew Cottrill 149; 3Nick Mugglestone 144; 4 Bob Ridge-Stearn 143; 5 Bradley Hobday 143; 6John Loudon 137; etc.
A full list of final positions can be found elsewhere on the website.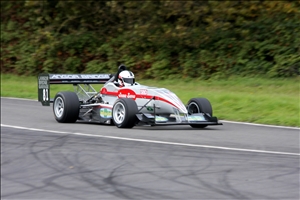 Gary Thomas took a second successive HSA Curborough win (Steve Wilkinson)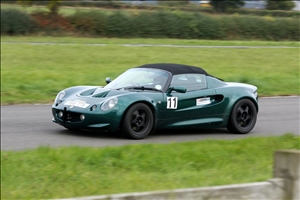 Bob Ridge-Stearn moved up to fourth overall in the Championship (Steve Wilkinson)
---
Wynn's FTD at Autumn Shelsley
Event 33 at Shelsley Walsh on 19/09/2015
Over 30 SBD HSA Speed Championship competitors made their way to Shelsley Walsh on Saturday September 19th to be met with heavy mist despite the clear skies and sun just a few miles away. The mist persisted for so long that the decision was made to abandon the first practice runs and go for a single practice before lunch.
Fortunately the skies cleared and a warm, still day followed - perfect for hillclimbing. Graham Wynn took FTD with a 26.20s run and, in truth, wasn't really put under pressure with Simon Marsh next up in the DJ Firehawk, a second in arrears.
Kicking things off, Martin Rutter went well in the Fiat X1/9 setting a new HSA A1 record and taking maximum points. Paul Jones took a large A2 class in his Elise ahead of Bob Ridge-Stearn's similar car which broke the HSA Class record as did Andy Mitchelmore in another Elise. There were plenty of Imprezas in A3 with Andrew Cottrill winning the class and scoring well.
Former multiple HSA champion John Palmer took an easy win in Specialist Production but was some way off HSA record pace. Steve Brown won the modified Specialist Production class in his distinctive Westfield from Stuart Bickley's Phoenix and Adam Phelps' Locost. Adam was again sharing with sister, Charlotte, who is beginning to get the hang of slicks and wasn't far behind. Speedscene columnist, CLive Wooster, was pleased to break the 30sec barrier and take the LIbre class.
The 1100cc Racing Car class was again well supported with Simon Andrews (OMS 28) coming out ahead of Andy Dunbar's Force PT and Bernie Kevill in the car he shares with Andrews. Chris Jones (Force PT) was snapping on their heels and set a new HSA Class record ahead of Steve Loadsman, Chris Bennett, James Moore and Phil Williams. Gary Thomas' Force PC took the 1600 Racing Car class by half a second from Richard Hollingworth in the DJ Firehawk.
Ifan Davies was having a rare outing in the Davrian MK6 but set a new HSA Class record anyway and both Ken Morris (MX5 Merlot) and Paul Morcom (Merlyn MK11A) scored well getting close to their respective HSA records.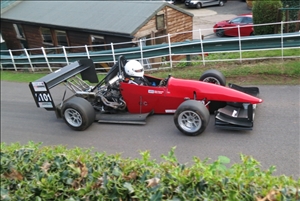 Chris Jones set a new HSA Class record in the Force (CB)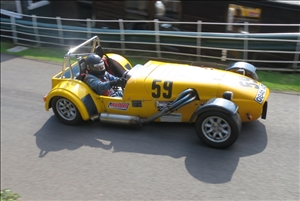 John Palemr's Westfield took the Spec Prod class (CB)
---
Mugglestone cements championship lead at Aintree
Event 30 at Aintree on 05/09/2015
The welcome, if unusual, arrival of dry weather for the weekend visit to Aintree Sprint Course, meant that the entrants' commitment to the surprisingly difficult three corners and a very long straight were in many cases rewarded by the breaking of Class Records. Some of these results will be key in deciding the overall championship as the season draws to a close.
Andrew Cottrill set a new HSA Class Record in Class A3, knocking 5.95 seconds off the old record, thereby setting a new LMC Class Record in addition. This great result puts him in 6th place in the championship, but he has one round in hand over his main rivals in the top five places.
Elen Worthington, who had a late start to her season, set a new record in A2 and like Andrew broke the LMC course record in addition.
Current Championship leader Alan Mugglestone will be happy to have broken the A2.1 record, thereby adding to his points tally and cementing his lead, which now looks unassailable, with the cancellation of the two rounds at Thoresby meaning that there are only two events left in the calendar in which to catch him. Ken Morris in the same class put in a very creditable performance in his, immaculate as always, MX5.
John Loudon in B1 was under strict instructions to be home very early for an important party, so rocketed round the circuit to break the Class Record, but narrowly failed to beat his own LMC record set earlier this year. This result also moves him up the Championship table. John Palmer also in B1 and complete with new gearbox was in difficulty all day trying to bed in all the new gears.
Current HSA Champion Chris Howard-Harris won class B2 – however Chris failed to trouble his own HSA record.
FTD went to British Sprint competitor, John Graham in his big Gould GR55B with a 37.39s run from Steve Miles (Van Diemen RF96) and Gary Thomas (Force PC).
This was a great days motorsport, supported by circa 100 entrants who enjoyed good weather, 2 practice runs and 5 timed runs – all of which was a credit to Liverpool Motor Club. For those who have not yet visited Aintree, let's hope the addition of Class records for Classes J2, K and U will lead to further HSA entrants next year.
Chris H-H & Lynn G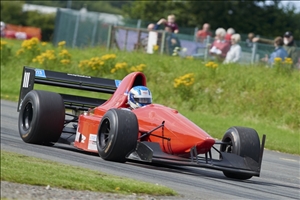 FTD for John Graham in the Gould GR55B (Peter Taylor)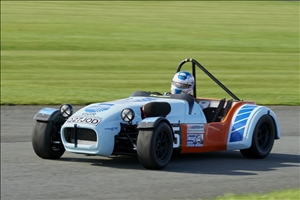 John Loudon was flying in the Westfield (Peter Taylor)
---
FORMER CHAMPIONS HEAD THE TABLE AFTER GURSTON
Event 29 at Gurston Down on 30/08/2015
The SBD/HSA Championship lead changed yet again as 26 contenders travelled to Gurston for round 29, held alongside the traditional August Bank Holiday British Championship event (see report on our British Hillclimb pages).
HSA entrants were spread throughout the entry, but there were three former champions in the first of the dedicated HSA Championship classes alone. Two of them, Alan Mugglestone and his son Nick, ran inside the Class A2.1 record, taking their MX5 to third and fourth places respectively on a dry track during the opening runs. With little chance of improvement, they opted out of their second runs as conditions were still drying after early afternoon rain, but they left Gurston with the first two places on the Championship table, Alan from Nick. Defending champion Chris Howard-Harris set the outright pace in this 'mixed bag' class ahead of co-driver Lynn Gilbert in their effective Caterham K, but without a Class B1 record he failed to increase his score. Second overall coming to Gurston Bob Ridge-Stearn, who together with Howard-Harris is well into the dropped points zone, hadn't entered the meeting and as the Mugglestones charged through to the head of the pack, they each lost a couple of places in the overall standings.
Despite leading the HSA series coming to Gurston and finishing and finishing fourth in the huge and frantic sort-out that is the 1100cc racing class at National level these days, HSA Class I clear leader Bradley Hobday was elbowed down to third on the table, dropped scores now coming into play in his total which, without a record, increased by only a single point.
Apart from the Mugglestones, who will start to drop points at their next event as the series nears its climax, only one other driver broke an HSA record. He, too, ran in the eclectic HSA 'B' licence class and although finishing outside the top six, Martin Rutter's time in the Fiat X19 was almost two seconds inside Laurence Marks' Class A1 record.
Check elsewhere on the website for the latest Championship standings.
Former champion Alan Mugglestone now heads the series table (John Hayward)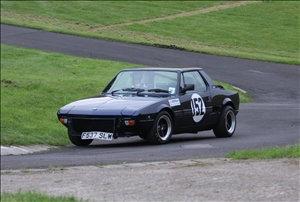 Martin Rutter took two seconds off the HSA record for class A1 (John Hayward)
---
Graham Wynn's FTD at Loton
Event 28 at Loton Park on 09/08/2015
Following his FTDs at Loton's pair of July 'B' meetings Graham Wynn repeated the result at the two August 'B meetings including the Sunday event which was a round of the 2015 SBD HSA Speed Championship. The 1300cc turbocharged Force PC was relatively untroubled on the Sunday on its way to a 48.01s run. Behind him the next fastest times came from the 1100cc Racing Car class with Simon Andrews (50.31s) and Bernard Kevill (50.91s) in their OMS28 under some pressure from Chris Jones (51.36s) but well ahead of Chris Bennett, James Moore and Paul Wells (who had to retire after T1 with a front suspension malady). The battle for the Class win would have been even tighter but both OMS drivers had spins while the Jones/Bennett Force was displaying a worrying tendency to veer off track over the bumps on Cedar straight!
One particularly welcome appearance was Andrew Cairney, having his first outing of the year in father, Stuart's immaculate Hillman Imp – although he was some way off the Class record Stuart set in the same car back in 2012. Of Stuart himself there was good news and we look forward to seeing him spectating at an event in the future.
There was a huge turn out of HSA competitors, 29 in all with plenty of Roadgoing competitors including Martin Rutter's Fiat X1/9 having his 6th HSA event of the year and Laurence Marks whose new Fiat Panda appeared with a half cage. Roger Fish came off at Fallow on his second practice run and had huge off on his second timed run and was lucky to miss two trees, which he went between, at the start of Cedar Straight. He was disappointed not to have got closer to Bob Ridge-Stearn's time but thought his car wasn't geared low enough for Loton leaving Bob to take the class win and break the previous HSA class record (which he held) to score his first 17 points of the season. This moves him to 2nd in the overall championship.
Subaru Imprezas had the large Series Production class sewn up with Andrew Cottrill winning with a new HSA record followed by Chris Berrisford (who still leads the class in the Championship) and Steve Courts in their similar vehicles. Reigning HSA Champion Chris Howard-Harris had a relatively comfortable win in the Specialist Production class lowering his own HSA record by a couple of tenths on his first and only run. Mark Laws in his Mini had an off at Fallow on second practice run and was lucky not to damage the car.
There were a number of older Formula Fords present and Paul Morcom did well to come out on top with a 59.62s in his Merlyn MK11 bettering Les Buck's record by over a second. Nick Tart found over three seconds on his second run in the March 708 to pip Mike Henney's Merlyn MK11 – both drivers setting PBs.
Matt Eady just won the large Classic Marques class in his Ginetta G4 from Graham Millar's Escort MK2 and Ken Morris came out ahead of the other HSA Mazda MX5s competing. Finally Rowland Turner used his second appearance at Loton in his Escort Mexico to good effect by knocking over 2 seconds off his own HSA Classic Saloons record.
CB & B R-S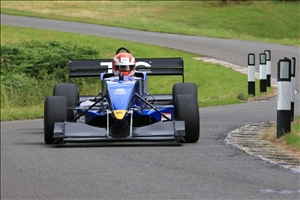 Another FTD for Graham Wynn's Force (Rob MacDonald)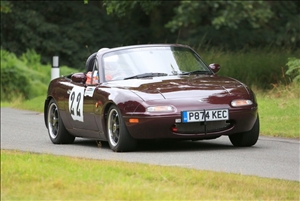 Ken Morris was the fastest MX5 runner (Rob MacDonald)
---
Matt Hillam Takes FTD at Hethel Sprint
Event 27 at Hethel on 02/08/2015
The Lotus test track at Hethel was the venue for the Borough 19 and Lotus Motor Club sprint on 2 August. Not surprisingly, the entry list was well populated with Lotus cars, including many modern Elises and Exiges, but also a good selection of classics from the Paul Matty championship. There were also classes dedicated to Ferraris and TVRs, as well as the usual mixture of saloons, sports and single seaters.
This was round 27 of the HSA championship and there were some strong performances from HSA contenders, not least of whom was former Champion, Matt Hillam, who set FTD in his 2 litre SBD Dallara in a time of 114.34 seconds. Steve Boother ( OMS 2000M) made third fastest time of the day in the up to 1100 single seater class, in which he came second to Tony Beesley ( Jedi). There were no less than five Jedis in this class, including Phil Williams in his Mk4 example. Charlie Reilly was the lone Formula Ford runner, but he was able to set an HSA record for class J1, as did Steve Boother and Matt Hillam in classes I and K.
Chris Berrisford won the over 2 litre saloon class in his Subaru Impreza, breaking the former A3 record, and Stephen Laing ( Caterham R500) scored a third place in class A8, breaking his own HSA class B2 record in the process. Elen Worthington headed a gaggle of four Elises home to set an HSA record in class A2. Gavin Neate ( Peugeot 106) won his class A9 to set a class C1 record.
The top seven places in the championship remain unchanged, with Bradley Hobday, Alan Mugglestone and Bob Ridge-Stearn holding the top three places. However, Matt Hillam, Gavin Neate and Chris Berrisford have now consolidated their positions in the top ten.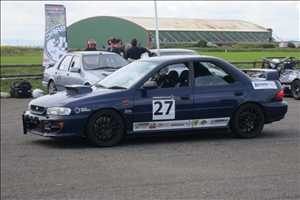 New HSA record for Chris Berrisford at Hethel (pictured at Llandow CB)
---
A Wet Sunday in Devon
Event 26 at Wiscombe Park on 26/07/2015
The weather from the start of the day was atrocious with heavy rain and mist. Occasionally, throughout the day, there were short breaks in the rain, but generally it was very wet and many people, who had competed on the Saturday, left before the timed runs on the Sunday.
So although there had been twelve HSA Championship contenders on the Saturday, and despite four more HSA members arriving on the Sunday morning, only ten drivers recorded times in the Sunday event and no one achieved anything higher than six points (out of a maximum of 17).
In Class A2 (Roadgoing up to 2 litre) Bob Ridge-Stearn (Lotus Elise) and Graeme Procter (Fiat Abarth 500 SS) collected 5 and 6 points respectively.
In Class A2.1 (Mazda MX5) Alan and Nick Mugglestone left before timed runs as did Peter Hodson. The Saturday runners were joined by Nigel Hodson who was fastest of the MX5s and scored 6 points to move him into tenth place in the overall championship. Chris Falcon hit a rock at the gate and bent the front nearside strut and lower wishbone and cracked the rim but got to the finish and Emerson Kent did something similar, both on their final runs when pushing hard in the wet.
In Class A3 (Roadgoing over 2 litre) Sarah and Colin Davies (BMW 330Ci Sport) in only their second hillclimb braved the weather, though they wished they had entered the Saturday instead, and scored 5 and 4 points respectively.
In Class I Steve Loadsman, who had competed in the Saturday, decided not to risk his OMS in the treacherous conditions and left James Moore (OMS 2000M) to take the class win uncontested.
After this event the top ten in the championship come from eight different classes and, in descending order, are: Bradley Hobday, Alan Mugglestone, Bob Ridge-Stearn, Chris Howard-Harris, John Loudon, Nick Mugglestone, Steve Miles, Chris Berrisford, Gavin Neate and Nigel Hodson.
BR-S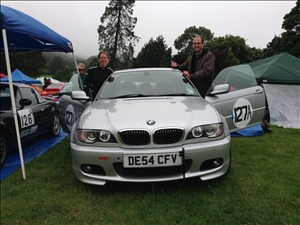 Sarah and Colin Davies (BMW 330Ci Sport)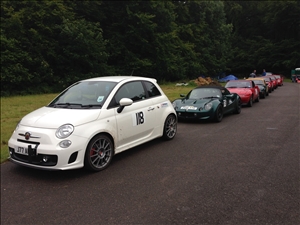 Most of the HSA class at the top of the hill.
---
Big MX5 Class goes to Devon.
Event 25 at Wiscombe Park on 25/07/2015
The day was bright and sunny and Woolbridge Motor Club, who were running the event, had created a special class for all those in the HSA Championship. This meant that there were cars from HSA classes A2, A2.1, C2 and I, i.e. cars from Mk 1 MX5s to OMS single seaters, in the same class on the day. This has no effect whatsoever on the championship and was enjoyed by most members as they were all parked together and went up the hill together.
Bob Ridge-Stearn (Lotus Elise) was alone in Class 2 (Roadgoing up to 2 litre). On his first practice run he went into Wis Corner too fast on cold tyres and failed to make the turn. The car stopped with its front wheels up the bank, but surprisingly there was no damage either to the fibreglass nose or any suspension parts. He went on to set a new HSA class record of 46.88 on his second run, not a Personal Best but enough to score 15 points and keep him in second place in the championship (dropping a score of 13 and so adding 2 to his tally).
There were seven cars (six drivers) in Class 2.1 (Mazda MX5s). For the second time this year Nick Mugglestone beat his father, Alan, and took the maximum points available (17). This moves Nick up to sixth in the overall championship and Alan up to joint second. Not far behind in tenth place overall is Nigel Hodson (who missed this event) and all three have completed eight rounds so have one more in hand. Both the Mugglestones and Emerson Kent broke the previous HSA Class record (50.72) set by Nick in 2011, so scoring maximum 'Time' points. Nick's new record is 48.10. Steve Devereux came in fourth ahead of Chris Falcon and Peter Hodson claimed sixth position ahead of Stephen Dally in his newly repaired car. Stephen's car had broken down on the road from Llandow to Llys y Fran last weekend with a seized diff and he had to be recovered by the AA, but in the week Steve Devereux helped him fit another differential - a good example of how friendly and helpful this class is. This year it is again very popular with thirteen competitors and it may grow again next year as Steve Devereux's son, Louis, hopes to get himself an MX5 and enter and Chris Falcon was overheard encouraging local driver and Woolbridge Motor Club member Ian Barnes to join with his MX5 in which he posted a time of 54.92.
In Class A3 (Roadgoing over two litre) Neil Duncanson took his Audi Quattro up the hill in 46.30, just outside Adam Pemble's class record of 46.19, and earned 13 points. In previous years Neil has been a regular competitor in the championship but this year, to date, has only entered two events. However, scoring a 14 and a 13 puts him in 4th place in the class of ten.
Nick Blight in Class C2 (Modified Limited Production Cars to 2000cc) in his second HSA event got his Mk1 Ford Fiesta XR2 to the top of the hill in 44.82 which was good enough for 3rd in class on the day.
James Moore (OMS 2000M) hit the bank at Wis Corner on his first timed run but got it right on his second run to beat Steve Loadsman (OMS RA) in Class I (Racing Cars up to 1100cc) and set FTD in this B licence event (Simultaneously there was an A licence event taking place with practice on the Saturday and competition on the Sunday). As Woolbridge MC doesn't give a class award to the driver achieving Fastest Time of the Day, the class award went to Steve Loadsman, second to Nick Blight and 3rd to Neil Duncanson.
BR-S.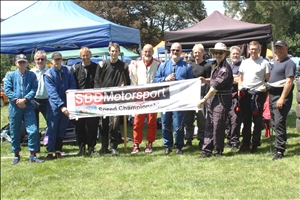 The SBD Motorsport HSA Speed Championship Class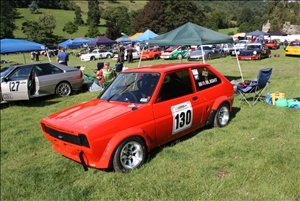 Nick Blight's XR2
---
Five HSA Class Records broken on the Dam
Event 24 at Llys Y Fran on 19/07/2015
For many of those who camped at Llys y Fran on the Saturday night it seemed as though the torrential rain would surely result in the meeting being cancelled. However, by the time people emerged from their tents and motorhomes the rain had stopped and the sun come out and Sunday turned out to be warm, sunny and dry. This was round 24 of the HSA championship and an event organised by the Swansea Motor Club at the reservoir in the very picturesque Pembrokeshire Coast National Park.
In Class A2 (Roadgoing to 2 litre) Graeme Procter in his standard Fiat Abarth 500SS, in his fifth HSA event, scored his highest points of the season (8) and Bob Ridge-Stearn broke the HSA class record on his first timed run to score 16 points and nudge ahead of Chris Howard Harris to take second place in the overall championship, ten points behind Bradley Hobday. The timing equipment failed on Bob's second run and he was offered another run but gear selector problems meant that his Elise only had neutral and reverse and so he had to forego it.
All six Class 2.1 (Mazda MX5) drivers who had competed at Llandow on the Saturday were entered at Llys y Fran on the Sunday, but unfortunately Stephen Dally's car broke down on the A40 on Saturday night and he had to miss the hillclimb. This left the Mugglestones (father and son Alan and Nick), the Hodsons (brothers Peter and Nigel in separate cars) and Steve Devereux (in his eighth event of the season) to fight for points. Once again Alan took the prize, beating Nick by 0.5 seconds and he, Nick and Nigel all beat Nick's 2011 class record.
Chris Berrisford in his ninth HSA event of the year was alone in the roadgoing over two litre class in his Subaru Impreza and scored the maximum number of points available (15). This keeps him at the top of Class A3 ahead of Andrew Cottrill, though Andrew is still a threat as he has only scored in six rounds so far and Chris will from now on be dropping scores.
John Clarke (Lotus 7) has had a busy July, this being his fourth HSA event in the month, and he moves up to fourth in class after Llys y Fran. The class is led by John Loudon (Westfield) who is fourth overall in the championship but he could not add to his tally as he is now dropping scores and must score 13 as his lowest score so far is a 12 and at Llys y Fran he could only manage a 9.
Julian Harber, in his striking purple Mini Clubman, was alone in Class C1 but went up the side of the reservoir in 52.39 and in doing so beat the existing HSA class record (which he himself held) to score 15 points.
In Class C2 Willem Verhaak in his MX5 could not get near Paul Drowne's 2013 class record set in a Peugeot 205 GTi, but his points keep him at the top of his class in the overall championship.
Finally in Class D, John Phelps allowed daughter Charlotte to join son Adam in his Aries Locost. (MSA rules say a car can be shared by two but not three drivers).Adam had a good battle with Simon Rogers (Caterham Hayabusa), who succeeded in getting FTD wiht a time of 42.78 and after this weekend Adam overtakes John in the class and Charlotte moves up into joint third place.
BR-S
Graeme Procter - Fiat Abarth 500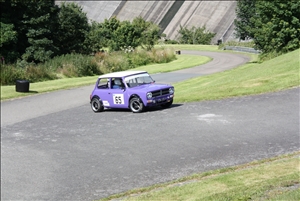 Julian Harber - Mini Clubman
---
Thomas' FTD as Hobday leads HSA Championship
Event 23 at Llandow on 18/07/2015
Gary Thomas took another FTD (68.19s) in his familiar silver Force PC by a second and a half from Dave Sims (RALT RT 33/34) who was a scant 3 hundredths ahead of Brad Hobday (Jedi MK4). Chris Jones was at last happy with the Force PC after some chassis changes and adjustments and got to within a second of Brad to take a satisfactory 4th.
Although the conditions were warm there was a stiff breeze and a number of competitors (including Hobday and Ridge-Stearn) were disappointed at not being able to set new HSA Class records. Despite this Hobday's time was good enough to take over at the top of the HSA Championship once again.
There were plenty of MX5s entered and featured a couple of family battles. Nick Mugglestone put father Alan, under pressure by being faster on the first timed run but lost out on the second after Alan found another two seconds! Nigel Hodson ended up ahead of brother Peter (separate cars) and put this down to more years' experience in his car although Peter was pleased to have bettered his time at Llandow in his SMART Roadster. Steve Devereux also went well despite running a 1.6 against his fellow competitors' 1.8s.
With her Elise now running as she would like, Elen Worthington saw off the other two similar cars in her HSA Class and set a new record - by a mere 5 seconds! John Fox went one (second) better by improving on his previous record in the Suzuki Swift by 6 seconds, showing how much faster the car is than his Peugeot 106. Clive Wooster also joined the new record setters but by just a half second in the Radical SR4 while Paul Morcom outdid them all by improving the classic Formula Ford mark by 8 seconds in his Merlyn MK11A.
Andrew Cottrill was headed for a class win in his Impreza until a fail on his second run dropped him to second while John Loudon was one of the drivers able to set a new HSA mark by improving on John Bradshaw's two year old time by a second and a half in his Gulf liveried Westfield. Willem Verhaak was trying slicks for the first time on his modified MX5, the Dutchman enjoying the experience. For a change Paul Drowne was sharing the very smart modified Citroen AX with his young son Brad who had built the car and was only half a second ahead at the end.
A full paddock was ensured by the presence of the Lotus 7 (Caterham owners to you and me!) Club who brought along 32 competitors with regular front runner Sean Elwell posting an impressive 76.23s in his Superlight.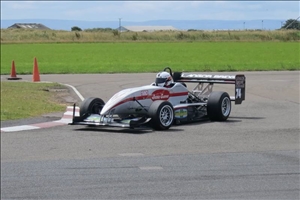 Another FTD for Thomas in the Force PC (C Bennett)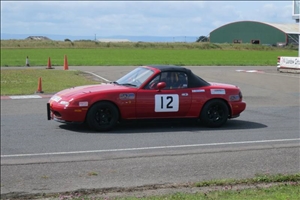 Steve Devereux leaves the line in his MX5 (C Bennett)
---
Records fall despite the rain!
Event 22 at Blyton Park on 12/07/2015
After the previous day's event, 14 competitors "went home", but 10 others joined the fun. One of the unluckiest was Daniel Mason who had arrived at Blyton early on the Friday, with his Force-Suzuki, only to suffer a severe attack of hay-fever, and did not drive on either day.
More rain overnight, and more was threatened by black clouds. The track had virtually dried out by the time that the first practice runs started at 9am, but soon it was spotting with rain. By 10.20am there was a heavy shower, and nine drivers found the conditions too slippery, whilst eighteen simply decided not to take their second practice runs. Following a suggestion from track owner Richard Usher, Clerk of Course Alan Smith sensibly decided to take lunch early at midday giving the track time to fully dry before the timed runs started.
In class SA, with the Smart car absent, Andrew Rollason's Ford KA was left to win unopposed, half a second quicker than his time of the previous day. Classes 1A, 1B and 1C were again won by Russell Thorpe (Renault 5 Turbo), Gordon Peters (Nissan 350Z GT) and Roger Fish (Honda S20000) but Fish was slightly slower than his class record time of the previous day. Tony Hart won his class in the Renault Clio Williams and set a new HSA record in 72.57s, and Gavin Neate again went quicker to lower his class record in the Peugeot 106 to 72.73s.
As the previous day, Jason Brown, John Walters, Stu Hill, John Hoyle and John Loudon won classes 2A, 2B, 2C, 2D and 2G respectively in their various Westfields, but in 2D, Chris Howard-Harris moved up to second place ahead of Jeff Wiltshire and in 2H Matt Hillam over took Philip Nichols to win the class by 0.5 seconds in his Westfield. Luke Algar's Westfield suffered from a detached crankshaft timing wheel during his first timed run, so Peter Goulding moved up to win class 2K.
In the 22-strong Lotus class, David Mann improved by 0.8 seconds to overtake Tony Pearman and win in his Honda Type R powered Elise with an impressive 69.59s run just 0.02s faster than Pearman. Class 3E (Sports cars over 2 litres) had a single entry, but one that many were delighted to see – Tim Brown in the lovely Datsun 240Z.Classes 3H, 3K and 3L were a repeat of the previous day, the winners being John Woolfitt, unopposed in his MK Indy, Adrian Clinton-Watkins and Barry Slingsby both in Westfields. Chris Thomas again won the Sports Libre class in his Suzuki Hayabusa-powered OMS and Paul Woolfit repeated his previous days' win the Saloon Libre class (upto 2 litres) in his interesting Zcars Mini with its turbo Hayabusa in the back in 66.28s. The over 2-litre saloon Libre class had just two entries, both new for the day, with Andrew Warren's 1800cc Turbo Golf taking a comfortable win.
With Dan Mason sidelined with hey fever, Bradley Dickerson drove Dan's Force, but did not like it as much as his sensationally fast Jedi with he had won the previous day. Bradley still won the 1100cc racing car class (63.02s) with some ease ahead of Jonathan Toulmin in Marengo 2, who achieved personal bests, in Marengo, and second in class on both days, (65.38s and 64.66s), the latter being only 1.3 seconds slower than he had managed in his 1600cc Force in 2012 – and the Marengo was on 6-year old tyres!
The FF1600 brigade exactly repeated their pecking order form the previous day, but Paul Morcom went nearly a second quicker to reduce the Class X record to 73.68s, although this still left him third behind more modern FFs. Again Paul Martin was unopposed in his 1300cc OMS 2000M. The event was wound up with the 2-litre single seaters, the class being bolstered by the addition of Taylor and Robert MacVean in their Zetec-engined Van Diemen. Initially the car refused to run, but with the aid of a borrowed soldering iron, a broken lead on the crank sensor was re-attached and Taylor managed third in class with a 66.55s run. Steve Miles broke his own class record established the previous day, bringing the HSA record down to a most impressive 58.31s. However, this was again over-shadowed by the flying Nick Algar, (blown Hayabusa-engined DJ Firehawk) who further reduced the outright course record by nearly a second to leave it at a truly amazing 56.02seconds. Circuit owner Richard Usher thought that it was the fastest lap ever driven around his track, and he has had some amazing machinery test there over the last few years.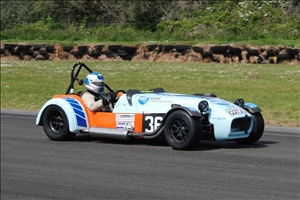 John Loudon (pictured at Pembrey) was a class winner at Blyton (C Bennett)
---
Algar's new Blyton record
Event 21 at Blyton Park on 11/07/2015
Westfield Sports Car Club's now annual double header sprint at the superb Lincolnshire circuit attracted a bumper entry of over 120 competitors in an array of vehicles from a 600cc Smart to a 4.3L Aston Martin, with Westfields and Lotus Exige/Elise models making up half the entry.
A re-organised paddock space allocation, which attempted to reduce the problem of loose stones being picked up by tyres, helped but could not hope to eliminate it. The track was well rubbered-in following a track day the previous day in which many Westfield drivers, and some others, got in some valuable track time in preparation for the week-end.
Despite overnight rain, the weather was dry, warm and windy for the Saturday event, and the outright course record was well and truly pulverised by the very noisy and exceedingly rapid DJ Firehawk of former sprint champion (and former event organiser) Nick Algar who took it down to 56.91 seconds – wow! The event ran pretty smoothly, with relatively few incidents, and the first timed runs were taken before lunch. In the afternoon there was time for a third run for all, which counted for awards.
Steven Needham's 600cc Turbo Smart Roadster set the HSA record for saloons up to 1400cc (89.39s) and Tom Ellis (Nova) won his class unopposed.Roger Fish (Honda S2000) won class 1D in a new record time of 75.15s. John Loudon (1679cc Westfield) won his class in 69.60s with over six seconds in hand. Matt Hillam – 2-litre Westfield mounted instead of his usual Dallara – was pushed into second place by Philip Nichols who was just 0.3 seconds ahead. Luke Algar was going like the wind in his turbo 2-litre Palyskool SuperTec Westfield to win the class in 64.80s – a time that many of the single-seaters would not be able to beat! Gavin Neate's 1360cc Peugeot 106 won class 3A unopposed in 73.18s and was six seconds quicker than Tim Burrill's 1900cc 205 which won class 3B.
In a class of 22 Lotus sports cars, David Mann's 1800cc Elise took the top spot in 69.06s. Duncan Fraser's Elise S1 Sport 190 blew its head gasket on the first practice run. Undaunted, he headed for Lincoln, purchased a new gasket, fitted it and ended up with his well-earned award for third in class.
In the 1100cc single–seater class, Bradley Dickerson (Jedi) stormed off into the distance to finish with third fastest time of the day in a whisker over 60 seconds, with Paul Webb's similar car in third, six seconds behind.Of the Formula Fords, Geoff Ward (Swift SC93F) took the top spot followed by Russell Haynes, Paul Morcom and Charlie Reilly, these three being within 1.25 seconds of each other.
Steve Miles had not been allocated his British Sprint Number 6 but had the Van Diemen going well, setting the HSA record at 59.85s for class K, just quarter of a second outside his outright course record, but most of Lincolnshire must have heard Nick Algar lowering the record to a most remarkable 56.91s.
Jonathan Toulmin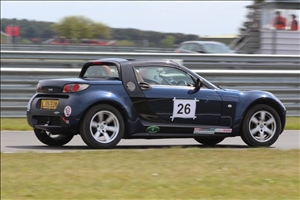 A new HSA Class record for Steve Needham (pictured at Snetterton by A Leivers)
---
HOWARD-HARRIS LEADS AFTER HAREWOOD
Event 20 at Harewood on 05/07/2015
Four HSA Championship contenders made the cross-Pennine trip from Cumbria on Saturday evening to join eleven more in Yorkshire, and for two of those in particular the effort certainly paid off.
Defending champion Chris Howard-Harris had not only bagged a class win at Barbon, but came away on Sunday night with the Championship lead despite already dropping scores. Chris Berrisford faced exactly the same National opposition as he had at Barbon and finished second again to Tony Bunker's Nissan GT-R. In HSA terms, this moved the Impreza driver up from 14th to fifth overall on the series table with the biggest points haul of the weekend.
Ivan Russell brought the evocative Anglia-BDH home runner-up in the dedicated HSA class behind the only single-seater, Nicholas Scott's Force-Suzuki.
In the fine weather at Harewood (in contrast to that suffered by the British Championship runners in their closing run-off! - see separate report), several HSA records fell. Together with Berrisford, Howard-Harris, Russell and Julian Harber, former champions Alan and Nick Mugglestone also ran inside their old class standard and moved up the table into the championship top 12.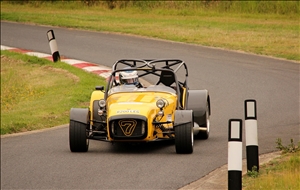 Defending champ Chris Howard-Harris leads again after Harewood (Eddie Walder)
Chris Berrisford was top scorer over the two days (Eddie Walder)
---
HSA DEBUTS AT BARBON MANOR
Event 19 at Barbon Manor on 04/07/2015
Joining British hillclimb competitors for the first day of their north of England double-header, this was the first time that the HSA Speed Championship had visited Barbon Manor. It may be the UK's shortest hillclimb at 675 metres but the fast and winding Cumbrian estate road is a popular and challenging venue.
The 60-strong entry included seven HSA competitors making the trip and Chris Howard-Harris bagged a class win in his familiar Caterham-K 'Custard'. Chris Berrisford faced some strong National opposition and finished second to Leaders Championship aspirant Tony Bunker's burly Nissan GT-R.
Running in the B licence section, Ken Morris and his MX5 had to settle for second place ahead of Michael Tindale in an all-HSA 2-litre roadgoing class at Barbon, behind Roger Fish's Honda S2000. With an HSA points haul only one less than Berrisford, Ivan Russell won from Paul Makison's ex.Mini Miglia.
Graeme Procter rounded off the HSA Championship runners in his Abarth 500SS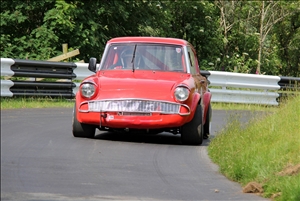 Ivan Russell in the Anglia at Barbon (E Walder)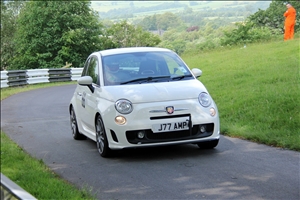 Graeme Procter enjoys the fast Barbon course in the Abarth (E Walder)
---
Willis & Hall share car and wins at Prescott
Event 18 at Prescott on 28/06/2015
Heading the line-up for this event, which was also a Midland Championship round, were Will Hall and Trevor Willis, who was having a guest drive in Hall's Force-AER as his OMS Powertec was being repaired prior to the following weekend's Barbon/Harewood double-header. Determined to hang on to his lead in the Challenge series as well, current BHC leader Alex Summers, was also on hand but not in his BHC leading Gould-NME. Instead, he was making the debut appearance of the much modified ex Ash Mason spaceframe DJ Firehawk-Suzuki, now normally aspirated and belonging to his mother Lindsay. Of the other BHC front-runners, only John Bradburn was present.
It was perhaps inevitable that the Hall/Willis duo would lead the way and so it proved, though not without a degree of difficulty as the Force was still suffering with problems in getting off the line. Both drivers broke a driveshaft apiece during Saturday's practice and when Hall stalled off the line during Sunday's opening run-off after qualifying top, it was left to Willis to take the win. But the tables were turned in the afternoon when Hall stormed to the win and FTD in 37.67s and his co-driver came to a halt after Pardon after letting the engine revs die when changing up, whereupon the engine stalled again.
In the wet conditions on Sunday morning the smaller engined cars had a field day in the run-off, Chris Aspinall's 1-litre Empire Wraith finishing second ahead of Simon Fidoe's similar car, while Bradburn muscled the big Gould-HB home in fourth place ahead of Summers and Tom Poole, who made a great debut for his brand new Empire Evo and eventually finished second in a typically competitive 1100cc class to Aspinall.
The second run-off, in sunny and almost dry conditions, was not so good for Poole as he spun out of Orchard and damaged the car's front wing. Fidoe was edged out by Summers to fifth and the HSA's Paul Squires Trophy winner Simon Andrews also made the top six, while Rob Stevens, who had not only set a new sports libre record in the supercharged Force-Suzuki but improved on it, albeit unofficially, in the run-off, finished third behind Bradburn, earning himself the Midland Man of the Meeting award in the process. However to Bradburn's chagrin, his second run-off time was disallowed as he was judged to be over Prescott's somewhat controversial noise limit, despite it being raised from 106 to 109dB. He not only lost second place in the run-off but his third equal place on the series table, equal with the absent Scott Moran, became fourth.
After the wet morning runs, the outcome of all the class runs was decided on a much drier track in the afternoon. The SBD HSA Championship was very well represented with 37 competitors setting times. Particularly notable were the performances of 2014 Alan Payne Run-off Trophy winner Andrew Cottrill, who beat the regular Midlands big guns comprehensively in his Impreza and defending HSA champion Chris Howard-Harris, who brought Caterham-K 'Custard' home behind winner Roger Moran's Caterham-Suzuki in a large and ultra-competitive Specialist Roadgoing class. Both of these drivers were joined by Andy Mitchelmore (Lotus Elise) and Chris Jones (Force PT) setting new Class HSA records.
Mike Henney (Merlyn MK11A) took third on handicap in the Classic Racing class while HSA Chairman, Les Buck (Lotus Europa), went one better with second on handicap in the Classic Sports cars class.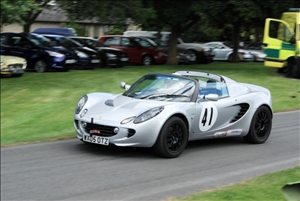 Andy Mitchelmore set a new HSA Class record (C Bennett)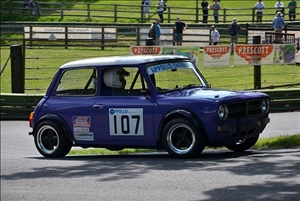 Julian Harber rounds Pardon (Steve Mason)
---
Bradley Dickerson scores FTD and a New Course Record
Event 17 at Curborough on 14/06/2015

Bradley Dickerson (999 Jedi) took FTD and the coveted Graham Hill Trophy at the Owen Motoring Club's Curborough Figure-of-Eight Sprint. In doing so, he established a new course record of 52.97 seconds, shaving 0.11 off Chris Aspinall's 2014 mark. His nearest rival, and last year's winner David Owen (998 OMS 2000M) beat his previous best, but was some 2 seconds in arrears.

Seven Class A2.1 SBD HSA championship contenders competed in their Mazda MX5s, although they had spread themselves inexplicably between three Owen MC classes! Ken Morris was the quickest,winning class 1B for Road Modified cars, 1401 to 2000cc, closely pursued in 2nd and 3rd by Nigel Hodson and Rich Yapp. All three were under Ken's A2.1 record set last year.

John Palmer won the class for Road Modified Kit cars up to 1700cc, and set an HSA B.1 class record. Bob Ridge-Stearn did the same for HSA class A.2, coming third in the Road Modified Lotus class behind father and son Leonard and Scott Bennett in their ex-circuit Series 1 Elise. Rather put in the shade by the Elises, Les Buck nevertheless set an HSA class V record in his Europa. The other A.2 runner, Jonathan Plowe was suffering severe understeer due to incorrect camber settings in his Fiat X19. Ivan Russell won the snappily-named Modified Production excluding Kit up to 1400cc class, but couldn't quite reach his 2014 HSA class C.1 record time.

New championship joiner Paul Wells (600 Jedi) suffered electrical problems in practice, and sadly was unable to compete in the afternoon. However, there was a good contest between four Formula Fords, all HSA championship contenders. Quickest, in the more modern class J.1 Zeus, was Russell Haynes, while Mike Henney took second in his historic class X Merlyn. Mark Haynes (Zeus) and Nick Tart (March) followed closely, with Mike, Mark and Nick all within 0.5 seconds of each other. New HSA records were set for J.1 and X by Russell and Mike respectively. Rowland Turner had a good run in his immaculate Escort Mexico and also set an HSA record for class U.

A highlight of the event, with its strong club connections to Rubery Owen and the former BRM team, was the demonstration given by John Burt in his V-12 BRM P160, chassis no 8, which was driven in 1973 at seven GPs by no less than Niki Lauda. Truly an inspirational sight and sound as it cleared its throat on the main straight!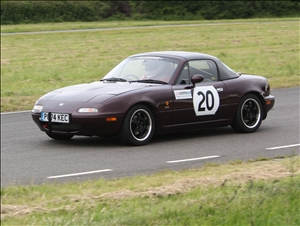 Ken Morris was the fastest of the Mazda MX5 runners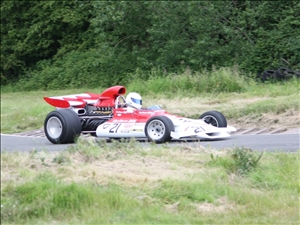 1973 BRM P160 demonstration run by John Burt
---
Hobday extends Championship lead at Anglesey
Event 16 at Anglesey on 14/06/2015
The Sunday event was held on the Anglesey National circuit and the day dawned in summery sunshine, but very quickly deteriorated to the point of threatening rain but just a few spots actually fell, whereafter it gradually improved to be fairly warm and pleasant late afternoon.
The Midland Automobile Club had learnt quickly about Anglesey, and with plenty of marshals available (as the National course has about 5 fewer marshal points than the International course) practice started on time and ran very smoothly, the class runs being completed at 4pm, and the Top Twelve ran through in 40 minutes.
Practice had only just started when Fred Currell's Golf attacked the tyre marker on the apex of School corner, pushing it many yards up the hill, and it took the marshals a little time to re-assemble that bit of the course. The car was repaired with a lot of tank tape, but wisely the driver restricted himself to just a single timed run, but still won class A2a/A3a combined by four seconds. Paul Trill, in the interesting turbo rotary-engined Mazda RX7, closed the gap to Robert Jones' Mazda 3 and was only one second away from moving up the order. Colin Metcalfe's Primera suffered a broken half-shaft in practice and so did not appear in the timed runs. Paul Morgan (GS Special), Mark Smith (SBD Reynard), Jan Nycz (500cc Staride Mk III) and Stephen Casson all had problems of one sort or another in practice, but got them resolved before the timed runs. Not so lucky was Nick Algar (DJ Firehawk) who was in 5th place in the 2-litre racing car class after practice, only for part of the exhaust system to fail, and he went home early!
In the road-going series production sports car class there was a field of just two, and Keith Rogers, Elise, won by a second over Scott Hughes' Boxster. In classes B1 and B2 (merged) the order remained as the previous day – John Loudon winning – and setting a new HSA record in 113.09 seconds- with Howard-Harris close behind and Lynn Gilbert in third followed by a Lotus 340R and four of those glorious Ford GT40s.
Again Phil Caza won the modified production car class in his Clio 200 Cup car and Stephen Morrison's Elise won class C3 from Duncan Andrews' Porsche Cayman SVR, by 2.6 seconds.
Stephen Morgan (2-litre Westfield SEiW) completely ran away with Class D for Modified Specialised Production Cars, finishing with an almost embarrassing eleven-second advantage over Robin Marquand's MK Indy, who was just a fraction in front of the Dax Rush of Mark Scott.
But even better was to come! In the Sports Libre class, Jim Belt's remarkable Juno TR400 won with enough time in hand to have a cup of tea (an indecent eighteen seconds!). His 103.42 seconds got him a place in the British Sprint Top 12 run-off.
Bradley Hobday (1000cc Jedi Mk 4) continued his sensational piloting of his 1-litre Jedi to win the class and, in the process, take Paul Masters' HSA class record down to 102.05 s and another Top 12 run-off. In the 1600cc racing cars, Bill Gouldthorpe again took the honours but missed the run-off by 1.2 seconds.
The pecking order in the 2-litre racers was changing with several suffering mechanical or electrical problems. Steve Miles was having problems with the paddle gear-shifter (where have we heard that one before?). Several checks were made, and the system seemed to be working in the pits but not out on the circuit, and he was down in 7th place after his first run, and failed to complete the second, so no run-off for him! Martin Webb was next up in the Dallara F399 with a creditable 101.18s, but 1.5 seconds behind Mark Smith who was uncharacteristically down in 5th place on 99.68, also suffering electronic gear-shifting problems – perhaps a rod and lever would be a better idea?! Matt Hillam, sharing the Reynard with Craig Sampson, was into the lower 99s for 4th, quarter of a second behind a hard charging Tony Jarvis, who took only one run to finish third in class with a superb 99.12s in the Dallara that he shares with Webb, lowering the HSA class record in the process. Two laps of the national circuit for two drivers was really more than the tyres wanted to do, so Jarvis did not take his second run. Craig Sampson was 2nd in the Reynold also drive by Smith just a quarter of a second in front of Jarvis and half a second behind Steve Broughton in the Dallara F3RB01 who did 98.36 to win the 2-litre class.
As the previous day, the large capacity racing car class was enlivened with five of those extraordinary Guersey-based sand racers with their enormous V8s – one of 7.6 litres! The quickest of these long machines was Scott Rayson's Chevy Special (only 6.8 litres!) with an impressive run in 106.45s, good enough for 3rd in class and a place in the run-off. Second place went to the Irish Gould GR37 of Michael Connolly in 97.13, but predictably John Graham (Gould GR55B) was in a class of his own to take an easy win in 93.40 seconds.
The day was rounded off with three Pre-65 racers, two classes of Westfields and the lovely Austin Healeys. Firstly, the 500 F3 car of Richard Grant (Keihn Special) won in 147.79s. Then Paul Aspden in his 1700cc road-going Westfield won a class of just two and John Hoyle won the larger-engined Westfield class in 111.52, with Stephen Herbert second, six seconds back. In the Healey class, again the Sprites had the advantage over the big Healeys and again it was David Abram in the Sebring version that took the honours in 134.03s. Joe Mackrell got ahead of Colin Gale's similar Sprite to take the runner-up spot.
Jonathan Toulmin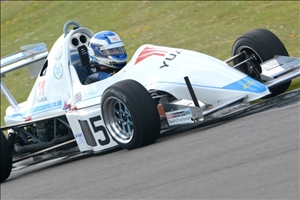 Bradley Hobday extended his lead in the Jedi (N Lambert)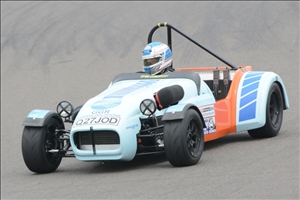 A new HSA record for John Loudon's Westfield (N Lambert)
---

A successful MAC Anglesey
Event 15 at Anglesey on 13/06/2015
The Midland Automobile Club were running this event for the first time. They co-promoted it with Chester Motor Club who had run this British Sprint Championshipdouble header for many years at the glorious Anglesey circuit. The BBC weather men told us of heavy rain overnight, but luckily there was none.
There were 97 entries – a significant improvement over recent years – which included quality, interest, variety and style!- thin on saloons, but thick on Lotus, Westfield and single-seaters of different shapes and sizes.
Fred Currell's VW Golf was the quickest of only five Class A cars. In a merged class of B1 & B2 machines, first prize went to John Loundon's well prepared and driven Westfield SE, almost 0.3 seconds in front of Chris Howard Harris' Caterham Superlight, with Chris' co-driver Lynn Gilbert next up.The rest of this class was made up of four glorious GT40s of various sorts – wonderful to see and hear but 15 seconds off the pace.
The merged Class C had a real mixed bag of Renault Clio, Lotus Elise, Porsche Cayman , Nissan Priera, Ford Racing Puma and a Mini Clubman! Phil Caza's Clio won from Stephen Morrison's Elise. There were just two in Class G (Sports Libre cars over 2L) and unsurprisingly Jim Belt's Juno TR400 had a twenty-second advantage over the Elise of Marshall Rowland.
Bradley Hobday continued his sensational runs in the 1000cc Jedi for a class win (good enough to get him into the Top 12 run-off, maximum HSA points and the lead in the Championship) which none of the 1600cc racing cars managed, but Bill Gouldhtorpe (OMSCF08) went well to win the class of four.
The nine-strong 2-litre class had quality and seven HSA members including Mark Smith who had an easy win with an advantage of 1.5 seconds over Craig Sampson with Nick Algar, just half a second back and Matt Hillam a further 0.6 seconds back. Then there was a real battle between Miles, Jarvis and Webb in that order, but all qualified for the run off.
In the big single seater class there were different things with an international flavour!
Some of the Guersey sand racers with their strange and very long machines had turned up – a Jagernaught and a couple of Chevrolet specials, one of 7.6 litres! Without the Calders, John Graham's Gould GR55B had a very easy win with five seconds to spare over Irishman Michael Connolly's Judd powered GR37. Scott Rayson's Chevy Special took a very creditable third.
Class "M", for classic cars, was filled with Austin Healeys and the lone Nike single seater of Alan Terry, which proved slower than the big Healeys which were in turn slower than the Sprites. David Abram's Sebring Sprite won that battle.
There were two small classes for road-going Westfields; the upto 1800cc class being won by Michael Skidmore, with Tim Nunn winning the bigger-engined class.
Paul Matty's Lotus boys are always great to watch adding variety colour and character to the event. Sadly, and unusually, Paul "the Gaffer" Matty was not entered. The quickest of the road cars was the Elan +2S of John Dobson, five seconds clear of the pack of Elans, Exige, a 340R and a very elderly Lotus 7 Climax. Of the racing Lotus cars, the type 69 Formula Atlantic car of David Hampton was the victor with John Palmers "61" second and Anthony Shute's Expose in third.
J Toulmin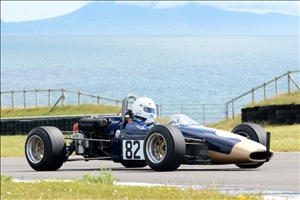 Alan Terry's pretty Nike MK8 (Neil Lambert)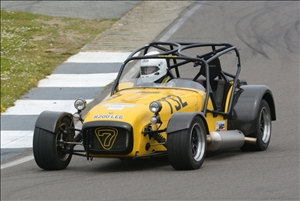 Lynn Gilbert's Caterham on the Intl circuit (N Lambert)
---
A few 'offs' but dry runs at Pembrey
Event 14 at Pembrey on 31/05/2015
Overnight wind and rain had left the circuit (and a few intrepid campers) very wet by the start of the morning practice runs but the weather brightened and apart from the odd sprinkle, the timed runs were largely dry.
However, the better conditions didn't prevent a number of competitors experiencing problems. The marshals at the Old Paddock crossing were busy on consecutive runs as Chris Jones coasted to a halt, unable to get any gears other than first in his Force PT and then Richard Arrowsmith suffered a broken front suspension mount and gently nudged the barriers with the Force PC. Shortly after Martin Pickles, trying hard went off at the Brooklands hairpin and damaged the front of his Jedi and John Hoyle had quite a big shunt in his Westfield causing extensive damage but thankfully all drivers were unhurt. The Westfield drivers were all trying hard and John Loudon managed a spin while Westfield returnee (after many years with an OMS), Dave Banner, went well in his Hayabusa powered car on slicks.
Geoff Kershaw managed to improve on his Saturday time and joined Bob Ridge-Stearn and Bradley Hobday who both scored maximum time points with new records and extended their positions at the top of the SBD HSA Championship standings.
In the two litre Racing Car Class Saturday's positions were reversed with Steve Miles coming out ahead of Tony Jarvis (by 0.07s) and relegating Matt Hillam to third of the HSA Championship competitors.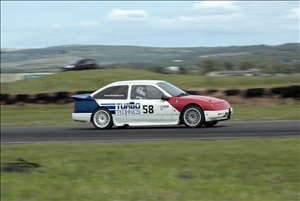 Geoff Kershaw scored well in the Sierra (A Travers)
Bob Ridge-Stearn leads the HSA Championship (C Bennett)
---
A quiet Pembrey
Event 13 at Pembrey on 30/05/2015
Despite being rounds of the British Sprint, HSA, Service Hydraulics, Westfield and Trident Engineering Championships a rather small entry gathered for the traditional late Spring double header at Pembrey run by BARC Wales.
In another sign of the times, John Loudon was all on his own in the small kit car class but still managed to post a new HSA Class record for good points. Current HSA champion, Chris Howard-Harris, got close to the record he set last year in the larger class but his Caterham Superlight was overshadowed in the class by the mightily quick Westfield of John Hoyle.
In the Roadgoing classes Bob Ridge-Stearn is really getting the hang of the ex Goodwin/Filkin Elise and set a new record ahead of Andy Mitchelmore's standard version and Chris Berrisford improved on the A3 record by 3.5 seconds in the Impreza.
Surprisingly there was no C3 record so Geoff Kershaw was able to set a new mark
Elen Worthington was present but not in her Elise, which is still being repaired, but sharing Roger Dowden's Darian MK6 with the 'fluffiest' seat cushion seen for a while!
West Wales based Dutchman, Willem Verhaak, was out again in his lightly modified MX5. As a newcomer, he had already removed much of the trim before he realised it meant that he would have to run in the modified classes and, remaining on road tyres, puts him at quite a disadvantage but in spite of this he was greatly enjoying the experience.
It was Father and Son Phelps out in the Locost this week and despite Adam's efforts the other cars in the class were just a bit too quick. With the car nearing the limit of its development a new project is under way for 2016.
Clive Wooster was a little jaded after a very busy Friday down at Goodwood followed by the long journey to Pembrey with his familiar Radical SR4 and couldn't get as close to Matt Carter's record as he would have liked.
As is becoming customary Bradley Hobday set a new 1100cc Racing Car class record and was well ahead of the other competitors in the class, led by Chris Jones in the Force PT from Martin Pickles, Nick Houston, Chris Bennett (electrial problems) and Phil Williams.
In the 2 litre Racing Car Class, Matt Hillam got to within 0.07s of Steve Miles' record even though the Dallara's handling isn't yet quite where he wants it.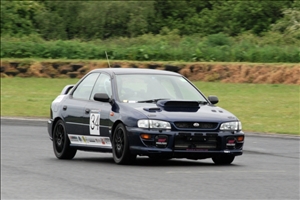 Chris Berrisford scored well at Pembrey (C Bennett)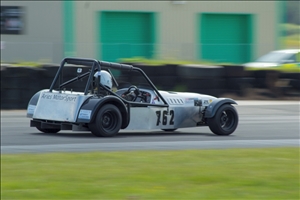 Adam Phelps getting the most out of the Locost (Andy Travers)
---
Derek Sweeney takes FTD at MAC's MIRA Sprint
Event 12 at MIRA on 23/05/2015
The Midland Automobile Club's traditional May Sprint at MIRA on 23 May 2015 was held in almost ideal conditions for sprinting – dry, overcast, with a slight breeze, although a little cool for the time of year. Without the torrential rain and delays which befell the 2014 event, three practice runs were on offer before lunch, and two competition runs of the rapid 1863 yard course were held after the break. The meeting was successfully concluded by 3pm, thanks to its slick running.
After Gary Thomas' withdrawal due to undiagnosed engine problems in his Force PC there was a close battle for FTD between Derek Sweeney in his 1000cc OMS2000M, John Wood, ex-MD of MIRA, in his 2 litre Dallara F397/8 and Chris Jones having his first competitve run in a 1000cc Force PT. John Wood's practice was disrupted by the engine mysteriously cutting out but this was fixed for the timed runs when he got to within 0.38s of Derek Sweeney's FTD of 45.42swith Chris Jones just behind in third on 45.98s.
A number of HSA Class records were in danger including the aforementioned Chris Jones' B1 record set back in 2010. It was two Johns in two Puma Zetec powered Westfields threatening this old mark and in the end it was John Loudon who just pipped 6 time former Champion John Palmer by half a second and lowering the record by over a second.
Andrew Cottrill (Subaru Impreza) was second in the merged roadgoing production saloon class to Justin Andrews in a similar car, but Andrew broke the HSA class A3 record, reducing it to 52.18s. His co-driver Steve Courts (having his first tasted of 4wd and turbo power) was fourth in class, just behind Fred Currell's VW Golf Gti.
Roger Fish (Honda S2000) set a new HSA class A2 record, although he was pipped to the merged roadgoing production sports cars (up to 2000cc) class win by Paul Jones (Lotus Elise135R). Alan and Nick Mugglestone had a weekend off looking after circuit racing teams and came third and fourth in their MX5, with Alan breaking the A2.1 record in the process. Bob Ridge-Stearn came within 0.09 seconds of the old A2 record, but was hampered by a failed engine mounting. This not only deposited its hydraulic fluid all over the engine bay, but also made very unwelcome loud noises at every gearchange. Emerson Kent was the third MX5 championship contender, not too far behind the Mugglestones, in his less highly developed car.
Reigning champion Chris Howard-Harris and Lynn Gilbert were back out in their 1800cc Caterham, restored to full health after its Goodwood incident, and Chris took over a second off the old B2 record.
Gavin Neate and Ivan Russell continued their customary battle, with Gavin winning the merged C1/C2 class for modified series production cars up to 2000cc and Ivan second. There were paddock mutterings about the Peugeot 106 having slightly better aerodynamics than an early-60s Ford Anglia! Geoff Kershaw took the class win for modified series production cars over 2000cc in the Ford Sierra Turbo, dropping the HSA C3 record to 50.89 seconds.
Rowland Turner (Ford Escort Mexico), Graham Williamson (Hillman Imp), Les Buck (Lotus Europa) and often-scrutineer Alan Terry (Nike Mk 8) formed an eclectic merged class for pre 1975 classics of all kinds, with Les quickest but Alan winning on a target time basis. Rowland established an HSA record for class U.
There were large fields in the Roadgoing Westfield and Morgan championship classes, won by Peter Goulding and Simon Baines respectively.
After 12 rounds of the SBD HSA Speed Championship, the top three points slots are now held by Gavin Neate, Bob Ridge-Stearn and Alan Mugglestone, but with Andrew Cottrill, Bradley Hobday, Nick Mugglestone and Steven Needham in close formation.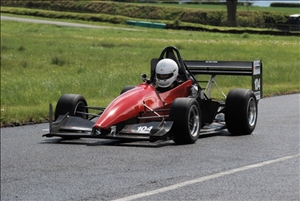 Chris Jones testing at Curborough (no photos at MIRA!)
---
Hobday takes Championship lead at Snetterton
Event 11 at Snetterton on 17/05/2015
At Snetterton for round 11, with another new record and a maximum points score Bradley Hobday moved into the lead of SBD HSA Speed Championship by 4 points ahead of Gavin Neate who also posted a new mark in his Peugeot.
A bright and sunny day saw the Porsche Club competitors join the proceedings but with the usual slick organisation from Borough 19 the event ran like clockwork and even with three timed runs everything was wrapped up by mid afternoon. Once again the benefits of a well marshaled paddock (thank you Mr Grimes!) were clear to for all to see with minimal queueing time and three cars on track wherever possible.
Steve Needham joined the competition for the Sunday event and set a new Class record in his Smart as did the Mugglestones' in their MX5, Stephen Laing (improving on the time he set in the Caterham on the Saturday) and John Loudon who faced much stiffer competition on Sunday and was just edged out by the Hussey Striker for the class win.
Martin Pickles put up another strong performance in his Jedi and, although unable to match Hobday's pace, scored well and moved into third place in the Championship.
In the battle of the Formula Fords the Saturday position was reversed with Charlie Reilly just ahead of Paul Morcom although both went well getting very close to their respective class records.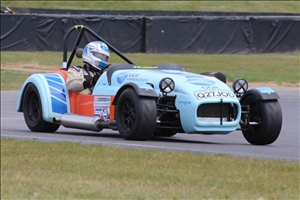 A new class record for John Loudon's Westfield (A Leivers)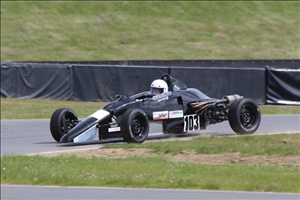 Charlie Reilly in his immaculate Van Diemen RF91 (A Leivers)
---
High scorers at Snetterton
Event 10 at Snetterton on 16/05/2015
To Snetterton for the annual two day Sprint on the 100 circuit organised by Borough 19. The Saturday event was run without the presence of the Porsche Club competitors so the 60 or so remaining runners enjoyed a relaxed day's Sprinting with two practice and three timed runs before the final two Top 12 Run Offs for the British Sprint competitors.
The weather was dry and cool (for the time of year) and a few new HSA class records were set. These included Tom Ellis in his Vauxhall Nova, Alan and Nick Mugglestone in their shared MX5 and both Bradley Hobday and Martin Pickles in the largish 1100cc Racing Car class. If truth be told Bradley didn't just break the Class record he lowered it by more than three seconds............................on his first practice run and never having seen the track before! In what is becoming a regular occurrence he left the record 6 seconds lower than at the start of the day. Martin Pickles went well to get almost two seconds under the record but the other runners including Nick Houston and Chris Bennett (having his first event in the ex Darren Gumbley Force) were left trailing some way behind.
Gavin Neate is having a good year in his Peugeot 106, sitting near the top of the HSA Championship table, was unable to quite match his time set in 2014 but scored well. Steve Devereux having his first full season in his MX5 was running well despite a low powered motor which is due to be replaced shortly.
HSA committee member Colin Way (in his striking and unique, lilac hued Westfield!) was unable to match John Loudon in the small kit car class while Stephen Laing had no existing record to beat in the larger class in his Caterham R500.
Sadly Charlie Reilly and Pul Morcom were the only runners in their respective Formula Ford classes with Paul coming out ahead in the older Merlyn despite running its original engine which is in need of a rebuild.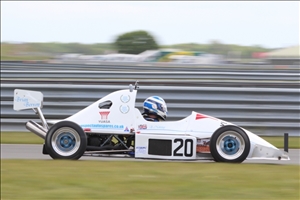 Bradley Hobday is making a habit of smashing records (A Leivers)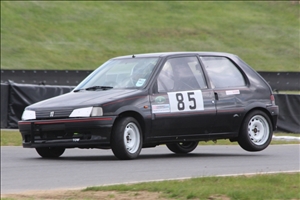 Gavin Neate trying hard in his Peugeot (A Leivers)
---
Wet and Dry Shelsley
Event 9 at Shelsley Walsh on 03/05/2015
Shelsley Walsh's Speed into Spring meeting took place on 2 and 3 May, and formed rounds of the Midland Hill Climb and SBD HSA championships, as well as those for Porsche, Lotus, AC and Westfield marques. Rain on Friday and again on Saturday had washed some of the recent earthworks onto the track between Crossing and Bottom Ess, making the course very slippery approaching and through the Esses. This led to a number of incidents during practice day in particular.
Sunday dawned wet and grey after very heavy rain overnight, but as the morning progressed, track conditions gradually improved, so the later single seater classes benefited from dry conditions. Then it rained again at lunchtime, so the early classes again suffered from a damp course, but the track then dried before the single seater second runs. The major spoils were shared between Simon Moyse (1300cc supercharged Gould GR59), Nev Rollason (1300cc supercharged OMS 28), John Chalmers (1420cc turbocharged Ralt F302) and Steve Owen (1600cc OMS 28). Simon was fastest qualifier for both Run Offs, with his second timed run off of 26.80 scoring FTD. He was second equal in the first Run Off and third in the second Run Off. Nev Rollason won the first and John Chalmers won the second Run Off. Meanwhile, Steve Owen, having narrowly beaten Tina Hawkes to the 1600cc racing car class win, came second in each of the Run Offs, and was named Midland Hill Climb Championship Man of The Meeting.
Only some 15 SBD HSA championship competitors entered the meeting, and their numbers were further depleted by non-starters and practice incidents. Given the mixed conditions, no HSA records were established or broken but there were nonetheless some good performances in the classes. Ken Morris (Mazda MX5) came third in the A1b/B1b/A2b merged Roadgoing series production cars class, while Andy Mitchelmore and Alistair Clark were first and second on scratch in their Lotus Elises in the Cheltenham Porsche Specialists B Licence Roadgoing Championship class.
Jeremy Smithson , Mike Broome and Mike Henney all had fun in their pre 1971 single seaters, but couldn't challenge their class W and X record targets. Mike's second outing in his restored Alexis was hampered by some teething problems, but he is gradually working through them to good effect. The class was won by Richard Jones in his 1800 cc Brabham BT29X, with HSA committee member Alan Goodwin second in his 1600cc Aldon sports racing car.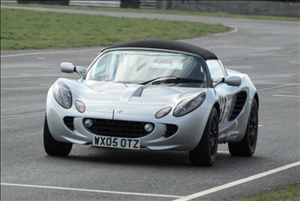 Andy Mitchemore (Elise) pictured at Combe
---
Three new records at Werrington
Event 8 at Werrington on 03/05/2015
Sunday's weather at Werrington was even worse than Saturday's, though some people were lucky enough to have their first competitive run between showers. However all second runs were in torrential rain.
All three of the people who on the Saturday had set or broken class records were able to go faster on the Sunday with Bob Ridge-Stearn (Class A2, Lotus Elise), John Palmer (Class B1, Westfield) and Chris Howard-Harris (Class B2, Caterham) all setting new HSA records. All were alone in their classes so scored 15 points each.
The rain and a greasy start line were major factors for many drivers not being able to improve on their times but apart from those already mentioned, Steve Loadsman, John Burton, Chris Falcon, Steve Devereux and Peter Hodson all managed faster times.
More photos on the HSA Facebook Group page.
BR-S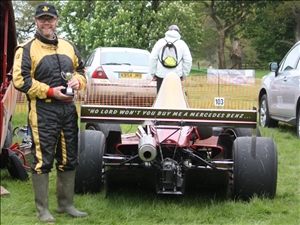 Andrew Dinner, who missed last year's prizegiving, got his class award at Werrington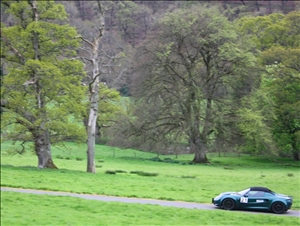 Bob Ridge-Stearn on the hill
---
Big class of MX5s at Werrington
Event 7 at Werrington on 02/05/2015
While some HSA Championship contenders travelled to Shelsley Walsh for Round 9 of the championship, 16 headed to Launceston in Cornwall for Plymouth Motor Club's annual speed event at Werrington Park. However, unlike at Shelley where Saturday was a practice day and Sunday the main event, at Werrington there were two one day events being rounds 7 and 8 of the HSA Championship.
The weather was cold and changeable with the hill often damp or wet but as quickly as the rain started it would stop and so drivers sometimes had dry runs and other times wet ones even in the same batch.
The Mazda MX5 class (A2.1) was very well represented with 6 cars entered and Nigel Hodson took top points with a time of 48.51, which was not quite good enough to beat the class record of 47.18 which he himself set last year. Others in this class were Emerson Kent who is currently second in the championship, Chris Falcon, Stephen Daily, Steve Devereux and Peter Hodson, who this year has joined his brother in this class having previously campaigned a Smart Roadster.
In Class A2 Bob Ridge-Stearn in his Lotus Elise S1 was the only entry and since there was no previous HSA record for that class it was his to set which he did with a time of 46.74.
Chris Howard-Harris (Caterham SUperlight) and John Palmer (Westfield 1700) were in the same Plymouth Car Club class with Chris taking the class win and John second. However in the HSA championship they are in different classes and John Palmer broke the class record in B1 with a time of 42.68 and so banked 15 points, whereas Chris had no record to beat in B2 and so his better time of 42.35 was worth only 13 points to him. Neither had any other HSA contenders in their classes.
Neil Gould in his Subareno also set a new HSA record in class G, Steve Loadsman scored points in Class I, as did Andrew Dinner in his Pilbeam in Class K.
Four other drivers shared two cars. Russell and Mark Haynes battled it out in their shared Zeus Formula Ford in Class J1 with Russell coming out on top, and in Class W2 John Opie beat John Burton in their RALT.
BR-S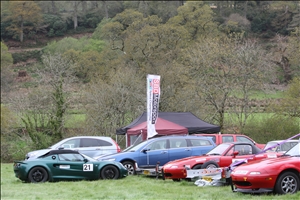 HSA flag at werrington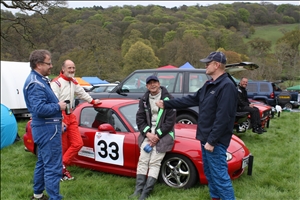 A gathering of MX5 drivers
---
Another record for Cottrill
Event 6 at Loton Park on 19/04/2015
Sunday was slightly cooler than the Saturday and although it was overcast it remained dry.
In Class A1 Jamie Yapp had left after the previous day's event leaving Steve Needham (Smart Roadster) and Martin Rutter (Fiat X19) to fight for points with Steve earning himself 11 and Martin 7 points.
Bob Ridge-Stearn (Lotus Elise) was again the only one in Class A2 but although he beat his newly set HSA class record in practice, he could not do so after lunch and so could not better his previous day's score.
In Class 2.1 (Mazda MX5) Michael Tindale joined Emerson Kent with Emerson coming out on top and moving into top position in the class.
There were four drivers in Class A3 with Chris Berrisford (Subaru Impreza) joining those who had competed on the Saturday, Once again Andrew Cottrill scored maximum points as he beat his new Class Record with a time of 57.79.
Charlie Reilly did a 62.09 in his Formula Ford in Class J1. Ben Waine beat both Kerry Waine and Nick Scott in Class J2 and Graeme Williamson improved on his Saturday time in his Imp with a 74.69 but once again could not better his 2010 time of 74.24
BR-S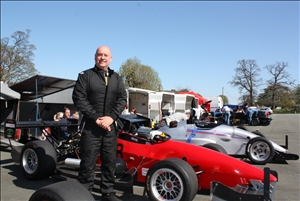 Nick Scott - Force HC Hayabusa
Charlie Reilly - Van Diemen
---
Four HSA records fall at Loton
Event 5 at Loton Park on 18/04/2015
Fourteen HSA championship contenders made the journey to Loton Park in Shropshire for Round 5 of the championship which was run by Hagley & District Light Car Club. Others headed south to Gurston Down for Round 4, this being one of three weekends in the calendar where two HSA rounds overlap.
The day was bright and warm and ideal for speed hillclimbing.
In Class A1 (Road-Going Series Production Cars up to 1400cc), Jamie Yapp in his Vauxhall Nova narrowly missed out on the class win (by 4 hundredths of a second) to Huw Turner but set a new HSA class record with a time of 67.94 and scored a maximum 17 points. Steve Needham (Smart Roadster) scored a useful 12 points and Martin Rutter (Fiat X19) 7 points.
In class A2 (Road-Going Series Production Cars up to 2000cc) Bob Ridge-Stearn was the only HSA entrant and recorded a PB of 61.80, so breaking the HSA class record and scoring 15 points.
Emerson Kent was alone in the Mazda MX5 Class (A2.1) and recorded a good time of 68.93 on his first visit to Loton so earning him 10 points.
In the over two litre Road-going Class (A3) HSA regulars Mark Laws (Mini Cooper) and Andrew Cottrill (Suburu Impreza) fought for points with Paul Trill in his second season in his Mazda RX7. Andrew got the class win and also recording a PB and new HSA record of 58.60 so earning him a maximum 17 points.
There were two classic cars present; Graeme Williamson in his modified Imp, which looked very smart on its new wheels in Class N and HSA newcomer and first timer at Loton, Rowland Turner, in his lovely Mk I Ford Escort Mexico in class U. Graeme could not quite better his own PB but Rowland had a dream start to his season by breaking the class U record and scoring 15 points.
In the Racing Car classes we had Charlie Reilly in his Van Diemen Formula Ford in Class J1 (Pre 1994 Formula Fords), Nick Scott in his Force Force HC Hayabusa in Class J2 (motorcycle engined racing cars up to 1600), and in Class X (Pre 1974 Classic Formula Fords) Nick Tart, who has just joined the HSA and the Championship with his March 708 and Mike Henney with his Merlyn Mk11A. Unfortunately for Mike he understeered into the bank at Triangle on his first practice run and that was the end of his day's racing (He went home to collect a Midget for the Sunday) but all the others collected useful points.
BR-S.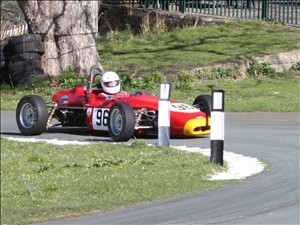 Nick Tart - March 708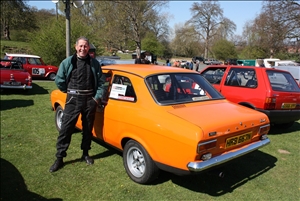 Roland Turner - Ford Escort Mexico
---
HOBDAY SETS HSA PACE AT GURSTON
Event 4 at Gurston Down on 18/04/2015
HSA's first Gurston Down event of the year opened the season at a cold but sunny Wiltshire hill. The only runner to break the half-minute barrier was Ed Hollier, who set the outright pace in his Empire Evo-Suzuki and went on to repeat the feat the following day (see our 'Latest News' pages), Gurston regular Keith Diggle followed him home in his superbly engineered WEV sports libre car, but it was an HSA contender that set third fastest overall as Bradley Hobday led home a 21-strong HSA entry in his Jedi. Just two hundredths adrift of Diggle, he took top honours in the 1100cc racing car class and moved up to fourth equal (level with the absent Martin Pickles) on the overall HSA points table.
Top HSA scorer on the day was another class winner, Geoff Kershaw, our hundredth registered 2015 contender bringing out his well-known Turbo Technics Sierra after a bit of a break to open his points tally with 15 points.
Matt Carter still leads the Championship but sadly, following the unfortunate recent motorcycle accident which looks set to sideline him for some while, he will be unable to defend his position. With new aero for 2015, fellow Radical driver Clive Wooster ran second among the 2-litre sports libre runners, giving Chris Cannell a good run for his money in his futuristic, but troublesome Empire Evo as Diggle led the way in the combined class.
HSA contenders shaking down new cars seen at Gurston included Mike Broome's immaculate Alexis Twincam having its first shakedown run. Apart from the odd brake and clutch issue, Mike was pleased to finish second to old rival Hugh Kemp's Palliser in the Historically Interesting class. Long-time Triumph exponents John and Johnathan Weedon have at last sold their lightweight TR5 and appeared with a Mallock Mk20B, the Ford crossflow running on throttle bodies.
A full report follows in the next issue of Speedscene and current HSA championship positions are available elsewhere on this website.
A full list of times for both Saturday and Sunday meetings can be found here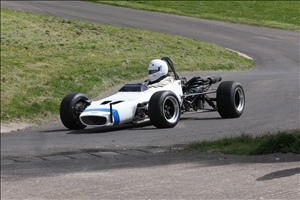 Mike Broome shook down his new Alexis at Gurston (John Hayward)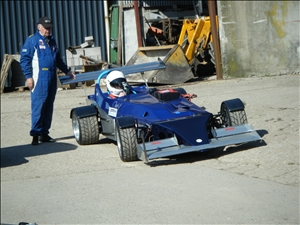 The Weedons have replaced their TR5 with this Mallock Mk20B (Fyrth Crosse)
---
Bradley Dickerson takes FTD at Three Sisters
Event 3 at Three Sisters on 12/04/2015
Round three of the SBD HSA Speed Championship took place on April 12th at the Three Sisters (Circuit 1) near Wigan. Organised by the Longton and District Motor Club, the event enjoyed mixed weather conditions. The morning was dry, allowing everyone to practice and have at least one dry competition run, but then the rain set in for the afternoon and the serious competition had apparently ended. This allowed some of the hardier competitors to stay on to enjoy up to eleven timed runs!
FTD was set on his first competition run by Bradley Dickerson in a 998cc Mark 4 Jedi at 41.26 seconds. His nearest rivals were Nicholas Algar in a 1340 supercharged DJ Firehawk on 42.11 and Glyn Sketchley in his 1070cc Megapin CFM9, on 43.33 seconds.
There were some notable performances from HSA championship contenders. Chris Berrisford won the over 2 litre saloon car class in his Subaru Impreza, establishing an HSA Class A3 record in the process. Roger Fish ( Honda S2000) came a very close second to Martin Rowe in another Honda S2000 in the well supported up to 2 litre sports car class, setting an HSA class A2 record. Running in the same class, Alan and Nick Mugglestone brought their Mazda MX5 home in 3rd and 4th places. Both were substantially quicker than the old HSA class A2.1 record for MX5s, with Alan leaving it at 53.41 seconds, with Nick on 53.90. Michael Tindale was the third class runner home in the MX5s.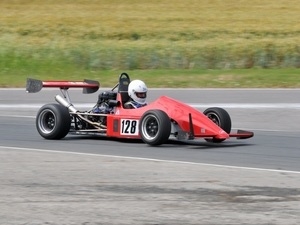 Bradley Dickerson at Blyton in 2014 (JCB Photography's)
---
Close Encounters at Rockingham
Event 2 at Rockingham on 22/03/2015
Bright sunshine and a light breeze greeted the 146 competitors at BARC's Midland Centre sprint at Rockingham on Sunday 22nd March. As well as being round 2 of the SBD HSA Speed Championship, it was also a round of many other season openers, including those of the Service Hydraulics, BARC SBD, NSCC, MG, TVR and Ferrari championships. Despite the high entry, BARC's very efficient organisation allowed a convoy run, 2 practice runs and two competition runs of the 1.6 mile track. The course is a challenging one, including a long section of the outer banking , a chicane, a hairpin and several medium and fast left and right hand bends, with elevation changes thrown in.
Fastest Time of the Day was made by Gary Thomas in his 1400cc Force PC in 66.67 seconds, which represents an average speed from a standing start of 86.4 mph. He was hotly pursued by Steve Miles in his highly developed 2.0 litre Van Diemen, just 1/100 of a second behind! Clive Wooster (1475 Radical SR4) was awarded the BARC Centre member FTD, and Emma Bennison (1600 Sylva Striker) won the Ladies FTD award.
There were some notable performances by in the classes, including a number from HSA championship contenders. Roger Fish (Honda S2000) took six seconds off the HSA class A2 record to win a ten car class 2 for 1400 to 2000cc Roadgoing production cars. Andrew Cottrill won class 4 for 4WD Roadgoing production cars, setting a new HSA class A3 record in the process. He was followed by Justin Andrews, with Chris Berrisford third – all in Subaru Imprezas.
Former HSA champion John Palmer (Westfield SE) won class 5 for up to 1700cc kit cars, from Emma Bennison and Mike Smith (Sylva Striker). Gavin Neate (Peugeot 106) won class 8 for modified series and production cars up to 1400cc, setting a new HSA class C1 record as he did so, while Ivan Russell ( Ford Anglia 105E) was third behind Steve Collier's MG Midget. In the 1400 to 2000cc division it was a family affair, with son Adrian winning and father David coming home second in their much campaigned Peugeot 205 GTi.
Matt Carter (Radical PR6) took a convincing win in class 13 for sports libre cars up to 1700cc, and set a new HSA class F record, despite suffering from understeer in the slower corners. He was followed home by Clive Wooster and Terry Everall, with Simon Boulter in fourth, who has now reverted to a 1300 cc Fisher Fury. In a strongly supported class 15 for up to 1100cc single seaters, Martin Pickles (Jedi mk1) was the victor, ahead of Tony Beasley, also Jedi mounted, and Glyn Sketchley in his immaculate Megapin CFM9. Paul Webb was fourth, but the Wil Ker/Ben Hamer challenge sadly ended with another seized engine.
The pre-96 Formula Ford class was also well supported, and was won by Matt Rivett (Ray), with Russell Haynes (Zeus ZR163) second and Charlie Reilly (Van Diemen RF92) in third place. Both Russell and Charlie went below the old HSA class J1 record.
New HSA class records were established by Simon Boulter (D), Stephen Laing (Caterham R500, B2) and Les Buck ( Lotus Europa, V)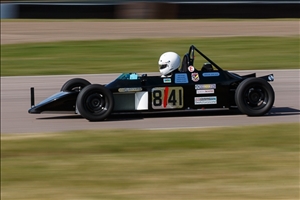 Russell Haynes (Zeus VR163) scored well (Jack Flash Photography)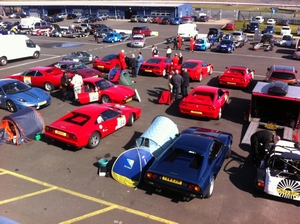 Forza Ferrari
---
New records mark start of 2015 Championship
Event 1 at Castle Combe on 21/03/2015
Round 1 of the 2015 SBD HSA Speed Championship took place at Castle Combe on March 21st, an event organised by the Bristol Motor Club. It was also the first round of the British Sprint Championship and, to accommodate the Top 12 Run Off, practice was restricted to a single run to ensure a finish in daylight. With few in track incidents the meeting ran to schedule in fine conditions.
There was a good turnout of HSA Championship competitors with a familiar set of early season stories to tell. For example Rowland Turner was having his first Sprint in a MK1 Escort Mexico, which he has owned since new. In fact, the only reason he still has it is because very many year ago a dealer refused to take it in part exchange for an Austin Princess!
Emerson Kent was making a welcome re-appearance in the Championship, after a break of a number of years, in an MX5, purchased a few weeks previously and only being returned after some light tuning, the day before the event.
Competitors returning to Combe were met with a couple of surprises. Firstly a solar panel farm had appeared in the infield with work continuing during the event much to the consternation of some competitors. Secondly the track had been resurfaced from the startline to Tower corner. Opinion was divided over whether grip was better or worse although most agreed that Camp was slippery. Times did nothing to resolve the debate as some including Keith Murray and Mike Smith unable to match their existing HSA records while others including Nigel Hodson, Phil Tucker, Gavin Neate (who was also competing at Rockingham the following day) and Chris Bennett made significant improvements to their own records. Tony Jarvis improved on his own record but was edged out by Steve Miles (another competitor headed for Rockingham) running a paddle shift system for the first time. Bradley Hobday set an amazing new 1100cc Racing Car record of 124.30s, considerably faster than the larger Racing Car classes! Graham Blackwell also set an impressive new Class F record of 153.56s in his unique Fiesta S2000.
Being the first event of the season there were inveitably a few gremlins and retirements including the Audi of Roger Banks and, the Elise of Elen Worthington (clutch).
Results here.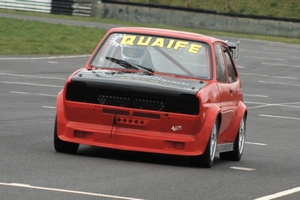 Graham Blackwell's Fiesta S2000 at speed (C Bennett)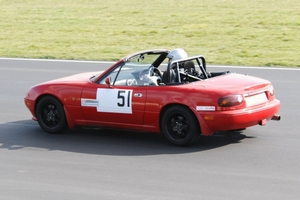 The Mazda MX5 of Emerson Kent (Ronnie Brass)
---
Back to Top