BRITISH SPRINT CHAMPIONSHIP - REPORT ARCHIVE
Reports for 2020
Reports for 2019
Reports for 2018
Reports for 2017
Reports for 2016
Reports for 2015
Reports for 2014
Reports for 2013
---
Holmes ends season on a high
Event 15 at Anglesey on 06/10/2013
Terry Holmes followed up his Saturday victory with another fine display on the Sunday to finish the season on a high - three consecutive Top 12 Run Off wins for the Lola Judd. Despite sudden drops in oil pressure on Sunday the Sussex driver remained cool and in control. Steve Miles repeated his best of season result with another second place in the highly modified Van Diemen.
Despite coming home third on Saturday, Graham Porrett had to settle for fifth on Sunday while it was Martin Webb's turn to score his best result of the year when he finished fourth with Tony Jarvis sixth in their shared Dallara.
Terry Graves got the most out of his two year old tyres on Sunday taking third with John Graham dropping a place to seventh on Sunday.
Gary Thomas had a front disc disintegrate and he failed to finish while Jim Belt had a trouble free day and his pace saw him rocket up to eighth spot. Sunday saw Grahame Harden kept busy changing a driveshaft just before the run-off but his frantic efforts yielded a worthwhile tenth place.
Steve Wilkinson
Results: Sunday 6th October – Anglesey International Circuit
1. Terry Holmes (3.5 Lola-Judd ERH) 78.91s
2. Steve Miles (2.0 Van Diemen-Duratec/SBD RF96/MM11) 80.50s
3. Terry Graves (3.5 Gould-Cosworth DFR GR37) 80.63s
4. Martin Webb (2.0 Dallara-Vauxhall F301) 81.42s
5. Graham Porrett (3.5 Lola-Judd ERH) 82.05s
6. Tony Jarvis (2.0 Dallara-Vauxhall F301) 82.55s
7. John Graham (2.0 Dallara-Vauxhall F399) 82.61s
8. Jim Belt (3.0 Juno-Jaguar V6 TR400) 85.87s
9. Peter Howgate (3.2 Ralt-Judd RT37 V8) 86.20s
10. Grahame Harden (1.0 Jedi-Suzuki Mk6) 86.28s
11. Kurt Ramsden (1.5t Radical-Suzuki SR3) 86.31s
Gary Thomas (1.4 Force-Suzuki PC) DNF
Final SBD British Sprint Championship positions:
Colin Calder 115 pts.
Terry Holmes 103 pts.
Mark Smith 91 pts.
Steve Miles 78 pts.
Terry Graves 75 pts.
Graham Porrett 70 pts.
Craig Sampson 66 pts.
Heather Calder 66 pts.
Glyn Sketchley 51 pts.
John Graham 43 pts.
Mike Musson 41 pts.
Gary Thomas 36 pts. etc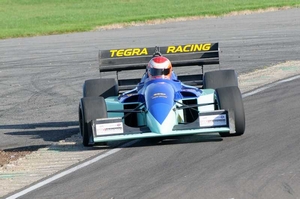 Terry Holmes hard at work in the Lola Judd (Neil Lambert)
Grahame Harden getting the most out of the Jedi MK6 (Neil Lambert)
---
Holmes in control
Event 14 at Anglesey on 05/10/2013
In a dominant display Terry Holmes completed his season with a brace of victories in the SBD Motorsport British Sprint Championship. Despite suffering a broken gear on Saturday the Chichester chippy remained cool and in control. Steve Miles delivered his best of the season with a second place in his budget Van Diemen.
Graham Porrett is quickly acclimatising to the sequential gearbox and on Saturday grabbed a fine third with Tony Jarvis putting in a season's best performance taking fourth whilst co-driver Martin Webb was down in eighth. Cornishman Terry Graves cruised took fifth while John Graham failed to match his early season pace taking a sixth.
Gary Thomas's seventh place was just reward for a dogged season and Jim Belt proved the dominant Sports Libre with his Juno but only took one run on Saturday as his oil temperature suddenly climbed. Grahame Harden's 1100 Jedi was flying and the scientist just held on to eleventh.
The expected late season charge by Heather Calder didn't materialise as the whole Calder clan failed to arrive due to an electrical fault on the Gould.
Steve Wilkinson
Results: Saturday 5th October – Anglesey National Circuit
1. Terry Holmes (3.5 Lola-Judd ERH) 47.56s
2. Steve Miles (2.0 Van Diemen-Duratec/SBD RF96/MM11) 48.46s
3. Graham Porrett (3.5 Lola-Judd ERH) 49.01s
4. Tony Jarvis (2.0 Dallara-Vauxhall F301) 49.04s
5. Terry Graves (3.5 Gould-Cosworth DFR GR37) 49.10s
6. John Graham (2.0 Dallara-Vauxhall F399) 49..18s
7. Gary Thomas (1.4 Force-Suzuki PC) 49.77s
8. Martin Webb (2.0 Dallara-Vauxhall F301) 50.06s
9. Glyn Sketchley (1.5 Force-Suzuki PT) 50.14s
10. Mike Musson (4.0 Pilbeam-Judd MP97) 51.24s
11. Grahame Harden (1.0 Jedi-Suzuki Mk6) 52.03s
12. Jim Belt (3.0 Juno-Jaguar V6 TR400) 52.81s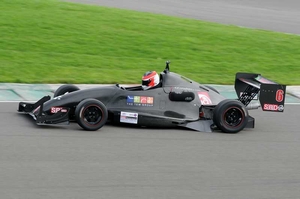 Steve Miles took a best ever 2nd place despite a bodywork malfunction (Neil Lambert)
Jim Belt took a point in the Juno (Neil Lambert)
---
Holmes' victory at Brands
Event 13 at Brands Hatch on 15/09/2013
As the SBD Motorsport British Sprint Championship restarted competition after its summer break, it ventured to pastures new. The Championship had never before been to Brands Hatch. It was clear that the competitors were all overjoyed that it had at last done so, judging by their reactions to the visit.
Although the event was concluded by early afternoon, it consisted of the same content as any other Sprint event, but with a smaller Sprint entry than is customary (to enable the race meeting, with which it was "twinned", to get underway) it was possible for competitors to make their way home early in the afternoon and be back home much earlier than is usual. It also provided a dual advantage in that, it was wet the day before, dry throughout the Sprint competition, and then most competitors "enjoyed" rain all the way home.
There were a few changes made in the summer break. Most notably the Terry Holmes/Graham Porrett partnership had introduced a sequential gearbox into their car. They were trialling the modification, but retaining a stick shift, to ensure the modification settled well....it did so what will have changed by Anglesey? As Heather Calder was unable to get time off work, the Calder family didn't venture south. Terry Graves had returned after "grandfatherly duties" had kept him away from both Northern Ireland and Scotland weekends. Tony Jarvis & Martin Webb missed the trip to Scotland, but were glad to be back with "the family". One driver venturing into a single seater for the first time was Colin Metcalfe, sharing with Peter Howgate in Brian Woffenden's absence.
Practice consisted of the oft-used format, in multi lap events, of two and a half laps (timing being conducted over the comparable one and half laps). One car on the pace from the outset was Keith Murray in his Audi 80 being quicker than a whole host of folk, racing cars included. But everyone made a sensible use of practive learning this new course.
As timed runs got started it was clear that everyone was making giant strides and the Mark Smith/Craig Sampson comcluded with 1st and 3rd places, straddling Terry Holmes. Then just afterwards there were 4 competitors bunched together in the 77s plus one more in 78 flat. So it was highly competitive, because most of the remainder were bunched together in the 79-82 second range. This one was going to be tight.
Top 12 Run Off
As preparations got underway it was clear that Glyn Sketchley would not be joining in the Run Off, despite qualifying, as he had suffered the failure of a brake pipe, so was replaced by Peter Howgate (who at least was able to join compatriot Colin Metcalfe who had qualified at his first attempt). Just before he was due to run, Mike Musson discovered a radiator leak, so was unable to run.
As is customary, almost everyone improved on their qualification time. One exception was Graham Porrett who seemed strangely out of sorts in this Run Off. Peter Howgate put in his banker a few tenths better than his single qualifier, he spun on his second, then found another quarter of a second on his second Top 12 Run. His co-driver, Colin Metcalfe, found four tenths on his banker and then discovered another seven tenths from somewhere to finish his day like a kid with a new toy! Then came the Martin Webb/Tony Jarvis partnership. Webb was a few hundredths slower on his first Top 12 run but then lost a few tenths on his second. Jarvis however went in the other direction, finding nearly a second on his first banker run and then another eight tenths on his final run. Steve Miles performed his customary Top 12 role, finding almost a second and a half on his first run, and then almost another second on his second. Gary Thomas took, his now almost customary, single run, but found almost half a second to make it worthwhile. Terry Graves followed Smiles' example to discover a second and a half on his first attempt, but was unable to improve on that on his second. Craig Sampson discovered seven tenths on his first attempt and then another half a second to conclude in 3rd spot. Mark Smith also found seven tenths on his first attyempt, but only another few hundredths second time around. Terry Holmes however took the biscuit. Improving over his best qualifier by two and a quarter seconds and then, to add salt to any wounds, found nearly another half a second to finish in top spot.
It was clear. post-event, this event had been an absolute cracker, enjoyed by everyone, at a typical MSV venue (immaculate), run by a terribly well organised club and with all the British Sprint Championship competitors housed in garages together. There will be a lot of folk who will be looking forward to this one in 2014!
Results
1. Terry Holmes (3.5 Lola-Judd Tegra) 71.97; 2. Mark Smith (2.0 SBD Reynard-Duratec DB) 72.71; 3. Craig Sampson (2.0 SBD Reynard-Duratec DB) 74.63; 4. Steve Miles (2.0 Van Diemen-SBD Duratec RF 86) 75.14; 5. Terry Graves (3.5 Gould GR37-DFR) 76.20; 6. Gary Thomas (1.4 Force PC) 77.09; 7. Tony Jarvis (2.0 Dallara-Vauxhall F399/00) 77.84; 8. Martin Webb (2.0 Dallara-Vauxhall F399/00) 78.04; 9. Colin Metclafe (3.2 Ralt-Judd RT37) 80.07; 10. Graham Porrett (3.5 Lola-Judd Tegra) 80.29 11. Peter Howgate (3.2 Ralt-Judd RT37) 82.03 DNS Mike Musson (4.0 Pilbeam-Judd MP97)
Championship Points after Round 13:
1. Colin Calder 115pts 2. Terry Holmes 99pts 3. Mark Smith 91pts 4. Heather Calder 66pts 5. Craig Sampson 66pts 6. Steve Miles 65pts 7. Terry Graves 65pts 8. Graham Porrett 63pts
Paul Parker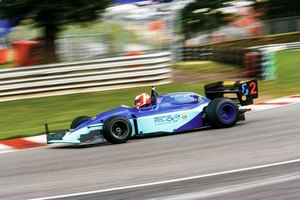 Terry Holmes en route to victory (Matt Bristow)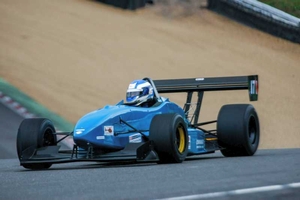 Tony Jarvis took 7th in the Run Off (Matt Bristow)
---
Another Calder victory
Event 12 at Knockhill on 28/07/2013
Rain was the order of the day but the forecast predicted it would dry up as the day wore on.
Practice saw eight competitors spin out in the treacherous conditions. Top of the practice time sheet was that man again Colin Calder as he was over seven seconds quicker than his nearest rival Grahame Harden in the one litre Jedi. Third fastest in the wet was Terry Holmes whilst Heather Calder had another spin on her second practice and was far from a happy bunny! Other spinners were Craig Sampson, John Graham, Brian Woffenden, Mark Smith, Paul Horrox and Bill Gouldthorpe. Gary Thomas on the other hand was baulked on both runs but as he completed the course and time was limited he wasn't offered a re-run.
Paul Horrox managed to spin after the finish and just clipped the tyres and creased a rear wing support however Bill Gouldthorpe's spin was the most damaging. He too spun into the infield and hit a tyre wall but it demolished his rear wing. This was fixed by the combined efforts of Team SBD plus Team Calder, Mike Musson, Peter Howgate, Brian Woffenden and Uncle Tom Cobley and all.
Into qualifying and the first runs were on a wet track but the second set were on a damp and drying track as the rain had slowed to drizzle. Again Colin Calder led the way and the times however as the track dried Terry Holmes and Heather Calder closed down the gap. In the wet Graham Porrett had been as high as sixth but dropped back to qualify tenth fastest. Mark Smith just held off Craig Sampson in the best of the two litre battle with Steve Miles third. In the 1600 class Gary Thomas qualified on top with Glyn Sketchley over 5 seconds adrift. Bill Gouldthorpe's repaired OMS was 14th fastest in the wet but Bill aborted his second run rather than risk further damage. Grahame Harden pushed hard to qualify the Jedi and in Sports Libre Paul Horrox, despite the spin, qualified a magnificent sixth fastest to take Sports Libre honours. Chris Bennett set the new FF1600 standard whilst once again the Tin-tops indulged in a really great scrap. Colin Metcalfe, who after the first practice run was not only 11th fastest overall but also one of the three driest competitors, managed to keep ahead of William Jarman and Angela Jones despite the Pug drivers closing the gap on the drier of the two runs!
Top 12 Run-Off
Glyn Sketchley was the first to the line and with his 'Top 12' boots on he was way quicker than in qualifying posting his first sub 100 second run of the day. Next was Mike Musson and the big white Pilbeam also picked up the pace but not to such a great extent as the preceding Force so Mussie slotted into second spot.. Grahame Harden was delighted to be in the run-off and clipped nearly four seconds off his Q-time however it put him third. Graham Porrett then took nearly ten seconds off his Q-time to move into the lead. Craig Sampson was next and he slotted into second behind Porrett with his best time over seven seconds quicker than in qualifying. Heather Calder then rolled the GR55 forward and immediately caught the eye; on her run to the Intermediate split she set the fastest time so far and at the finish had a comfortable six seconds lead over Graham Porrett.
Steve Miles set the ball rolling for the second half of the Top 12. 'Patch' flew round the lap to the split knocking four seconds off his best and at the finish was ten seconds quicker than his Q-time. This slotted him into second place but could he cling on? Gary Thomas was next and he too carved off huge lumps of time to finish on a 99.58s but it was only good enough for sixth and put him behind Glyn Sketchley. Paul Horrox had qualified for his first run-off and was nearly five seconds quicker than in qualifying however the Juno driver slipped down the order despite the increased pace. Mark Smith needed the points as he has just one event to go before the end of his season. Initially he was on the pace at the Intermediate split but being nearly two seconds up on Steve Miles but at the finish this had dwindled to just a 0.09 lead! Terry Holmes was in determined mood and his first run was a cracker. He was over a second quicker to the split than Heather and eked out an even bigger lead by the finish. Then it was the turn of the 2013 Champion in waiting Colin Calder. The orange Gould leapt off the line and thundered down to the Hairpin. Round the sweeping turns at the back of the circuit the Gould appeared to be on rails. Past the pits and the V8 was howling away and that split time had him over two seconds ahead. Once again he was flying round the back of the circuit and as he burst through the finish just before Leslie's he had the lead by a huge margin.
Back to the start of the rota and it was Glyn Sketchley in the Force. The Leicester driver chopped an impressive 4.12 seconds off his first run to move into fourth. Mike Musson also improved as he clipped over seven seconds off and moved up the order to seventh. Grahame Harden also improved but with only one litre to play with his improvement was just over two seconds and left him in twelfth. Graham Porrett was now sitting on the line in eighth. His second run was superb as he powered his way round the sweeping curves and knocked over five seconds off his first run time to move into fourth – a position he would hold to the finish! Craig Sampson was equally impressive clipping two seconds off his time to the split and over three and a half seconds off by the finish – this moved him ahead of Mark Smith again! What could young Miss Calder do now? Heather was rapidly off the line but by the split was over a second adrift of her father's time. Her super smooth style for once didn't pay off as she finished over four seconds shy of her father's time. This did elevate her to second but would she finish runner-up?
Gary Thomas then set about his task and at the split he was ahead of 1600 rival Glyn Sketchley. However his pace stuttered and by the finish he was 0.39 shy of Sketchley's best time and would finish eighth. Paul Horrox, who had been so quick in the wet, was now sitting in eleventh and despite clipping over a second off his first run time he would remain eleventh. As the Welsh wonder came to the line he was once again faced with the prospect of his team mate beating him. Could Mark Smith respond? He was absolutely flying round to the split and was over six tenths up on Sampson's time. No problems on the flying lap and he was through the finish in a flash and moved back up to fifth spot just behind Graham Porrett. Next up was Porrett's co-driver Terry Holmes. He had to beat 89.59s to move into second and initially it looked good as he was three tenths up at the split. The Lola looked great all the way round the track with very little to indicate a drop in pace. At the finish the clocks told the tale – Holmes was second by 0.57s. Meanwhile in the Pit Lane Team Calder had been monitoring the situation and Colin Calder immediately declined his second run as there were no Bonus Points on offer at this 'new' track.
It was certainly a wonderful weekend for Team Calder – a win each for Heather and Colin and Louise on fine form in the 1100 Jedi with the Junior Challenge trophy in her sights. Roll on Brands!
Results:
1. Colin Calder (3.5 Gould-NME GR55 V8) 85.53s 2. Terry Holmes (3.5 Lola-Judd ERH) 89.02s 3. Heather Calder (3.5 Gould-NME GR55 V8) 89.59s 4. Graham Porrett (3.5 Lola-Judd ERH) 93.32s 5. Mark Smith (2.0 Reynard-Duratec/SBD 903) 94.56s 6. Craig Sampson (2.0 Reynard-Duratec/SBD 903) 94.82s 7. Glynn Sketchley (1.5 Force-Suzuki PC) 95.00s 8. Gary Thomas (1.4 Force-Suzuki PT) 95.39s 9. Steve Miles (2.0 Van Diemen-Duratec/SBD RF96/MM11) 96.36s 10. Mike Musson (4.0 Pilbeam-Judd MP97) 96.77s 11. Paul Horrox (2.0 Juno-Honda SSE) 99.96s 12. Grahame Harden (1.0 Jedi-Honda Mk 6) 101.31s
Championship Points after Round 12:
1. Colin Calder 115pts 2. Terry Holmes 97pts 3. Mark Smith 89pts 4. Heather Calder 66pts 5. Graham Porrett 63pts 6. Steve Miles 60pts
Steve Wilkinson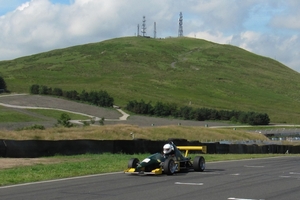 Grahame Harden made the Top12 in his Jedi (C Bennett)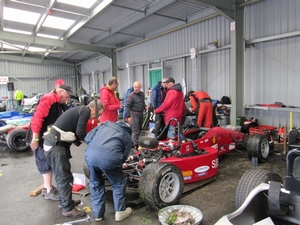 The British Sprint crew repairing Bill Gouldthorpe's OMS (C Bennett)
---
History making victory for Heather Calder
Event 11 at Knockhill on 27/07/2013
In the first of the qualifying runs it was all going to plan until Heather Calder made a poor start and then spun off at Butchers. We were back to normality on the second qualifier with Heather back in second place but this time behind Terry Holmes. Colin Calder chose to sit out the second qualifier as his first run time was over two seconds inside the old record and dominated the qualifiers. Several competitors were slower on their second attempts possibly due to the increased temperatures.
Top two litre was Mark Smith who was also over two seconds inside the old record and had co-driver Craig Sampson breathing down his neck. Glyn Sketchley just broke the class record for the 1600s and out qualified Gary Thomas who was also inside the record with Bill Gouldthorpe third. Louise Calder was the fastest 1100 by some margin and only just failed to match the existing record for her class. Paul Horrox was making his first trip to Knockhill and only had a handful of outing under his belt in his Honda powered Juno but was the top Sports Libre(after Jim Belt had retired his Juno with low oil pressure) breaking the record on successive runs and finishing ten seconds clear of Angus Buchan's Radical. Chris Bennett was the solo FF1600 present and he finished 2 seconds adrift from the record. The Tin-tops had a great battle which saw William Jarman lead initially however on the second runs Colin Metcalfe put his practice rotations behind him and came through to claim the 'class' win from Jarman whose co-driver Angela Jones who was getting closer to William's times throughout the day. So all was set for the first Top 12 of the week-end.
Top 12 Run-Off
Bill Gouldthorpe led the way and set the benchmark with a steady run just outside his qualifying time. Gary Thomas was next and he was again inside the old 1600 record. John Graham was next and a half spin dropped him back down the order. Next was Craig Sampson and the engine builder was another to get inside his respective class record time. The first of the V8s was next to the line in the shape of Graham Porrett. The garagiste improved on his qualifying time but only just and started to slip down the order. Next to the line was Heather Calder. No problems with the start on this occasion and a good steady run took her into the lead at that point.
Glyn Sketchley was next up and he was another to half spin but rather than carry on aborted his run. Steve Miles was next and as per usual our Inspector Gadget stepped up a gear improving on his Q-time by over a second. Mike Musson then brought his Pilbeam to the line and was swiftly into his stride. Everything went well for once and Musson blasted over the finishing line slotting neatly into second place behind Heather Calder. The top two litre man was next and Mark Smith was second fastest to the Intermediate split however the long drag up Stewart Straight meant he would slip into third behind Mike Musson. Terry Holmes was next away and he nailed his first lap being quickest to the split and then moved over a second clear of Heather Calder. Last runner was Colin Calder he once again go sub 90 and take the lead. His run to the intermediate split was near perfect and he was over a second clear of Holmes at that point. On the full lap he did extend his lead but only by an additional half a second.
Bill Gouldthorpe led off the second set of runs and as he left the line a big black cloud started to move towards the circuit. Bill was slower on his run to the split than earlier but picked up the pace to clip over a second off his first run time – it would be good enough for tenth and three well-earned points. Gary Thomas chose to sit out the second run and rely on his first run time. This would see him finish eighth and collect 6 points. John Graham was next and after his problem on his first run decided not to push too hard. He failed to beat his Q-time but would finish eleventh. Craig Sampson then put in a cracking run and posted his best time of the day going ahead of team leader Mark Smith in the process. Graham Porrett then posted his best time of the day which failed to elevate him any further up the order. Next it was the big orange Gould with the diminutive Heather Calder behind the wheel. This time the start was spot-on and through the early corners she was pushing hard. At the split she was just 0.15 down on her father's leading time and her form over the flying lap had been stunning so far. On this occasion it was superb. Heather seemed to hit every apex just right and looked super smooth. Exiting the Hairpin and blasting over the line she stopped the clocks at 88.51 – a new outright course record but more importantly it propelled her into the lead.
That big black cloud was still moving towards the circuit as Glyn Sketchley lined up. On the green light he engaged gear and dumped the clutch. The car shuddered off the line and stopped. As all four wheels had crossed the line Glyn quickly restarted the Suzuki and drove round slowly to (a) get a time, but more importantly (b) earn a single point for twelfth place. Meanwhile on the line Steve Miles was overheating (as was the Van Diemen) because the black cloud was now depositing rain. Steve then got the green light and was off. His run to the split was faster by 0.18 and as he dropped down Duffus he suddenly lost it and spun to a halt. Mike Musson was next once the errant Super Mole had been recovered and he aborted after his out lap due to the rain now making the track very slippery. Mark Smith did take his run but in the wet he was off his earlier pace and had to settle for sixth place. Terry Holmes then decided to take his run on the basis off "who dares wins". His out lap lasted only as far as Scotsman where he buried the Lola in the gravel trap. With Heather in the lead and his closest rival in the championship behind him Colin Calder opted out of his second run and settled for second place. Under the conditions I doubt he could have got close to the leading time but it also meant that history had been made. Heather Calder became only the second woman to win a British Sprint Championship round – the last being the great Patsy Burt back in 1970 when she became the Inaugural British Sprint Champion.
Results:
1. Heather Calder (3.5 Gould-NME GR55 V8) 88.51s 2.Colin Calder (3.5 Gould-NME GR55 V8) 89.21s 3.Terry Holmes (3.5 Lola-Judd ERH) 90.79s 4.Craig Sampson (2.0 Reynard-Duratec/SBD 903) 95.15s 5. Mike Musson (4.0 Pilbeam-Judd MP97) 95.52s 6. Mark Smith (2.0 Reynard-Duratec/SBD 903) 95.63s 7.Steve Miles (2.0 Van Diemen-Duratec/SBD RF96/MM11) 97.67s 8.Gary Thomas (1.4 Force-Suzuki PT) 97.86s 9. Graham Porrett (3.5 Lola-Judd ERH) 98.68s 10. Bill Gouldthorpe (1.5 OMS-Suzuki CF08) 101.18s 11. John Graham (2.0 Dallara-Vauxhall F397) 101.39s 12. Glynn Sketchley (1.5 Force-Suzuki PC) 173.03s
Steve Wilkinson (and photos)
Heather Calder rounds Taylor's Hairpin in the Gould GR55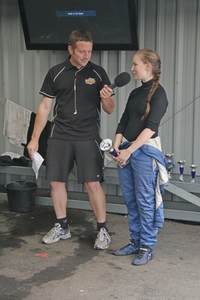 Heather Calder, first woman to win a British Sprint round in 40 years
---
Curfew stops play but Sketchley takes third
Event 10 at Kirkistown on 07/07/2013
A customarily much lighter entry was present on the Sunday. Fortuitous given the later start time, catering for the needs of local church goers. Terry Holmes and Graham Porrett had effected repairs, so were runners again. So the British Sprint Championship ran all entrants again.
There was nonetheless one issue which took much time, with various meetings and modifications taking place. After the course was laid out by the Track Manager (and seen by competitors on their walk of the course and by me, when the Track Manager drove me round first thing, cones were introduced (on the track) at the insistence of the MSA Steward, to the chicane on the back straight. Only post event did I discover, after an e-mail exchange between myself and the MSA Track Inspector John Symes, that the cones shouldn't have been there in the first place!
In the Sports Libre class all three runners were covered by a second and half. Both Kurt Ramsden and Jim Belt again managing to beat Rory Stephens' SR8. Amongst the 1100s Grahame Harden was in something of a class of his own (despite missing this day last year following an altercation with the scenery) finishing nearly 7 seconds clear of the opposition. Sadly Louise Calder's day came to a blunt and sudden end when her engine siezed solid.
In the 1600s Glyn Sketchley, unusually for him, took a second timed run. It was worthwhile as it gave him a 3 second improvement to qualify 3rd overall. Steve Miles did something one just should not, in a shared car, having an off in his first timed run, so was left with just his second run to count (which was half a second slower than Glyn's first timed run). Bill Gouldthorpe just did enough to qualify 12th (but that was enough to outperform the three FVL's behind him.)
John Graham was again top 2 litre runner finishing comfortably clear of the Martin Webb and Tony Jarvis pairing. These three however were all clear of the Dermot Nolan (sharing with Phil Price for the weekend, squeezing into the car) Reynard 903 Peugeot and the three FVLs.
Terry Holmes and Graham Porrett proved the effectiveness of their repair to qualify 2nd and 4th respectively. Mike Musson, because of it being haymaking season, seemed insistent in following the lead of the local farmers in both his timed runs, being unable to finish either run uncharacteristically. Colin Calder took both his timed runs, both in the 106s to qualify top. Terry Holmes and Colin Calder's times left them clear of Southern Irish ace Simon McKinley, whose style through the chicane on the pit straight was a sight to behold, concluding his "demonstration" through this complex "adjacent" to the pit lane barrier on each occasion.
Such was the time lost, combined with the later start time, meant that as timed runs were completed, the circuit curfew arrived. This was fortuitous for those booked on the 7.30pm ferry as had the Top 12 Run Off run after the curfew they would have been left with a dilemma! However that controversial back straight chicane issue will now not recur in future years, and so future year's visitors will have the same format on both chicanes of simply kerbs on entry and exit to both.
Results
1. Colin Calder (3.5 Gould-NME GR55) 106.49s 2. Terry Holmes (3.5 Lola-Judd T90) 111.67s 3. Glyn Sketchley (1.5 Force PT-Suzuki) 115.65s 4. Graham Porrett (3.5 Lola-Judd T90) 116.07s 5. John Graham (2.0 Dallara-Vauxhall F397) 116.23s 6. Martin Webb (2.0 Dallara-Vauxhall F399) 118.88s 7. Steve Miles (1.6 OMS-Suzuki) 119.19s 8. Kurt Ramsden (1.5t Radical SR3) 120.17s 9. Tony Jarvis (2.0 Dallara-Vauxhall F399) 120.75s 10. Jim Belt (1.5t Radical SR3) 121.23s 11. Grahame Harden (1.0 Jedi-Yamaha) 122.04s 12. Bill Gouldthorpe (1.6 OMS-Suzuki) 124.17s
Paul Parker
Many thanks to Philip Stewart of www.philpics.net for the photos
Colin Calder was unbeatable again (P Stewart)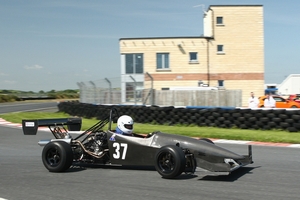 Glyn Sketchley to a good third in his Force PT (P Stewart)
---
Miles for a podium!
Event 9 at Kirkistown on 06/07/2013
Our Northern Irish compatriots greeted us by providing the best possible weather conditions, being hot and sunny throughout the weekend. It was a special weekend for them, as the Saturday event formed the basis for the ANICC celebrating their 50th anniversary. So besides visitors from throughout the Northern ireland region, we were also visited by the new MSA Chief Executive, Nick Bunting, together with his predecessor Colin Hilton. As has become customary, the weekend also benefitted from visiting competitors from Southern Ireland too.
The number of British Sprint Championship competitors entered was the largest number seen in Northern Ireland for 8 years (and that was a bit of a "one off", otherwise that number has not been seen for 15 years) but to see that number, including 3 who were on their first visit to Northern Ireland, was encouraging. Needless to say the three newcomers enjoyed the trip. It was also noticeable that the paddock was the fullest most folk could ever remeber for a Sprint. So 500MRCI had done an execellent job in accumulating its entry.
Terry Holmes' first timed run ended after less than 50 yards, having broken a transmission component, which took the remainder of the day to rectify. So Terrry Holmes and Graham Porrett sadly missed this day's opportunity to add to their points tally. Mike Musson too suffered with a transmission failure, but that was repaired in time for the timed runs. Steve Miles had to change seats when he did something, which I shan't repeat here in order to avoid embarassment, to his pristime new SBD engine which put his new investment at risk, so he shared seats with Bill Gouldthorpe for the weekend, which he found to be an illuminating experience.
In the absence of a complete repair to the Jaguar engine in his Juno, Jim Belt and Kurt Ramsden shared Kurt's Radical for the weekend. And what a tight battle it turned out to be with the pair rarely more than a second apart all weekend. Their opponent was the former owner of Kurt's car, Rory Stephens, who is now armed with a Radical SR8. Kurt Ramsden and Jim Belt qualified 5th and 6th respectively withn just a few tenths between them.They were over two seconds and a second and half clear of Rory Stephens' SR8 respectively
Grahame Harden had company in the 1100 fraternity in the form of Louise Calder armed with her Jedi, with which she is performing so well at home in Scotland, and also some Southern Irish visitors. Grahame, on his second visit to the province, improved steadily over the course of the day, and qualified 9th, although was beaten by one local, Mark Crawford. Louise, on her first visit, also made steady improvements over the day, to finish in the midst of a bunch of six cars covered by 3 seconds.
Because the local class structure splits single seaters at 1400cc, anything above that is in the "large" class, making it a pretty hybrid (and large) bunch. However amongst what we would term "the 1600 class" Steve Miles settled into Bill Gouldthorpe's car with enthusiasm and his final run was enough to qualify him in 3rd spot (and a large smile). Glyn Sketchley, another on his first visit took just one timed run (enough for an 8th place qualification) and with another could well have matched Smiles' time. Bill Gouldthorpe was also venturing to Kirkistown competition for the first time and had his second timed run followed on from the improvements he'd made up to then he'd have finished closer to the other two, but his first timed run time was enough to qualify 10th.
Amongst the 2 litre community John Graham finished top of the tree with a 4th place qualification, pursued by Tony Jarvis who qualified 7th. Then there was the local fast man David Hawthorne in the family FVL, closely pursued by Southern Irishman Dermot Nolan, in the ex Tim/Will Mason Reynard-Peugeot, with Martin Webb only a quarter of a second back. After these were two further FVLs with David's father Andy and Southern Irish girl Deirdre McKinley in close attendance.
Amongst the unlimited "class" was Simon McKinley who is a sight to behold. I have NEVER seen a single seater driven the way he drives his Connaught-built Warrior engined Lant. Picture a Mk11 Escort sideways on forest stages, all sideways around corners, well Simon's a bit more sideways than that! Nonetheless he is quick, his times being on a par with local John Morgan (in a 2.5 Millington engined Pilbeam MP82). Colin Calder however was about 6 seconds ahead of these two on his sole timed run. Mike Musson despite haymaking on his second practice run, leading to him missing his first timed run whilst repairs were effected, nonethless managed to qualify second.
Towards the end of the day someone (the "culprit" was never identified) managed to drop oil all around Colonial, a little on the exit of Fishermans and throughout the chicane. After this head been treated a number of concerned competitors visited the site in road cars and felt it unsafe to continue. The MSA Steward concurred with their judgement and brought proceedings to an end for the day.
Results
1. Colin Calder (3.5 Gould-NME GR55) 82.71s 2. Mike Musson (4.0 Pilbeam-Judd MP97)90.72s 3. Steve Miles (1.6 OMS-Suzuki) 91.80s 4. John Graham (2.0 Dallara-Vauxhall F397) 91.94s 5. Kurt Ramsden (1.5t Radical SR3) 93.17s 6. Jim Belt (1.5t Radical SR3) 93.97s 7. Tony Jarvis (2.0 Dallara-Vauxhall F399) 94.02s 8. Glyn Sketchley (1.5 Force-Suzuki) 94.05s 9. Grahame Harden (1.0 Jedi-Yamaha) 94.68s 10. Bill Gouldthorpe (1.6 OMS-Suzuki) 95.30s 11. Martin Webb (2.0 Dallara-Vauxhall F399) 95.43s 12. Peter Howgate (3.2 Ralt-Judd RT37)99.60s
Paul Parker
Thanks to Philip Stewart of www.philpics.net for the photos.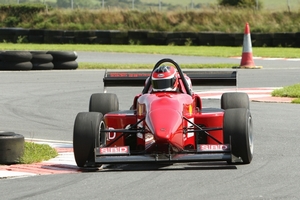 Steve Miles took third in the Gouldthorpe OMS (P Stewart)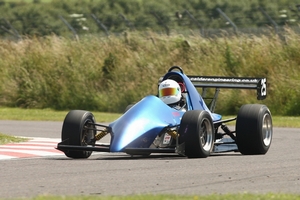 Louise Calder making a rare BSC appearence in her Jedi (P Stewart)
---
Another Calder Family Double
Event 8 at Anglesey on 09/06/2013
Another day and more sunshine. But the paddock looked very empty after the Paul Matty Lotus fraternity had departed, having just taken part in the one day.
Steve Miles was beavering (shouldn't this be moleing? – ed) away taking the rear of his car apart, bit by bit, in preparation for the removal of his engine and its journey to Surbition for attention. Just as well that it's a few weeks before it's needed again in Northern Ireland! The Redditch pairing of Martin Webb and Tony Jarvis left in the morning to attend to their clutch before our next event and Dave Cutcliffe's car needed similar attention and journeyed home in the morning.
More cars suffered unfortunate damage during the day. Mike Musson's rear suspension was damaged but he felt the mechanical drama would take little fixing. Steve Broughton's car holed its exhaust box, so put his feet up and enjoyed the sunshine later in the afternoon. The dramas suffered by the Bill Gouldthorpe/Carole Torkington car the previous day whilst not totally overcome were at least under control.
Amongst the Sports Libre fraternity competition was fierce, newcomer Paul Horrox now on the pace and the pair were but a tenth apart during the Timed Runs and both within an ace of Top 12 qualification. Grahame Harden was higher up the order in the National course format, but was his happy, smiling self all day long. In the 1600s Glyn Sketchley took one timed run and then crossed his fingers it would be sufficient to qualify, which it was.... just! Amongst the two litres Matt Hillam had shaken free of the rust absence brings, the day before, and was now much more on the pace to qualify 10th half a second shy of Phil Lynch. John Graham was another tenth quicker than Lynch but Mark Smith continued as class leader (and was contemplating a trip accross the water, as he cannot make the season end Anglesey weekend). The unlimited class runners were following the Sketchley example and both Heather Calder & Terry Graves took just the one run. The Chichester Mafia were beavering away to try to keep the tyres in shape and Mike Musson qualified midfield, only afterwards discovering his mechanical drama, which meant he was unable to take his place in the Run Off. Colin Calder headed Terry Holmes at the head of the field, with daughter Heather a few tenths behind Mark Smith in 4th with Terry Graves and Graham Porrett next up.
Top 12 Run Off
Grahame Harden was over the moon at taking Steve Broughton's place, and the whole paddock heard when the Co-ordinator said he had to drive an orange car! He nonetheless drove sensibly with the conservative banker followed by a much better second run to collect a couple of points (benefitting from Mike Musson's absence). Next up was Phil Lynch who improved over his best timed run to finish with his best of the day which was unfortunately only sufficient for a 10th place finish. In 9th place and 3/10ths ahead of Lynch was John Graham who was unable to repeat his day's best (in the first timed run) and half a second ahead was Matt Hillam to conclude a good weekend for him in 8th. In 7th place with two runs which murdered the existing 1600 record (which earned him a couple of bonus points) was Glyn Sketchley who finished quite delightedly having broken the 100 second mark on his final effort and perhaps drive of the day.
Graham Porrett was 6th with his best time of the day but was headed by Terry Graves who put in two runs, better than his singular timed run, over a second and half ahead of the Chichester garage owner (finishing with a glow that should take him all the way to Le Mans, which is his next planned trip) to take 4th. Mark Smith was unable to better his timed runs in either of his Top 12 attempts and was consigned to 5th as a result. Terry Holmes put in a banker a second and a third better than his best of the day so far, but could not better that in the second effort. Heather Calder put in a first effort over 3 seconds quicker than her sole timed run to put the pressure on her father. Colin Calder was nonetheless able to beat that......but only just....by 3/100ths!! Transmission issues lead to Heather being slower second time around and Colin concluding his second run at the end of the first lap, for the same reason. I know of one young lady's mother who has an opinion on this particular family battle!!
So another weekend concluded at one of the most, if not the most, popular venue on the calendar. Well run, as ever by our friends at Chester Motor Club. At least everyone has a few weeks break before heading across the water for the 2013 event at the longest running venue in the SBD Motorsport British Sprint Championship calendar, appropriate as this year we are essentially the guests of honour as the ANICC use the event to celebrate their 50th anniversary.
Top 12 Run Off Results:
Colin Calder 93.17s
Heather Calder 93.20s
Terry Holmes 94.41s
Terry Graves 96.18s
Mark Smith 97.11s
Graham Porrett 97.80s
Glyn Sketchley 99.81s
Matt Hillam 100.34s
John Graham 100.82s
Phil Lynch 101.16s
Grahame Harden 103.64
DNS Mike Musson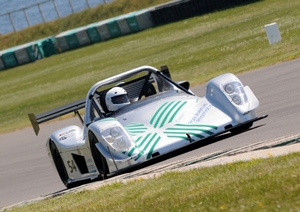 Kurt Ramsden's quick Radical (Neil Lambert)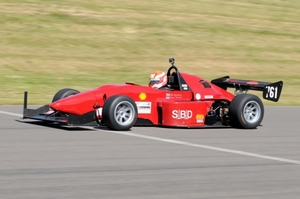 Bill Gouldthorpe SBD OMS CF08 (Neil Lambert)
---
Calder Family One/Two
Event 7 at Anglesey on 08/06/2013
More sunny weather greeted us as we continued our mid-season Welsh foray in the SBD Motorsport British Sprint Championship, this time on the track loved by many competitors, at the other end of Wales on the isle of Anglesey. Sadly Stewart Robb had been unable to effect repair of the damage caused during his "off" on the Saturday before at Pembrey. This week Matt Hillam undertook co-driving duties in the Mark Smith ca, new entrant, Paul Horrox, made his first appearance in the Honda engined Juno and Angus Buchan was back in the Sports Libre fraternity too.
There were a few casualties during the day. Sadly the Martin Webb/Tony Jarvis was the victim of a clutch failure, discovered when Tony Jarvis was about to undertake his second timed run. John Graham was back in the Dallara this week as investigation of his "engine issues" of the Gould failed to be fruitful, but at least he was back in the car and at a venue, both of which were most familar to him. Phil Lynch had "issues" with his tow vehicle en-route which required both he and co-driver John Payne to modify their logistical arrangements in order to reach the venue. During the day the Bill Gouldthorpe/Carol Torkington car misbehaved with problems making the car unco-operative during re-start procedures when the engine was warm. Although its performance pepped up a little, compared with the previous weekend, the Dave Cutcliffe car fell victim to a broken clutch.
In the timed runs Colin Metcalfe, armed with a different taxi from the family fleet as tow vehicle this week, was alone in the ModProd fraternity. Amongst the Sports Libre folk Kurt Ramsden, finished top of the pile, with Paul Horrox pressing him hard (they were but 2/100ths apart after the first run) with Angus Buchan (with, of course a much smaller engine) doing his best to chase the two. Grahame Harden was alone in the 1100s. In the 1600s Glyn Sketchley qualified comfortably, and saved his tyures by taking just the one run to do so. The misbehaviour of the Gouldthorpe/ Torkington car made life trying for the pairing and the team. Mark Smith was under his class record on his first timed run, and John Graham qualified as the 2nd of the 2 litre runners a few tenths ahead of Phil Lynch. A few tenths away was Steve Miles but Martin Webb's 12th qualifying place had to be passed over with the car's recalcitrant clutch issues, Steve Broughton being the beneficiary. Amongst the unlimited cars Colin Calder concluded as "top dog" with Terry Holmes (who along with co-driver Graham Porrett had enjoyed a week's holiday in Wales between the Welsh events) following on and Heather Calder (who had managed an exit route from her professional role, for the weekend, as a result of her Pembrey performance) back to take third. Terry Graves was next up, pursued by a back on form Mike Musson, and final unlimited class qualifier Graham Porrett
Top 12 Run Off
On his first run Steve Broughton found time over the better of his timed runs in his first run, but seeking a further improvement a spin put paid to that ambition in the car repaired after the previous weekend's incident. Glyn Sketchley's Run 1 came to a dramatic halt with a tyre detaching from its rim. A spare was retrieved from the paddock by some helpers enabling him to make a conservative "banker" (but still under the 1600 record) to secure points. Puzzlingly Mike Musson went slower than his timed runs later discovered to be a gearbox which wouldn't change gear which was repaired fairly straightforwardly after the day. Phil Lynch made progress in his second run to snatch 9th place and he was but a quarter of a second ahead of Steve Miles' first run, which radio messages reported him demonstrating his excitement about after the finish, sadly on his second run the engine let go ending his weekend dramatically.
Terry Graves made significant time improvements over his best timed run to secure 6th but, showing a week in the Welsh sunshine can work wonders, Graham Porrett made even bigger improvements to take 5th. Despite his first Run Off time being almost a full second below the 2 litre Championship Record, which he was unable to improve upon in his second attempt, a 4th place finish albeit with a bonus point addition, was Mark Smith's result. Heather Calder made a conservative "banker" as her first attempt, and this was slower than Terry Holmes' first try (and he'd found a few tenths over his best timed run) but Colin Calder's "banker" consisted of a new record! On their second attempts Heather Calder tried her damnedest to beat her Dad but finished a few tenths behind, but nonetheless was still under the Championship Record. Terry Holmes found the better part of half a second on his second attempt but this was enough only for third spot. Colin Calder found a further third of a second in his second attempt and a new outright Sprint record
Top 12 Run Off Results:
Colin Calder (3.5 Gould-NME GR55)72.58s
Heather Calder (3.5 Gould-NME GR55)73.71s
Terry Holmes (3.5 Lola-Tegra) 75.86s
Mark Smith (2.0 Reynard-SBD Duratec DB Mk 1)76.95s
Graham Porrett (3.5 Lola-Tegra) 77.7s
Terry Graves (3.5 Gould-DFR GR37)78.81s
Steve Miles (2.0 Van Diemen-SBD Duratec 80.07s
John Graham (2.0 Dallara-Opel F397) 80.72s
Phil Lynch (2.0 Dallara- Vauxhall F399) 80.97s
Mike Musson (4.0 Pilbeam0 Judd KV4 MP97) 81.72s
Glyn Sketchley (1.6 Force - Hayabusa PT) 81.83s
Steve Broughton (2.0 OMS-SBD Duratec 25) 82.20s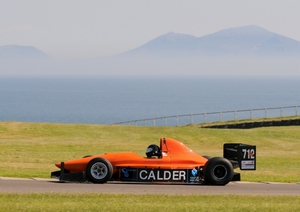 Colin Calder wins again (Neil Lambert)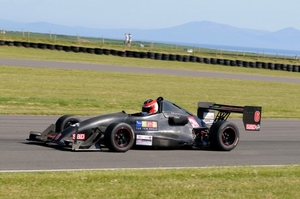 Steve Miles' Van Diemen before the engine went (Neil Lambert)
---
Calder - Again!
Event 6 at Pembrey on 02/06/2013
During the timed runs Kurt Ramsden distanced himself still further from the Sports Libre fraternity finding another two and a quarter seconds. In the 1100s Grahame Harden found some more time to put more space between himself and Martin Pickles. In the 1600s both Gary Thomas and Glyn Sketchley comfortably established themselves in a Top 12 qualification place. Unfortunately, despite finding improvement in his time, it was not enough for Bill Gouldthorpe, despite which he continues to amaze in his performances for a 77 year old! There are many with larger capacity cars who would die for his times!! In the two litres Phil Lynch, Martin Webb and Tony Jarvis were all closely bunched together....sadly just adrift of qualification. The Smith/Sampson partnership qualified close together and not far adrift were both Steve Broughton who out-qialified Steve Miles. Sadly John Graham's learning process in the Gould was concluded when engine issues emerged which will be subjected to investigation with Anglesey imminent the following weekend. Mike Musson found a few soconds from somewhere overnight to just qualify, albeit still some way away from where he might be expected to be. Terry Graves' new tyres were settling in and more time was found. Both Calders took just the one timed run to qualify (1st and 2nd)and the Chichester Mafia also both qualified
Run Off
Mike Musson committed the cardinal sin, he indulged in a moment on his banker run, only two corners into it. Steve Broughton got rather farther on his but the tail got loose approaching the paddock bend, which was corrected, but the car hit the tarmac on the inside of the corner, took off and damaged the suspension. He returned on the back of an elderly truck. So Mike Musson ensured he secured his points (with times slower than both his timed runs). Both the 1600s, as on the previous day, each undertook a singluar Run Off run, this time Sketchley found more time to finish the quicker of the pair. Between the two was Steve Miles, and ahead of these was Graham Porrett. This time Terry Graves, with his best time of the weekend, managed to squeeze between the Smith/Sampson partnership both of who, were unable to match their previous day's times. Of the top 3 Heather Calder ran first but seemed a tad adrift of what she might have expected, Terry Holmes and Colin Calder on their first runs were only a tenth and half apart. So they all tried again and Heather Calder (despite not overcoming the 90 second flat barrier, which was her target) was a little quicker than Teery Holmes' second attempt, but it left her three quarter's of a second shy of his first. Colin Calder drew the weekend to a conclusion with a time more to his satisfaction, and double victory for the weekend.
Results
1. Colin Calder 87.93 2. Terry Holmes 90.95 3. Heather Calder 91.69 4. Mark Smith 93.62 5. Terry Graves 95.27 6. Craig Sampson 95.52 7. Graham Porrett 96.12 8. Glyn Sketchley 97.26 9. Steve Miles 97.32 10. Gary Thomas 98.22 11. Mike Musson (4.0 Pilbeam MP92 - Judd KV)99.79 DNF Steve Broughton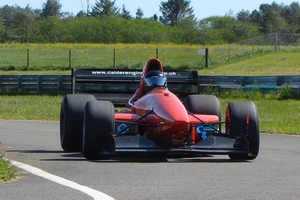 Colin Calder, Gould GR55 (Gary Thomas)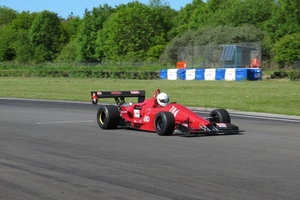 Craig Sampson's SBD Reynard (Chris Bennett)
---
Record breaking Calder
Event 5 at Pembrey on 01/06/2013
The weather was quite beautiful as I travelled to the land of my fathers (my father was born and bred in Swansea!) We were joined, looking for her first competitive outing for a year, by Heather Calder who had attained the grand old age of 23 the previous week. She was champing at the bit at the prospect of returning to her favourite sport which she had been missing....greatly! Also embarking on his first British Sprint outing of the year was Chris Bennett, who had one shared and another sole driven car with him in the FF1600s for company, Chris was immediately, and comfortably at the head of that pack! Returnee to the Championship after almost 10 years absence was Dave Cutcliffe his Van Diemen now sporting a "blown" Hayabusa engine, sadly some development will be required to enable him to become as competitive as he once was.
Sadly we lost Jim Belt at the start of the timed runs when his engine let go. Uncomfortably limping throughout much of the weekend was Richard Arrowsmith (he visited his A & E on Monday to discover he had a broken leg!) Another casualty during the timed runs was Stewart Robb. He was the victim of a moment at the very quick Woodlands kink on the back straight. As is his usual way, not being totally confident of the damage cause he felt it wise to pack the car on to the trailer and return home to investigate, with another weekend's events only a week away. Question marks about track conditions impacted upon times achieved, track temperature playing some part in this, and much energetic work was being conducted on tyres over much of the weekend.
Continuing his track learning process in his Primera at another new venue was Colin Metcalfe, who got quicker and quicker as the weekend progressed. Holding the flag, in Jim Belt's absence, for the Sports Libre fraternity was Kurt Ramsden continuing the learning process of his new mount. He finished well clear of the mixed variety of other Sports Libre cars at the event. In the 1100s Grahame Harden was again top of the tree, with Martin Pickles in close attendance. In the 1600s Gary Thomas qualified and was joined by Glyn Sketchley in the Run Off, after Stewart Robb's departure. Bill Gouldthorpe was not far away either. Amongst the 2000s it was the Mark Smith/Craig Sampson partnership who were top of the tree, with both Steve Miles and Steve Broughton is fairly close attendance. Phil Lynch too qualified for the Run Off, but is now being hounded by the Martin Webb/ Tony Jarvis Dallara mounted partnership in only their second weekend in their new acquisition. Amongst the unlimited racing cars Colin Calder was flying, with daughter Heather and Terry Holmes very closely matched all day. Terry Graves was enjoying his long overdue new tyres! He and Graham Porrett were fairly closely matched in the timed runs. Mike Musson's performance was "puzzling" being away from his customary pace on Saturday and John Graham was starting his leaning process in his newly acquired Gould GR37 Judd.
Run Off
During the first runs Steve Miles got not quite to Dibeni before it was discovered he had more loose wheels than tight ones! He then ran back to assembly, borrowed a bike to return to his trailer to get a spanner, then back to assembly where the Rescue Unit took him back to perform tightening duties and then was towed back to assembly, suspect that's not the last he'll be allowed to hear of that little practice? Both 1600s undertook just the one run each Glyn Sketchley put a time in to get a point, and Gary Thomas, with overheating issues, did so too to capture a couple more. Phil Lynch finished between them with his first run time but wasn't able to improve. Steve Miles was relatively conservative on the one run he completed to jump ahead of Gary Thomas, Steve Broughton found a few seconds, over his qualifying time, on his first attempt, but wasn't able to find any more. Graham Porrett & Terry Graves continued their personal battle in the Run Off but this time the former had clearly benefitted from a good talking to from wife Joyce improving during both Run Off runs to finish clear of the Cornishman. Craig Sampson found over three seconds on his "banker", compared with his best timed run, and another third of a second to finish off with to conclude just a couple of seconds away from his co-driver Mark Smith. Smith too found over a couple of seconds on his first attempt but failed to improve. In the top 3 Heather Calder was away first and found a second and a half, Terry Holmes however found a couple, Heather had another bash and discovered almost another three quarters of a second but still lay a tenth and a half shy of the Chichester man, who decided enough was enough for one day, Colin Calder improved his best timed run by a couple of seconds on run one and then another 7/10ths were found to conclude with two bonus points, being below the record mark on both runs.
Paul Parker
Results
1. Colin Calder (3.5 Gould GR55-NME) 86.68 2. Terry Holmes (3.5 Lola Judd) 91.45 3. Heather Calder (3.5 Gould GR55-NME) 91.59 4. Mark Smith (2.0 Reynard - DB Mk1- SBD Duratec) 92.75 5. Craig Sampson (2.0 Reynard - DB Mk1- SBD Duratec) 94.98 6. Graham Porrett (3.5 Lola Judd) 95.75 7. Terry Graves (3.5 Gould GR37 - DFR) 97.50 8. Steve Broughton (2.0 OMS 28- SBD Duratec) 97.69 9. Steve Miles (2.0 Van Diemen RF96 - SBD Duratec) 98.33 10. Gary Thomas (1.4 Force PC) 98.34 11. Phil Lynch (2.0 Dallara F301) 98.98 12. Glyn Sketchley (1.5 Force PT) 99.40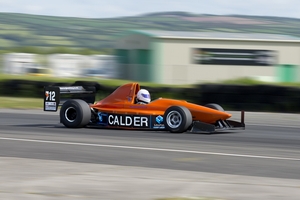 Heather Calder's Gould GR55 (Terry Davies)
Steve Miles' Van Diemen RF96 (Chris Bennett)
---
Calder completes a satisfactory weekend
Event 4 at Snetterton on 19/05/2013
Round 4 Snetterton May 19th:
With a few less runners, than in the previous day, times all round continued to show distinct signs of further improvement. Now click shod Colin Metcalfe found huge improvements knocking chunks of seconds of his previous day's times. The Sports Libre community concluded the day qualifying in 13th & 14th position and Kurt Ramsden hosting a large smile as he achieved what he thought was but a dream, finishing on top of the Sports Libre pack. Amongst the 1100 Racing Car runners Grahame Harden and Martin Pickles were but a second part, the former displaying a modest improvement, but the latter made giant strides, although disappointingly Richard Arrowsmith dropped back a little. Carole Torkington reacted well to the talking-to she gave herself, finding about 7 seconds, and closely matching co-pilot Bill Gouldthorpe. Gary Thomas's best timed run was not quite on his best Round 3 pace, but enough to qualify. Within the two litre runners Mark Smith qualified with a similar time to Round 3, with Steve Miles next to qualify and Craig Sampson up next. John Graham was far more up to the pace than in Round 3, qualifying eighth, and Phil Lynch qualified too but a tenth and a half behind Steve Broughton whose times had dropped away somewhat from Saturday. The top 3 unlimited class runners were all in the 70s, Terry Graves best time too being better than anything the day before, Graham Porrett by contrast dropped back a little, probably as a reaction to a moment in his first attempt.
Top 12 Run Off
Gary Thomas finishing bottom of the pack, had to rely on the final run to achieve that, John Graham (in his final run in the Dallara?) discovered a tenth over his best timed run time to capture a couple of points, his first for 2013. Just half a tenth better was Steve Broughton in 10th and Phil Lynch found a further half a tenth enhancement over our Championship sponsor's best time (and over a second better than his best timed run time)to get his 2013 scoring back on track for 9th. Terry Graves was next up with a perhaps disappointing Run Off time (three quarter's a of a second shy of his best Timed run)and was surpassed by Graham Porrett in seventh. A second better was Steve Miles in sixth and three quarter's of a second better still was Craig Sampson in 5th spot. Mark Smith managed 4th spot with his best time of the weekend. The Top 3 also secured their positions with their best times of the weekend. Terry Holmes finding half a second over his best Timed Run time for 3rd, Stewart Robb with his best ever Snetterton 100 time to take 2nd and Colin Calder performing likewise to take the win.
Results
1. Colin Calder 77.39; 2. Stewart Robb 78.61; 3. Terry Holmes 79.38; 4. Mark Smith 80.18; 5. Craig Sampson 82.33; 6. Steve Miles 83.08; 7. Graham Porrett 84.10; 8. Terry Graves 84.28; 9. Phil Lynch (2.0 Dallara F301 Vauxhall)84.38; 10. Steve Broughton 84.42; 11. John Graham (2.0 Dallara F397 Vauxhall) 84.47; 12. Gary Thomas 91.06;
---
Calder's Day
Event 3 at Snetterton on 18/05/2013
Snetterton May 18th: One or two entrants failed to materialise. Heather Calder was to be found 150 miles west of the Shetland Islands in her latest work role so didn't manage the weekend, and at Round 3 Bill Gouldthorpe was feeling a poorly bunny so took a day's break (was back in full working order the following day for Round 4). Mike Musson had but a short day, enduring a spin in practice, which damaged the front wing mountings and also radiators. Also, unfortunately, Scott Pillinger suffered a fire during one of his timed runs as a result of a fuel spillage through a hose costing mere pence. The result was a car covered in powder, a burned bum, and a ruined set of overalls and gloves. Sadly that has concluded his British Sprint Championship season as he and wife Di will later this year become parents so budget matters will now be redirected.
Fortunately 2013 the circuit enjoyed fine weather throughout the weekend and, unlike 2012 when the heavens opened on the Sunday, even sun was seen at times but most importantly dry throughout.
New for this season, the Redditch duo of Tony Jarvis and Martin Webb took this opportunity of their first British Sprint Championship outing in their new acquisition (having offloaded the Formula Vauxhall Lotus and now upgraded to a 1999/2000 Dallara Vauxhall). Unfortunately the same could not be said of John Graham who had upgraded to an unlimited class car, but had to retrieve the Dallara for the weekend when a leaking brake caliper was discovered, but the new acquisiition should be seen at Pembrey. New to the SBD Motorsport British Sprint Championship family was Kurt Ramsden in the ex-Rory Stephens Radical he had acquired over the 2012/13 winter, he was hoping to make life interesting in the Sports Libre conglomerate.
What was clear, from the outset, that the weekend was going to see records broken in just about all the classes in Year 2 of this track layout of the Snetterton 100 circuit (with the finish line positioned where we wanted it in the first place, rather than where the MSA, in its infinite wisdom, had positioned it on the Track Licence in the first year we were there.) Times began to tumble in the timed runs once the track had "rubbered in"
There was an opportunity for Colin Metcalfe to learn yet another new circuit and, over the course of the weekend, indulge in learning slicks too! He seemed to rather enjoy both experiences. Among the Sports Libre comunity we enjoyed the sight of three cars. Angus Buchan out for his first time in the Championship for 2013. Kurt Ramsden discovering that a turbocharged motor-cycle engined sports racing car is a good deal different from a V8 engined Westfield and managed to get within a couple of seconds of "target man" Jim Belt, the latter being only a few tenths away from qualification on his best run. In the 1100cc single seaters top of the pile was Grahame Harden but saddened to be so distant from qualification and he was pursued by both Junior runner Richard Arrowsmith, back with the British Sprint Championship after a 15 year absence, and Martin Pickles who were only a couple of tenths apart. In the 1600s both Glyn Sketchley and Gary Thomas were comfortable qualifiers and did so little more than a tenth apart, Carole Torkington was annoyed with herself for failing to break a significant marker (she gave herself a good talking-to overnight and broke it big style the following day. Top 2 litre runner was Mark Smith, with next up being co-pilot Craig Sampson, Steve Broughton was only a tenth or so behind him, with Steve Miles next up. Final qualifier was Martin Webb, just pipping fellow class runners John Graham & Phil Lynch to do so, the latter promising to give himself a good talking-to overnight having failed to qualify! Amongst the unlimited runners Colin Calder qualified on top of the pile, pursued by Terry Holmes, Stewart Robb and Graham Porrett, who were only half a second apart from each other, final qualifier from this group was Terry Graves.
Top 12 Run Off
Martin Webb committed the cardinal sin of spinning on his banker first run! Slapped legs from his co-pilot ensued and a gentle run to what he thought would be the final point but he managed two! He benefitted, if that's the right word, from a spin by Gary Thomas which broke his front wing and he ultimately toured round to the final point. Terry Graves was a disappointed tenth. Ninth place was Glyn Sketchley's but a gear linkage breakage concluded his weekend. In eighth was Graham Porrett his Run-Off times being rather conservative compared with his best timed run uncharacteristically. With his best time of the day Steve Broughton secured 7th and in sixth was Steve Miles with a measurably improved final run, compared with his earlier times in the day. Craig Sampson managed to drive it like he stole it on his final run too, finding over two seconds, and was just a second away from co-pilot Mark Smith. Terry Holmes came up third with his concluding run his best of the day and Stewart Robb took second in a similar style but getting into the 79s at last. Colin Calder managed a 79 on his first run but didin'rt reach the finish on his second, a combination of a failed power pack and flat battery being culprits.
Results
1. Colin Calder (3.5 Gould GR55 NME) 79.23; 2. Stewart Robb (4.0 Pilbeam MP88-Judd) 79.43; 3. Terry Holmes (3.5 Lola Tegra Judd) 80.03; 4. Mark Smith (2.0 Reynard DB-Mk 01) 80.19; 5. Craig Sampson (2.0 Reynard DB-Mk 01) 81.20; 6. Steve Miles (2.0 Van Diemen - SBD Duratec)82.48; 7. Steve Broughton (2.0 OMS 28- SBD Duratec) 82.84; 8. Graham Porrett ( 3.5 Lola Tegra Judd) 83.15; 9. Glyn Sketchley (1.5 Force PT) 83.91; 10. Terry Graves (3.5 Gould GR37-DFR) 84.67; 11. Martin Webb (2.0 Dallara F399/00 Vauxhall) 93.90; 12. Gary Thomas (1.4 Force PC) 131.58:
---
ROBB OFF THE MARK
Event 2 at Lydden Hill on 06/04/2013
LYDDEN HILL, 6 April: Having missed the opening round at Combe, Stewart Robb began his British Sprint title defence with a win at the Kentish circuit. Total commitment round Chesson's Drift kept his potent Pilbeam-Judd ahead throughout the morning meeting despite an attack from a hard charging Mike Musson, also making his 2013 debut and really coming to terms now with his similar machine.
Top qualifier Robb had to sit it out for a re-run while a timing gear glitch was sorted. But despite hand timing indicating a slightly slower run than his first, it was good enough for a threequarter second win. Unfortunately, the delay was such that with a race meeting scheduled for the afternoon there was no time for a second run-off.
Chasing Robb hard during the qualifying runs, Mark Smith would eventually get within a tenth or so of the 2-litre record as he ran just shy of Musson in the run-off – a tremendous feat on a bitterly cold but eventually sunny day, with track temperatures non-existent and an inevitable sprinkling of dust remaining from the Easter rallycross meeting, despite sterling efforts to clear it by organisers TWMC and Rochester MC. The SBD Reynard-Duratec driver's efforts moved him up into joint second place in the Championship, level with Lydden first-timer Terry Graves, who had to settle for a second successive defeat by Championship leader and Lydden expert Terry Holmes as they battled for fourth.
Despite another fine performance by Scott Pillinger in his self-built, supercharged Suzuki powered DSP, with sixth place he slipped to fourth on the table in the face of Smith's attack. As Robb begins his campaign for a third successive British title, he and Musson now round off the Championship top six after their first event in what promises to be a very competitive season's sprinting..
SBD MSA British Sprint Championship, round 2: 1 Stewart Robb (4.0 Pilbeam-Judd KV MP88) 64.55s; 2 Mike Musson (4.0 Pilbeam-Judd KV MP88) 65.34s; 3 Mark Smith (2.0 SBD Reynard-Duratec) 65.66s; 4 Terry Holmes (3.5 Lola Tegra-Judd CV T90) 66.47s; 5 Terry Graves (3.5 Gould-DFR GR37) 66.47s; 6 Scott Pillinger (1.3s DSP-Suzuki) 68.10s; 7 Graham Porrett (3.5 Lola-Judd CV T90) 68.10s; 8 Glyn Sketchley (1.5 Force-Suzuki PT) 68.57s; 9 Craig Sampson (2.0 SBD Reynard-Duratec) 69.07s; 10 Gary Thomas (1.4 Force-Suzuki PC) 69.08s; 11 Steve Miles (2.0 Van Diemen-Duratec RF96) 69.83s; 12 Steve Broughton (2.0 SBD OMS-Duratec 25) 70.33s.
Championship positions after round 2: 1 Holmes 21pts; 2= Graves and Smith 19; 4 Pillinger 17; 5 Robb 12; 6 Musson 11; etc.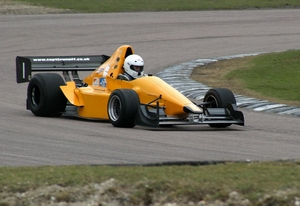 Stewart Robb opened his 2013 BSC account with a decisive win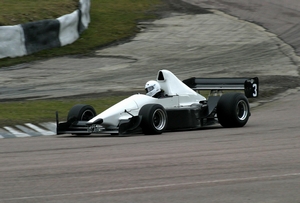 Mike Musson chased Robb hard to trail the defending champion by a single point
---
Holmes wins from Graves & Pillinger
Event 1 at Castle Combe on 23/03/2013
Terry Holmes (LOLA Tegra Judd) took the first round of the 2013 British Sprint Championship) at a very cold and damp Castle Combe from Terry Graves (Gould GR37) and a mightily impressive Scott Pillinger (DSP OMS).
Mark Smith, Steve Miles and Graham Harden (in his little Jedi) rounded out the Top 6 while special mention goes to Bill Gouldthorpe in 7th place in the SBD OMS CF08.
TOP 12 Run Off in detail:
Slicks had already appeared by this point (they had been general wear on Timed Run 2) as the track had already improved to make wets no longer a consideration and a dryer track was improving as each run went by. Some share drivers were being cautious to avoid any mistakes which would jeopardise their respective No 1 driver. Nonetheless Carole Torkington cleverly (she's seen lots of Top 12s over the years) made sure she secured her "banker" on Run 1 and then improved that still further on Run 2. Two runners sadly had to rely on the first run time alone. One was Graham Porrett who having set a midfield time after Run 1 had to abort Run 2 when the clutch said "enough" to him during that run. Another was most unfortunately Steve Broughton whose gearbox electronics took on a mind of their own mid corner at Camp leading to an infield "off" after an unexpected down change which contributed to the front wing becoming detached, meaning Run 2 could not take place.
Matt Hillam put in a steady banker Run 1 but improved noticeably still further on Run 2 to secure 9th. Phil Lynch's times were a little better than Matt Hillam's and beat him by a tenth to manage 8th. Bill Gouldthorpe made little improvement, strangely, from Run 1 to Run 2 but finished his best ever in a Top 12 Run Off in 7th. It was reported to me that over Avon Rise that Grahame Harden was the most committed, despite the cold still damp track, and unbelievably managed to set the fastest 1100c car time ever around the Combe Sprint course! He deserved his ultimate 6th place in the Top 12, again a personal best finish.
Steve Miles managed to improve his time from Run 2 compared with Run 1 despite his engine retaining its peculiarity with number of functioning cylinders (it for example came out of Camp strong on 4 cylinders which reverted to 3 as he changed to top) and managed to beat Grahame Harden by 7/100ths! Quite how he achieved the times he did I still find a puzzle but 5th he was. In 4th was Mark Smith, improving least of all, of the top runners from Run 1 to Run 2 but solid points to start his season. Scott Pillinger also secured his best ever Top 12 performance with 3rd at his "home" track and looked quick all day, a wonderful way to start his British Sprint Championship season! In 2nd spot was Terry Graves who made a big improvement in Run 2 despite his engine cover making a bid for freedom part way around and finished just a couple of seconds shy of the victor. This equalled his best ever performance from 2012 (from a competitor from the British Isles most southerly county, Cornwall, diametrically opposed to Colin Calder's most northerly county origins!) But the thoroughly deserved winner was Terry Holmes who required just his first run to set his winning time (and decided to forego his 2nd run after learning of his victory) but that run was thoroughly committed and showed Terry at his absolute best.
Results:
Terry Holmes (3.5 Lola Judd T90/50) 121.13s
Terry Graves (3.5 Gould – DFR GR37) 123.91s
Scott Pillinger (1.3s DSP – SBD Hayabusa) 129.20s
Mark Smith (2.0 Reynard - SBD Duratec DB Mk 1) 130.85s
Steve Miles (2.0 Van Diemen- SDB Duratec RF 96) 135.55s
Grahame Harden (1.1 Jedi- Yamaha R1 Mk 6) 135.62s
Bill Gouldthorpe (1.6 OMS – SBD Hayabusa CF08) 140.17s
Phil Lynch (2.0 Dallara – Vauxhall F399/001) 141.62s
Matt Hillam (2.0 Reynard - SBD Duratec DB Mk 1) 141.74s
Steve Broughton (2.0 OMS – SBD Duratec 25) 143.82s
Graham Porrett (3.5 Lola Judd T90/50) 146.63s
Carole Torkington (1.6 OMS – SBD Hayabusa CF08) 150.04s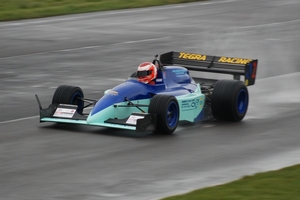 Terry Holmes in wet practice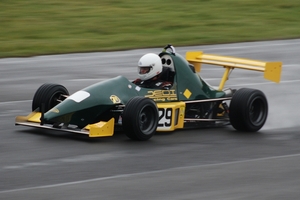 Grahame Harden's Jedi MK6
---
Back to Top