HSA REPORTS
---
WET WEATHER - HOT COMPETITION
Event 33 at Curborough on 14/10/2018
The HSA reverted to Curborough's 1-lap course for the traditional end-of-year meeting, which culminated in the traditional Alan Payne Memorial Trophy class winners' run-off. Unfortunately, unlike the previous day on the figure-8 course, the weather gods failed to smile on the event and persistent rain put a bit of a damper on proceedings as well as on the commentator's PA system, which failed to function. Competition was as fierce as ever, though, and the previous day's winner, David Tatham, had another good day with a class win, second FTD and victory in the Alan Payne run-off with a 35.41, a massive 1.66s improvement over his class winning time aboard his OMS Hornet.
The previous day's third FTD man, Alan Mugglestone, was trying out his effective Pirelli wets in anger for the first time and splashed through the puddles to set the outright pace in 35.33s, almost two seconds clear of Tatham. As we've seen, the OMS driver closed to within eight hundredths of that time in marginally better conditions during the run-off, when Mugglestone spun at Fradley Hairpin, recovering to set a time that, not surprisingly, put him well out of the running.
There were only two Mazda MX5 class runners this time, but after Ken Morris had taken the win to consolidate his Championship class win and sixth place in the overall standings, he found another eight tenths or so to finish runner-up in the run-off. With just under threequarters of a second improvement, Roadgoing class winner (by fifteen hundredths from Dean Cubitt's MX5) and motorsport all-rounder Gordon Hick took third place in the run-off in his Ford Focus RS.
Elsewhere in the classes, Rob Thomson took another class win to end his Championship year with the class victory and fifth overall. After finishing third the previous day in a competitive ModProd Specialist class, HSA chairman Chris Howard-Harris slumped to fifth place in the wet but still ended his season ninth on the overall table and second in the class championship aboard his Caterham-K Superlight, one place ahead of John Loudon who spun out of the reckoning on his second run. Winning the class championship and finishing one place ahead of CH-H on the overall table was Adam Phelps who finished second in class, less than two seconds behind FTD man Mugglestone, to take third FTD in his Megabusa.
The top two Championship finishers had a real set-to in Class U2. 2018 champion elect Geoff Stallard's early lead in the Vixen was overturned in this final class of the day when series runner-up Andrew Webber stormed past in the Europa V8 to snatch the win by just twelve hundredths of a second.
A full report and pictures will appear in Speedscene 201.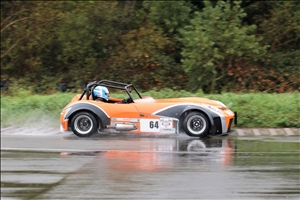 Alan Mugglestone splashes to FTD (Steve Wilkinson)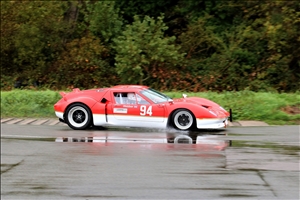 Andrew Webber sneaked past new champion Geoff Stalllerd on his last run in the Championship (Steve Wilkinson)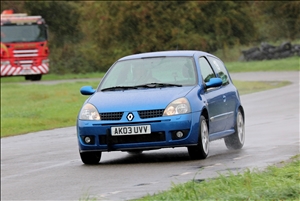 New Welsh Sprint and Hillclimb champion Rob Thomson took his second class win of the weekend (Steve Wilkinson)
---
TATHAM SETS FIGURE-8 PACE
Event 32 at Curborough on 13/10/2018
The HSA's first venture on to Curborough's figure-8 course as an organising club proved a great success. After early rain for practice had given way to fine weather for the competition runs, no less than five HSA class records were reset. At the start of a successful weekend for the OMS Hornet-Suzuki driver, David Tatham took a clear FTD on 52.35s from 1100cc racing classmate Richard Arrowsmith's Force-Suzuki PC. Third overall was Alan Mugglestone, on his first outing of the year in the Raw Fulcrum and demonstrating the effectiveness of his new Pirelli slicks to win a well supported Modified Specialist Production class from Adam Phelps' Megabusa by threequarters of a second, with Phelps on HSA record pace with a 56.43.
The first driver to post a new entry in the HSA record books was Rob Thomson. Fresh from his outright victory in the 2018 Welsh Sprint and Hillclimb Championship, in which he was runner-up last year, the Renault Clio 172 Cup driver won the opening class of the day' for Standard Roadgoing cars, taking just a single 70.90s run. Despite having to settle for second place behind Nick Lear, Mazda MX5 driver Ken Morris carved over half a second off his own record for Class 2.1, leaving it at 70.30s. Although the non-registered Stuart Hill won the combined Roadgoing Specialist class in his Westfield, HSA Championship class leader Lee Gavins was also a record-breaker on 68.45s in his Tiger R6.
With his son Alex away contesting the FIA Hillclimb Masters in Italy, the non-registered Richard Summers had stayed at home to contest the HSA Curborough sprint weekend in his elderly Formula Ford Van Diemen and took the win, but two drivers ran inside the HSA record in a hard fought division. Despite being three seconds adrift of the winner, Curborough newcomer Charlie Reilly snatched fifth overall with a 65.76, a hundredth of a second clear of former record-holder Russell Haynes' Zeus.
Simon Bainbridge established a new HSA Sports Libre record not in his SBR Chrono V8, but in his Audi S3. Although not competing the following day, this would be enough to edge out Fyrth Crosse on the Championship table and end the season in third place overall. With the top two Championship placings already confirmed, both drivers came from the U2 classic car class and duly finished in the appropriate order, Geoff Stallard out in his newly fuel injected TVR Vixen-Ford for a change and taking a four tenths win from Andrew Webber's fearsome Rover V8 powered Lotus Europa 47D/62.
A full report and pictures will appear in Speedscene 201.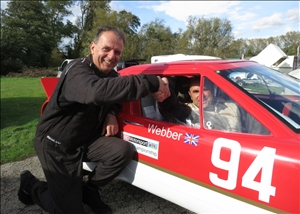 Geoff Stallard and Andrew Webber (in car) - already confirmed as the Championship one/two (Chris Bennett)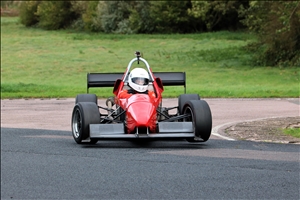 David Tatham set the outright pace on the figure-8 course (Steve Wilkinson)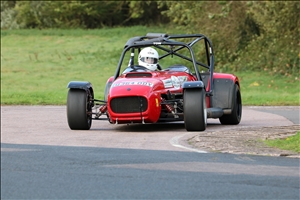 Class winner Adam Phelps set fourth FTD (Steve Wilkinson)
---
Stallard (provisionally) takes Championship and Bickley takes FTD at Shelsley
Event 31 at Shelsley Walsh on 15/09/2018
On the first day oft Shelsley Walsh's Auntumn Finale meeting Geoff Stallard provisionally became the 2018 SBD HSA Speed Champion by winning his class and setting a new HSA Class record, achieving an unbeatable 9 perfect scores. After competing in the HSA Championship for many years before taking a break, Geoff returned this year without any major designs on the Championship. After a few good early season results he realised his calendar was going to take in many HSA rounds so decided to mount a serious challenge. With Nick Stephens' 34.49s record as his target Geoff put in a 34.44s run on T1 to secure the title.
Stuart Biclkey in his rapid Jedi took a surprising but entirely merited FTD. With some of the larger cars having to withdraw including Tina Hawkes Force PC (with a troublesome ECU) and the new Simon Andrews/Bernie Kevill OMS 28/TKD V8 having its inaugural outing (loose front wing mount) there were still plenty of rapid cars left to contest FTD. Finally it was down to a shoot out between Bickley, Chris Jones' Force TA and Chris Green's OMS 28. After T1 they were separated by a couple of tenths and on T2 Stuart (still running his MIRA gearing) threw the little Jedi into Bottom Ess, brushing the bank on the outside but still improved to a 27.08s and then Chris Jones, well up on the split, understeered wide in Top Ess and crossed the line 8 hundredths back on 27.16s. Then Chris Green stormed up the hill to record a 27.15s for second FTD. More than one driver of a larger/more modern car was heard to say "I've been beaten by a Jedi!"
Elsewhere Ben Wilamowski having his first season had fitted quicker tyres (Toyos) to his BMW and was finding it much faster and even more enjoyable. Carole Nicholls, running her Father's Nike FF, had set an objective of PBs at every venue this yearr. At an earlier Shelsley meeting that didn't happen so a return was decided upon with eventual success in the Formula Ford Class won by Russell Haynes Zeus (33.96s).
Colin and Sarah Davies, having swapped their Roadgoing Production BMW for a Standard Class Civic Type R, continued to have a good season becoming more accustomed to FWD and the Hoda's revvy (9,000 rpm) engine. Martin Rutter had finally got the Colotti gearbox fitted and working in his X1/9 but was still experiencing problems geting from fourth to fifth.
In the absence of Andrew Cottrill's Impreza (blown engine) it was left to Chris Berrisford to take a straighforward win in the Series Production class with his similar car on 31.46s. John Bradswaw is realling getting to grips with his 'new' Westfield and was very pleased with his 30.43s and 30.44s runs to easily win the Kit Car Class.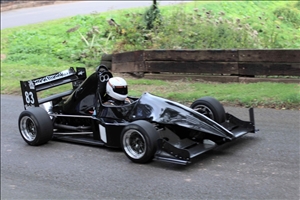 Stuart Bickley took an excellent FTD (A Mitchelmore)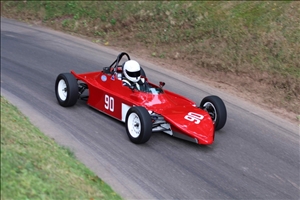 Russell Haynes' Zeus won the FF Class (A Mitchelmore)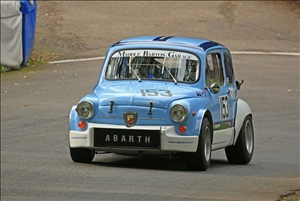 Philip Jones' delightful Fiat Abarth 1000TC (Rob MacDonald)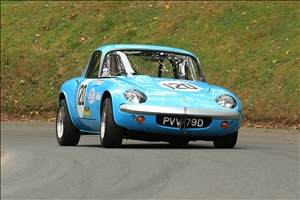 Geoff Stallard's Elan on fine form (Rob Maconald)
---
Webber inches closer
Event 30 at MIRA on 08/09/2018
Of the top three contenders for the 2018 SBD HSA Speed Championship only Andrew Webber (in the Europa 62R for this event) made the trip to MIRA for Round 30 of the Championship. Although Andrew managed to break the exisitng Class record he was pipped for the Class win by Mike Henney's Elan S3 (a fine 58.38s) and the lost point could prove crucial at season's end.

Rob Thompson again proved the suitability of the Clio 172 in the Standard Class by breaking the HSA class record and scoring well. Competitors in the other classes were some way off the pace, conditions playing their part.

FTD went to Derek Sweeney in his OMS 2000M on 43.91s.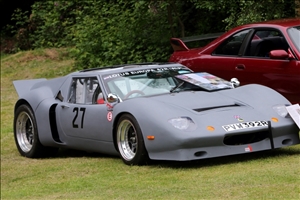 Andrew Webber's Lotus 62R while under development (Mike Stokes)
---
MAC MIRA Sprint on 8 September - A second report
Event 30 at MIRA on 08/09/2018
MIRA has been in the national news over its plans to build a new autonomous-vehicle test facility close to the site of the Battle of Bosworth, but enthusiastic drivers were in charge on the Dunlop Handling Circuit. MAC had attracted only 45 starters, no doubt affected by a clashing event at Curborough. 17 HSA contenders gathered, on an Autumnal morning with rain threatening.
1100cc racing cars set the outright pace. Derek Sweeney was adapting to a change of performance, having competed in a Riley Brooklands the previous weekend at Bo'ness. At the lunch break after two runs he was fastest overall, and having secured maximum points in the MAC Sunrise Sprint Championship he put the OMS 2000M on the trailer, saying the car was undergeared for such a fast venue and wanting to save the engine. On his third timed run Stuart Bickley improved by over a second to snatch FTD on 43.30 in the Jedi TDF. Richard Arrowsmith (Force PC) took the unofficial honour of fastest through the speed trap at 133 mph.
Road going saloons up to 2000cc was won by Nigel Trundle (VW Scirocco), less than three tenths ahead of Shane Dyson (Renault 5 GT Turbo). Running in this class Rob Thomson added handsomely to his HSA points score, going almost 3 seconds under the record in his Clio Cup. Sports cars up to 2000cc was won by HSA contender Michael Henney (Elan S3), just 0.02 ahead of Dean Cubitt (MX5). In the over 2 litre roadgoing production class late entry James Hunt took a comfortable win in the E30 BMW. The Class B1 Road Going cars was won by former HSA champion John Palmer. The combined B2 and Class D modified specialist production class was almost exclusively populated by Westfields, apart from David Bickley's Sylva Striker. HSA contender Adam Phelps took the combined class in his howling Megabusa Westfield. Steve Barnard in the Audi TT Spaceframe dominated the next class, of modified series production and sports libre cars, while Andrew Webber's Lotus Europa 62R continued to attract much interest.
Mark Schlanker won the over 1100cc racing car class in his OMS 2000M, leading home ex MIRA supremo John Wood (Dallara F397/8), and Kerry Wayne in the Magnum 843. Class M1 for classics was run on handicap, with Callum Barney (MG Midget) getting closest to his target, only 0.29 secs away. Despite his best efforts HSA contender Graeme Williamson (Hillman Imp) had to settle for third in class, 1.99 seconds off his handicap time.
With only 45 starters and no significant incidents the day's action was over by 1:30.
David Oldridge

---
GURSTON ROUND ABANDONED
Event 29 at Gurston Down on 26/08/2018
Round 29 at Gurston did not take place as the meeting was abandoned following heavy rain, which made track conditions unsafe.
---
Goulding's FTD at Hethel
Event 28 at Hethel on 05/08/2018
Pete Goulding took FTD at Hethel on August 5th with his highly developed Mygale M13 Ecoboost (61.64s) at the Borough 19 organised Sprint held over 1.7 laps of Hethel's South circuit.
Only 7 HSA competitors made the trip but four of them (Stephen Laing, Adam Phelps, Tonly Beesley and Pete Goulding) all won their classes - some by very narrow margins.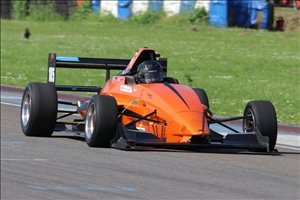 FTD for Pete Goulding at Hethel (taken at Pembrey earlier by Kim Broughton)
---
Stallard ahead as Hawkes takes FTD at Loton
Event 27 at Loton Park on 04/08/2018
Saturday 4th August was the season's second visit to Loton Park Hillclimb – the weather team had predicted another glorious day and no one was disappointed. A slightly slippy hill due to the preceding weeks rain showers was warming up by second practice and by timed runs there was plenty of grip and competition was fierce.
Geoff Stallard in his TVR Vixen this week was the only one of 19 HSA competitors to set a new record and, by so doing, moved further ahead in the HSA Championship. Tina Hawkes took FTD in her Force PC (49.13s) from Graham Wynn's Gould GR55 (49.59s) and Jack Cottrill's Force PT (50.20s).

In class A2 it was great to see Dean Cubitt make a return after his horticultural expedition at Wiscombe. Dean was on good form although his trusty MX5 had a few scars that are yet to be polished out! The class was won by Martin Ellis with a 62.51s with Nigel Trundle second, Dean Cubitt third and Alastair Clark fourth. Ken Morris was the only contender in class A2.1 posting a 65.96s against a class record of 65.51s before making the long cross country dash to Hethel. In class B1 it was Zoe Shearman's first time up the hill– father Anthony achieved second in Class. Martin Rutter was the sole HSA competitor in class C1.
A very competitive class D saw 4 current competitors challenged by a previous championship competitor – Tim Pennington made a welcome return to the hills and has promised to return to the championship next year. Tim won the class with 54.36s but the leading HSA competitor was Chris Howard-Harris 55.15s closely followed by Martyn Turner 55.52s, Lynn Gilbert 56.6s1 and then James Robertson on 57.61s.
Steven Potter in class I posted 54.05s, with Mark Schlanker in Class J on a best time of 53.34s. Poor Mark cooked on the start line for so long whilst a red flag incident was resolved that he may be reconsidering his all black wardrobe for next season.
Last but not least Russell Haynes day did not end well with a fail in the first timed run followed by an early bath – we hope to see Russell out again soon.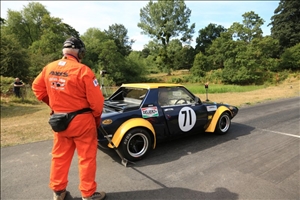 Martin Rutter's X 1/9 leaves the line (Rob MacDonald)
Another off track excursion for Dean Cubbitt (Rob MacDonald)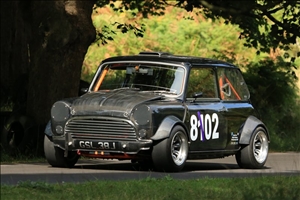 Lesley Bool's Z Cars Mini (Rob MacDonald)
---
WET WISCOMBE 2 !
Event 26 at Wiscombe Park on 29/07/2018
Well, if we'd thought Saturday was wet then nothing had prepared competitors for the Sunday monsoon. Overnight rain continued almost unabated for the whole of Sunday which, combined with high winds, made the whole day challenging. Sunday saw seven hardy HSA competitors brave the atrocious conditions and needless to say there were no records broken, rather more a case of keeping everything safe ready to compete another day. Again the HSA members were placed in a class of their own.
In class S1 Sarah and Colin Davies survived their first visit to Wiscombe with times of 56.92 and 55.77 respectively. Ken Morris in his MX5 (class A2.1) posted a 54.84 on his first timed run before significantly worrying himself with indecision at Martini on his second timed run. Enough said! Martin Ellis in the very nicely turned out Escort (class A2) posted a very creditable 51.90 and second in the HSA class. Paul Meadows in the lovely Renault Clio (class C2) posted 52.32 despite significant condensation issues on the inside of the side windows, which meant he couldn't see around the hairpins! Adam Pemble in the Toyota (class A3) managed 54.46 in very trying conditions. Finally Chris Howard-Harris took the class win with a 50.26 in the Caterham Superlight (class D).
Despite the conditions, everyone seemed to enjoy themselves and al left for home with cars and pride intact.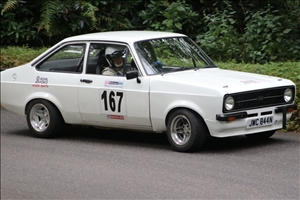 Martin Ellis in the Escort MK2 (N Cole)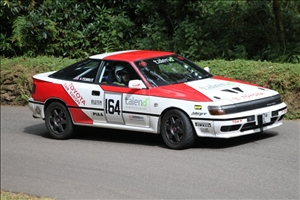 Adam Pemble's Celica GT4 (N Cole)
---
WET WISCOMBE 1
Event 25 at Wiscombe Park on 28/07/2018
After many weeks of glorious weather, the weather decided to change for the worse just ahead of the July Wiscombe meeting. Friday saw the first rain in East Devon for many weeks leaving the track damp for the first practice runs on Saturday. Ten HSA members made the trek to Wiscombe and were placed in a class of their own – this saw an interesting range of cars from single seaters through to an MX5. During the morning, hope that the track might dry were dashed when showers came through, but thankfully after lunch the track started to dry and the second timed runs saw some reasonable times being set.
Mark Schlanker, Ben Waine and Kerry Waine had a good competition in class J – Mark achieved 41.45, Ben 43.36 and Kerry 46.40 – the class record is 38.66 which is a mighty achievement on this technical hill. Dean Cubitt had entered A2 in his lovely MX5 but sadly practice 1 saw him disappear into the greenery. Dean was fine but the MX5 is a little worse for wear – hopefully both will be back out soon. James Robertson and Chris Howard-Harris had a good battle in class D where the record was 47.03. Both broke that record, James with a 44.62 and Chris with a 43.40; both good times in the testing conditions. Ken Morris in class A2.1 recorded a 51.62, Adam Pemble in class A3 a 49.02, Martin Ellis in class A2 recorded 48.55, Paul Meadows in class C2 a 48.16. Mark took the HSA class win closely followed by Ben and Chris.
Everyone agreed it had been an interesting day's motorsport with changing conditions throughout the day and no two runs in similar track conditions. Fingers were crossed and seaweed consulted, hoping that Sunday's weather would be better...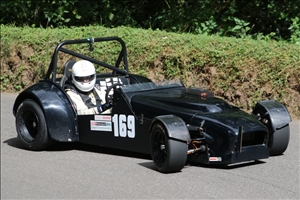 James Robertson with the Striker (N Cole)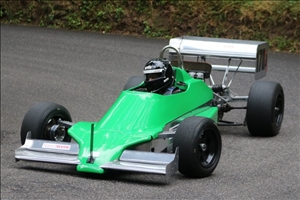 The Magnum 843 of Kerry Waine (N Cole)
---
Tatham's day at Blyton
Event 24 at Blyton Park on 15/07/2018
Day two of the Westfield SCC Blyton Sprint week-end took place on Blyton's Eastern course and David Tatham continued his good form by taking FTD with a 64.40s run (on his first timed run) in the OMS Hornet from the previous day's first and third fastest competitors Simon Bainbridge and Glyn Sketchley.
Only Leslie Wilson, Adam Phelps, Russell Haynes and Fyrth Crosse were able to set new HSA Class records with the latter's efforts being good enough to move him to within 8 points of championship leader, Geoff Stallard.
Elsewhere the results largely mirrored performances from the day before.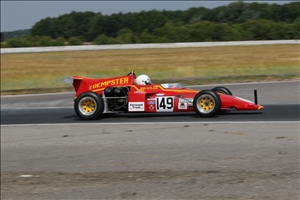 Fyrth Crosse in the Ensign LNF3 (Derek Partridge)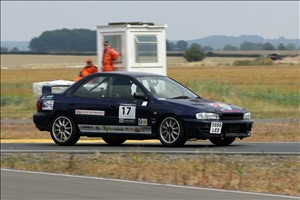 Chris Berrisford had a good week-end in the Impreza (Derek Partridge)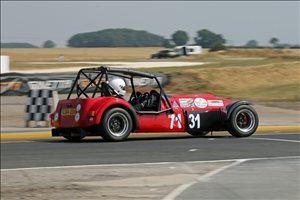 Two class wins for Adam Phelps' Westfield (Derek Partridge)
---
The Championship hots up at Blyton
Event 23 at Blyton Park on 14/07/2018
The 2018 SBD HSA Speed championship has begun to get very exciting. At the Westfield SCC Sprint week-end on the 15/15 July Geoff Stallard overtook Andrew Webber at the head of the standings and Fyrth Crosse closed up on the pair to make it a three way fight for the Championship.................for now.
The Saturday event was held on the outer circuit and saw Simon Bainbridge (getting in some practice for the British Sprint round in September perhaps?) take FTD in the mighty SBR Crono with a 59.01s run. He was followed by a very impressive and on form David Tatham in a 999cc OMS Hornet with a 60.08s and perennial FTD contender, Glyn Sketchley, with 60.80s.
Leslie Wilson got proceedings under way with his Renault Clio and was the only Standard Class runner but still set a new HSA record.

Not all competitors took up the option of the four timed runs on offer including HSA competitors, Chris Berrisford, Geoff Stallard and Fyrth Cross who did enough on their first two runs to set new HSA records - the former two also winning their classes. Both John Loudon and Adam Phelps (new HSA record) won their classes in their Westfields while Martin Pickles was back in his Jedi and trying to keep the flying Tatham in sight in the 1100cc racing car class.
Geoff Ward (not unusually) dominated the six strong Formula Ford class with his Swift SC93 with only Russell Haynes (Zeus) getting close to finish second and take a new HSA class record.

Simon Bainbridge took FTD in the SBR Chrono (Derek Partridge)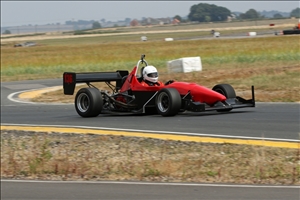 David Tatham was in fine form with the OMS Hornet (Derek Partridge)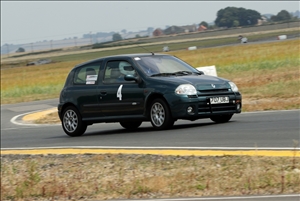 Leslie Wilson having fun in the Clio (Derek Partridge)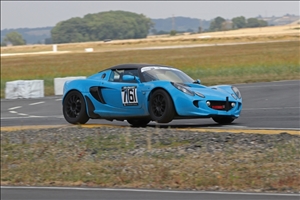 Duncan Fraser meets the Blyton kerb (Derek Partridge)
---
No change in the Championship at Lydden
Event 22 at Lydden Hill on 14/07/2018
The SBD HSA Speed Championship joined the British Sprint Championship for a Borough 19 organised full day Sprint at Lydden Hill.
In fact most of the HSA competitors were also entered in the BSC and the only drivers to set new HSA records were Matt Hillam and Steve Broughton in their Dallara and also finished one two in the Run Off. Most of the the HSA Championship front runners had decided to give Lydden a miss so there was no change at the top of the table.
Some of the closest battles on the day were in the ''Kit car'' classes where Dave Rayner''s Caterham just edged out David Hussey's Striker in the smaller class while Mark Cheevers'' Fury did the same to Stephen Laing''s Caterham (scoring good HSA points) in the larger one.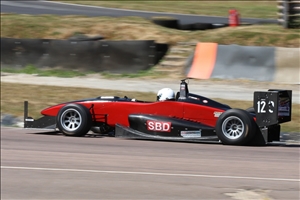 Steve Broughton in the Dallara (Kim Broughton)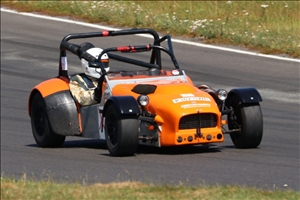 Daive Hussey's Striker (Kim Broughton)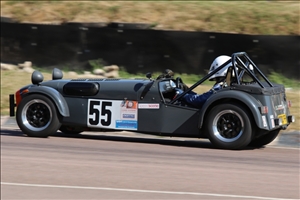 Stephen Laing scored well in his Caterham (Kim Broughton)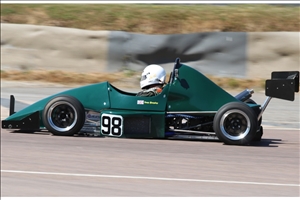 Tony Beesley won the 1100cc class in the Jedi (Kim Broughton)
---
BLISTERING BARBON!
Event 21 at Barbon Manor on 07/07/2018
A small but select gathering of HSA Championship contenders, seven in all, made their way to Barbon Manor to run alongside the British Hillclimb competitors on what turned out to be the hottest day of hillclimbing at the picturesque Cumbrian venue for many a long year. It's hard to say why the event has never drawn a particularly large HSA entry except perhaps that it's perceived to be a relatively far-flung venue. It is however very easy to get to, being not far from J36 on the M6 and once there, the journey is well worthwhile, even from West Sussex, as our chairman Chris Howard-Harris and his co-driver Lynn Gilbert would show! That it was such a hot day was ironic, as Liverpool MC had spent a lot of effort on extensive drainage facilities to combat the problems caused by a waterlogged paddock that had in the past caused not only the abandonment of so many events there, but even the last-minute cancellation of last year's BHC event. However it did mean that most of the HSA records, established in somewhat indifferent conditions on the relatively few previous visits by our Championship, were reset.
Running in the 'B' licence section of the meeting Nigel Trundle, a relatively local driver from Preston, was first into the HSA record books with 17 points in his VW Scirocco in Class A2, where he also took the win in the Barbon class for 2-litre saloons. Another Northern-based driver, Shane Dyson, ran third in the class behind John Pinder's Fiesta ST and picked up 16 points. Ken Morris was pleased to knock more than a second and a half of his own record in A2.1 driving his unfamiliar MX5 Merlot - it isn't a Merlot colour anymore!

The remaining HSA contenders were in the 'A' licence event and defending champion Justin Andrews was out in his Impreza, reshelled after the Gurston incident earlier in the year and now in a sombre shade of black, to collect another HSA record on his first run. His second ended in the outfield at Lafone Hairpin, fortunately without damage. Fellow Impreza driver Chris Berrisford, who was sharing his car with Steven Darley, was awarded the Barbon Roadgoing class win ahead of Andrews, although as he established an HSA C3 record for Modified cars and Darley, chasing Leaders points, ran the car in the Modified class anyway this writer is puzzled as to why the same car should run in two different Barbon classes!
Long distance traveller Chris Howard-Harris ran his Caterham-K series in the Roadgoing Specialist class when at Barbon three years ago. Now in the Modified class, he demolished Graham Mintram's Class D record by almost eight seconds although his time was no match for that of the flying Andy Griffiths, who set a new Barbon class record and retrieved his place at the head of the Hillclimb Leaders table after his damaging accident at Doune a fortnight earlier. Chris's co-driver Lynn Gilbert enjoyed her first visit to the venue, particularly as she was almost six seconds inside the old record! Finally, on this day of records at a sun-baked Barbon, Mark Schlanker and his OMS-Suzuki carved well over four seconds off Nick Scott's Class J record as he ran second to Guernseyman Andy Bougourd in the 1600cc racing class.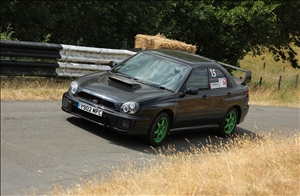 Justin Andrews was the first HSA record-breaker at Barbon (whitedogphotography.co.uk)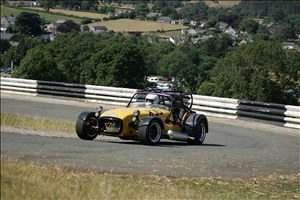 Lynn Gilbert has little time to look at the Barbon scenery (whitedogphotography.co.uk)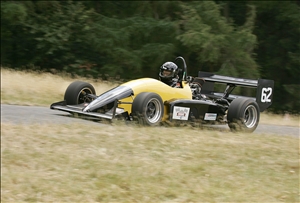 Mark Schlanker was another of the four HSA record-breakers (whitedogphotography.co.uk)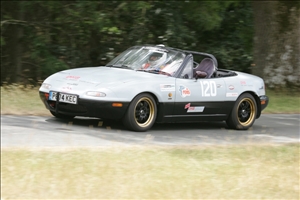 No longer Merlot! A new record for Ken Morris (whitedogphotography.co.uk)
---
Records targeted at Aintree
Event 20 at Aintree on 30/06/2018
A number of competitors arrived at Aintree intent on establishing new championship and course records. Some were successful and some weren't.
HSA Championship leader, Andrew Webber in his Elan +2, is already dropping scores so in order to extend his lead he needed to set a new record which he duly did. He was joined by Andrew Till, making the long journey up from Melksham, with his MG, Andrew Cottrill who is slowly getting the Impreza going the way he wants it and John Loudon in the Westfield.
John Graham was aiming to break the outright course record in his Gould and in the cooler and still morning conditions this was looking a strong possibility. In the end, though, and despite making one run with a 'no time recorded', he fell just short but took FTD all the same. Chris Jones was in a similar position in the 1100cc class and after morning practice Gary Thomas' long standing (course and championship) record looked to be under threat. However, hotter and windier conditions in the afternoon meant he fell short by a few tenths.

The meeting was well organised and slickly run by the Liverpool Motor Club and four timed runs were on the cards until an unfortunate incident where a Caterham had its steering wheel become disconnected at Bechers and visited the scenery, fortunately without harm to the driver, but causing the meeting to be suspended for a while.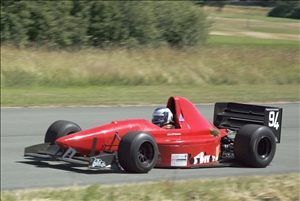 FTD went to John Graham's Gould (Richard O'Reilly)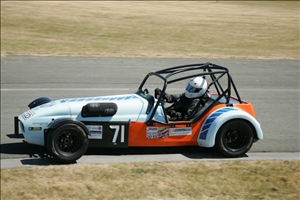 John Loudon in the Westfield (Brian Taylor)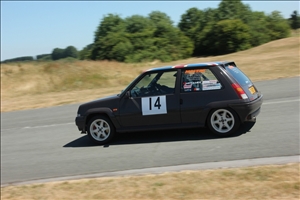 Shane Dyson's smart Renault 5 GT Turbo (Brian Taylor)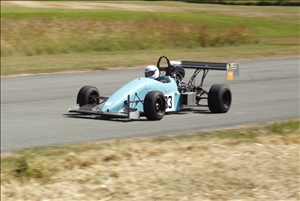 Craig Powers, OMS 2000M (Richard O'Reilly)
---
The heat is on at Snetterton as Stallard closes the gap
Event 19 at Snetterton on 24/06/2018
The second day of the Borough 19 Snetterton sprint week-end proved to be even hotter than the day before and by the time that timed runs came around most competitors were finding that the conditions had taken the best out of their tyres. Only Simon Bainbridge (SBR Crono), Geoff Stallard (Elan) and Paul Wells (still having problems with the Jedi but with only his Saturday time to beat) managed to set new HSA records.
Championship leader, Andrew Webber was present in his Elan +2 (having spent Saturday taking his daughter to the school prom in the first public outing of his Lotus 62) but Geoff Stallard was able to build on his Saturday win to keep ahead on the day and close to within 3 points of Andrew (dropping points now) in the Championship.
John Loudon (Westfield) and Stephen Laing (Caterham) again won their classes but this time John Palmer had Chris Hussey (in Father David's Striker) to contend with and fell short by just under a second.
Pete Goulding again won the Mygale battle but Graham Blackwell closed the gap from the day before and finished only just behind (and made the Top 12 Run Off). Finally, well done to Tony Beesley who took the B meeting FTD in his Jedi.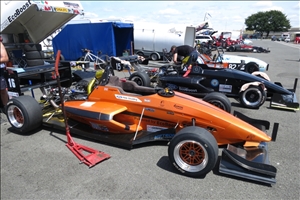 The Mygale Ecoboosts of Goulding & Blackwell (C Bennett)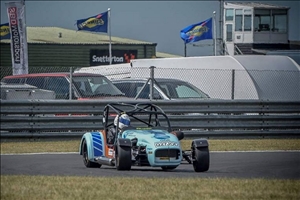 John Loudon took a class win in his Westfield (Heritage Snapper)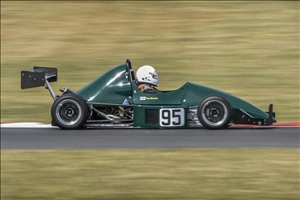 Tony Beesley (Jedi) took the B meeting FTD (Heritage Snapper)
---
PRESCOTT IN THE SUN - PART 2
Event 18 at Prescott on 24/06/2018
For the second day of the June Prescott double-header, 23 SBD-HSA Championship contenders gathered in even warmer weather than they'd enjoyed the previous day to run alongside Midland Hillclimb Championship competitors. Such were the conditions that three of them bettered the HSA records they'd set the previous day. The 2-litre Roadgoing Production class was the most popular division for our competitors, who fielded six out of the 19-strong entry, with three of them in the overall awards at close of play. Top Midland series contenders James Kerr and Richard Brant battled it out for the win in 205 and Clio respectively, but Michael Henney chased them hard to bag a close third place and 15 HSA points in his Elan S3, while the intrepid Martin Ellis in his Escort ran just eight hundredths shy of Henney to not only take the fourth place award but lower his previous day's HSA record. Having established a Prescott S1 record the previous day in his standard Clio, Rob Thomson promptly reset it for another 17-point score and at the end of a busy HSA weekend, which also included a double-header sprint at Snetterton, found himself sixth overall on the Championship table. Not surprisingly, Midlands big-hitters Roy Standley and Paul Harris took the top over 2-litre awards in their Mitsubishi Evos, but HSA man Adam Pemble took fifth in his Celica GT4, a tenth clear of Mike Andrews' burly Nissan GTR, for 8 HSA points.
There were two Imp engines in the opening ModProd class, winner Andy Russell's Ginetta and also HSA contender Graeme Williamson's Hillman Imp saloon, but the top SBD-HSA runner was Martin Rutter's Bertone Fiat X19, third in the overalll lineup. Out in his A35 today, Philip Stader consolidated that fifth place on the table in the 2-litre class, but the large capacity division saw more HSA record-breaking, Jason Tunnicliffe lowering his previous day's mark in the Peugeot to take not only another 17 points but the top class award as he overcame defending Midland champion Mike Turpin's supercharged VX220, pressurising the 5-times series winner into a rare second run spin. Third and fourth, Tunnicliffe's co-driver Tom Reeves and Lotus Esprit driver Nicholas Olson bagged 11 HSA points apiece.
With Ash Mason on record form to reset David Kimberley's Modified Specialist mark, which had stood for an amazing 16 years, and pursued by fellow National level contenders Simon Jenks and Steve Day, Chris Howard-Harris also found himself in the awards with fourth place and a 13-point HSA score aboard his Caterham Superlight K-Series, which left him in the overall HSA top ten. Simon McBeath headed the three HSA points scorers in a 7-strong Formula Ford class, but his Swift had to give best to class winner Simon Andrews' Van Diemen. Driving the sole car-engined machine amid a horde of bike-engined machinery, Championship third place man Fyrth Crosse was top HSA scorer in the 1600cc single-seater class in his classic Ensign F3.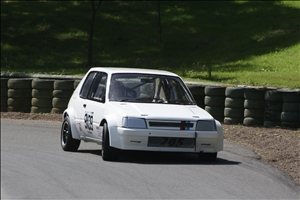 Class winner Jason Tunnicliffe was on HSA record form for the second day running (Derek Hibbert)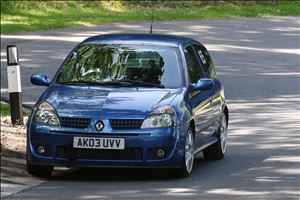 Rob Thomson reset his previous day's Class S1 record in the Clio (Derek Hibbert)
Martin Ellis - another to lower his previous day's record (Derek Hibbert)
---
Hot & sunny at Snetterton
Event 17 at Snetterton on 23/06/2018
The first day of the Borough 19 Snetterton sprint week-end was hot and sunny with the bulk of the SBD HSA Championship competitors also competing in the British Sprint.
With championship leader, Andrew Webber, not due to arrive until the Sunday, Geoff Stallard was keen to set a new HSA Class record in his Elan to keep up the pressure on Andrew. He succeeded and was joined by Simon Bainbridge (SBR Crono), Chris Jones (Force TA) and Matt Hillam (Dallara) who also set new HSA records.
Paul Wells was having a difficult day in the Peter Roberts' Jedi with electrical problems and the team even went to the length of converting from paddle to manual shift over the lunch break. Another Jedi experiencing problems was Nick Houston with his MK2.
Jeff Wiltshire made an appearance in his Zeus Challenger EVO 2. This is the same Zeus that produced the Formula Fords seen on the hills and the car is powered by a turbo 1500cc engine built around a Gen 1 Busa head, a custom block and Hewland transaxle. Needless to say it produces a fair bit of power and it proved to be competitive.
Former HSA champion, John Palmer (Westfield) and B19 committee member, Stephen Laing (Caterham) both won their classes while Ben Wilamowski was out for his third event (following Pembrey & Shelsley) and already looking into ways of making his BMW quicker. It doesn't take long!
Pete Goulding was ahead of Graham Blackwell in the Mygale battle, a reversal of fortunes from Pembrey. Although both cars are the same model the two drivers have gone different ways on set up with Graham opting for the stiffly sprung option.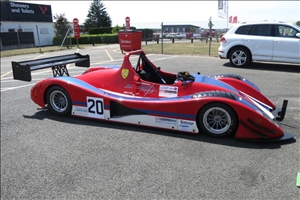 Jeff Wiltshire's Zeus (C Bennett)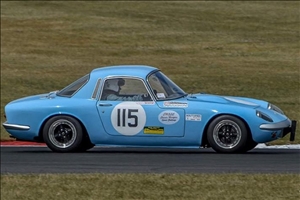 Geoff Stallard set a new HSA record in the Elan (Heritage Snapper)
The Channel Islands sand racers provided variety. This is Scott Rayson (Heritage Snapper)
---
PRESCOTT IN THE SUN - PART 1
Event 16 at Prescott on 23/06/2018
No fewer than 37 HSA Championship contenders turned out among the cherry trees in a sunny Prescott paddock for the first day of the Cotswold venue's popular June double-header. This 'Midsummer Melange' meeting had a unique range of classes, the biggest being that for the HSA contenders, four of which, however, opted to compete in the MAC Sunrise Speed Championship class. Of these, Phil Stader, opting to bring his Midget out of his extensive collection and share it with the MAC's David Nursey, was the top scorer. With more points in his A35 the following day, he would finish the weekend lying in a Championship fifth place. Top scorers in the massive, 35-strong HSA class, all of whom collared the 17 points by breaking their respective HSA records, were Andrew Cottrill, his corner-cutting Impreza leading home Tim Richardson's Elise in A3; Martin Ellis in his Mk2 Escort, who outpaced his fellow A2 runner, the now Honda S2000-mounted Dean Cubitt, by over two seconds; Andrew Till's distinctive MG Rover ZR105 and Jason Tunnicliffe, the Peugeot driver managing to steal four tenths over Chris Berrisford's Impreza in A3. Fyrth Crosse and Rob Thomson were the next highest scorers, both on 15 points. A tenth of a second outside his own HSA class record, F3 Ensign driver Crosse would add to his score the following day to end the weekend third overall on the series table, while Thomson established a new Prescott Class S1 record, having got both himself and his absolutely standard Clio well warmed up after a series of 'red flag' re-runs!
It was single-seaters versus 'Locaterfields' to the fore on scratch in the dedicated HSA class. Stephen Potter set the outright pace in his OMS with a 42.58 while experienced National campaigner Simon Jenks, although not registered for the Championship, closed to within half a second in his Caterham-Suzuki. Despite a problematic first run, Mark Schlanker carved through the field for third place in his OMS-Honda to edge out the flame-spitting Westfield-Vauxhall of 2007 HSA champion John Bradshaw. Bradshaw in turn headed HSA chairman Chris Howard-Harris as top scorer in the Modified Specialist Production group, Class D enjoying the biggest support with six cars. Simon McBeath led the way in the 4-car Formula Ford scrap, almost a second clear of Charlie Reilly in a Swift/Van Diemen duel.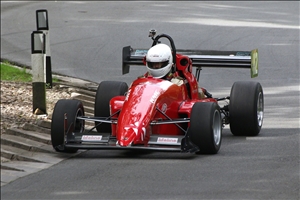 Stephen Potter set the outright pace among the HSA competitors (Derek Hibbert)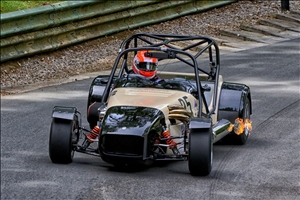 John Bradshaw's flame-spitting Westfield headed the Class D runners (Derek Hibbert)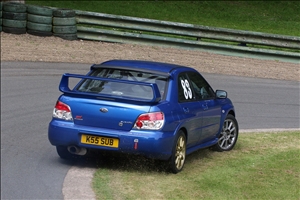 Andrew Cottrill cuts Ettore's fine on his way to an HSA record (Derek Hibbert)
---
Debbie Dunbar first lady to take FTD at Shelsely
Event 15 at Shelsley Walsh on 17/06/2018
The track was dry and after five days of use in as many weeks, it should have been in good fettle, but times proved to be slower than expected. At about 3pm there were just a few spots of rain, although these were so few and light that they could not be detected on the bonnets or windscreens of the cars in the paddock.
In the standard car (up to 1400cc) class, HSA drivers filled the top 4 places, Leslie Wilson winning in his Clio and reducing the HSA class record by almost 2 seconds! Colin Davies (Honda CivicType R) was also below the old HSA class record one and a quarter seconds behind. HSA man Martin Ellis won the 1400 to 2000cc class in his Escort Mk 2, half a second ahead of Adrian Read's Elise. Andrew Cottrill made it hat-trick for HSA by easily winning the over 2-litre class in his Impreza (by more than 5 seconds!!) and also broke his own 2013 HSA class record so gaining him 17 championship points and 5th place overall in the championship.
Anthony Shearman (Caterham 310R with 'standard' 150bhp Ford engine) continued HSA's winning streak in class B1/B2 for road-going specialist production cars by a tenth from the Tiger R6 of Lee Gavins. Lee had been leading the class after the first runs, but a 'clean' (no damage) spin in the Esses on his second run let Shearman get ahead.
In the Modified Prod cars upto 2 litres, the impressive Sarah Bosworth (Elise, of course) yet again showed the men how to do it - winning the class by almost a second – pity she is not an HSA member! In the over 2-litre class Chris Berrisford's Impreza was fastest of the day at 31.28s – until the single-seater boys and girls did their stuff. But Chris won the class with a full one-second advantage over runner-up Keith Bristow (Exige V6). In class D for Modified Specialist Production Cars, the 1-litre Raw Striker of HSA driver James Robertson took a narrow win over Chris Goodreds' 2-litre Caterham. Paul Batey (HSA - 1000cc Rawlson Space-frame Stiletto) won his class by almost three seconds over 2-litre opposition.
The only real drama of the day was provided by Karl Schollar in his amazing 6-wheeled Spectre in the up to 1100cc racing car class. In practice he had an intermittent loss of power which he thought was likely to be an electrical/wiring fault or perhaps spark plugs. Unfortunately the plugs are easily accessible in that car, so it was unlikely that things would be any better on the timed runs. Actually they got much worse. On the approach to kennel bend the go-kart inspired machine visited first the left-hand bank and then nosed into the right-hand bank to its detriment – had the engine suddenly found full power again? Fortunately, no injury to the driver – except his wallet perhaps. Clive Austin (Empire Wraith) took the class win in 28.67, with HSA driver Steven Potter (OMS 2000M) just 0.6 seconds down.
In the over-1100cc racing car class, the women were the sensation of the meeting. First, Lindsay Summers (HSA) shot up the hill in her 2.5 litre DJ Firestorm in 28.34s to record the fastest time so far, only for her co-driver Debbie Dunbar to post an amazing 26.88s. Both ladies went quicker still on their second runs with Lindsay posting a 28.08s followed soon after by Debbie setting FTD in a terrific 26.46s run – it looked ever-so quick!
In the classic and one-make classes, Geoff Stallard (HSA) was fastest in his highly modified Elan (35.24s) but Bill Drysdale's Porsche 904 (38.99s) won on handicap. Sarah Thorne in her Lotus 61/69 special won the classic racing car class on handicap (34.64s) with Keith Harris (Chevron B25) recording the best time in the class in just under 30 seconds.
Tom Whittaker in his glorious Aston GT4 won his AMOC Championship class.In the Morgan 8 class, Peter Garland had difficulties on the start line. He aborted his first start when the traffic lights went from green to red just as he set off, so he was given a second attempt. Then the car stumbled as it left the line and stopped before the rear wheels had crossed the start line – so a false start and he was given a third attempt! That was no better – worse in fact, as again the engine bogged down and he stopped again, but this time his rear wheels had crossed the start line by about 1 inch, so he was given a failed run. At the 2nd timed runs, there were no problems for him, the Morgan rushing up the hill in a most impressive way to record 32.11s and the class win.
In the Welsh Association of Motor Clubs Trident Championship class there were just three entries with the win going to the supercharged Elise driven by Ben Burggraaf. Tim Pennington won the Westfield SCC class in 31.36s. The meeting concluded with 13 Triumph cars of TR3/TR4/ Dolly Sprint/Vitesse/GT6/TR6/TR7/TR8 varieties. Unsurprisingly, Steve Small's 4.6 TR7V8 won in 34.67s, more than 4 seconds quicker than runner-up Nick Smith (TR6).
Of the 18 classes run by MAC, six were won by HSA drivers and one was 2nd FTD.
The new record at Shelsley? In a 113-years, Debbie Dunbar became the first lady to win Shelsley outright – congratulations Debbie – your name will, for ever, be in the list of Shelsley FTD winners.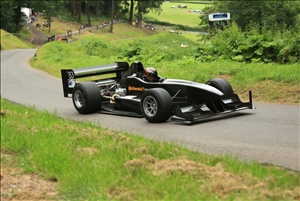 Debbie Dunbar set an historic FTD in the DJ Firestorm (R McDonald)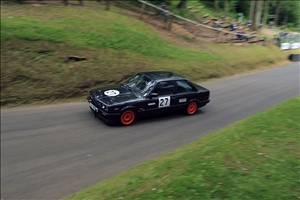 Ben Wilamowski guides his BMW through the Esses (R McDonald)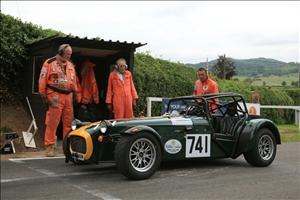 Anthony Shearman, class winner in the Caterham 310R (R McDonald)
---
Records tumble at Curborough
Event 14 at Curborough on 10/06/2018
HSA Speed Championship enjoyed a successful day at the Owen Motoring Club's traditional Graham Hill Sprint held on the Corborough Fig 8 course.
Leslie Wilson, Nick Tearle (both in Clios), Andrew Cottrill (Impreza), Geoff Stallard (TVR), Andrew Webber (Elan +2), Mike Henney (Elan), Philip Stader (Alfa), Steven Potter (OMS) and Pete Goulding (Mygale) all broke the existing class records.
Chris Green took FTD in his OMS 28 with a 53.11s run from Pete Goulding's Mygale and Steven Potter's OMS.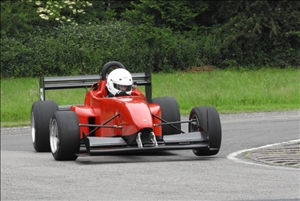 Chris Green lifts a wheel on his way to FTD (Melvyn Cox)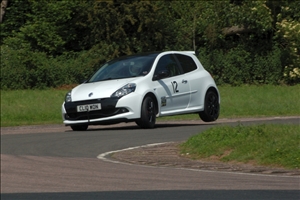 Mark Williams tries to lift 2 wheels in the Clio (Melvyn Cox)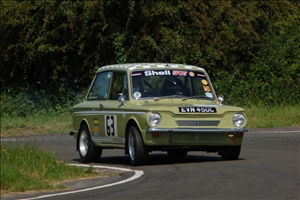 Marin Parkes' immaculate Imp (Melvyn Cox)
---
Stallard halts Webber's charge at Pembrey
Event 13 at Pembrey on 03/06/2018
By completing a Pembrey maximum score double Geoff Stallard halted Andrew Webber's increasing lead in the SBD HSA Speed Championship. In the battle of the Lotus Elans Geoff came out on top again on the Sunday leaving Andrew (who is already dropping scores) unable to increase his Championship lead.
The same 28 HSA stayed on for Day 2 of the Pembrey Sprint week-end and enjoyed even warmer weather which caused many competitors to 'plateau' andstruggle to improve their times. One such was Adam Phelps (Westfield Busa) who was frustrated after recording indentical practice and T1 times and go slower on T2 - but he still came out on top of all the HSA Class D competitors including former champions Howard-Harris and Bradshaw and John Loudon who was second. Elen Worthington overcame thie problem by putting on slicks for T2 in her Elise and found 3.5 secs! Also going quicker was Ben Wilamowski having his first ever Sprint week-end (and lots of fun) in his perfectly standard BMW 318is - it would have eligible for the Standard Class except for its age.
Also setting new HSA Class records were Simon Bainbridge (SBR Chrono) and Robert Thomson (Clio).
Anthony Shear an used his extensive racing experience to get his Caterham commendably close to Mike Smith's Striker while in the 1100cc Racing Car class Chris Jones continued to dominate but Martin Pickles reversed the order from Saturday to finish second ahead of Chris Bennett. In the battle of the. Mygales Pete Goulding closed to within half a second of Graham Blackwell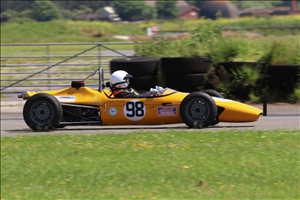 Carole Nicholls enjoying Pembrey in her Nike (Kim Broughton)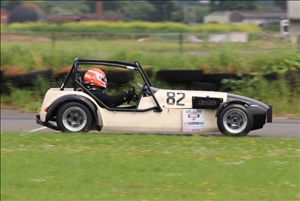 John Bradshaw is still getting to grips with his new Westfield (Kim Broughton)
---
Too hot in Wales?
Event 12 at Pembrey on 02/06/2018
It was great to catch up with fellow HSA Members whilst sitting outside the circuit gates on the Friday afternoon before the Pembrey Double Header, but that was all that was good about it. Once in to the venue we all settled down to a good weekend's competition.
A large entry, problems with timing equipment, and limited track visibility from the control tower, lead to a slow day on the Saturday, with entrants in the Paul Matty series once again concerned about whether they would get their second timed runs before the curfew. Happily everyone got their runs and times improved throughout the day on a warm dry track. However despite the good conditions, with the exception of Robert Thomson in S1, Geoff Stallard in U2 ,and Chris Jones in Class I, none of the HSA competitors could beat the existing Class records.

Rob Thomson won his Class on the Saturday moving the S1 Class record on and Geoff Stallard beat his own longstanding U2 record on the Saturday to earn maximum points and hold back Andy Webber, who is currently leading the championship.
Chris Jones also won his Class, with dual drive partner Chris Bennett making it a one two on the Saturday. Chris Jones also set a new Class I record of 97.07s after his main competition, Ian Parr, was sidelined following a spin in his Jedi which destroyed his starter (replaceable) and his clutch (a bigger problem)
Competitors on the Sunday paid the price for the slow running on the Saturday and practice was curtailed to one run, whilst the organisers caught up with the top 12 run offs from the previous day. Generally, due to the heat, times were slower on the Sunday and this was particularly noticeable on the majority of last timed runs.
Nevertheless a good weekend of competition, albeit there were a few organisational issues which marred the weekend for some.
Paul Meadows in C2 won his class on both days, but was left chasing the 115.04 set by Colin Satchell in his very rapid Peugeot 205. Similarly Adam Phelps in Class D drove well all weekend and was consistently in the 107's, but he still couldn't quite get to Matt Hillam's record of 105.42. It was good to see Matt and the SBD Westfield back out on track for the weekend.
Steve Broughton in Class K was second in Class on the Saturday with dual driver Matt Hillam taking 3rd behind him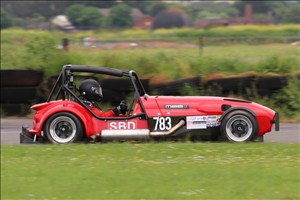 Zoe Kingham's first event in the SBD Westfield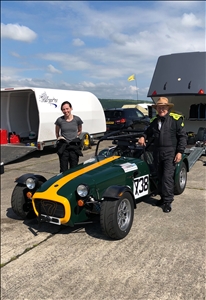 Dual drive duo Zoe & Anthony Shearman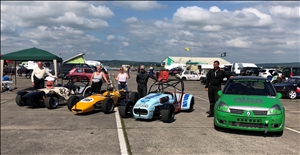 John Bradshaw,Carole Nicholls and Spanner (Hazel), John Loudon and Paul Meadows
---
Warm Wales assists front runners
Event 11 at Llandow on 12/05/2018
16 HSA members made the journey to Llandow in South Wales and the weather was kind to them – even though it rained the previous evening, the day dawned with sunshine to dry the circuit, although some would no doubt claim that first practice was damp, but at the point where it counts the timed runs were dry with occasional burst of sunshine. With such a wet start to the season we have all become a bit obsessed with the weather.
In class A1 we had Bob Ridge-Stearn in his new Fiat Panda and Andrew Till in the MG ZR105 94.30 competing against a very quick class record of 90.02.
In class B1 Anthony Sherman recently moved to B1 and dual driving his Caterham with daughter Zoe, ended on an 87.24, but Mike Smith took first in class on 86.43.
In the highly competitive class D, Adams Phelps won with an excellent 73.91, which goes to show how amazing the long-standing class record set by Matt Hillam of 72.54 really is. Adam was 4th overall on the day. Also in class were Chris Howard-Harris 77.36, Charlotte Phelps 79.44, James Robertson 79.86 and Lynn Gilbert 79.89. All 5 competitors finished in the top 12.
In class F Luke Trotman was first in class, and 5th overall, with his run of 75.48, which was agonisingly close to the class record of 75.38.
In U2 Geoff Stallard, Andrew Webber and Callum Barney all beat the existing class record of 101.6 – Geoff by over 12 seconds!
In class W Fyrth Crosse also moved the HSA record with his run of 80.69 against the Llandow record of 82.57
At this early point in the season Andrew Webber and Fyrth Crosse are leading the overall championship and their performances at Llandow have strengthened their position – however there is still a long way to go.
The championship moves on to Pembrey on the 2nd and 3rd June – lets hope Wales can deliver another weekend of fair weather.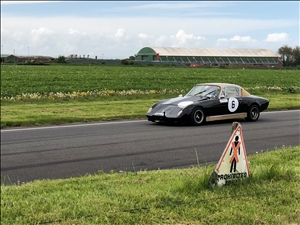 Andrew Webber breaking for Bus Stop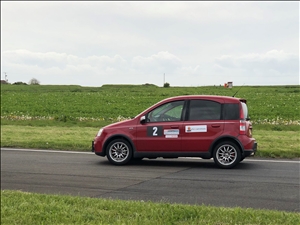 Bob Ridge-Stearn explores the limits of the Panda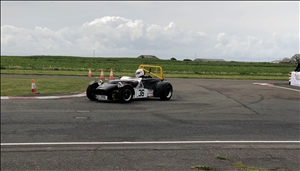 Mike Smith's Westfield through Bus Stop
---
Wheeler again at Werrington
Event 10 at Werrington on 06/05/2018
Ben Wheeler repeated his FTD performance from the Saturday on the second day of Plymouth Motor Club's May Werrington week-end with a 33.19s run in his Empire Evo 2. He was again followed by Andrew Forsyth (OMS CF04) and Mike Lee (OMS 3000M).
Martin Ellis (Escort MK2) and Andrew Webber (Elan +2) were both able to put their Saturday runs to good use by setting new HSA records on the Sunday. In fact the 1800cc Roadgoing Series Production Class saw one of the tightest finishesimaginable. Tony Wiltshire won in his Elise with a 41.72s followed by Saturday winner, James Hudson's Golf on 41.73s (set on T1) and Martin Ellis also on a 41.73s but set on T2.

Fyrth Crosse was unable to improve on his Saturday time but got close to score well. With Adam Steel not present on the Sunday it was left to Ben Bonfield to take the 1100cc Racing Car Class in his Jedi MK4.

Andrew Dinner reversed his Saturday position by taking a close win (0.10s) from Dave Gardner in the battle of the Pilbeams.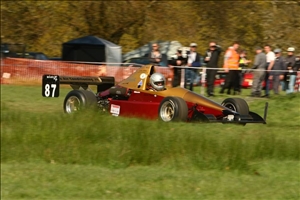 A class win for Andrew Dinner's Pilbeam (Howie Fowler)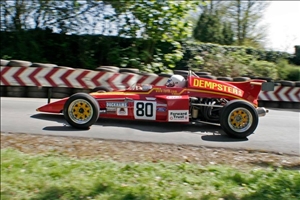 Fyrt Crosse had a successful week-end in the Ensign (Howie Fowler)
---
Wheeler's Empire on top at Werrington
Event 9 at Werrington on 05/05/2018
Ben Wheeler took his 1600 Busa engined Empire Evo 2 to FTD (33.50s) on the first day of Plymouth Motor Club's May Werrington week-end. He was followed by Andrew Forsyth's OMS CF04 (34.59s) and regular Wiscombe front runner, Mike Lee's 'new' OMS 3000M on 35.16s.
The very competitive 1800cc Roadgoing Series Production class saw the Class win go to James Hudson's Golf followed by Tony Wiltshire's Elise and a maximum HSA points scoring (new record) Martin Ellis' Escort who had it all to do on his second run after a fail on the first. Andrew Webber was in the same Class and again scored well to keep him well up in the HSA Championship.
Elsewhere, Adam Steel predictably won the 1100cc Racing Car Class in the very rapid Martlet AS1 while in the 1600cc Class Fyrth Crosse set a new HSA record in his Ensign LNF3 and in the 2000cc Class Speedscene columnist, Andrew Dinner (Pilbeam MP82), was narrowly beaten (by 0.08s) by Dave Gardner's earlier (MP62) model.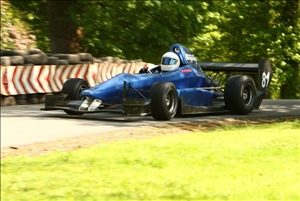 FTD went to Ben Wheeler in the Emoire (Howie Fowler)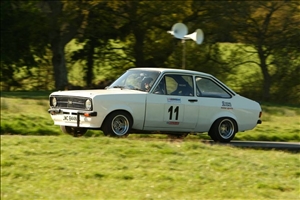 Martin Ellis was going well in the MK2 Escort (Howie Fowler)
---
Webber extends lead at Goodwood
Event 7 at Goodwood on 28/04/2018
Andrew Webber may only have been able to take a single run at Goodwood on April 28th but it was good enough for third in Class on the day and break the HSA Class record by seven seconds to secure maximum points and move even further ahead in the SBD HSA Speed Championship.

Ten HSA Speed Series entrants made it as far as a chilly south coast for the seasons 7th round at Goodwood to enjoy the sprint organised by Bognor Regis Motor Club. The event was full with a field of 100 cars filling the neat paddock bays. The season's weather continues to be unpredictable but fortunately torrential rain on Friday night was replaced with grey but dry skies on Saturday.
Andrew Till in a competitive class, took 3rd with his first timed run, beating his own A1 HSA record by 0.6 seconds for a maximum score. Mike Smith was sadly on his own in B1, valiantly battling his own class record, set before the recent Road Going tyre rule changes, but ended up 0.8 seconds off.
There was no existing record for Class D, so this was set by Chris Howard-Harris at 90.69s, Chris also took the class win, and 9th overall on the day. Clive Wooster was on his own in Class F and so was left battling with the single seaters for overall position. Malcolm Boorman in his OMS 2000M took FTD with a very rapid 80.01s, with the HSA's Bill Gouldthorpe in second with another maximum score; Bill beating his own existing Class record by nearly 2 seconds. Clive was 4th overall.
Behind the single seaters in the top 5 places came the Caterhams, who took up the remaining top ten spots, led by Rob Margel in his Caterham Hayabusa.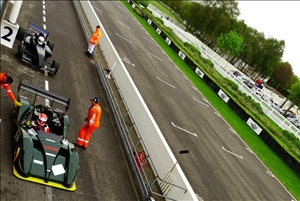 Clive Wooster readies the Radical for another run (Sean Barriskill)
---
Spring at last at Loton
Event 5 at Loton Park on 14/04/2018
The weather gods offered their first slight smile of the season at Loton, and despite the damp week before, Saturday dawned dry. The hill was inevitably and typically slippy for first practice, but in the afternoon the sun came out and actually started to put some heat in to the tarmac.
The entry list of 160 competitors and the green track led to a slow morning and a late lunch, with the event only rescued from an even later finish by the arrival of the sun. The pheasants at last learnt that motorsport can be dangerous and stopped wandering across the track.
Jamie Yapp, the sole HSA competitor in A1 was battling his own class record, eventually taking two seconds off it, and taking first in class.
The HSA S1 Class, competed in a large and competitive 1B class on the day, and although they could not trouble the front runners in 1B, Rob Thomson and Leslie Wilson beat the existing S1 class record in their Renault Clios, Rob moving it by over 3.5 seconds. Also in the same Class were Colin and Sarah Davies with their Civic Type R after a couple of seasons in a BMW.
Andrew Cottrill continued his run of moving his own A3 class records just south of their previous time, and also took the overall 1C Class win on the day.
Modified Specialist Production Cars saw a good battle between former HSA Champions, John Bradshaw and Chris Howard-Harris, with John taking the Class win, but it will take more practice, and a warmer day before Andy Dunbar's 52.44s class record is beaten.
In Classic Saloons and Sports cars Andrew Webber (Elan +2) and Phillip Stader (a very lovely Austin A35) both scored well and took over the top 2 spots in the HSA Championship.
It was a Summers day in single seaters with Felix Summers taking the merged Racing Cars Up To 600cc and Up To 1100cc Class in the DJ Firehawk with a 49.84s - good enough for second FTD and the only other driver to break 50s. Alex and Richard Summers, in the Van Diemen RF80, took first and second respectively in a massive, 15 strong Class 9A of Formula Fords, which included the HSA J1 Class. Alex's time was particularly impressive as it was only a few tenths off the FF record on what was a 'slow' day and in an older car.
FTD went to Will Hall with a 47.16s in the Force WH.
Top marks for entertainment goes to the Sidecars, not only do you have to think about you, the vehicle and the track, there has to be total trust and understanding between driver and co-pilot. Great as always to watch.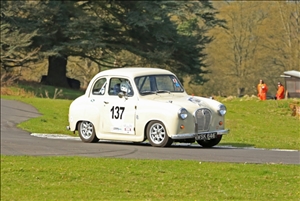 Phillip Stader's Classic Austin A35 (Rob McDonald)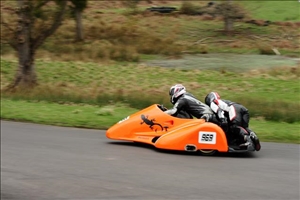 Sidecar entertainment at Loton (Geoff Robinson)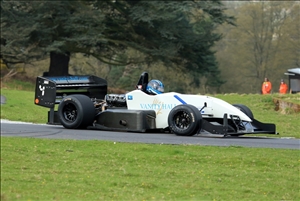 Will Hall took FTD in the Force WH (Ian Dowding)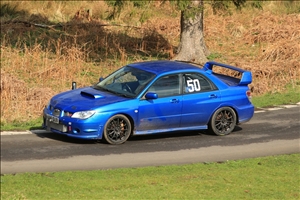 Andrew Cottrill was in fime form in the Impreza (Rob McDonald)
---
Sketchley Cleans Up Again at Anglesey International Circuit Sprint
Event 4 at Anglesey on 08/04/2018
Round 4 of the SBD HSA Speed Championship was held on 8 April 2018, using the longer International circuit, again organised by Longton and District MC. The conditions were warm and dry for the seven HSA contenders, and again up to six timed runs were on offer for those who wished to take them. This time only one runner appeared in (HSA) class A2, namely Alistair Clark ( Lotus Elise S1) on 117.27.
John Loudon again ran solo in Class D, setting a time of 91.61 seconds, (although he then improved to a very rapid 88.98 on T5).
The 5 HSA classic car class U2 runners all stayed for day two. This time, Geoff Stallard in the TVR came out on top with a time of 104.57, setting a new class record and edging out Andrew Webber ( Elan +2) on 105.89 and Philip Stader (Alfa Berlina) on 109.11. Mike Henney (Elan S3) recorded 109.18 and Callum Barney (Cortina GT) 120.73.
Glyn Sketchley scored another fine FTD with his 1298 cc Force PT, recording 84.00 seconds at an average speed of 82.79mph on his third timed run, and passing through the speed trap at an impressive 134.2mph.
Callum Barney's Cortina (Neil Lambert)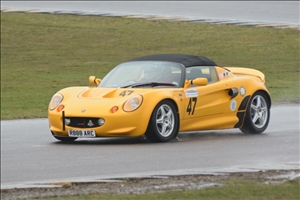 Alistair Clark's Elise S1 (Neil Lambert)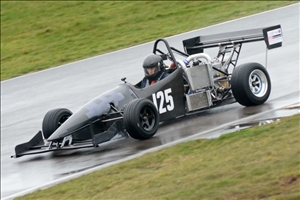 Two more FTDs for Glyn Sketchley
---
Cold and Wet Anglesey National Circuit Sprint
Event 3 at Anglesey on 07/04/2018
The National circuit at Anglesey was the venue for round 3 of the SBD HSA Speed Championship on 7 April 2018, although only one lap of the circuit was used on this occasion. The conditions were cold and wet for the nine HSA contenders, and up to six timed runs were on offer for those with sufficient stamina, although only the first two counted for championship points. Three of these runners appeared in (HSA) class A2, led by Neil Trundle (VW Scirocco) on 71.50 seconds, followed by Shane Dyson ( Renault 5 GT turbo ) on 75.10 and then Alistair Clark ( Lotus Elise S1) on 78.42.
John Loudon ran solo in Class D, setting a time of 67.64 seconds.
The classic car class U2 is staging a comeback this year, with no fewer than 5 HSA runners spread across several event classes. Of these, the top three were extremely close, with Andrew Webber (Lotus Elan +2) on top with 73.01, then Philip Stader (Alfa Romeo Berlina) 73.18 and Geoff Stallard (TVR Vixen) on 73.34 seconds. Mike Henney (Elan S3) recorded 76.87 and Callum Barney (Ford Cortina GT) 84.81.
Glyn Sketchley scored a fine FTD with his 1298 cc Force PT, recording 60.91seconds at an average speed of 61.0 on his third timed run.
Nigel Trundle's Scirocco (Neil Lambert)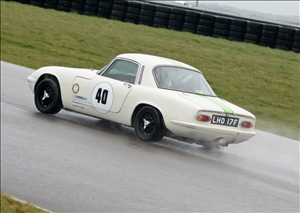 Mike Henney's Elan S3 (Neil Lambert)
---
Records tumble at Rockingham
Event 2 at Rockingham on 25/03/2018
The second day of the season's opening weekend dawned damp and cool over a somewhat bleak looking Rockingham circuit. The overnight rain combined with the detritus of the previous days track day to produce a circuit fit for Torvill and Dean. Early runners in first practice tiptoed and pirouetted around the track, conditions were so slippery that when conditions improved, a number of drivers improved by over 21 seconds between their first and second practice runs.
24 HSA competitors arrived at Rockingham, 7 of whom had been at Castle Coombe the previous day – a great turn out for so early in the year. When the sun came out, times tumbled and class records that had at first looked unachievable started to fall – in fact 6 HSA class records were broken at Rockingham. Not bad for a cool day in mid March.
Firstly, in class A1, it was Andrew Till posting a creditable 92.19s, against the previous HSA class record of 94.26s, who began the record breaking; though his class was won on the day with a very quick 88.00s.
Andrew Cottrill in A3 was on excellent form in the Subaru Impreza, winning his class, and beating his own class record by 0.18s.
In Classic Modified Specialist Saloon and Sports Cars (pre'76) Philip Stader, Andrew Webber and Mike Henney all beat Mike's existing HSA class record, Andrew coming out on top in the Lotus Elan with an excellent 86.30s – bettering the class record by nearly 4 seconds.
Simon Bainbridge competing in his SBR Chrono V8, against Matt Carter's 68.16s class record, beat it with a 67.85s on his final run. Steve Miles took FTD with a 67.96s in his Van Diemen on his own in the up to 2000cc Racing Car class.
And lastly, Class L saw a two way battle between Pete Goulding and Graham Blackwell, Pete winning with a new class record of 68.35s, over a second ahead of the previous time.
Elsewhere, George Haynes took the class win but will be ruing that his 81.34s was just 0.12s short of a new class record in J1, and in Class I, Racing Cars over 600cc and up to 1100cc, the three HSA competitors Tony Beesley, Stuart Bickley and Martin Pickles took the top three places in their Jedi's– Tony winning with a 69.97s.
Well done to all the class winners – it already looks like it will be a very competitive season – those winter upgrades are paying dividends already.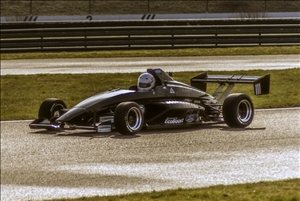 Graham Blackwell, class winner and 4th overall (S Santos-Wing)
Steve Miles took FTD in the Van Diemen (S Santos-Wing)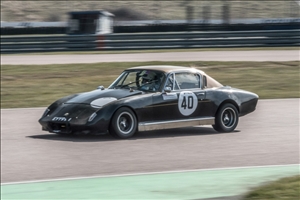 A new HSA record for Andrew Webber's Elan (S Santos-Wing)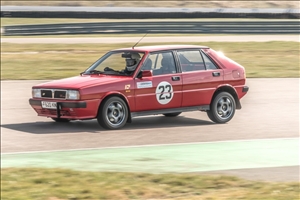 Graham Mintram has swapped his Phoenix for a Delta HF (S Santos-Wing)
---
Crosse, Webber & Gouldthorpe front runners at Combe
Event 1 at Castle Combe on 24/03/2018
The SBD HSA Speed Championship's traditional Castle Combe opener on March 24th welcomed competitors with typical early Spring weather. Cold and damp. For the single practice run on this 1 3/4 lap configuration there was plenty of standing water and even a couple of small piles of snow at the side of the track. Spins were numerous along with early season glitches including Pete Goulding's Mygale which suffered ECU problems which were only really resolved in time for his final Top 12 Run Off run but left him with a poor HSA score.
The capacity entry included 20 HSA competitors starting with ex Motorcycle racer Charles White in his Elise in 2000cc Series Production. Late arrival (!) Tim Richardson found 12 seconds on his second run in his Elise 250 to tie for third in 2600cc Series Production class with Dave Greenslade's Lancer. They were only three tenths behind Simon Clemow (sharing the Greenslade Lancer) but some way behined the class winning and very rapid Fiesta of Pete Goodman.
There was a good turnout of MX5s in the Bristol MX5 Challenge class with only a few seconds covering the top half dozen drivers and Tom Caldecourt taking the win. Across the classes there were 18 MX5s entered but sadly none from the HSA owing to the heavy oversubscription.
Striker driver, Mike Smith, won his Specialist Production class but was a little short of his own HSA record while similarly mounted local man, James Robertson, was up against Bob Bellerby's very fast Riot in the Modified class. Following some winter work including attention to the cooling system James wasn't able to match the Riot's pace but still scored decent HSA points.
With Andrew Webber, joining the swelling ranks in the Saloon and Sports car class there is going to be some good competition this year. At Combe Andrew's Elan finished just ahead of Philip Stader's Alfa to take a maximum points score as did Bill Gouldthorpe (OMS ) and Fyrth Crosse (Mallock).
Carole Nicholls brought along her Nike MK4 which is co owned with her sister. The car was the second FF Nike built by their Father, Ken Nicholls and was recently re-patriated from France. Special mention goes to Luke Trotman in his Mallock MK18B who, after a fail on T1, set an impressive 136.16s on T2 which would have qualified him for the British Sprint Run Off.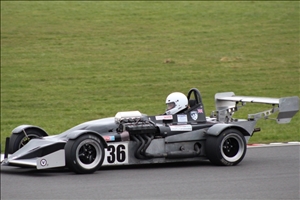 Luke Trotman was in fine form in the Mallock (A Mitchelmore)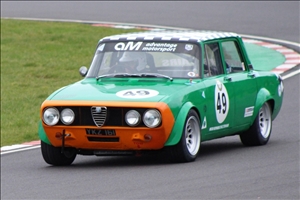 Philip Stader's Alfa (A Mitchelmore)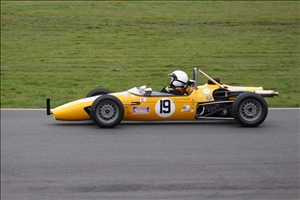 Carole Nicholls in the Nike MK4 (A Mitchelmore)
---
COTTRILL WINS CURBOROUGH FINALE
Event 30 at Curborough on 07/10/2017
Almost threequarters of a second clear of a furious duel for second place between experienced British sprinter Steve Miles and the hard-charging Mike Andrews, split by three hundredths, Jack Cottrill stormed to FTD at the HSA's Championship finale at Curborough with the day's only sub-29sec run in his 1100cc Force-Suzuki. With rain threatening on a dull day, Cottrill closed to within a quarter of a second of Chris Jones' class record, his FTD a fine result after the car had suffered clutch problems in practice.
Justin Andrews came to Curborough with the HSA title already in the bag, but was one of several drivers who hit problems in practice when the Lambda sensor blew out of its boss in the Subaru's exhaust. With Tim Richardson's Elise also a non-starter in Class A3, this meant a walkover for Chris Berrisford. This didn't stop the Intrepid Subaru driver from setting a new HSA record as he shaved sixteen hundredths off Andrew Cottrill's 3-years old mark. Unfortunately, as the sole class runner Chris was ineligible for the event's traditional Alan Payne class winners' run-off. Practice problems also eliminated Tim Brown's Datsun 240Z and the Will Ker/Ben Hamer Mini turbo. The immaculate Datsun's engine compartment caught fire in the paddock after he'd returned from a practice run, but fortunately the blaze was soon doused by the use of nearby extinguishers. Currently rebuilding their OMS-Kawsaki, Ker and Hamer blew the dust off their old Mini turbo and wheeled it out again, only to blow the head gasket on its first practice run. Will withdrew to the spectator banks, but Ben shared the Imp turbo of classmate and fellow HSA committee member Eric Morrey and closed to within threequarters of a second of the car's owner - a fine effort considering that Eric ran inside his class C1 record set in the Clan, although as he wasn't registered this year the old record still stands. The sole Class L representative running along the 2-litre racers, Pete Goulding broke Chris Machell's record, which moved the Mygale-Ecoboost driver up from eighth place in the Championship to fifth overall, level with Berrisford but taking the place on countback.
The top three failed to improve on their first run times as the weathor cooled with rain in the air although Glyn Sketchley, fourth overall in his turbocharged Force, its Suzuki power unit buried under some serious-looking plumbing, shaved off a couple of hundredths. But in the Alan Payne class winners' run-off, based on improvement over winning times, the top three drivers all raised their game. 1600cc racing victor Mark Schlanker's 1137cc OMS-Honda found the best margin - just over a quarter of a second inside his winning time - to snatch the coveted annual trophy by four hundredths from Class B2 winner Alan Mugglestone's Raw Fulcrum. Second FTD man Steve Miles ran five hundredths inside his own target to grab third place.
A full report will follow in Speedscene 196.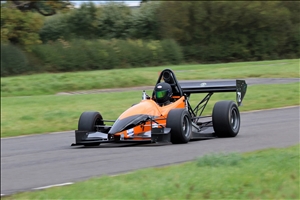 Jack Cottril set the outright pace at Curborough (Steve Wilkinson)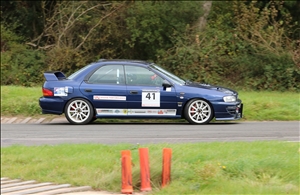 Chris Berrisford set the day's first HSA record (Steve Wilkinson)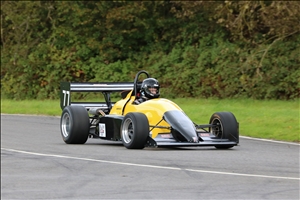 Run-off victor Mark Schlanker (Steve Wilkinson)
---
Green's FTD from Jones and Hollingworth at Shelsley
Event 29 at Shelsley Walsh on 16/09/2017
Competitors gathered for the first day of the Shelsley Walsh Speed Finale meeting and the penultimate round of the SBD HSA Speed Championship to be met with light drizzle and an uncertain forecast. However, the rain quickly stopped' the sky lightened and the sun occasionally made a welcome appearance so that after a slightly slippery practice the track remained dry throughout.
Chris Green took FTD with a 27.05s in his 1.6 OMS 28 from Chris Jones, 1.0 Force TA (27.49s) and Richard Hollingworth's 1.6 DJ Firehawk (27.76s) – these three drivers being the only ones to go sub 28s.
Practice ran largely without incident but the afternoon timed runs were interrupted by a series of incidents which included Mike Henney hitting the bank between Kennel and Crossing in his Lotus Elan causing extensive damage to the front of the car but optimistically described as 'mainly one corner'. Other incidents involved a TR7 on its roof in the Esses, a Porsche and a TVR. Nonetheless MAC ran the meeting with their usual efficiency with the (newish) paddock management system being particularly effective.
The Paul Matty Championship was well represented with Geoff Stallard setting the fastest scratch time in the Saloon & Sports Car category with his Elan (34.49s) and the David Hampton doing likewise in the Racing car category with a 30.52s in his Lotus 69.The Porsche Club Speed Championship class (strangely supported by Petro Canada!) was won by Geraint Evans' 3.2 911 Carrera (33.73s) with the next five drivers within about a second of his time! Graham Beale (Ginetta G33) took the Classic Marques Class with a 33.17s and Andrew Till was a comfortable winner of the up to 1400cc Roadgoing class in his MGZR105 on 40.25s – just 0.04s outside the HSA Class record!
After suffering battery problems all day (including finding a lost sensor on the track and taping it back up!) Dave West's Peugeot 106 only needed a single run to take the large 2000cc Roadgoing Class with a 36.09s run just ahead of Andrew Webber's Elan +2 with Alastair Clark (Elise) Ken Morris (MX5) very closely matched.
Similarly, Chris Berrisford took the over 2000cc Roadgoing Class in his Impreza with his single run of 31.87s – 0.16s shy of Andrew Cottrill's HSA Class record. John Maycock was a little further back in his 240bhp (!) MX5 but planning some performance enhancements over the winter. Former HSA Champion, John Bradshaw took his 'new' Westfield to its maiden win in the Kit Car Class with a 32.51s run after his main competitor withdrew with 'ROPS related issues'.
The small Mod Prod class saw a battle of the Mini Cooper's with Michael Gallery winning by 0.04s from Tim Dennis while the larger capacity Classes were won by Paul Jones' rapid Elise and Duncan Andrews' Porsche Cayman. Steve Barnard won the Libre Class in his spaceframe Audi TT.
In the Racing Car classes Chris Jones lowered his own 1100cc record on T1 and did it again on T2 to leave it at 27.40s ahead of Jim Spencer's Reynard (28.03s) and Stuart Bickley's Jedi (28.20s). Russell Haynes won the Formula Ford Class in his unusually (but original) bodied Zeus 163 (34.00s) from Roger Jones (Jamun M90), Bernie Kevill (Van Diemen RF90) and Geoff Lancaster still learning his Swift SC93. Chris Green, Richard Hollingworth and Neil Coles (OMS CF04) took the top spots in the 1600cc Class.
Finally, in the 'Classic Class' Fyrth Crosse set an impressive 30.81s on his only run in the Ensign LNF3 to be fastest on scratch while Mike Broome' Alexis MK17 was an unfortunate retirement after his Hewland MK8/9 developed an 1/8" crack in its casing during practice.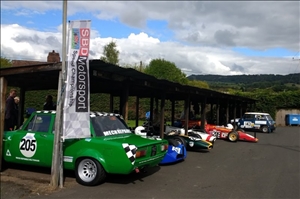 The HSA at Shelsley (Christine Bennett)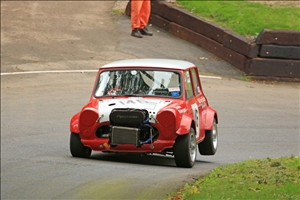 Wheel waving Mini acction from Tim Dennis (Rob McDonald)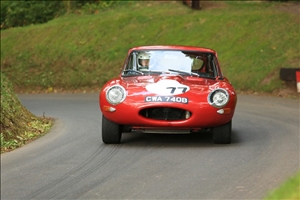 Paul Slades' E Type at Top Ess (Rob McDonald)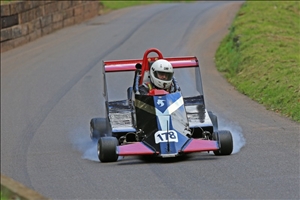 Karl Schollar locks up the Spectre MK7 into the Esses (Rob McDonald)
---
Goulding takes FTD at wet & windy MIRA in a Mygale 1-2
Event 28 at MIRA on 09/09/2017
With a somewhat smaller entry than usual MAC had decided to have 3 practices in the morning and 3 timed runs in the afternoon, but with heavy showers expected from about noon, the plan changed to 2 practices and a first timed run before lunch, then 2 more competition runs after lunch. Everyone got a dry first practice, some got a dry second practice, but some didn't. Some had light showers affecting the first timed run and everyone ran on T2 after heavy rain at lunchtime. Many didn't bother with T3 although it was drying but still damp which meant the results were a bit of a lottery. In spite of all this MAC ran a slick meeting and it was all over by 2.45 pm.
On paper it looked as though FTD would be fought out by the 4 larger single seaters - John Wood's Dallara, Steve Miles' Van Diemen and the two Mygale's of Pete Goulding and Graham Blackwell. This is how it turned out with the Goulding Mygale taking FTD with 44.08s followed my Miles (45.16s - later disallowed) and Blackwell (45.17s) thus making it a Mygale EcoBoost 1-2 for the first time..
Dave West (Peugeot 106 on a 55.80s) won a large A2 class from Elen Worthington (Elise) and Andrew Webber (Elan+2). Andrew Cottrill is still getting his (new) Subaru sorted , fine tuning rear suspension settings, but won Class A3 with a new HSA record. Former, multiple HSA Champion, John Palmer easily won the 'small' kit car class in his Westfield while in the larger capacity Class it looked as if Alan won the Mugglestone family battle from Nick in the Fulcrum ahead of another former HSA Champion, John Bradshaw in his new Westfield. However, Alan's time was later disallowed leaving the win to Nick.
In the combined Mod Prod class, Darren Balster was first in the ex Reg Phillips/Willem Toet Peugeot 205, with Gavin Neate 2nd. Luke Trotman won the Libre/Supersports battle with a competitive 48.91s.
It was as competitive as usual in the 1100cc Racing Cars class with Stuart Bickley just edging out Derek Sweeney by a tenth.

Graeme Williamson and Philip Stader both beat the old HSA U2 record, which now rests with Philip Stader, who won the 'classic' class and lowered the record by 7.48 seconds!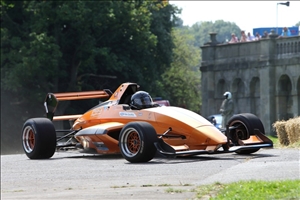 FTD for Pete Goulding - pictured recently at the Palace (Mike Stokes)
---
GURSTON RECORDS FOR HAYNES AND TUNNICLIFFE
Event 27 at Gurston Down on 27/08/2017
With the rolling Wiltshire downland bathed in warm sunshine all weekend, Russell Haynes was one of two SBD/HSA Championship starters in the 17-strong field to set a new HSA class record during Gurston Down's August Bank Holiday British Championship meeting. A sub-37-sec run left the Zeus ZR163 driver second overall in Gurston's popular pre-94 Formula Ford class, within half a second of class record holder Simon McBeath's Swift SC92F. The other record-breaker was Jason Tunnicliffe, as he took his Peugeot 205 GTi to the win in the dedicated HSA Speed Championship class. Of the 10 starters in this division, James Robertson finished second in his Raw Striker ahead of John Phelps' Westfield Megabusa, which was shared this time with daughter Charlotte.
Two of the overall Championship top ten battled it out in this class, both in Mazda MX5s. but even though David Newman, tenth on the table, finished over a second clear of Alexander Smith, with the pair split by Colin Bowdidge's Caterham, Smith retained his overall seventh place. Third overall coming to Gurston, Gavin Neate was mixing it with the Gurston regulars in the BARC(SW) B Licence class and lay second at the break to Martin Watson's rorty, supercharged Westfield-Duratec. But even though Watson had a problem over the finish line and didn't take his second class run, he retained his class lead and Neate was pushed down to third place by another lightweight - the Westfield of Peter Leggett. The class placing was of no consequence from the HSA scoring angle but Neate would liked to have got closer to, or better still broken, the HSA record as his 13-point score, matching that of Newman's, would in any case be dropped. With a record he would have levelled on points with Championship leader Justin Andrews.
Elsewhere among the Gurston classes, Andrew James faced tough opposition to his burly Nissan 350Z, finishing third behind the ultra-potent Imprezas of Steve Darley and Gurston regular Shaun Fudge. Although some way adrift of the class W record, Mike Broome bounced back from a poor opener, the pristine Alexis F3 jumping out of gear at the start, to win Gurston's Historically Interesting class from first run leader Sue Hayes, having her first outing in the ex.Hugh Kemp Palliser F3.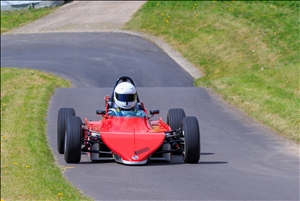 Record-breaker Russell Haynes in the Zeus FF (Steve Lister)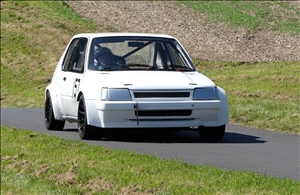 Jason Tunnicliffe took the HSA class win with a new record (Ian Beard)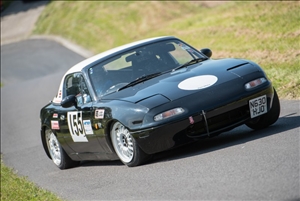 David Newman was back and on form in his repaired MX5 (Martin Woolmington)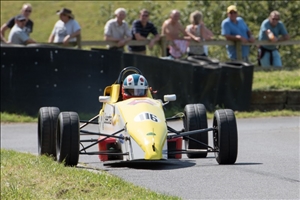 Geoff Lancaster in his Swift SC92 (Martin Woolmington)
---
Miles Fastest at Hethel
Event 26 at Hethel on 06/08/2017
Steve Miles (Van Diemen RF96m17) posted FTD at Borough19 MC's Hethel sprint on 6th August in a time of 115.32 seconds, just ahead of Pete Goulding's Mygale FF200 ( 117.15) and Tony Beesley in a Jedi Mk4 , who recorded the same time on his third and final competition run. In doing so, Pete took the class award for over 1100cc racing cars, and Tony the one for up to 1100cc racing cars. Both drivers broke the previous HSA records in classes L and I respectively.
At the other end of the running order, Steve Riddle and Nick Tearle ran their Clios in the standard car class for 1400 to 2000cc models, with Steve establishing an HSA class record for the new category. Andrew Webber ( Lotus Elan +2) and Ken Morris ( Mazda MX5) ran in a class for 1600 to 2300cc roadgoing series production cars, and were rewarded with new HSA class records for classes V1 and A2.1 respectively.
Justin Andrews (Subaru Impreza) won the 4WDroadgoing series production class, and set a new HSA record for class A3, consolidating his position at the top of the SBD HSA Speed Championship. Stephen Laing (Caterham R500) won the well-supported "Kitcar/Elise" class, but neither he nor Elen Worthington (Elise) were able to match their own B2 and A2 records.
Gavin Neate ran alone in the up to 1400cc modified series production class, and managed to beat his own C1 HSA record. And in the 1400 to 2000cc division, both Dave Mockford (MG Maestro) and Ivan Russell ( Ford Anglia 105E) ran under Dave's 2016 HSA record for C2, with Ivan taking the class win.
Jeff Wiltshire (Sylva Phoenix) won his class and took a big chunk out of his own HSA class D record, and Charlie Reilly (Van Diemen RF92) was also able to improve upon his own Formula Ford record in his class win over Geoff Lancaster (Swift SC92F).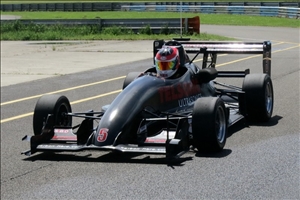 Steve Miles' Van Diemen RF96 (library photo)
---
Mourant's FTD as Kenrick stars at Loton
Event 25 at Loton Park on 05/08/2017
Jason Mourant took FTD with a 45.25s run in his Gould GR55 at Loton Park for the August 5th 'B' meeting but it was Robert Kenrick's time of 46.43s in the 1100 Raptor 2 which took second FTD, won the 1100 class, took a second off Darren Luke's 1100 record of 47.62s and got the most attention. (On the following day Robert did a 45.43s on his single timed run to reduce the record by another second with the Raptor 2 clearly doing a good job of exploiting the newly resurfaced Loton track).
Three other drivers got under 50s with another 1100, Chris Jones' Force TA, next up with a 49.62s followed by John Bradburn (sharing the Gould GR55 with Graham Wynn) and Simon Keen (Dallara F302) both on 49.99s.
Although the anticipated showery weather did make an appearance it only caused some mild disruption and most competitors got at least a couple of dry runs. This didn't stop a number of competitors from visiting the scenery though and one of the first to become 'hors de combat' was Robin Maryon whose Jedi speared off the track near the finish line damaging the front of the car quite badly although Robin was fortunately unhurt. A similar fate befell Alex Harris' Renault Clio.
Laurence Marks did well to take third in the small Roadgoing Production class in his Panda but is looking forward to swapping it for his 'new' Formula Ford which should make an appearance soon. Martin Rutter was present but alas, his Fiat X 1/9 wasn't - still waiting for the Colotti gearbox to be completed. The Mod Prod Specialist class was an all HSA affair with Adam Phelps' Westfield taking the win with a PB but still shy of the HSA record. Charlotte Phelps was looking good for second place but an off on the drier T2 allowed James Robertson (after an off on T1) to edge ahead followed by the Mantons (Graeme and Becky), back out in their Fisher Fury.
Gary Thomas took the 1600cc Racing Car class with his Force PC after a close battle with Chris Green's OMS28.
Andrew Webber only needed one run in his Elan to take the Classic Saloons & Sports Cars class. Finally, Jeff Allan set identical T1 and T2 times in his Nissan Leaf.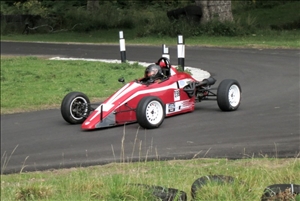 Bernie Kevill enjoys the new Loton surface in his Van Diemen RF90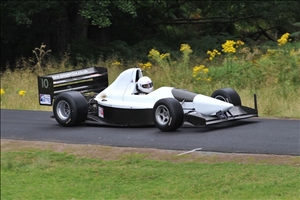 Jason Mourant took FTD (Mike Castle)
Andrew Webber 's Lotus Elan +2 (Mike Castle)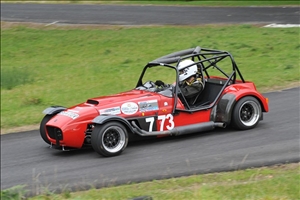 A class win and PB for Adam Phelps (Mike Castle)
---
THOMAS WINS, BUT ANDREWS TOPS THE CHARTS at Roaunds 23 & 24
Event 24 at Wiscombe Park on 30/07/2017
As expected, The Force-Suzuki single-seater of Gary Thomas led the way as eighteen contenders negotiated the twists and turns of a wet Wiscombe Park on the first day of the SBD/HSA double-header. Thomas also went on to win in much drier conditions on Sunday, with a new HSA class record that maintained his second place overall in the Championship standings. Previous leader Gavin Neate, who with seven others did not contest Sunday's event, slipped to third on the table. With a host of National B competitors elsewhere in the meeting contesting Wiscombe Park, Porsche Club and Downton points, a bonus for Thomas was that he also took the award for fastest National B contender of the weekend.
But charging to the head of the HSA table was Justin Andrews, whose HSA class record now gives the Impreza driver a maximum score in the Championship with his score at Saturday's wet meeting now discarded. Even on Saturday's wet track, records were set by Philip Stader, Andrew Webber and Peter Goulding, all of whom not surprisingly went on to lower them still further in the dry on Sunday, when Andrews, Thomas and Mike Henney also ran inside their respective records. Andrews' Impreza was right up with Thomas's Force and Goulding's Mygale, splitting them on Saturday as Neate's Peugeot ran fourth but having to settle for third place behind the two single-seaters in the dedicated HSA class in Sunday's much better conditions. Goulding's consistent form really paid off as he soared from 20th to eighth place overall in the standings, while the duel for top MX5 honours intensified as David Newman closed in to seventh overall behind his rival after a see-saw battle over the weekend. Henney and Webber enjoyed a great duel in V1, Webber getting the edge on Saturday with a new record, but with both drivers well inside the Elan Plus 2's new mark on Sunday it was the Elan S3's turn to grab the class placing by six tenths, which moved Henney from 19th place into the Championship top ten.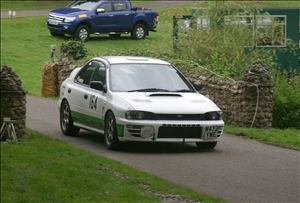 Justin Andrews leads the Championship after Wiscombe (Jerry Sturman)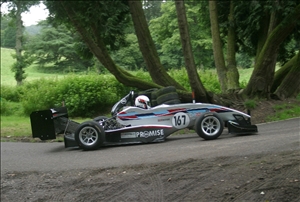 Gary Thomas set the outright pace and hung on to second overall on the Championship table (Jerry Sturman)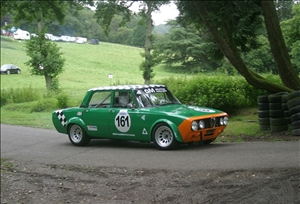 Philip Stader was one of three drivers to score record points each day (Jerry Sturman)
---
Tricky new Blyton track challenges competitors
Event 22 at Blyton Park on 09/07/2017
The second day of the WSCC Blyton Sprint Week-end was held on the Eastern circuit, the first time a sprint had been run on this course, and it presented competitors with a couple of new challenges. The first half of the course is tight and twisty while the second is fast and flowing. However, joining the two halves is 'Curva Grande' which, as the name implies, is a long (very long) and fast sweeping right. So far so good but, with the car fully loaded up on its suspension, the corner begins to tighten and then the track turns sharp left into the Wiggler! Braking hard from speed and dramatically changing direction presents an almost unique (in UK race track terms) challenge as many competitors were to find out with numerous spins and offs during the course of the day.
Sandy Smith maintained his narrow advantage over Dean Cubitt to win the up to 2000cc Sports Car class ahead of John Usher's Ginetta G40 while the (for once) competitive up to 1700cc Kit Car class saw Chris Hussey's Striker push John Palmer down to second by a hundredth (!) ahead of Dan Hollis' Caterham, David Hussey's Striker and, surprisingly far back following a T2 DNF, Mike Smith in his Striker.
Ivan Russell (Anglia) and Paul Torkington (MK2 Escort) gave Ian Johnson's more modern Polo G40 a run for its money in the up to 2000cc Mod Prods but in the smaller class Gavin Neate was in his own in the Peugeot and put in a single timed run before heading home to prepare for an early morning flight to the US on the following day. Speedscene contributor Keith Waters was out in his immaculate Rover Metro and throughly enjoying Blyton. Duncan Fraser headed a large Lotus Elise contingent with his S1 setting a creditable 74.46s time.
In the other classes the rankings largely followed the previous day. In the Mod Prod Westfield class David Cleaver again won easily from Gary Bunn, Adam Phelps, Derek Hodder and Charlotte Phelps and in the 1100cc Racing Car Class Chris Jones in the Jerroms Accounting backed Force TA was well ahead of Simon Boulter's OMS and Graeme Harden's Jedi – all three qualifying for the British Sprint run off. Gary Thomas was again the fastest 1600cc Racing Car in his Force PC with Steve Brown not far behind in his JKS with Mark Schlanker's OMS third – although the three drivers managed to rack up 5 DNFs between them over the course of the day!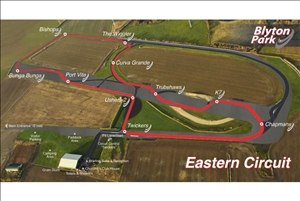 The Blyton Eastern circuit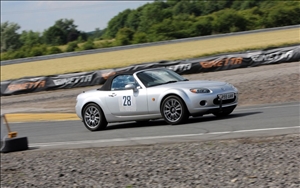 Sandy Smith had a double winning week-end (D Pertridge)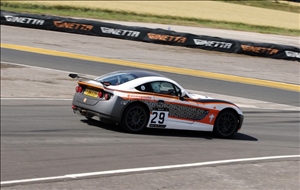 The Usher Ginetta G40 at the Ginetta track (D Partridge)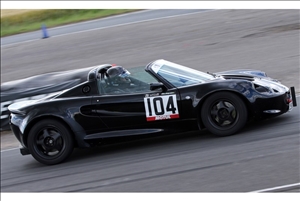 Duncan Fraser won the Elise class in his S1 (D Partridge)
---
Close battles & new records at Blyton
Event 21 at Blyton Park on 08/07/2017
The first day of the WSCC Blyton Sprint Week-end was held in glorious weather on the familiar Outer circuit and saw many of the 26 SBD HSA Speed Championship competitors setting new records and/or engaged in close battles.
There wasn't much between Sandy Smith and Dean Cubitt's MX5s all week-end and it was Dean who led after T1 on Saturday but Sandy found a second to reverse the position with a strong T2 time. Both drivers went even quicker on the third timed run with Sandy taking the class win on the day by a tenth.
Adam Phelps got close to Matt Hallam's HSA class record in the Busa engine Westfield and was comfortably ahead of John Loudon and Charlotte Phelps both also Westfield mounted. In the same, Modified Specialist Production class, it was David Cleaver again who won easily and only needed a single timed run of 62.21s, faster than many of the racing cars.
Another Westfield driver was multiple HSA Champion John Palmer who won his class on the day with a single completed run – the other two involving a spin and a 'four wheels off' incident. Being a WSC event there were plenty more Westfields present and while the SBD Dallara is away being fitted with a new floor, Matt Hillam was sharing Keith Adams' example on this occasion and promptly won the class and qualified for the British Sprint Run Off! Matt was also a master of consistency with all three timed runs within a couple of tenths of each other.
In the battle of the Imprezas Chris Berrisford was ahead after P2 and T1 but Justin Andrews squeezed ahead by 2 hundredths to take the win with both drivers breaking the HSA Class record. Nick Mugglestone was competing on his own (Father, Alan, away at Spa) and the RAW Fulcrum was back competing again after a few hours work spent repairing a corner and floor after its Prescott incident.
Chris Jones was going well in the Force TA and after a couple of adjustments got the handling to his liking and comfortably won the 1100 class ahead of Simon Boulter (troubled by clutch problems all week-end) and Graeme Harden – all three qualifying for the British Sprint Run Off. Gary Thomas won the 1600cc Racing Car class and took the award as the fastest non British Sprint competitor. Pete Goulding and Graham Blackwell continued their season long duel in the Mygales with Pete emerging just under a second ahead on this occasion.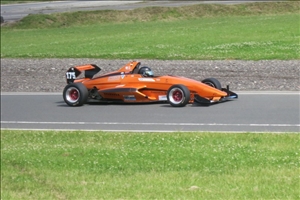 Pete Goulding in the Mygale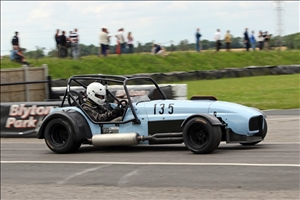 David Cleaver was the class of the Westfield field (D Partridge)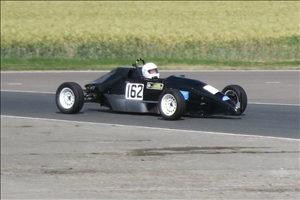 Geoff Ward, Swift SC93 won the FF Class
---
Green takes Gold at Prescott
Event 19 at Prescott on 24/06/2017
For 2017 the Bugatti Owners Club adopted a two day/two event format for their late Spring 'cherry' meeting – this year the cherry trees in the lower paddock were laden with fruit providing welcome refreshment to teams. The Saturday event was held for a number of familiar Championships including the Paul Matty, Porsche Club, Midland Speed and the SBD HSA, with the latter being represented by at least 34 competitors on the entry list. The general view in the paddock was positive for this format of the meeting which, despite a large number of 'offs', ran smoothly.
The battle for FTD turned out to be an exciting duel between the OMS 28 of Chris Green, the Force TA of Chris Jones and the Force PC of Gary Thomas. In fact it was the 1100 car of Jones that led the way after P1 but then the 1600 car of Green posted a 40.93s on T1 which was to win the Midland Speed class and stand as FTD. Gary Thomas suffered an off in P2 which bent the rear wing out of shape and left the paddock reverberating to the sound of Pete Goulding's hammer during the lunch break as he beat the wing supports back into some semblance of shape. Gary approached the timed runs with a degree of caution, posting a 41.74s best time on T1 but was just pipped by Jones with a 41.73s for second FTD and a win in the HSA class. Pete Goulding was rewarded for his efforts by taking 3rd in the HSA Class in the Mygale.
The MX5 runners were also anticipating a close battle and it looked to be on after P1 when David Newman quickly got under the HSA Class record but a major and potentially season ending 'off' on P2 put paid to his chances. Next up was Sandy Smith who, in common with many competitors set his best time on T1, but it was to be 0.13s short of the A2 record of non starting, Andy Mitchelmore following his Shelsley shunt of the week before.
Also in the HSA Class, the Mugglestones were going well in practice and Alan recorded a steady 45.96s run on T1 before Nick joined the 'hors de combat' ranks with a T1 'off' and the team were out for the rest of the day. Gavin Neate was aiming at Wil Ker's old C1 record but finding it quite an ask with the Peugeot 106 finishing 0.4s adrift on 49.17s. Similarly, Simon Jenks was up against a tough record with his 1600 Busa engined Caterham coming up a little short but taking a creditable fourth in the HSA class. The Mantons (Graeme and Becky) were looking forward to their first visit to Prescott but steering problems discovered during scrutineering ended their day prematurely.
Andrew Till is having a good season in the MG ZR 105 and took over a second off the HSA Class record while Charlie Reilly was troubled by a misfire and other problems leaving the normally rapid Van Diemen RF92 some way off the pace.

Elsewhere David Hampton's 44.68s run in the BDG engined Lotus 69 to win the Paul Matty Racing class was noteworthy as was Briony Serrell's 49.71s with her Lotus 51A to win the handicap pre '72 Racing Class. In the same Class Mike Broom took third in his Alexis F3 while Andy Tippett's similar car retired with gearbox problems.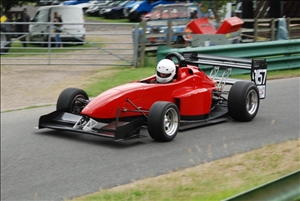 A hard fought FTD went to Chris Green's OMS 28 (C Bennett)
Andrew Till has the MG on a nice line at Pardon (A Mitchelmore)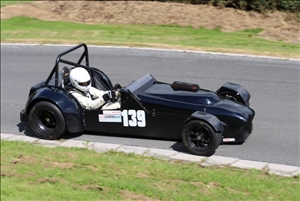 Concentration from James Robertson at semi circle (A Mitchelmore)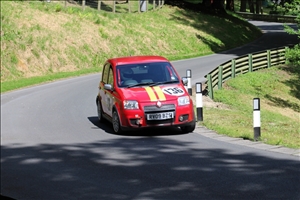 Laurence Marks successfully negotiates the Esses - many didn't! (A Mitchelmore)
---
Another FTD for Thomas at Shelsley
Event 18 at Shelsley Walsh on 18/06/2017
Gary Thomas steered his Langor Bridge Garage supported Force PC to his 40th FTD with the car at Shelsley on June 18 after a close battle with Clive Austin's 1100 Empire Wraith. After T1 Austin was ahead by a couple of tenths but a strong T2 run of 27.87 gave Thomas and the PC FTD by 0.07s.
The large A2 class for 2000cc Series Production cars was looking set for a battle between three quite different cars. After T1 Andrew Webber's black & gold Elan +2 was ahead andof Andy Mitchelmore's more modern Elise and Rhys Jones' very rapid MX5. T2 saw Webber improve to a 36.06s (and take the class win) while Mitchelmore had a big accident at Kennel, hitting the bank on the right and then on the left before disappearing down into the valley. The car was somewhat damaged and the driver was left sore and frustrated but still second in Class. Rhys Jones' 37.97s time was good enough for third in Class and a new HSA record.
In a combined Mod Prod, Libre, and Hillclimb Supersports class Luke Trotman took the supercharged, bike engined Mallock MK18B to a good win with a good 30.82s run. In another combined Class, Series Production up to 1400cc and Electric cars the unusual combination of Laurence Mark's Fiat Panda and Jeff Allan's Nissan leaf had a surprisingly close battle with Laurence just emerging the victor by a scant 0.06s!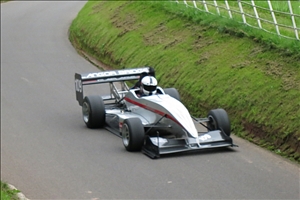 Gary Thomas in the Force PC at an earlier Shelsley meeting
---
Chris Green Takes Graham Hill Trophy at Curborough Figure of 8
Event 17 at Curborough on 11/06/2017
Chris Green took FTD at the Owen Motoring Club's Figure of Eight Curborough Sprint, and won the prestigious Graham Hill Trophy as a result. In his relatively recently acquired 1600cc OMS 28, he held off the challenge from Gary Thomas (1400cc Force PC), who was credited with 1st in the 1100-1600cc racing car class. Gary is now lying second overall in the SBD HSA Speed Championship, having set a new Class J record for the Figure of 8 course, ahead of Steven Brown (JKSJR01) who rounded out the trio.
Some 22 HSA championship contenders took part, with a good spread of entries among the classes. This being a relatively new course, there was a good opportunity to set or beat class records, and to score strong points in the process. The largest class of the day was for the 1701 to 2000cc standard production cars, won by Paul Glendenning in a Renault Clio, but of these, only Nick Tearle , also Clio mounted, was registered in the HSA championship, setting an HSA class record for class S1.
Andrew Till took almost 4 seconds off his 2016 class A1 record and scored 17 points, some way ahead of Laurence Marks' Fiat Panda 100hp. Rhys Jones and Ken Morris both broke Ken's 2015 MX5 record, with Ken coming out on top on the second runs, giving them both strong points in HSA class A2.1, followed by Stephen Dally. Alexander Smith won his 1401 to 2000cc roadgoing class, ahead of Andrew Webber and Robin Holden. Alexander is now running on list 1B tyres, so his MX5 is competing against class A2 runners and records set by cars such as Lotus Elises, but despite this he has climbed to 3rd overall in the Championship.
Andrew Webber set a new record for HSA class V1 in his Lotus Elan , just 0.03 seconds quicker than Mike Henney's similar car which was running later in the programme in the Period Defined roadgoing vehicle class along with Philip Stader, who scored a maximum in his Alfa Romeo Berlina by breaking the old class U2 record.
Justin Andrews (Subaru Impreza) beat Andrew Cottrill's previous class A3 record and won the over 2000cc roadgoing class, ahead of Jon Maycock in his forced induction MX5. In the modified production classes, both Gavin Neate and his old sparring partner Ivan Russell both scored maximum points by breaking the old up to 1400 and 1400 to 2000cc HSA records respectively. Gavin is now leading the overall championship with 147 points, but is starting to drop scores with more than 9 rounds completed. Ivan has moved up a class this year with a 1700 cc engine in his well-travelled Ford Anglia.
Class D for modified specialist cars has been well-supported this year, and there were three HSA runners taking part (split into 2 engine size categories for this event), with Jeff Wiltshire (Sylva Phoenix) taking second place in the over 1800 cc division, aheadof James Robertson (Raw Striker)and Graham Mintram (Sylva Phoenix) in their smaller engined versions running in the up to 1800cc division.
Finally, Peter Goulding and Fyrth Crosse both ran solo in their over 2000cc racing car and Period Defined racing car classes respectively, but both scored well by setting new HSA records for classes L and W.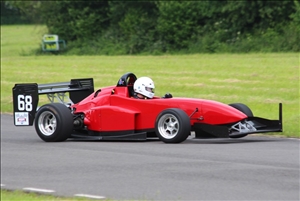 Chris Green's 'new' OMS took FTD (A Leivers)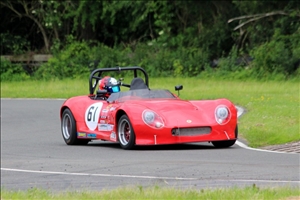 Jeff Wiltshire scored well in the Phoenix (A Leivers)
Stuart Bickley is always fast in the Jedi (A leivers)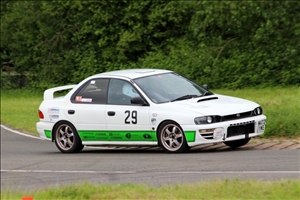 A new HSA record for Justin Andrews (A Leivers)
---
Something new at Pembrey
Event 16 at Pembrey on 04/06/2017
For the second day of the BARC Wales sprint week-end something new was on offer – a new track layout. On paper it really didn't look that much at all with the new track continuing straight on from the apex of Dibeni 2 (the paddock crossing) for about 100metres before taking a sharp left (off camber) followed by a sharp right, rejoining the old track at the Esses.
In reality, however, it made quite a difference by adding a couple of slower corners and changing the nature of Dibeni 2 and the Esses. The increase in lap times was considerable but it was hard to judge the true differential due to the changing conditions.
A deluge just as practice commenced meant that P1, P2 and T1 were all wet or damp to varying degrees. So, for most, the real event was T2 by which time the skies had cleared and the track was warm and dry. This time Sandy Smith opened up a gap of about a second and a half to David Newman to win the up to 2000cc Production Car class while Elen Worthington did enough on her single dryish T1 run to stay ahead of John Watson. Adam Phelps' margin over Terry Everall was reduced to half a second with David Cleaver's Westfield winning the larger Modified Kit Car class again by a comfortable margin.
Matt Carter and Chris Jones again won their classes and Matt Hillam went well to win the up to 2000cc Racing Car class.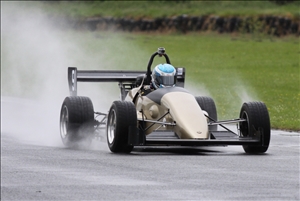 Simon Boulter on one of his wet practice runs in the OMS (Kim Broughton)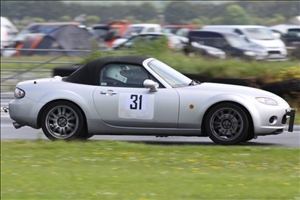 Sandy Smith scored a couple of week-end wins in the MX5 (Kim Broughton)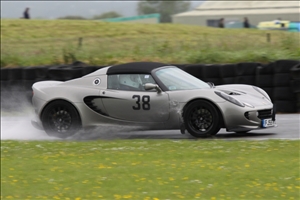 John Watson and the Elise enjoying (?) wet practice (Kim Broughton)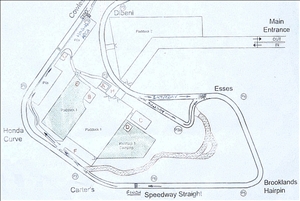 The new track layout
---
A difficult day at Pembrey
Event 15 at Pembrey on 03/06/2017
The most significant item of note from the first day of the BARC Wales sprint week-end was that the meeting was brought to a close midway through the second timed runs. With a number of HSA competitors missing out on T2 including Elen Worthington, Mike Smith, Justin Andrews and John Watson this would mean that the event would be scored on T1 as per the HSA Championship regs.
The reasons for the over run were numerous so in many ways it was a perfect storm, particularly disappointing as the event attracted a far bigger entry than in previous years including the Paul Matty Lotus Championship who were only present for the Saturday and were unable to take part in T2.
Sandy Smith and David Newman enjoyed a good battle in their MX5s with David getting to within a couple of tenths of Sandy for a good morale booster. Justin Andrews continued to impress in his Impreza (?), winning the over 2000cc Production class by half a second from Trevor Hartland's, always quick, Evo 6. In a sign of the times Mike Smith was on his own in the up to 1700cc Kit Car class and with only one run was unable to trouble John Loudon's class record. Gavin Neate and Elen Worthington found themselves in a similar position to Mike but, with only a single run, Elen was able to improve upon Bob Ridge-Stearn's Elise record.
Former HSA championship and 2017 contenders, Alan and Nick Mugglestone had spent the Friday track day setting the car up and learning the new track that was to be used on the Sunday. However, on T1 Alan left his braking optimistically late and a couple of very rapid downshifts resulted in the prop shaft letting go. With no prospect of finding a local welder on a Saturday night the team packed up and set off on their long trip home.
Adam Phelps went well in the family Westfield (sharing with sister, Charlotte, this week-end) to win a strong Modified Kit Car class from Terry Everall's and John Loudon's Westfields. Reigning HSA Champion, Matt Carter won the battle of the Radicals with his PR6 in the Libre class ahead of Clive Wooster's SR4. Despite a few continuing new car 'issues' Chris Jones demonstrated the potential of the new Force TA by easily winning the 1100cc Racing Car class ahead of Grahame Harden's Jedi and Simon Boulter's OMS with a time 3 seconds quicker than his previous PB but still a little adrift of Brad Hobday's record.
In the other single seaters Bill Gouldthorpe was getting back into the swing of things and Graham Blackwell continues to make good forward progress in the spaceframe Mygale Ecoboost although he is up against the V8 powered cars of John Graham, Terry Homes and Graham Porrett who were all a little way ahead.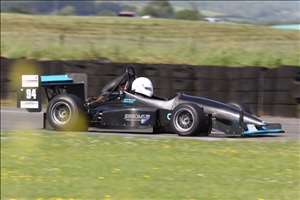 Another class win for Chris Jones in the Force TA (Kim Broughton)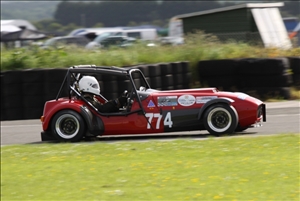 Charlotte Phelps in the Mod Prod Westfield (Kim Broughton)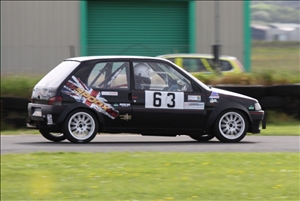 Gavin Neate was another in a class of one (Kim Broughton)
---
New records for Mugglestone & Thomas at Snetterton
Event 14 at Snetterton on 14/05/2017
For the second day of the Borough 19 run event at Snetterton things pretty much followed the pattern of the previous day. There was a very light drizzle at one point (for P2 this time) but it quickly cleared up.
The Mugglestones appeared with the Fulcrum, both drivers running in the Roadgoing class, and Alan obliterated the HSA record by about five and a half seconds (!) with a 92.94s run and win the class with ease.However, as Alan is running in the HSA's Modified championship class his time split the Loudon/Wiltshire pair, the first two bettering the new Loudon record set on the Saturday. Nick was unusually a couple of seconds behind his Father but this was likely down to his knee injury although it was still good enough to take the runner up spot in the class.
Gary Thomas also appeared for the Sunday and proceeded to win his class and improve on the HSA record by over a second.
Performances in the other classes were much the same as the Saturday with most competitors improving their times. Graham Blackwell''s improvement (to an 86.35s) was enough to reverse the positions in the Mygale rivalry with Pete Goulding to continue his progress in 2017.
The event again ran very smoothly with proceedings coming to a close by about 4pm despite one of the organising team, Roger Grimes, having his foot run over by a single seater in the Paddock. He was taken to hospital for a check but fortunately no serious injury was found.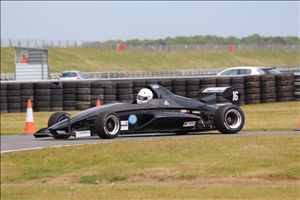 Graham Blackwell won the Mygale battle on Sunday (Andy Leivers)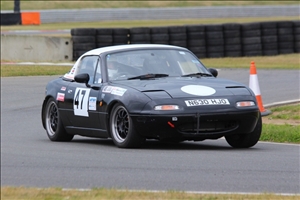 David Newman was the fastest MX5 and a Class winner (Andy Leivers)
Les Buck brought along the sole remaining Pringett Mistrale FF (Andy Leivers)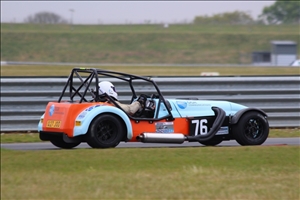 Two event, two HSA records for John Loudon's Westfield (Andy Leivers)
---
Smith's FTD as Neate closes Championship gap at Llys y Fran
Event 13 at Llys Y Fran on 14/05/2017
Peter Smith took FTD in his Force PT at Swansea Motor Club's Llys y Fran event on May 14th.
Gavin Neate set a new HSA Class record in his Peugeot 106 which helped him narrow the gap to Championship leader, Chris Berrisford, to five points with an event in hand. 12 HSA competitors made the trek to far west Wales and were rewarded with good weather.
Andrew Till was the only other driver to set a new record in his MG ZR105 while Sandy Smith got to within a couple of seconds of Bob Ridge-Stearn's Lotus Elise A2 record (not bad going in an MX5!) but his time was good enough to win the well supported up to 2000cc Roadgoing production class.

John Phelps (Westfield) won the Modified Kit car class from daughter, Charlotte, and Graham Mintram (Phoenix). Gordon Hick went very well to win the large Roadgoing series production class in his SEAT Leon Cupra, assisted, no doubt, by the Nankang AR-1 tyres which are becoming increasingly popular.
Dave Mockford had an eventful day, managing to nudge the bank in his Modified Maestro but still managed to take third in class with a creditable 53.05s run.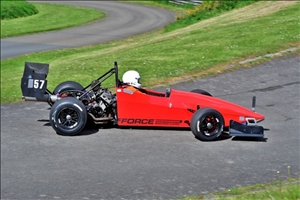 Peter Smith's Force PT on its way to FTD (Mark Little - AutoAvia Photographic)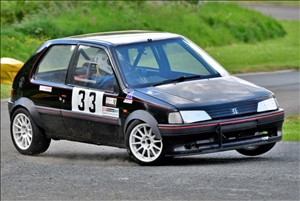 Gavin Neate working the Peugeot hard (Mark Little - AutoAvia Photographic)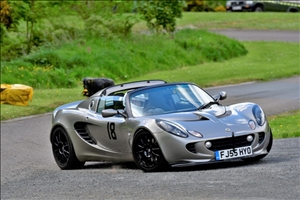 John Watson's Elise at Llys y Fran (Mark Little - AutoAvia Photographic)
---
Slick (organisation) at Snetterton
Event 12 at Snetterton on 13/05/2017
Despite a full entry. a damp start on the Saturday and MSV running two days of events (including a Mini festival) on the 200 track, Borough 19 managed everything with their usual aplomb. Competitors were provided with 2 practice and 3 timed runs - and the organisers managed to fit in a pair of British Sprint Top 12 Run Offs and finish both days in good time. Well done.
The day started with a few offs and some disqualifications following corner cutting at the hairpin (competitors were warned at the briefing). Jeff Allan only managed one practice and one timed run in the Leaf and was seen searching the paddock area for a charging point! David Newman came out on top in the 'MX5 Class' and Justin Andrews continued his good form by staying ahead of Chris Berrisford's (outwardly) similar Impreza - both breaking thew HSA class record.
The Mugglestone's Fulcrum made a non appearance due to Nick sustaining a knee injury while out running (they made it for the Sunday) which gave Stephen Laing the chance to see off the other competitors in the large roadgoing kit car class. In the modified Kit Car class John Loudon (Westfield) came out ahead of Jeff Wiltshire (Phoenix) with both drivers breaking the HSA class record. The other Westfields ran in their own classes and David Cleaver's 88.24s run was notable for the fact that it would have got him into the British Sprint Run Off had he been entered!
Jeff Wiltshire and Tony Beesley won their classes and in the battle of the Mygales Graham Blackwell got to within half a second of Pete Goulding with both drivers in the 87s.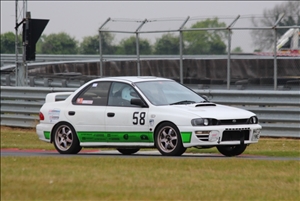 The Impreza of Justin Andrews won its class (Andy Leivers)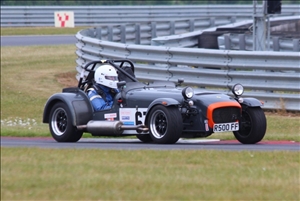 Stephen Laing's Caterham was a class winner (Andy Leivers)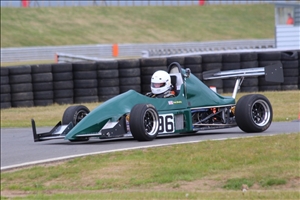 Tony Beesley had the Jedi going well (Andy Leivers)
---
Gary Thomas Shines at Llandow Sprint
Event 11 at Llandow on 13/05/2017
Gary Thomas set the Fastest Time of the Day at the Llandow sprint (jointly organised by the Bristol MC and Bristol Pegasus MC) in a time of 70.02 seconds in his 1400cc Force PC. In the process he reduced the previous HSA class J record for 1100 to 1600cc racing cars, held by Lee Griffiths since 2009, by over 5 seconds!
Gary was to be the only HSA record breaker at this event, although Fyrth Crosse established a Class W record for pre-1976 classic racing cars, taking third place in the 1100 to 1600cc racing car class.
The event was well supported by HSA championship contenders and some notable performances included Andrew Till's second place in roadgoing production cars up to 1400cc in his MG ZR105, and Elen Worthington winning the Lotus Elise – dominated 1400 to 1800 cc division of roadgoing production cars in her example, with John Watson taking third place.
Mike Smith (Sylva Striker) and Gavin Neate (Peugeot 105)took class wins in roadgoing specialist production up to 1800cc and modified series production up to 1400cc respectively.
Dave Mockford came 5th in the modified series production class over 1800cc, but his recent tuning efforts with his aged MG Maestro are paying dividends as the car was not that far behind the shared Lotus Exige which took first and second places – surely a significant achievement.
There was a battle royal in the modified specialist production class, with Charlotte Phelps just edging out John Phelps in the family Westfield Megabusa, reversing their positions after the first competition run by just 0.23 seconds. They were hotly pursued into third and fourth places by the 998 cc Raw Striker of James Robertson and Graham Mintram's Sylva Phoenix. Finally Luke Trotman took a convincing win in the sports libre up to 1800cc class in his Mallock Mk 18b.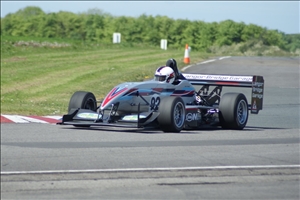 Gary Thomas took FTD at Llandow in the Force PC (Bristol Pegasus Motor Club)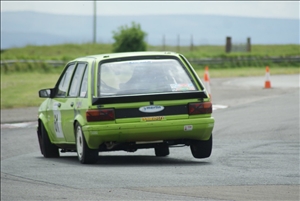 Dave Mockford has found some pace in the old MG (Bristol Pegasus Motor Club)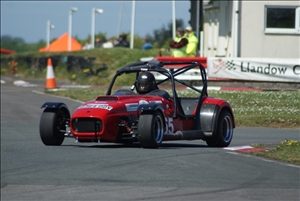 Charlotte Phelps won the family battle (Bristol Pegasus Motor Club)
---
Thomas Gets FTD at Wet Werrington Day Two
Event 10 at Werrington on 30/04/2017
Gary Thomas posted FTD at day two of the Werrington Hill Climb, although times were well down on those of the previous day due to the rain which continued throughout the competition runs. His FTD of 39.68 was the only run of the day under 40 seconds.
Only 8 SBD HSA championship contenders stayed on and scored points, but the day was a low scoring one in terms of championship points because of the track conditions.
Fyrth Crosse (Mallock U2 Mk2b) was the lone runner in class W. David Newman ran well in his MX5, just pipping Alexander Smith in his version by just 0.08 seconds. Dave Mockford's Maestro is becoming increasingly competitive following winter upgrades and Luke Trotman did well to post a time of 42.65 in the wet conditions.
With 10 of the 30 rounds now completed, the championship scoreboard is starting to take shape, with the top six places as follows:-
1. Chris Berrisford Class A3 92 points from 6 events
2. Gavin Neate Class C1 83 points from 5 events
3. Gary Thomas Class J 73 points from 5 events
4. Alexander Smith Class A2 69 points from 5 events
5. Alan Mugglestone Class D 68 points from 4 events
6. Philip Stader Class U2 62 points from 4 events
Ultimately it will be the best 9 event scores which will determine class and overall championship positions.
---
Records Fall at Day One of Werrington
Event 9 at Werrington on 29/04/2017
Fine weather and a good entry led to a number of strong performances on day one of the Werrington Hill Climb by HSA championship contenders.Terry Graves and Gary Thomas battled for FTD, with Terry (Gould GR55 HB) just edging out Gary (Force PC) by just 0.12 seconds in a time of 33.83. However, Gary's time set a new record in class J, a feat matched by Chris Berrisford (Subaru Impreza) in class A3, Jeff Wiltshire (Sylva Phoenix) in class D and David Newman (Mazda MX5) in class A2.
Class A2 was well represented on the day with Alexander Smith (MX5), Helen Currie (Renault Clio Trophy) and Graeme Proctor (Fiat Abarth 500) chasing David Newman home.
New HSA records were set in class C3 by Jason Tunnicliffe (Peugeot 205), and Luke Trotman (Mallock Mk18b) in class F.
Note – the class designations above refer to the HSA class structure, not the Plymouth MC event class structure, which was significantly different.
---
HSA'S GURSTON OPENER
Event 8 at Gurston Down on 22/04/2017
Nineteen HSA contenders turned out at Gurston Down for the first day of the BARC SW Centre's traditional April double-header meeting (see separate report). With the fast Wiltshire downland course bathed in sunshine, three of them, last year's Championship runner-up Andrew Till in his MG ZR 105, plus the Subaru Imprezas of Justin Andrews and Chris Berrisford, broke their repective HSA records. With all three running in the 9-strong, dedicated HSA class for saloons and sports cars, Andrews battled for the lead on scratch with Chris Berrisford's Impreza, coming out on top by threequarters of a second and almost two seconds inside the record. James Robertson gave chase in his Raw Striker, but Berrisford's points haul was enough to move him up to second place overall on the series table.
Elswhere in the classes, Dean Cubitt in his MX5 chased home the fleet Elan of winner Tim Forster in Gurston's Roadgoing Production 2-litre class to end up in a three-way tie for a Championship seventh overall. In the over 2-litre division, the turbocharged MX5 of Jon Maycock split the 400bhp Impreza of Shaun and Sarah Fudge to take second place. John and Adam Phelps had a stiff task on their hands against Gurston experts Mike Rudge and Anthony Orchard, former Gurston champ Rudge spectacular as ever in his Westfield-Duratec and taking the win from Orchard's Megabusa ahead of the Phelps' Megabusa.
Driving his immaculate Alexis Twincam, HSA contender Mike Broome was edged out of a first run lead in the Historically Interesting class by Gurston veteran Geoff Hunt's ex.Tom Elton Lotus 22, but got his revenge at the following day's event to take his first ever win in the class. A 5-strong Formula Ford class saw Russell Haynes out for the first time in a 'brand new' Zeus - built from 1980 parts by father Mark,- and sharing the car with his cousin George, an international saloon and GT racer making his first visit to Gurston Down.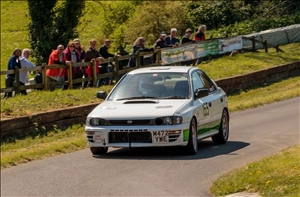 HSA class winner Justin Andrews was on record form (Steve Lister)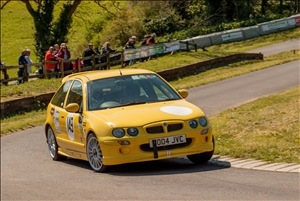 Andrew Till was also in record-breaking mode (Steve Lister)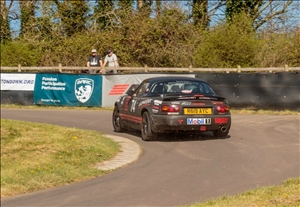 Dean Cubitt showed all but the 2-litre roadgoing winner a clean pair of heels (Steve Lister)
---
John Graham's Aintree FTD
Event 7 at Aintree on 22/04/2017
Another lovely sunny day at Aintree although there were a couple of major fires going on in the vicinity and on the evening before the event.
The force was obviously with Steve Brown as he won class 5C from Gary Thomas who was having major problems with a sheared stub axle, hence only managing one timed run.
Alan Mugglestone claimed class 2B on 46.05 from son Nick who was second on 46.64 (and running in HSA class B2). Team Triple M was performing seamlessly as ever. This was a new HSA record for Alan in HSA class D.
Ken Morris claimed class 1D in the MX5 Merlot on 57.45 from Michael Tindale on 62.25. Paul Trill was first in class 1E on 55.61 in the Mazda RX7 with Gavin Neate claiming second in class 3A, 3B and 3C (merged) on 51.20 with Ivan Russell on 55.67.
John Loudon won the combined 4F, 3G and 3H class on 46.21.
FTD went to John Graham in the 3500cc Gould GR55b on 36.56, and he also set a new HSA class L record during the day.
Nick Scott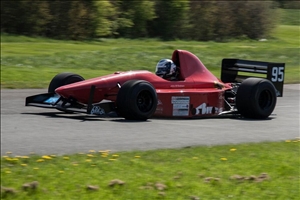 John Graham took FTD in the Gould GR55B (Brian Taylor)
---
Croft Records Galore
Event 6 at Croft on 17/04/2017
A small but select group of SBD HSA Speed Championship contenders journeyed to Croft racing circuit on Easter Monday for the 3.06 Km sprint.This being a relatively new fixture on the HSA calendar, they were all able either to set new or beat the previous HSA class records, and at the same time scored well in terms of overall and class placings. Therefore, for those attending, it was a high scoring round.
Ken Morris set the ball rolling in his MX5 with a win in the 1400 to 2000cc standard saloon and sports car class, taking 2 seconds off the previous A2.1 record. Chris Berrisford set a new A3 record with his Impreza, as did Andrew Webber in class V1 with his Lotus Elan +2, with both winning their classes.
Mike Smith scored a second place in the up to 1700cc Kitcar class, setting a new B1 record, and Gavin Neate won his modified saloon up to 1400cc class, setting a new C1 record. Graham Mintram set a class D record in his Sylva Phoenix, and Simon Boulter also set a Class I record in his 998cc OMS 2000M, qualifying for the British Sprint Championship in the process.
Matt Hillam in the 2 litre Dallara took half a second off Steve Broughton's class K record for 1600 to 2000cc single seaters, and then the big guns rolled out in class L for over 2000cc racing cars, with Terry Holmes, John Graham , Graham Porrett and Graham Blackwell finishing in that order, each beating the previous HSA class L record by a considerable margin.
The Top 12 run off will be reported separately
A Class win and record for Ken Morris MX5 (JCB Photography)
---
Willis takes FTD and new Force TA wins on debut
Event 5 at Loton Park on 16/04/2017
HDLCC's Loton opener took place on a chilly Easter Sunday. Trevor Willis (OMS 28) and Jason Mourant (Gould GR55) battled for FTD with Willis coming out ahead by 0.13s with a 47.71s run – a testament to the cold track.
After a short break for the local church service, morning practice was halted after an accident involving a three wheeler just after the finish line saw the air ambulance called and the riders taken away for treatment. This resulted in a single practice run for all car drivers. The afternoon saw the occasional light shower which was enough to disadvantage some batches of competitors although most had one dry run.
In the small Series Production class, sometime Speedscene contributor, Keith Waters, in his immaculate Metro Advantage won by 0.08s from Richard Keen's Mini Cooper S. In the huge up to 2000cc Class Fred Currell's familiar Golf GT1 beat Dave West's Peugeot 106Gti while Bob Ridge-Stearn's canary yellow (other colours are available!) and skinny tyred Toyota GT86 and Dean Cubbitt's Mazda MX5 were going well. In the large Series Production Class Chris Berrisford won the battle of the Imprezas as well as the class.
The 1100cc Racing Car class was as competitive as ever with the brace of New Force TAs for Chris Bennett/Chris Jones and Darren Gumbley joined by the new GWR Raptor 2. The black TA of Bennett/Jones headed the time sheets on all three runs with Jones coming out the victor on the car's competition debut.
Simon Andrews won the Formula Ford Class in Bernie Kevill's Van Diemen RF90 from Charlie Reilly's RF91 which was troubled with a misfire. Simon Keen got the Dallara F302 going well to win the 2 litre Racing Car Class by 0.4s from Dexter Le Sauvage's F397 example.
Mike Henney's Elan S3 is having a good start to the season and won the Classic saloon and sports car Class. Finally, Jeff Allan was all alone in the invitation Class in his electric Nissan Leaf but having fun and comforted in the knowledge that a fast charging station was available in nearby Shrewsbury!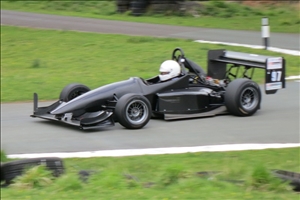 Debut class win for Chris Jones' new Force TA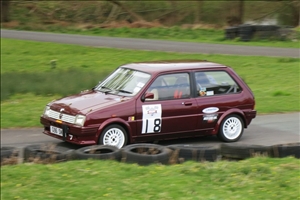 Keith Waters smart Metro Advantage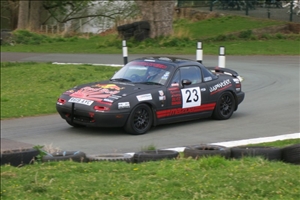 The Mazda MX5 of Dean Cubbitt
---
Exciting Goodwood
Event 4 at Goodwood on 15/04/2017
What started as a cloudy Saturday turned in to a bright sunny and very exciting day at the superbly organised Bognor Regis Motor Club Regis Sprint.
In Class A2 Alexander Smith, David Newman and Dean Cubitt fought a very close battle throughout the day with both David and Alexander having fairly big spins making some very exciting viewing from the stand. Helen Currie and Stephen Dally were both very consistent throughout practice and competitive runs.
Chris Berrisford and Justin Andrews in the two Subaru Impreza's in Class A3 were extremely quick as was Gavin Neate in Class C1, however Michael Butler in his BMW M3 was in a league of his own in the speed stakes
In class U2 Philip Stader in the Alfa Romeo tried hard to keep up with the more modern machinery in his class on the day.
The familiar Goodwood paddock
---
Mugglestone pulls ahead as Menzies takes FTD
Event 3 at Harewood on 09/04/2017
A perfect sunny and warm Spring day greeted the many HSA championship contenders and member that made the trip to Harewood.
Wallace Menzies made FTD with a 50.97s run in the new and unpainted Gould GR59 from Richard Spedding in the 1600cc Raptor.
The quickest HSA runners were Gary Thomas (Force PC) on 55.27s who was second in class 5C to Spedding, Alan Mugglestone on 61.00s dead, winning class 2B in the very smart looking Raw Fulcrum and Nick Scott with a personal best of 62.27s.
The other class winner was Gavin Neate (Peugeot 106) on 66.41s in class 3A with Graham Mintram (Sylva Phoenix) coming 2nd in class 3F on 72.93s while Mike Henney (Elan) and newcomer (having taken part in a few events in 2016), Dean Cubbitt (MX5) went well in the enormous up to 2000cc Roadgoing Production class. Nick Mugglestone claimed third in class 2B on 62.58s in the Fulcrum he shares with Father, Alan.
Runners were given a third timed run but the weather had changed by this time and the temperature dropped giving little opportunity for further improvement.
By virtue of breaking the HSA Class record (along with Justin Andrews' Impreza, Neate and Thomas) Alan Mugglestone extended his lead in the SBD HSA Speed Championship over Philip Stader's Alfa which scored well but missed a new record.
NS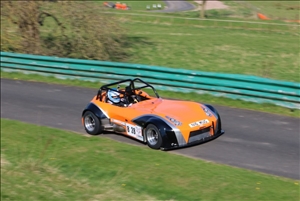 Alan Mugglestone extended his HSA Championship lead at Harewood (S Wilkinson)
Martin Rutter (Fiat X1/9) heads towards Quarry (S Wilkinson)
---
More SMiles at Rockingham Sprint!
Event 2 at Rockingham on 26/03/2017
For the fourth year in a row, BARC Midlands Centre managed to provide fine dry weather for their March sprint at Rockingham Speedway, albeit with a strong headwind facing the hairpin after the Turn 1 banking, which kept conditions cool. Several new records were set, most notably by Steve Miles in his 2 litre Van Diemen, who not only took FTD, but also lowered his own outright course record to 63.79 seconds, courtesy of some demon late braking. Sarah Munns (Mini Cooper) took the award for Fastest Lady, and Clive Wooster (Radical SR4) won the award for fastest BARC Midland Centre member, also winning the up to 1700cc sports libre class.
The event formed rounds of some fourteen championships, including the SBD HSA Speed, Midland Speed and BARC SBD Speed Championships, with 110 competitors completing their two timed runs. 27 SBD HSA Speed championship contenders took part, and there were some strong performances between them.
Dave Chesterton (Ford Fiesta) won the 1400 – 2000cc standard production class, while Steven Riddle placed second in his Renault Clio 172 Cup, setting an HSA record for his class. Mike Henney won 1401 to 2000cc roadgoing production sports and saloon class, setting a new class V1 record, with HSA runners Alexander Smith and Dean Cubitt second and third respectively in their Mazda MX5s.
Other notable performances included father and son Alan and Nick Mugglestone finishing first and second in the over 1701cc roadgoing specialist production class with their 2 litre Raw Fulcrum, breaking the HSA class D and B2 records in the process, despite Alan running on List 1B tyres, rather than slicks. Gavin Neate won the class for up to 1400cc modified series and specialist cars, and lowered his HSA class C1 record by 0.43 seconds in his very rapid Peugeot 106.
Adrian Crawley won class 9 for the "non-Westfield branch" of the 1401 to 2000cc modified series and specialist production class, hotly pursued into second place by father David in the family Peugeot 205GTI.
The well-supported up to 1100cc racing car class was closely fought with Stuart Bickley (Jedi) coming to the fore on his final run in a time of 69.04, which was good enough for 2nd FTD, just shading out first run leader Simon Boulter (OMS 2000M) on 3rd FTD by 0.02 seconds! Tony Beesley was third, and both Simon and Tony ran under the previous HSA class I record previously held by Simon.
Malcolm Boorman (1397cc OMS 2000M) won the 1101 to 1600 cc racing car class, 0.09 seconds ahead of Steve Brown (JKS JR01), who achieved 4th and 5th FTD respectively.
Class 18 for over 2000cc racing cars saw a battle between two turbocharged Mygale ex- Formula Fords and the Terry Holmes/Graham Porrett Lola Tegra T90 with 3.5 litres of Judd power. Terry Holmes was the victor, with Peter Goulding second and Graham Blackwell third, with both Terry and Peter finishing under the previous HSA class L record. Charlie Reilly (Van Diemen RF82) was alone in the Formula Ford class, but was delighted to set a new HSA record, 0.24 seconds under the previous mark set by Russell Haynes in 2016.
Philip Stader (Alfa Romeo Berlina 1750) won the period defined roadgoing production car class, setting a new HSA class U2 record, and Jeff Allan (Nissan Leaf) in the sole electrically powered entry, established a new record for HSA class Y.
The meeting greatly missed the presence of ace-BARC-organiser Noreen Ward, due to ill-health, but all those attending wished her a speedy recovery, and we were glad to be told that she is now back at home and "on the mend."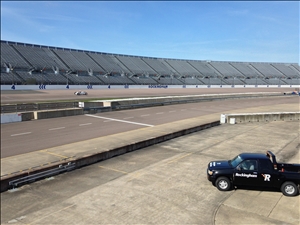 This 1952 Keift F3 pre-dates the Speedway by almost 50 years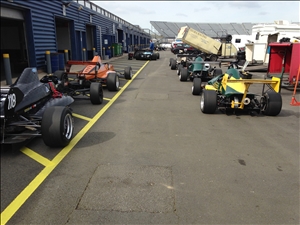 Part of the excellent Paddock facilities at Rockingham
---
Sunny Combe sees start of season problems
Event 1 at Castle Combe on 25/03/2017
For most it was their first event of the season and for some their first event ever. And it showed with both practice and the first timed runs beset with offs and mechanical failures. However, the Bristol Motor Club stuck with it and clawed back much of the time so that the event was brought to a satisfactory conclusion by close of play at 6pm. Happily the weather played ball and remained dry and sunny throughout with even a hint of warmth during the afternoon.
Notable performances included Jon Maycock in his turbocharged MX5 having only his second ever event who won the large 1800 to 2600 Roadgoing series production class. In the same class, Sandy Smith came third in his MX5 beating the HSA A2 class record into the bargain.
Paul Torkington, son of British Sprint regular Carole Torkington, was having his first ever event with a pristine MK2 Escort which he had spent the last ten years preparing! With the experience of the SBD team (in the form of ex HSA Champion Matt Hillam) to call on, Paul improved his times and thoroughly enjoyed the experience. Welcome to Speed events! Mike Butler was also running in the Class for big Mod Prod cars with his BMW M3 and easily saw off the Quattro of Clarke/Trayner.
Another pair of former HSA Champions (Alan and Nick Mugglestone) were at the tail of a long list of reserves but allowed to practice and, following a number of withdrawals, were allowed to take part. Alan was initially very unhappy with the handling of the RAW Fulcrum on its 13" wheels and tyres but this problem disappeared after a couple of runs – rubber pick up at a recent test being the most likely culprit.
For others the day wasn't quite as successful. Geoff Wiltshire had a major engine blow up out on track while the Mike Smith Striker developed an oil leak in the oil pump area and had to be withdrawn. The Bill Gouldthorpe (good to see Bill back after missing out most of the 2016 season) / Carole Torkington OMS suffered a number of problems which ended their day and reigning HSA Champion, Matt Carter lost his diff during T2.
Elen Worthington went well in her Elise but was just pipped for the Class win by a Toyota MR2 while in the same class Andy Mitchelmore (Elise), Andrew Webber (Elan +2) and Mike Henney (Elan S3) were closely grouped with Mike viewing every run successfully completed as a minor victory!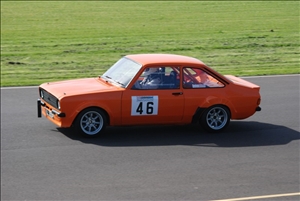 Paul Torkington's MK2 Escort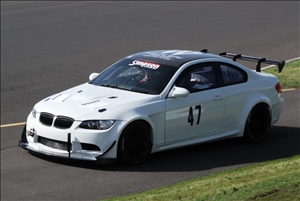 Mike Butler's M3 looked the part
---
Back to Top